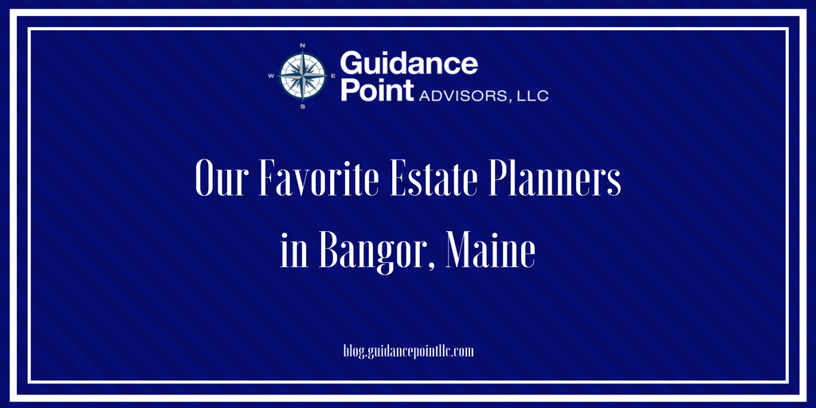 Estate planning is not something to which most people look forward because it's associated with mortality, but it's important to think of the next generation. As Financial Advisors at Guidance Point Advisors, we often think about surrounding our clients with three professional services to best assist our clients as they think about their financial lives: tax advice, estate planning, and financial / investment advice. Our Investment Consultants want to be very focused on your financial plan and the investment management of that plan, and leave the tax and estate planning advice to the experts in the accounting and legal fields, respectively.
If you want your assets passed down to your heirs without incident, you're going to need to make smart decisions. Fortunately, if you hire the right estate planning attorney, most of those decisions can be made for you. In working with many of our clients' estate attorneys, we consistently have had a first-class experience working with one particular firm and estate planning group in the Bangor Maine area: Rudman Winchell Counselors at Law. Why has our experience been so great? Our clients have very much valued the expertise in house at Rudman Winchell from not only preparing estate planning documents, such as wills, trusts, power of attorney and health directives, and administration of those documents, but through The Maine Elder Law Firm, a Practice of Rudman Winchell, assisting in the aging process such as Guardianship and Conservatorships, MaineCare planning and applications, probate and trust administration (including special needs trusts), and Veterans Benefits planning. To give you more of a flavor of the firm, we recently had their team respond to the following questions to assist you in why we view Rudman Winchell and The Maine Elder Law Firm as our favorite estate planners in Bangor Maine.
How long has your team been practicing estate planning and how much of your team's time is devoted to this practice?
The attorneys in the estate planning practice of Rudman Winchell have been in practice from two to forty-two years. The estate planning/elder law team is comprised of six attorneys -- Nathan Dane, Jane Skelton, Jennifer Eastman, Joy Trueworthy, Kristy Hapworth, and Rachel Trafton. Nathan Dane was an attorney in Bangor for over thirty years before affiliating with Rudman Winchell. His practice includes estate planning and real estate. The rest of us focus our practice on estate planning, probate and trust administration, and elder law, with various focuses for each of us. Jennifer Eastman works out of the firm's main office, on Harlow Street in Bangor and focuses on estate planning, probate, and trust administration. Joy Trueworthy and Kristy Hapworth also work on Harlow Street, and focus on long term care planning and estate planning. Jane Skelton is based in the Maine Elder Law offices, a practice of Rudman Winchell, on Mildred Avenue in Bangor, with Rachel Trafton. The Maine Elder Law office focuses on long term care and MaineCare planning, an important part of estate planning.
How do you ensure a good personality fit?
Each attorney in our practice has identified a type of work or project within the estate planning and elder law purview that is a personal preference, or of particular expertise, for the attorney. When new clients contact our firm, they speak with Jennifer Millar-Coyle, our Team Coordinator. Jennifer will help determine the client's need, and match that to the attorney who gravitates to that kind of work. Of course, if a particular attorney is recommended to a client, Jennifer will do her best to connect the client with that lawyer. For example, Jane Skelton ran a boutique elder law practice for many years, and gravitates toward complex MaineCare planning cases. Jennifer Eastman has been planning estates for almost 15 years, and enjoys planning details of complicated estates and families, as well as estate administration and probate litigation. Our associate attorneys handle a range of these matters working with the partners in the practice.
What is the timeline of your team's process when preparing estate planning documents?
We appreciate that estate planning and long term care planning may not be something people want to think about for a prolonged period of time. We endeavor to make the process as smooth and efficient as possible, and aim to get draft documents, or proper responses to a client within two to three weeks of an initial consultation. In more complex cases, or MaineCare planning, the process can be longer, requiring additional meetings and input from the clients, but we progress as efficiently as possible for our clients.
What is the quality control process for drafting estate planning documents?
In our office, there are three sets of eyes that review each set of documents, to ensure quality control.
Where are original wills and other original instruments stored?
Clients always have the option of retaining their original documents. Particularly with wills, a client may choose to have Rudman Winchell retain their original documents. We have an in-house vault in which all original documents are catalogued and stored. A lost will is presumed to be a revoked will, and many clients take comfort in knowing we can hold their original documents. Rudman Winchell has been in existence for 100 years. Even if the attorney a client works with retires, clients can be confident the firm will retain their original documents for safekeeping.
What sets your team apart from others in the Bangor area? How does The Maine Elder Law Firm complement your Rudman Winchell estate planning team?
We have a deep bench of expertise. Few firms in Maine can boast six attorneys who focus their practice in estate planning and elder law. We are passionate about our practice, and truly enjoy the work we do. We are one team with two offices -- the main office of Rudman Winchell on Harlow Street in Bangor, and the Maine Elder Law office. We work together on a daily basis, and have created shared systems for our practices from which all our clients benefit. Discussion of long term care planning is a necessary part of estate planning these days. Where long term care issues take precedence over estate planning, Maine Elder Law can help. If long term care is less of a priority than a solid estate plan, clients will be directed to the Harlow Street office.
What is the normal costs of your services?
We charge a $400 initial consultation fee for new clients, which includes advance collection and review of information from the client to assist us in preparing for the initial meeting, which clients should expect to last 60-90 minutes. Typically, at that meeting, the attorney will be able to determine the needs of the client and provide an estimate of anticipated fees. We generally charge a flat fee for estate planning services, ranging from a few hundred dollars for a simple will to a few thousand dollars for more complex trust planning. For specialized planning, an hourly rate may be more appropriate. This is a discussion clients should expect to have at the initial consultation.
Describe how you generally work with the client's other advisors (tax and investment advisory)?
We enjoy a team approach in our own practice, and in working with a client's other advisers to ensure that we have up to date tax and asset information, care level or medical need information, and working with advisers to understand and complement shared goals. Particularly when a client is new to us, it can be of great benefit to consult with financial or tax advisers and determine plans and goals that the client may not be able to articulate.
Do you generally give references to clients to utilize in hearing from others in their experiences with you?
Where clients need financial, tax, or long term care advice outside the scope of our practice, we will suggest advisers that we know and trust, particularly those that would be a good fit for the client, whether in expertise or personality. Providing a high level of service to a client means getting to know them and their needs beyond the legal documents we can draft for them. There is nothing more satisfying in our practice that assisting a client in resolving a problem, which often involves more than just legal documents.
To contact Rudman Winchell call (207) 947-4501, or click on the link below.
The Best* Accountants in Bangor, Maine (Ratings/Reviews)
Who Are The Best* Financial Advisors in Bangor, Maine? (Ratings/Reviews)
How To Find a Financial Planner in Bangor, Maine
Financial Advisor Fees: Am I Paying Too Much?