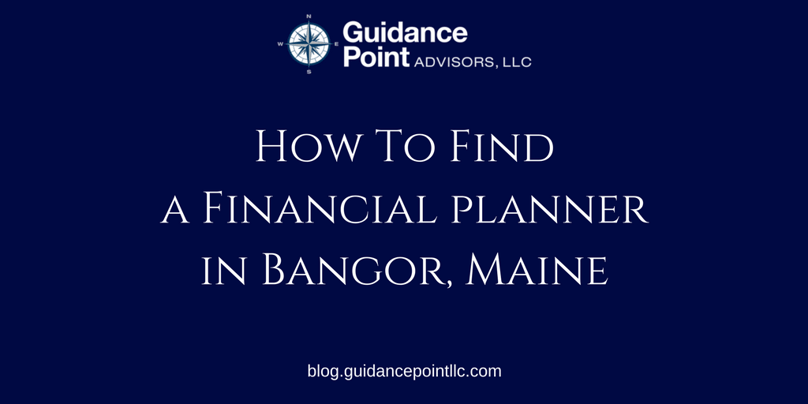 Are you considering hiring a financial advisor in Bangor, but you don't know how to get started? There are so many things to consider when hiring a financial advisor, but let's start with the basics.
To search for a financial planner in Bangor Maine, regulated by the U.S. Securities and Exchange Commission, head over to www.investor.gov and search the SEC database.
Know all the right questions to ask when interviewing financial advisors! Download our free interview checklist here!
You can search for an investment advisory firm by entering in your zip code and radius.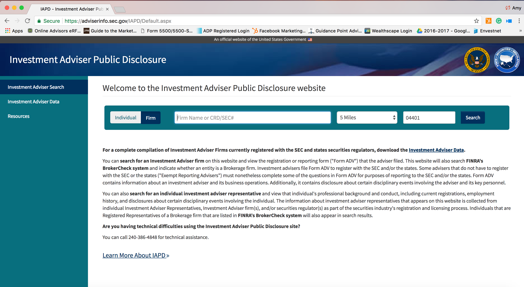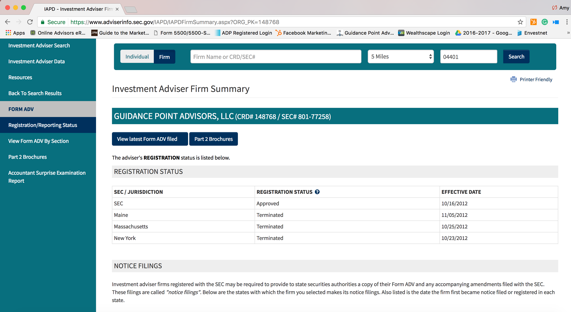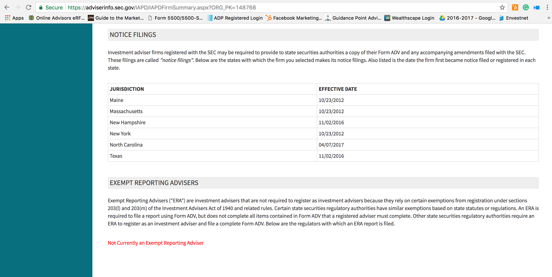 Here you can read the firm's ADV Form. This form, required by the SEC includes information, such as services provided, fees, and whether the investment advisor acts as a broker-dealer and transacts securities. It also contains the details of any conflicts of interest and any disciplinary actions that have been taken against the firm.
You can also search for individual advisors.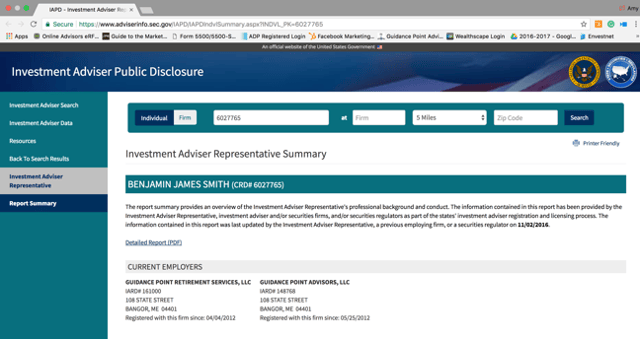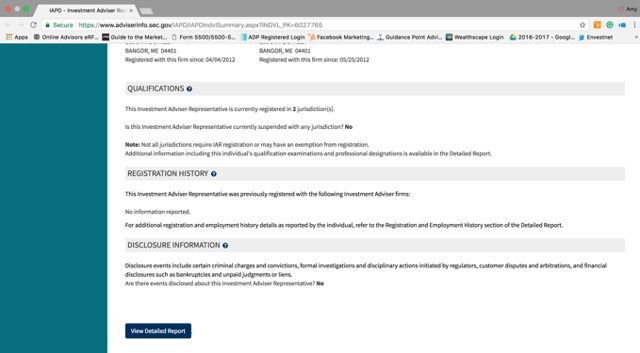 Click on the "View Detailed Report" button to review information such as employment history, disciplinary actions, criminal convictions, civil judgements, professional qualifications and arbitration awards.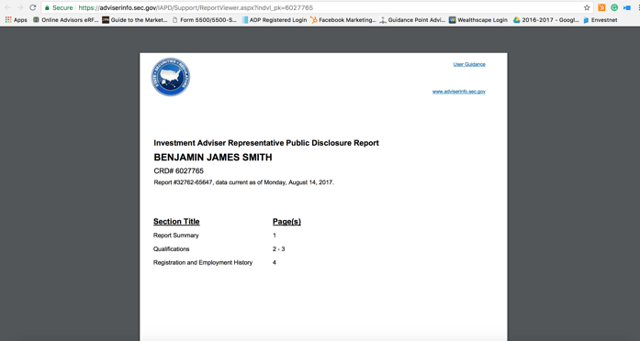 If your advisor is also registered as a broker, be sure to also look them up on FINRA's Broker Check .
Here you can also check by firm-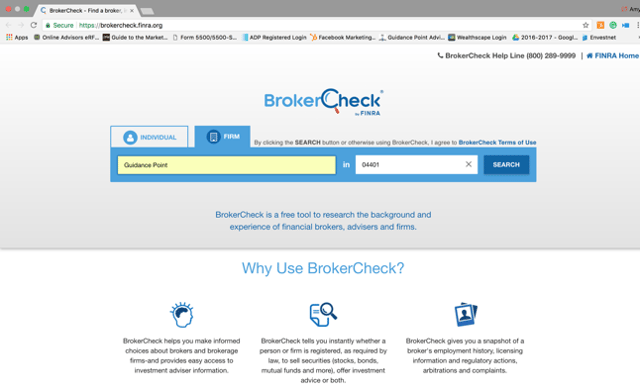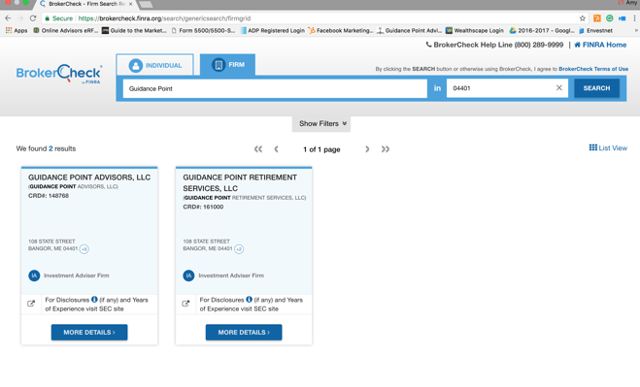 Or by individual advisor-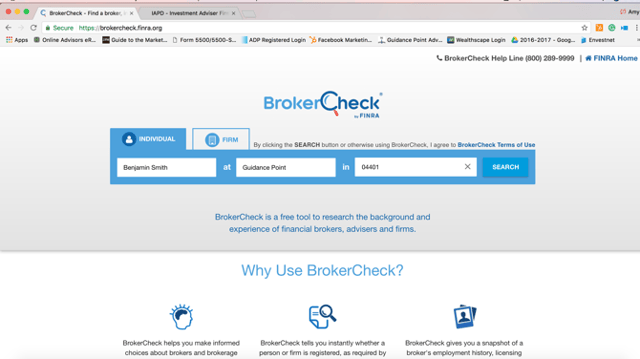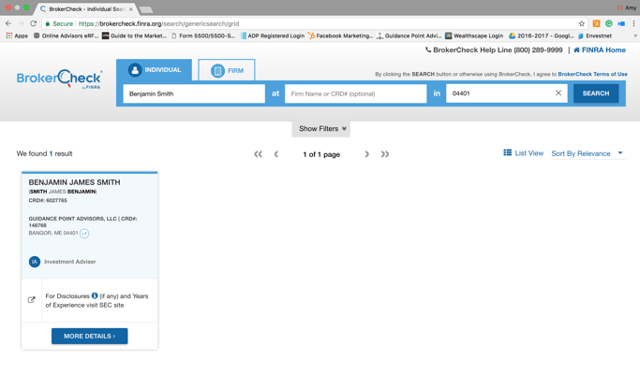 Broker Check will tell you if a potential advisor is licensed to sell securities, offer investment advice, or both. If the financial advisor is licensed as a broker and regulated by FINRA you will be able to read details about the firm, their licenses and any violations.
Before you meet with any potential advisors, be sure to do your research. What different types of credentials are there? Do you know the difference between a CFA or a CFP? What kind of education should they have? Do you know what types of conflicts of interest you should be researching further?
After making your list of potential advisors from the information that you have gathered, start scheduling interviews. Make a list of questions and be sure to cover any concerns that you have. Don't be afraid to ask a lot of questions, this is a job interview!
Choosing a financial advisor is very personal. Everyone has different needs and there is no "one size fits all" option. Whoever you choose, make sure that you do your homework. It's ok to be picky! If you're going to trust someone to handle your nest egg, you want to make sure that you're hiring the very best person for the job.
To find out exactly what questions you should be asking your current, or any potential financial advisors, download our FREE Financial Advisor Interview Checklist at the link below.
Other Blogs Of Interest:
Who Are the Best* Financial Advisors in Bangor, Maine?
The Top 5 Problems With Financial Advisors and How to Solve Them
Choosing a Financial Advisor Part 1: Fiduciary or Broker
Choosing a Financial Advisor Part 2: What is a CFA
Choosing a Financial Advisor Part 3: What Does CFP Stand For?
Financial Advisor Fees: Am I Paying Too Much?