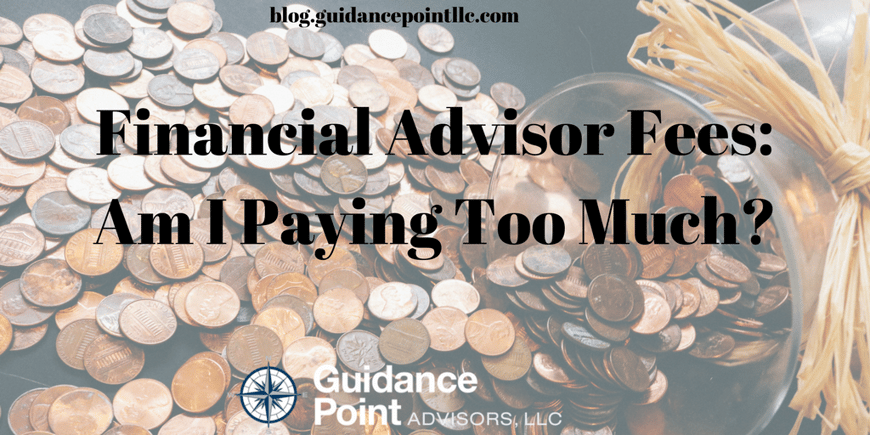 This is a topic that our team debates as being rather uncomfortable to discuss in a blog setting. Does this insinuate that we charge our clients too much? Are we going to make our competition upset by writing on this topic? Ultimately, our answer comes down to the entire purpose of these blogs articles is to educate YOU, the client / customer, and allow YOU to make better informed decisions.
Fees are a sensitive issue for many financial advisors as competing on price insinuates that Financial Advisors are a commodity without any true differentiation between them except for price. In many cases this statement very well can be true. Our ultimate goals as advisors are to assist you in organizing your financial life, help you save more, make better financial decisions, and map out your retirement income process. Where most financial advisors stylistically disagree are on how to achieve each of these items. We'll work to dissect each of these in more detail in future blog posts.
Are you having a hard time understanding what you're paying your advisor? Click here to download our FREE Financial Advisor Fee Comparison Worksheet
Getting past other differentiators, say you're hiring a financial advisor and you really can't decide between the two as you equally like and agree with both firms / advisors. Then in this case a decision can truly come down to price. This is where it can get pretty difficult. Where would you go to compare investment advisors' fees? Unfortunately, there isn't an Edmunds.com or Kelley Blue Book like when you're buying a car that you can use to guide you to what an appropriate price would be. Also, advisor fees usually "wedding cake" or get cheaper the more investable assets you place with them. Below you can see 2016 Self-Reported Advisory Fees for Registered Investment Advisors by Client Asset Level. This comes from Cerulli's RIA Marketplace 2016 study, Exhibit 3.15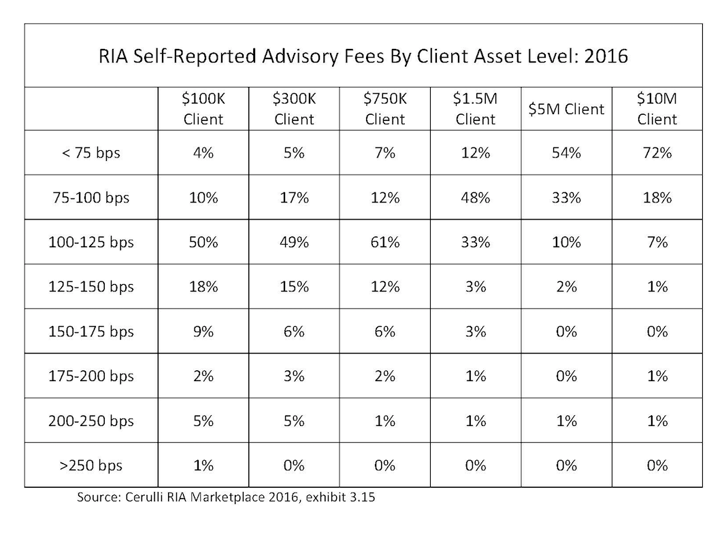 A few things to help you read this table. First, the first column is listed as bps, or basis points. A basis point is 0.01%. 75 bps would be interpreted as 0.75%. The $100k client reads as a client that has $100,000 of investable assets, and the "M" stands for million ($1.5 million in investable assets). The percentages are the percentage of Registered Investment Advisory (RIA) firms that charge the fee level for the client segment. So 4% of RIA's charge a fee of less than 0.75% for clients with less than $100,000 investable assets
What are a few key takeaways from this table?
For $300,000 of investable asset clients, 71% of them pay less than 1.25% in advisor fees and this number jumps to 80% for $750,000 clients.
The majority of clients with $1,500,000 pay 1.00% or less in advisor fees.
The majority of clients with $5,000,000 and $10,000,000 in assets pay less than 0.75%.
A few caveats to pricing (aren't there always?). There are very few resources, even to us as Financial Advisors, to benchmark prices and practices. These prices are based on asset based pricing, or fees that increase or decrease based on the level of assets that are placed with the advisor . Please note that this study is as of 2016 and probably won't be updated in this blog post going forward, so pricing data is getting more stale by the day.
It is important to know if there are other financial advisor fees involved such as commissions paid to the advisor, fixed fees, or fees for service. You certainly don't want to receive a hidden fee later that was never discussed but probably disclosed in a thick stack of papers. Also, a question to ask is whether the client service you are receiving from the advisor is declining as a result of a lesser fee.
Our firm thinks in profitability based on the amount of time we're spending with our clients, and our fees are reflective of that service level. A client that needs a higher or lower service level than proposed should be expected to impact the quoted fee. You can research more of our firms pricing with this link here: https://www.guidancepointllc.com/pricing/
Ultimately, the financial advisor fee is a social agreement about what a reasonable price is for the services delivered and by whom its delivered. Why does no one talk about this? Well, knowledge is power. If you don't know what the price truly is, if you don't know what it should be, if you don't know that the price can probably be negotiated then you accept what is given to you. Clients should be in control of what they pay from their nest egg and to whom. Isn't it ironic that the role of the Financial Advisor is to help you take control over your finances and better educate you on your money, but may not have a truly open and honest conversation about fees?
Many investment advisory firms are used to very high advisory fees and their practice and personal lifestyles are adjusted to these high fees. Anecdotally, there's a resistance to lowering fees within the industry as it means laying off support staff, downgrading office space and prestige, and worse case to the advisor – taking less pay. But financial advisor fees are coming down due to more awareness from clients and the client knowledge about the advisor's fiduciary status. We see advisors now cutting their product costs (using less expensive investments) to achieve goals and show the client cost savings. But what isn't being willingly cut is the cost the advisor charges.
Our team sees the following situation play out with prospective clients: Let's use Lois as an example. Lois has made a decision to leave their advisor after talking to the advisor about level of cost and not being satisfied in the level of services for the costs. The advisor does not lower the fee and/or improve services. When the advisor receives paperwork that Lois is leaving, the advisor calls up Lois and offers to lower their advisor fee in order to retain Lois as a client. Should Lois stay with the advisor? Our answer is probably not. It's a tough situation when you are having a trusted relationship with someone and they only are willing to truly listen when you are walking out the door. Isn't that how many cable and satellite companies work, too?
We hope that this article helps you through the process of either locating a financial advisor at a proper cost OR re-negotiating your fee with your current advisor. There's a lot to this discussion and its one that we have with every client we onboard to our firm. We're passionate about being brutally honest and straightforward with our clients. If our straight forward nature offends our competition, please accept this as our apology.
Download our FREE Financial Advisor Fee Comparison Worksheet! Compare the costs of up to 5 different firms and see what your advisor is costing you!
Other articles you may enjoy:
I Want To Fire My Financial Advisor
Top 5 Problems With Financial Advisors And How To Solve Them
The Types of Clients That Would Be Bad Fits For Us