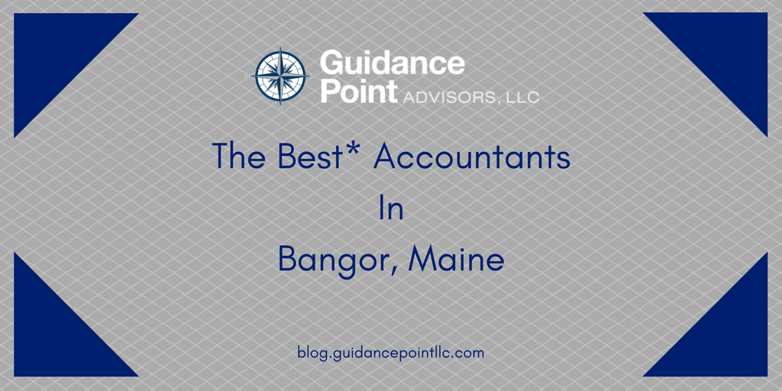 Tax planning and getting sound tax advice is not usually a high priority for many of us, especially when there is an H&R Block around every corner or software solution easily available. As Financial Advisors at Guidance Point Advisors, we often think about surrounding our clients with three professional services to best assist our clients as they think about their financial lives: tax advice, estate planning, and financial / investment advice. Unfortunately, when beginning to work with many of our clients, we often find that the client does not have a certified public accounting (CPA) relationship that competently performs their tax returns or gives them tax advice. This creates a need to find a competent group that can aptly take care of the client and leave their assets in a sound position.

Our Investment Consultants want to be very focused on your financial plan and the investment management of that plan, and leave the tax and estate planning advice to the experts in the accounting and legal fields, respectively. However, we want all three of these areas to be working in concert and not against each other, so we love it when the client's advisor in the tax and legal arenas are also serious about partnering and creating the best possible outcomes for clients.
If you want your assets positioned correctly to minimize your tax burden, you're going to need to make smart decisions. Fortunately, if you hire the right accountant, most of those decisions can be made for you. On the other hand, if you hire the wrong accountant or tax firm, you could end up paying a lot more tax than necessary — and all of your assets might not go to the right place.
In working with many of our clients' accountants and tax preparers, we consistently have had a first-class experience working with one particular firm and tax preparer group in the Bangor Maine area: Leighton & Longtin, CPA, LLP. Why has our experience so great? Our clients have very much valued the certified public accounting (CPA) expertise in house at Leighton & Longtin from not only preparing their tax returns but assisting in business consulting, accounting services and tax preparation.
To give you more of a flavor of the firm, we recently had their team respond to the following questions to assist you in why we view, in our opinion, Leighton & Longtin, CPA, LLP as the Best Accountants & Tax Preparers in Bangor, Maine.
Where are you both from and why do you live in the Bangor / Brewer area?
Chris was born in Lewiston and moved to Brewer with her family at a young age. She is a Brewer High School and Husson graduate. Leta was raised in the coastal town of Winter Harbor. She graduated from Sumner High School and Thomas College and moved to Brewer in 2002. We both love this area for its diversity of businesses as well having a small town feel. The local universities add an additional flair to the events and culture. You can find any entertainment venue while still being very close to everything nature has to offer.
Why did you both decide to partner in this firm?
We feel fortunate to have met and partnered together at the perfect time in our careers. Our business philosophy, our goals and our values all parallel one another. With integrity, hard work and dedication to our profession, we feel we complement each other nicely, and together make a great team.
How long has your firm been in business and how has your business evolved?
Leighton & Longtin CPA, LLP began operating on October 1, 2006. We are pleased with the growth of our firm, which benefits not only the partners and employees, but our clients as well. We are able to offer a wide range of services with a personal touch that our clients appreciate.
What charitable causes are you passionate about?
We have two passions as far as charitable causes and we believe being an involved member of your community is extremely important. We love animals. We have been part of the Bangor Humane Society in various forms over the years. We are now their pro bono tax advisors. We also have a special place in our hearts for what we call "The people who fall through the cracks". There are many people who cannot find assistance/help, but are unable to feed their families for instance. We help with an anonymous nonprofit who helps some of those people in our area.
What is your typical profile of a personal or business client? Do you have a specialty or specific expertise with a type of client?
The great thing about our business is the diversification of our clients. We are extremely fortunate to work with a wide range of clients. Our business clients consist of car dealers, funeral homes, restaurants, dairy farms, modular home dealers…the list goes on. We like to think we specialize in "small business" in general and not one particular sector.
Do you offer an initial consultation and is there a charge?
Yes, we do offer an initial consultation and the first hour is free.
What is your hourly rate and what charges can one expect for questions they may have throughout the year?
Our hourly rate is $150 per hour, but we try not to nickel and dime our clients. If there is a quick question we can answer you may not see a bill. Questions that involve more time and/or calculations will be billed at our hourly rate.
What computer programs do you prefer your clients to use for record keeping?
We prefer Quickbooks for accounting programs, but we have many clients using Sage/Peachtree as well. We are not pigeon holed into one program. If a client is comfortable with the program they are using we will adapt for them.
Hopefully from the above commentary and Q&A you'll see why our team rated Leighton & Longtin, CPA, LLP as the best accountants in Bangor, Maine. As we're very serious about providing our best effort in taking care of clients, its important that our clients have strong partners and tax advice. You can reach out to Chris or Leta by contacting them at 207.942.2024 or 207.989.1189, or by clicking here:
If you liked this article, here are some other resources to assist you
Who Are the Best* Financial Advisors in Bangor, Maine?
How To Find a Financial Planner in Bangor, Maine
Financial Advisor Fees: Am I Paying Too Much?
Choosing a Financial Advisor Part 1: Fiduciary or Broker?
*"Best" is the opinion of Guidance Point Advisors based on professional interactions, reputation, business model style, and community involvement.