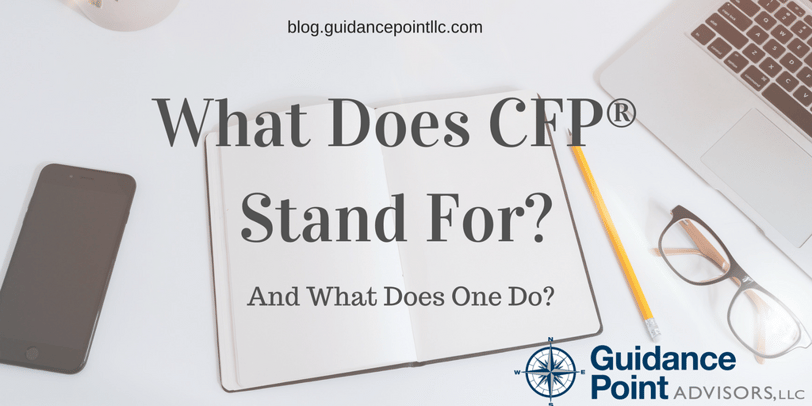 There are so many different three-letter abbreviations for certifications within the financial industry that it's hard to figure out which ones are more meaningful than others. I am a CFP®, but many people don't even know what that means. So, what does CFP stand for?
The Certified Financial Planner (CFP®) designation is a professional certification mark for financial planners conferred by the Certified Financial Planner Board of Standards. As a CFP®, I had to undergo a lengthy education process that was combined with work experience and, ultimately, a comprehensive test of my knowledge. The Certified Financial Planner designation took a couple years for me to complete, but was definitely the most worthwhile endeavor that I have done in regards to my career.
Are you planning to meet with a CFP®? Take inventory of your financial situation and be prepared with our Financial Planning Questionnaire!
Education
As I mentioned, obtaining the Certified Financial Planner designation is a three-step process. The first step is to complete the education requirement. I completed my education requirement through Boston University's online Financial Planning program. It was an eight-requirement course program that focuses on general principles of financial planning, insurance planning, investment planning, income tax planning, retirement planning, estate planning, professional conduct and fiduciary responsibility, and interpersonal communication. To successfully complete the education requirements, candidates must also prepare a comprehensive financial plan through a capstone course. In addition to completing the education requirements required by the CFP® Board, candidates must also hold a valid Bachelor's Degree.
Professional Experience
The second part of obtaining the CFP® designation is to complete the required professional experience. Candidates who wish to obtain the CFP® designation much complete at least 6,000 hours of qualifying experience. That experience must fall under at least one of the six primary elements of the financial planning process which are:
Establishing and defining the client relationship
Gathering data from the client
Analyzing and evaluating the client's financial status
Implementing the financial planning recommendations
Monitoring the financial planning recommendations
The other experience requirement is that the above experience must be satisfied through one of the following ways:
Personal Delivery to individual client
Supervision of personal delivery to individual client
Support of personal delivery to individual client (direct, indirect)
Teaching
Internships and/or FPA Residency Program
Examination
The third and most grueling part of the Certified Financial Planner designation is the final examination. The test is 6 hours long, and broken up into two different parts. The test covers the six primary elements of financial planning, the eight general principles of financial planning as well as a large section on ethics. The test is offered three times each year, and candidates prepare for several months leading up to the final examination.
As you can see, the Certified Financial Planner designation demands a lot of each candidate. It combines education with experience as well as a final examination. The CFP® designation also requires CFP®s to complete 30 hours of continuing education every two years. This helps to ensure that CFP®s are always at the forefront of new issues in financial planning. It also helps to make sure that CFP®s maintain their knowledge base and, hopefully, continue to grow in that knowledge base.
I became a CFP® because it is a leading designation which draws respect from industry peers. It is essential to me that I am always learning and always improving myself to help my clients. I have given a fairly brief overview of what it takes for candidates to become a Certified Financial Planner. For more information on the CFP® designation you can visit: cfp.net
Are you planning to meet with a CFP® or another financial professional? Be prepared for your first meeting by taking inventory of your finances. Click here to download our FREE Financial Planning Questionnaire!
If you enjoyed this blog, be sure to check out these others!
Choosing a Financial Advisor Part 1: Fiduciary or Broker
Choosing a Financial Advisor Part 2: What is a CFA?
I Want To Fire My Financial Advisor!
The Top 5 Problems With Financial Advisors and How To Solve Them