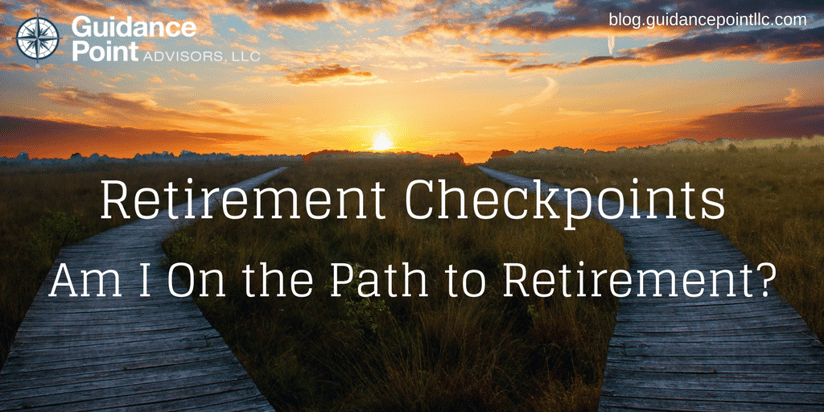 When speaking with people, this is probably the most frequently asked question that I get asked. It's a difficult question to answer in general terms because retirement looks different for everyone and therefore, everyone's savings are going to be different. Below is a good, general guideline to use to help a person determine if they are on track for retirement.
Since saving is highly dependent upon a person's income, the amount that someone should be saving is usually expressed as a percentage of a person's income. The more money you earn, the more you should be saving to replace your current lifestyle and spending habits in retirement. In this graphic, included in the J.P. Morgan Guide To Retirement, it assumes a 10% gross salary, pre-tax savings rate for each of the incomes listed. This graphic also assumes a 6% pre-retirement return and a 5% post-retirement return from your assets.
Having a good understanding of your expenses will help you to meet all of your financial goals. Click here for our free budget worksheet!
For example, a 35-year-old who is earning $100,000 should have approximately $150,000 saved for retirement. To determine where you would be in terms of saving for retirement, find your income and your age and then multiply your income by the number in the box that corresponds with your age.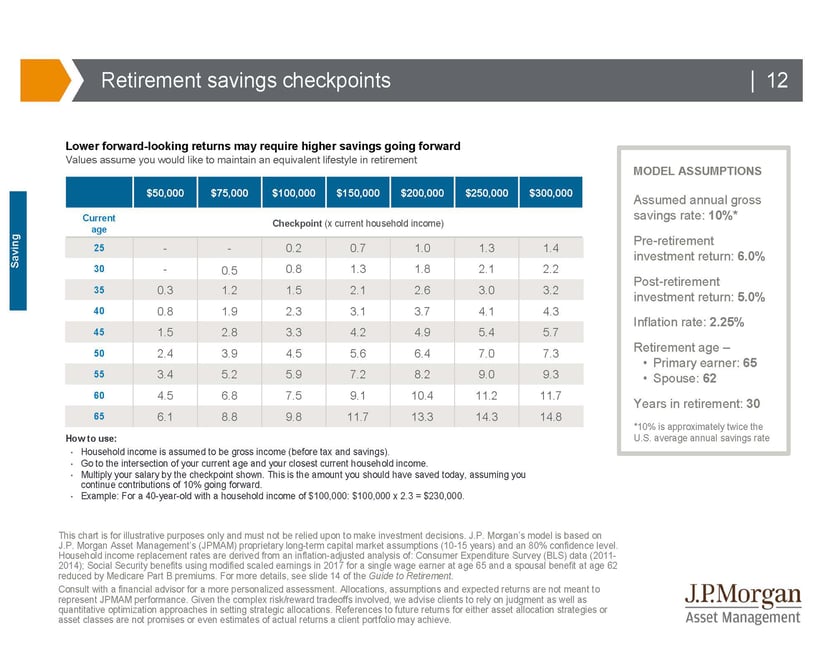 This retirement checkpoints guideline does not take into account any pension payments that someone might be entitled to receive. Those are additional income sources that will help a person achieve their desired retirement.
The biggest piece to retirement savings will be a person's spending. A person can save and save, but if they can't keep their spending under control, they will have a hard time not outliving their money. As people approach retirement, they need to be extra sure that they are completing a detailed, accurate budget. Once they have their Social Security estimate, a person can check that estimate with their budget. This will allow someone to have an idea of how much additional money, if any, they are going to need each year.
Of course, this is graphic does not give an exact number for everyone and everyone's situation is different, so, you should always speak to a professional regarding your individual situation. However, this graphic can give you a great, quick check-up to help you ensure that you're on track.
Do you wish you had more saved for retirement? Start working towards your own financial goals with our free budget worksheet!
Other articles you may enjoy:
Should I Pay Off The Mortgage or Invest For Retirement?
What Happens at a Financial Planning Meeting?
Retirement Versus College: Where To Save First
Choosing a Financial Advisor Part 1: Fiduciary or Broker?