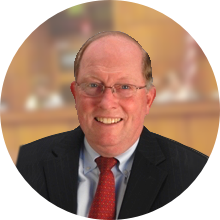 Guidance Point Advisors, LLC is pleased to welcome Larry Pelletier, CFP® as the firm's newest Investment Consultant. Larry brings with him vast expertise including assisting multigenerational asset transfers, financial planning for retirement and college savings, and investment recommendations for accomplishing client goals.
Prior to joining Guidance Point Advisors, Larry held a wide variety of roles at TD Bank, Key Trust Company, and most recently was employed as Senior Vice President at Bigelow Investment Advisors, where he served as a Relationship Manager with portfolio management responsibilities and performed business development for the firm including personal relationships, non-profits, and 401 (k) retirement plans.
Larry is a graduate of the College of Financial Planning and attended Gordon College. You can reach him at (207) 232-4749 or lpelletier@guidancepointllc.com.