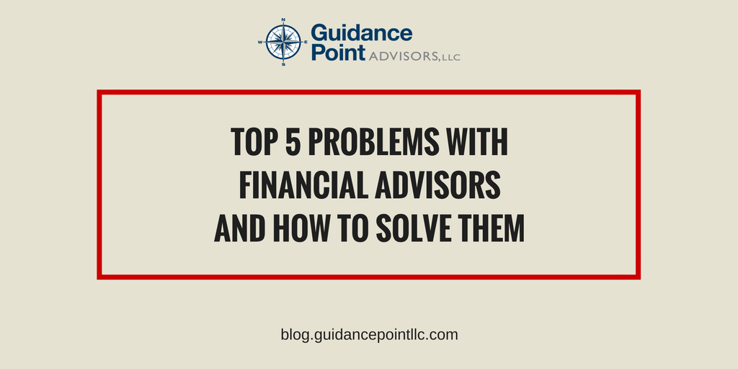 If you're considering hiring a Financial Advisor and have done any research on the web, you've probably come in contact with tens to hundreds of options. I'm sure that you have heard the horror stories on the news about what can happen when you trust the wrong person or company to invest the entirety of your life's savings, so how do you know if you have made the right choice?
The purpose of this article is to address, with full disclosure, five of the most common problems associated with financial advisors.....but we won't leave you there. We'll also discuss the causes of these problems and how you, the consumer, can avoid them. At Guidance Point Advisors, we work with hundreds of clients and their nest eggs. Yes, that's a lot, but because of the sheer volume of clients our team has worked with over the years, plus seeing and hearing from our counterparts in the financial services industry, we have an intimate knowledge of the good, the bad, and the ugly of financial advisors. Congratulations, now we can share this information with you in the hopes that you'll never end up being one of those stories we sadly hear about on the news.
Know all of the questions to ask when you interview a Financial Advisor. Download our free checklist here!
Problem #1: My Financial Advisor doesn't put my interests above my own.
In the Medical profession, each physician takes the Hippocratic Oath or to "do no harm permanently." In the Legal profession, attorneys abide by the ethical rules of the jurisdiction they practice within. But what about Financial Advisors? Well, there are two standards. See: http://www.investopedia.com/articles/professionaleducation/11/suitability-fiduciary-standards.asp . The distinction is whether your financial advisor is considered by the government as an investment advisor or an investment broker. While the title "financial advisor" may apply to both, the Fiduciary Standard applies to investment advisors while the Suitability rule applies to an investment broker. From Investopedia: Investment advisors, who are usually fee-based, are bound to a fiduciary standard that was established as part of the Investment Advisors Act of 1940. They can be regulated by the SEC or state securities regulators. The act is pretty specific in defining what a fiduciary means, and it stipulates that an advisor must place his or her interests below that of the client. It consists of a duty of loyalty and care, and simply means that the advisor must act in the best interest of his or her client.
Broker-dealers only have to fulfill a suitability obligation, which is defined as making recommendations that are consistent with the best interests of the underlying customer. Broker-dealers are regulated by the Financial Industry Regulatory Authority (FINRA) under standards that require them to make suitable recommendations to their clients. Instead of having to place his or her interests below that of the client, the suitability standard only details that the broker-dealer has to reasonably believe that any recommendations made are suitable for clients, in terms of the client's financial needs, objectives and unique circumstances. A key distinction in terms of loyalty is also important, in that a broker's duty is to the broker-dealer he or she works for, not necessarily the client served." This can quickly lead to advice that is filled with potential conflicts of interest, thus it can be hard to trust the advice of a financial advisor. Can you imagine if a medical professional or legal professional had a duty to the employer they worked for, and not necessarily in the best interest of the patient or a client? Would joint replacements be done just because the physician needed more billable surgery, and not because it was medically necessary? Terrifying.
This is the first thing to understand when searching for a financial advisor to hire. So how do you, the consumer, start to figure out which standard your advisor is held to? It's not easy. Many financial advisors can be both an investment advisor AND an investment broker, so there may be sometimes when one applies the Fiduciary Standard and then in the same conversation or meeting applies the Suitability standard. The easiest way to find this out is to start asking about how the Financial Advisor is paid, or simply follow the money! Here are some questions to ask any potential financial advisor:
Do you accept your fiduciary status in writing when investing your clients' money?
Do you get paid anything (commissions, gifts, vacations, perks, sporting event tickets, etc.) due to the recommendations you give your clients?
How do you get paid, or how are you compensated?
Do you sell products such as life insurance, annuities, private real estate placements, or anything else?
Will you disclose any potential conflicts of interest?
What licenses or credentials do you have? (Do you have a securities license or an insurance license? Do you have a license to give financial advice?)
Problem: I don't know if I can trust the advice of the potential advisor
Solution: Spend time understanding how the financial advisor is licensed, compensated, and their conflicts of interest.
Problem #2: Financial advisors don't like to disclose client performance to their clients.
Many of our peers don't like to disclose client performance to their clients. Instead, clients generally get an accounting of their own account. For example, this can mean that your account started with $100, received $2 in dividends, $0.30 in interest and appreciated $1 during a time frame. Clients see they made money and they should be happy, right? Would they be happy if the rest of the world received $5 in dividends, $2 in interest and appreciated $15 over the same period? Of course not. Seeing that your account appreciated by 5% when everyone else appreciated by 4%, or 6%, or 2% allows you to measure your financial advisor. Look – we all get measured at our jobs, if you don't show up to work for weeks on end, it's tough to expect to keep your job. Also, it may be very important to your long-term financial goals to measure performance. If you need to make your nest egg last over a 30-year retirement, compounding your money at 3% versus 4% will make a sizeable difference in the amount of money you have, and thus what lifestyle you can afford. Also, make sure they are showing you performance that is personal to you – meaning it tracks from the day your money bought investments to when they were sold, and is accounting for ALL fees deducted from your account. Talk to your potential advisor about how they track performance and ask to see a sample of how this is done.
So why don't financial advisors show performance? Generally, they figure if you don't know how well you are performing, you won't fire them. They figure "Why chance a client leaving?" Isn't a better solution showing the client overall performance, discussing with that client why an investment is working or not, and then adjusting the portfolio if necessary? If this is done continually, wouldn't the client receive a better outcome in the end instead of ignoring any measurement at all? Can you imagine a physician diagnosing a patient with a serious illness, apply a course of treatment, and never track if the prognosis of the illness is getting better or worse?
Problem: Financial Advisors don't like to disclose performance to their clients.
Solution: Demand that the advisor shows performance specific to your accounts and entire relationship.
Problem #3: Fees. Fees. And More Fees.
Very little in life is free, and if it is free, the saying goes "then you're the product, and not the customer." The SEC has a really great article "How Fees and Expenses Affect Your Investment Portfolio." https://www.sec.gov/investor/alerts/ib_fees_expenses.pdf . The article does a great job illustrating how even a 1% fee on a $100,000 portfolio earning 4% over twenty years adds up to $28,000 in total fees and $12,000 of missed compounding. In this example, it cost the investor 1/3 of their investment growth over the time period. Ouch! So, what happens when there are ongoing costs from the advisor, plus transaction fees to buy the investments, plus expenses inside the investments, plus surrender charges and on and on? Our team often sees clients of financial advisors sometimes paying 2-4% annually in total costs when all costs are added up. We just showed you how a 1% fee can equal a 1/3 drag in growth, so what happens when fees are 4%?
When you're car shopping, you probably go to Kiplingers or Edmunds, or another credible source to find what others are paying for the same car. Why would you pay the Manufacturer's Suggested Retail Price (MSRP) when no one else is? Likewise, an uninformed person "buying" a financial advisor service is probably not thinking about negotiating all the possible costs in order to keep this fee "drag" to a minimum. So when you do your google search for "financial advisors in CITY, STATE", or you've asked your friends and family, your accountant or your estate attorney, and you've come up with a list of potential fits, go to this website: https://adviserinfo.sec.gov/IAPD/Default.aspx . Search by Firm and type in the company name. Click on the right-hand side of the website site "Part 2 Brochures" and download the Firm's "Form ADV Part 2A". As the SEC and FINRA require many of the same sections in every firm's public brochure, you can search the Table of Contents for the "Fees and Compensation" section. This will allow you to start comparing how each firm and advisor receives compensation and what fees may apply to you. It will help when you get down to your finalist choices of financial advisory firms to compare costs, services and expertise. We also wrote an article that asks if you're paying your advisory too much, and how you can tell. You can read it here!
For an article that stays fairly up to date with average financial advisory fees in the industry, see the article below.
http://www.advisoryhq.com/articles/financial-advisor-fees-wealth-managers-planners-and-fee-only-advisors/
Problem: Financial Advisor costs can eat away my performance.
Solution: Understand the value a financial advisor is giving you in exchange for the fee being charged. Negotiate and minimize fees where ever possible.
Problem #4: Firing your Financial Advisor isn't always easy.
You're currently not satisfied with some aspect of your financial advisor's service, and have decided to change to a new advisor. Be careful, there are many things to consider first!
Does that mean you have to sell ALL your current investments to buy the investments your new advisor prefers? There could be a slew of commissions to absorb as you sell all investments and buy all brand new ones. Can you negotiate this to be covered by your new advisor?
Do your current investments have "surrender charges" or fees if you leave before the term of the investment has been met? Many times annuities can have up to a 10% fee if you sell the investment too early. Does this significant fee outweigh changing right now? Is it better to wait until the surrender charge has expired?
If your money is not in an IRA, but a taxable brokerage account, what is the tax consequence if you change your investment strategy? You could be facing a large tax bill if you change from one advisor to another. Make sure to discuss this with the new advisor and your personal accountant.
Should you change your investment strategy over time (months or years) from the previous advisor to your new one to minimize some of the tax and fee issues? Realize that you may be asking your new advisor to oversee investments that are not necessarily their best ideas or in their expertise. If your new advisor doesn't believe in the old investments for a particular reason, is it best to simply change at once? This is not a simple and easy decision.
Second, there may be costs to send each investment over to your new advisor. Can the new advisor cover this cost? Review your paperwork from your current advisor and ask your new advisor what they estimate this charge could be.
Third, emotionally it's not easy to tell someone you've entrusted with overseeing your financial wellness and shared your goals, hopes and dreams to that you no longer want to work with them. This can be a difficult conversation. We do find it best to address any problems first with your current advisor, and if you feel like a change is still necessary, tell the current advisor about the change after paperwork has been completed with the new advisor. Some clients choose not to directly address their now former advisor with this decision, and some clients prefer to. It isn't a necessary step to inform your advisor as account transfers take place without the approval of your now former advisor.
Problem: Once you get started with a financial advisor, changing to a different advisor may be difficult due to fees and other problems.
Solution: Talking with your new financial advisor about identifying all the possible problems with changing and address solutions for as many as possible.
Problem #5: How can I prevent my financial advisor from defrauding my money?
One name: Bernie Madoff. Having a financial advisor that is in control of telling you how much money you have with them without an independent way to verify it is a problem. It's extremely trusting on your part, but also is tempting for an advisor to begin a Ponzi scheme (read this story for how this can happen very innocently: http://www.ai-cio.com/The-Departed.aspx). This is your nest egg you've saved for your entire working life –make sure it's as protected as possible from fraud! Understand what powers your financial advisor has or doesn't have in regards to working with your money. Can they wire money from your account without your consent? Can they send money to anyone but you? What's the reputation of the company holding (or custodying) your money?
A solution to this problem is to work with a financial advisor that is holding your money at a large institution such as TD Ameritrade, Fidelity, Schwab or some other large custodian. The advisor can be limited to only being able to perform certain duties on behalf of the client, such as trading, without a client signature instructing the custodian to perform the activity.
Problem: How do I prevent my financial advisor from defrauding my money?
Solution: Understand who is holding/custodying your money and inquire about the security that is in place to prevent fraud from happening to you.
It's not mere coincidence that we have legitimate solutions to the top 5 problems with Financial Advisors. At Guidance Point Advisors, we constantly scrutinize our services and fees to eliminate as many potential conflicts of interest possible, and be transparent with our services. You want to enjoy a relationship with your financial advisor that is built upon a foundation of honesty and integrity, and it is our goal to make that a reality. For more information about Guidance Point Advisors visit www.guidancepointllc.com.
To find out exactly what questions you should be asking your current, or any potential Financial Advisors , please feel free to dowload our free Financial Advisors Interview Checklist at the link below.
Here's some other blogs that we've written you may find helpful!
Financial Advisor Fees: Am I Paying Too Much?
I want to fire my Financial Advisor!