Executive Summary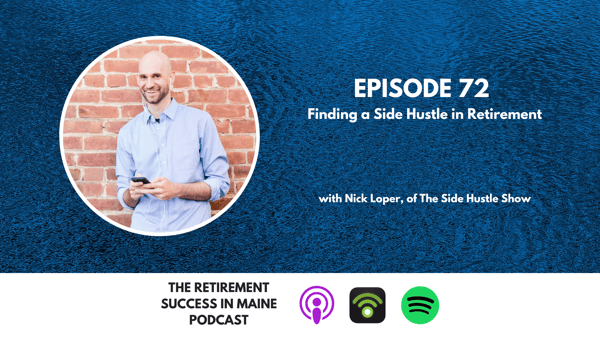 We've had clients in the past say to us, "I love being busy and I have a lot to offer – why not get paid while I do it?". The discussions of consulting, part-time jobs, and side hustles then come up as ways to make some money while retiring from our full-time careers. According to an article at Zapier, 40% of Americans have a side hustle in 2022, up from 34% in December 2020. So it's getting popular, but what do we need to know about side hustles and how to get the right side hustle FOR ME? That's what this episode is about!
Our next guest's entrepreneurial journey began at an early age. In 2013, he started Side Hustle Nation and The Side Hustle Show podcast to begin spreading the gospel of this lower-risk brand of entrepreneurship. Through the blog and podcast, he's helped thousands of readers and listeners earn more money and start businesses of their own. The site is read by 2.2 million visitors a year, and 30,000 listeners tune into The Side Hustle Show each week. (WOW!) Please welcome Nick Loper to The Retirement Success in Maine Podcast!
What You'll Learn In This Podcast Episode:
Welcome, Nick Loper! [3:11]
What is a side hustle and what are some popular side hustles out there today? [13:16]
How can someone figure out what they want to do as a side hustle? [18:39]
Looking at side hustle failures, what is it that causes the failure(s)? [25:51]
How can someone build a successful side hustle, but still retain control of their time? [33:12]
How will Nick define a Successful Retirement? [41:45]
Ben and Curtis conclude the episode. [43:23]
Resources:
Listen Here:
Did you enjoy The Retirement Success in Maine Podcast?
Subscribe to our podcast directly via Spotify, iTunes, or Podbean by clicking on the images below!



Transcript:
Ben Smith:
Welcome everybody to the Retirement Success and Maine podcast. My name is Ben Smith and allow me to introduce my co-host the Uber to my Lyft, Curtis Worcester. How you doing today, Curtis?
Curtis Worcester:
I'm doing well, Ben. Doing well.
Ben Smith:
Awesome. Well we are on episode 72 I think at this point. So depending on what year you're in, you might be required minimum distribution age if you're reaching age 72. This is true, as of 2022 rules anyway. So right, we're currently in '22, 2022 and many retirees of course are looking at their investment accounts. And I know we're shooting here in mid-September. We just had some bad inflation numbers that came out and had a big drop in the stock market. So I think we've been talking to our clients, and some are seeing some results that might be a little disappointing, especially if you just recently retired.
Ben Smith:
And I know that our conversations with our clients too about what can we live on, is if we retired in 2021, it might be a different number than might we might be coming up with in 2022. And that happens often, by the way, is every year to year, we adjust kind of where we are and to what's happening. But you also right now could be considering retiring from your current job. And maybe you're just sick of working for "the man" but maybe you're not sure if you can afford to cold Turkey retire.
Curtis Worcester:
That's right.
Ben Smith:
So we've had a lot of guests and clients in the past say to us, I love being busy. I have a lot to offer. Why don't I get paid to do the things that I like to do maybe that are outside of my current profession and my current kind of work?
Ben Smith:
So we have discussions about, hey, maybe if I don't cold turkey retire, I could do some part-time work. I do some consulting. I could do maybe a side hustle that maybe gives a come up as a way to make some money, but also retiring from our full-time career. So what we are kind of doing the search on the interwebs, we came across an article at Zapier that said 40% of Americans currently have a side hustle in 2022, up from 34% in December 2020. So this whole idea of concept, we hear gig economy, you hear kind of people doing monetizing a little bit of their time or hobbies or passions. It's definitely getting popular. But what do we need to know about side hustles and getting the right side hustle for me? And if I'm you out there in the audience, that's what I'm wondering. So that's what this episode is about.
Curtis Worcester:
And obviously we like to bring in guests, Ben. And so we had to go out and find a side hustle expert. So our next guest, his entrepreneurial journey began at an early age. He was selling candy to his fellow boy scouts at summer camp and eventually started painting houses in college at the University of Washington. After graduation, though, he started side hustling in earnest. Some small scale experiments in online advertising soon turned into a full fledged comparison shopping site for footwear, which earned commission from Zappos, Amazon, and other online shoe sellers. Three years of nights and weekends later, he left his corporate gig to become a full-time entrepreneur. So it was during this time that his obsession with different business models and creative ways to make extra money really began. In 2013, he started Side Hustle Nation, and the Side Hustle Show podcast began spreading the gospel of his lower risk brand of entrepreneurship.
Curtis Worcester:
Through the blog and podcast, he's helped thousands of readers and listeners earn more money and start businesses of their own. So his site is read by 2.2 million visitors a year and 30,000 listeners tune into the Side Hustle Show each week, which that is just incredible metrics there. So today's guest currently lives in Sammamish Washington with his lovely wife, two sons in Mochi, the Side Hustle shih-tzu. So with that, please welcome Nick Loper to the Retirement Success in Maine podcast. Nick, thank you so much for coming on our show today.
Nick Loper:
You bet. Curtis, Ben, thanks for having me.
Ben Smith:
Yeah, we are really excited to talk to you, Nick. And I know just kind of observing the media presence you've built online and the financial nerd piece, which we again, happy to be in your presence there from that end is be able to geek out on money and talking some finance pieces. So we have a lot to dig into about all of this side hustle stuff and finding a side hustle retirement. But we always want to get to know you a little bit more, Nick, and about your expertise. So obviously, we read your bio hearing that you caught the entrepreneurial bug early selling candy to fellow boy scouts and painting houses in college. Has entrepreneurship kind of come to you naturally or have you developed these skills over time?
Nick Loper:
I would say definitely, it's been an evolution and a learning curve and a learning process as you figure out all of the things that you don't know. Actually a friend of mine, Brian Harris, I think he's got this video, you probably find it on YouTube, and it's about figuring it out. And it's like, that's your sole job as the entrepreneur is you're going to run into the hurdle and the challenge and the next step, and you're going to bump into the ceiling. And he's like, "What's your job? Figure it out."
Ben Smith:
That's right.
Nick Loper:
And that's kind of been maybe an overlooked skill in trying to run different businesses is this problem solving aspect of like, well I don't know how to do that. Never done that before, but I'm going to have to figure it out.
Curtis Worcester:
I love that, I love that. So kind of keep going on your background here. Obviously, I read this off. So can you just talk about what led you to really leave that safety of a corporate job and how you worked to really become a full-time entrepreneur?
Nick Loper:
That was still a challenge to have the confidence to say, "Can I really cut my own paycheck? Is that allowed?" It was pretty recently out of school. So it was just three years post graduation like, could I do this? And this is kind of what I recommend to other people who are looking to make that similar leap is like, well do you have a track record of revenue from your business and maybe revenue is not profit, do you have a track record of profit from your business that is going to at least cover your expenses? And that's what I had. I think my goal was to have a trailing six or 12 months of proof to say, oh, okay, if the day job went away, we wouldn't be dipping into savings. We wouldn't be racking up debt. It was going to be okay and given an extra 40, 50 hours a week to dedicate to it. Okay, if I had more time to grow this thing, I think it could get to that salary replacement level and beyond.
Ben Smith:
And Nick, what a scary thing there is too because again, I used to work for banks in the community banks in wealth management and to kind of join a group that was starting their own investment firm, I hear you what you're saying there. It's a scary proposition of saying, hey, I don't have the safety of an entity kind of taking care of me if something's not working out. So I kind of hear what you said about, hey, building this up over time to make sure it was there instead of just a light switch and just will hopefully it works out. So I hear it.
Nick Loper:
That's my side of the spectrum. There's other people, you've maybe heard the Reid Hoffman quote, he's the founder of LinkedIn like, "Oh, an entrepreneur is somebody who jumps off the cliff and figures out how to build the plane or build the parachute on the way down." That works for some people. That's like the burn the ships mentality. Oh, my back's against the wall, I'll figure something out. That sounds super stressful for me.
Ben Smith:
Super scary. Super scary.
Curtis Worcester:
So Nick, I want to ask too, I guess along that journey to becoming a full-time entrepreneur, how many of your businesses just didn't work? Whether it was you working for you personally or the business itself didn't pan out, I guess, until you found the right one for you?
Nick Loper:
I've had lots of flops along the way that kind of died a quiet death in some unknown corner of the internet. Early on, I was trying to do some pay per click consulting but didn't have the skills really to go out and prospect that or get any inbound leads. I was fortunate in that the shoe business was the first thing that I really, really went after in earnest, and that ended up working out. But since then, I tried to spin off a handbag and luggage site because a lot of the same advertisers that I was working with in footwear also sold that stuff. But it was a lower commission rate and just a broader product thing and all the different, it was really tough to build for a lot of reasons. I tried to spin off a sandal site to get even more niche, and it was just like, well this is seasonal, lower price point product.
Nick Loper:
It didn't work for a lot of reasons, duplicated a lot of the work. I tried to make a wine site, which I had no business doing. I don't care about wine other than occasionally I like to drink it. So the site had no unique perspective, no really reason to exist. But the funny thing is you learn something from all these failures, right? And on the research side for that wine site, I came across this site that was reviewing different wine clubs, these monthly memberships where they send you a couple bottles of wine. And they had user reviews and they would rank these ones, and because I was on the affiliate side, I was like, Oh, this is really interesting probably because they're getting lead generation commissions for referring new visit, new user, new members to these wine clubs. I was like, well this is really kind of a cool model.
Nick Loper:
What other industry could I rip that off and pivot that to something else? And I came up with this site called virtualassistant.com, which I sold two years ago, but started in 2011, ran it for nine years. It was Yelp for outsourcing companies, a directory and review platform for outsourcing companies based out of that one little nugget of wine related research that didn't go anywhere. Where can I spin this off to? And that ended up being very slow, always very much a side hustle, but including the proceeds from the sale, ended up being over a half a million dollar side hustle.
Ben Smith:
Wow. Well, that's pretty cool. And I know obviously, Nick, you have Side Hustle Nation as well, and that's been recognized by Plutus Foundation as a two time winner of the best entrepreneurship blog. So doing a side hustles and entrepreneurship are kind of going hand in hand here. Can you talk a little bit about how you built your blog and podcast into the success it is today?
Nick Loper:
Yeah, I love geeking out on all of this stuff. So thought of myself first and foremost as a writer. Like, I'm going to blog, people are going to read my stuff because I'm just such an interesting person. What ended up taking off way faster was the podcast. People don't care about me, but let me hear you point the mic at somebody else. Ask them the zero to one questions. How'd you come up with that idea? How'd you get your first customers? What else did you do to grow this thing? What mistakes did you make along the way? The podcast is really what the site became known for. And then in later years, finally figured out by paying attention to what was working for other people, like, oh, there's this thing called SEO and you can optimize your post for Google and all of this stuff. That ended up being a significant portion of the business today, but it took a while to really learn that and blow that up.
Nick Loper:
But the podcast first and foremost was built on what I call climbing the listener pyramid. And you guys are on episode 72, so you know about this as well. It's going from strangers to listeners to subscribers to fans. And every piece of content that I create, trying to ascend people on that ladder. Unfortunately, the biggest piece of the pyramid is this stranger segment, people who don't know you exist. It's trying to solve that awareness problem and come up with compelling episode hooks. So they are going to go through the pain of like, well I got to find my podcast app, and then I got to find your show. And then I got to find the specific episode that you're talking about, and then I got to invest the 45 minutes to listen to this. It's got to be really compelling and trying to do that, very slow in the early days, but within probably, seeing just enough traction. It's like, okay, this is something that I enjoy doing, and this is something I think has some legs to be a business later on.
Curtis Worcester:
That's great. That's great. We're taking notes here because side hustle here for us, we're going to try to get to 30,000 listeners a week as well, right?
Ben Smith:
Yes, exactly.
Curtis Worcester:
So Nick, obviously we want to talk about finding side hustles in retirement here for our listenership. So I think as we dive into this topic of side hustles, I think it might be helpful just to define a couple things. So can you just talk about what technically a side hustle is and where did the rise of side hustle economy come from?
Nick Loper:
Yeah, you bet. So side hustle, broadly speaking, anything that you're doing to earn extra money outside of a day job. It has a little bit of an entrepreneurial connotation outside of just getting a second job or moonlighting that delivering pizzas or bartending doesn't necessarily come with. There's connotation of some upside potential with the side hustle like this entrepreneurial optimism that I think gets lumped in with it which I like. But broadly speaking, I mean driving for DoorDash, delivering for Instacart, all that stuff could still qualify as a side hustle, but it's like you recognize there's probably a limited earning ceiling on some of that. And then the rise of a side hustle, really interesting phenomenon. I was looking at the Google trends over the last five years. And it's definitely an up and to the right chart, and I certainly didn't invent the term.
Nick Loper:
I think we're seeing it from two angles. One out of necessity, I need to make extra money to make ends meet as we're dealing like you mentioned the inflationary economy. But just even prior to that, housing, healthcare, education, some of the big ticket expenses in our lives have just gone up, not really commensurate with increase in real wages to inflation. So it's like, okay, well I got to do something to make ends meet.
Nick Loper:
And then the other side and largely in part due to social media, we kind of see what is out there. There's lots of data to suggest this is kind of damaging to our psyches, but we see everybody else's highlight reel, and we compare it to everyday on social media. And so we see the possibilities of what other people are doing. We say, hey, I could do something like that too. I could build an online business, I could go get some of this extra entrepreneurial income. So we see more and more people tackling it from both the reactive side and the proactive side. Look, this is something that I get to do that I want to do because it's out there.
Ben Smith:
And Nick, I know again from a lot of our clients in our audiences, again, they might be approaching retirement and they're kind of thinking about what am I going to do with my time as part of this? And they go, hey, I like to do things and I like to be busy, and I want to have a purpose is I want to have something that I feel like I can get some energy from, and I can get to some satisfaction on. And I think that's where we kind of talk about this of, well, talking about the concept of side hustle, but a lot of people don't know where to start. Can you talk a little bit about maybe what are some of the most popular side hustles today, especially for those that are near or in retirement?
Nick Loper:
So I think almost all side hustle is going to fall under one of three categories. Selling a service, selling a product, or an audience based business, kind of an attention based business. And the big Google and Facebook would fall under that. Hey we built a tool, we built this platform, we're in the attention economy. But selling a product, selling a service, kind of where a lot of people start, especially on the service side. And you mentioned consulting, freelancing, babysitting, dog watching in that realm. Super low barrier to entry, very low startup costs, and you can go out and try and find customers on that. On the product side, this could be as simple as decluttering your garage. It could be doing consignment sales for your neighborhood. It could be all the way up to we have people importing products from China and selling them on Amazon and stuff.
Nick Loper:
So it goes deep. But the common thread in really all three of those business models is starting with a pain. So if you're looking for a business idea, and it's funny. I actually talked to somebody because I was going to say, very rarely do I talk to somebody and they're like, well I was looking for side hustle ideas, I found your post, I scrolled down. And there's 100 on the page, it was number 37 on the list. And I was like, that's the one. But I actually talked to somebody the other day who was like, I was looking for side hustle ideas, I found your post. And one of the ideas was cleaning up trash from a parking lot, starting a litter sweeping business. And I said, Shoot, I could do that. And so he went to town and was doing that in Brooklyn, New York, and he was doing really well with that.
Nick Loper:
But in most cases, it starts with the pains, the problems. And the reason I say that, I think it's easier to sell pain pills than it is to sell vitamins. And I look at my own spending, what am I spending money on to make pains and annoyances go away? And the exercise that I'll do or recommend people go through is just kind of the what sucks exercise, I call it. It's just a notes app on your phone. Everything that you find yourself complaining about, everything that your spouse is complaining about, everything that your neighbors and friends and family are just moaning about. On the other side of those pains and annoyances, there might be some business solution to go out and solve that for other people. And that's kind of where I recommend people start the brainstorming process.
Curtis Worcester:
That's great. And you're leading right into my next question here, which is great. So I know certainly from our end people kind of come to us interested in finding a side hustle or being that retirement entrepreneur, but they kind of freeze up because there's just so much out there, there's so many options they could do, it essentially gets overwhelming. So I know you just brought up the first part of my question is you do that what sucks list, which I love. And I'm going to keep that because that's fantastic. But can you either I guess, elaborate a little more on that? Are there other ways? I guess, what are some aside from that, exercises that people can do to really hone in on what they think they want to do?
Nick Loper:
It is a challenge and you've probably seen the Venn diagram of your skills, your hobbies, and what people will pay you for. There's this unicorn, hypothetical, magical sweet spot in the middle. And it's like, well what if my hobbies are over here, and the stuff I've been paid to do are over here? And there's no overlap. And so it can be really challenging to figure out what that intersection is. There is no perfect business idea. The business idea that you feel comfortable with taking that very first step is the one that I would encourage you to go to and adopt that experimenter's mindset of, and I'm going to give it a shot. If it blows up in my face, that's okay. It's the same as the test tube in the lab doing the same thing. The scientist doesn't think it's a failure. They just say, okay, hypothesis on whatever, disproved.
Nick Loper:
And we'll go on to the next one. So it's definitely a challenge, but if you can find some sort of alignment or intersection between your existing network and maybe your network's network who do you know or what types of people do you know and who do they know? Where might you be able to get a foot in the door or a toe in the door in some industry and how does that align with your past career expertise or hobbies? I think that might be a place to start because it can be a needle in the haystack with all the options that are out there.
Ben Smith:
So Nick, I want to maybe expand on that a little bit because I think what I'm hearing you saying is, hey if say I really love to cook, and I want to do part-time meal prep for people that can't do meal prep on their own, either housebound. Or I can deliver maybe homemade meals, but I'm really not set up nor do I know how to cook meals for 200 families a day. I'm used to baking for my family and not for 200 people. And what I'm kind of hearing you say as an example is, hey, if I went to going to be a barbecue person and maybe I go to the local barbecue haunt, and I get a job as a line cook just to see the operations and how they prep things and how they really do things as a kind of way to learn skills until I'm then ready to do my own thing. Is that kind of the idea there of trying to, I have the core concept, but I don't know really know how to bridge it, get some skills somewhere else and then maybe kind of develop?
Nick Loper:
Yeah. And that's a low risk way to do it. That's a way you essentially get paid to learn, which is a cool way to do it, or see if you could shadow somebody who's got the commercial kitchen rented out for their other project. Can I watch your process, I'm not going to steal your idea, just kind of want to look over the shoulder as you're batch prepping all those things. But that's the thing, you don't really want to commit to that commercial kitchen lease until you have the customers to justify it. So actually, a friend of ours does custom cookies out of her cottage. She's got a cottage kitchen license in California, and she's limited to how much he can sell each year, which kind of puts a natural cap on her capacity. But it's all been marketed through word of mouth and social media, and she does well with that. But it wasn't like she went out and spent a ton of money up front before she kind of validated the demand.
Ben Smith:
And again, those are the things and ideas that sometimes is success breeds success. It's like all of a sudden it's like, hey, two people talk about it, and you get a website. And they share it, and all of a sudden it kind of goes on itself. But I want to ask a question about, again, from kind of pain point from a lot of our clients and audience that we hear about is, hey, they've been working for their whole lives, maybe since they've been 14, 15, 16 years old, and they're kind of at the kind of end of their professional careers a little bit and burnout's such a big thing. So when I hear side hustle, one of the words that I could hear them kind of cringe at is hustle. I've been hustling for 40 years. I've kind of done with the hustle part. So what would you find about...
Ben Smith:
Again, I think hustle's a thing that might be negatively connotated to this group, but what about the side? How do you find ways that from an entrepreneur, I know you talked about pain points and things that we could do. What about finding the thing that you're passionate about that can energize us and get us excited about monetizing our skills in time? How do we find that thing that we're super excited about? How do you coach people to that?
Nick Loper:
Setting up the business in such a way that it doesn't become a grind. That's not what you need in retirement.
Ben Smith:
That's not what they want.
Nick Loper:
And it comes to both my dad and my father-in-law set up their semi-retired gigs as consultants and they say, "Well this is my day rate, take it or leave it." Like, I don't need to be here, but I still like to be in the game in a little way. And so that was what worked for them and based on you're not proactively marketing this. It's just based on their 30 years of work history colleagues saying, "Hey, what do you think about this project?" It's like, happy to answer that. What I have found, so to go back to the passion question is at least for me, it's kind of a stressful question. What are you passionate about? I don't know. I'm interested in a lot of different things. And so what we found, and there's some research from Dan Pink and I want to say Cal Newport to kind of back this up, is that passion often follows doing the work.
Nick Loper:
And I'll give you the example of painting houses in college. I wasn't passionate about painting houses, but over the course of a couple summers you kind of get into the groove of it. And you can't help but walk through the neighborhood and look up under people's eves and say, Oh, I could scrape that. I got to come back and give these guys an estimate on the weekend. You develop the passion through practice. And same thing with podcasting. At episode one, I had no idea what I was doing, but over the course of now nine and a half years, it has become part of my identity, has become something that I'm really into. And so it's more picking something that you're curious about, that you're interested in. And then over the course of putting in the reps, do you find yourself more or less interested in it? Did the passion come or did the interest kind of fade away?
Curtis Worcester:
No, that's a really good way of looking at that. I want to keep going here. And obviously, there's kind of two... Well there's probably two sides and a lot of gray area, but for the sake of this question, I think there's successful side hustles or people who find success in their side hustles and people who don't. So in terms of looking at those failures or I guess looking at both sides of it from your perspective, what is it that makes either the success or the failure? Is it the person, is it the idea, is it the execution, is it all the above? Is it something else? What do you have there on just what makes things work or what makes things not work?
Nick Loper:
One of the big things that separates of the 500 guests on the show and the people who are perpetually looking for the next idea sitting on the sidelines with this bias toward action or this willingness to test something out. I'm going to take step one, even if I don't know steps two through 10. That's kind of the first thing that comes to mind there. And it's just the hustle, the word, it's got a negative connotation, but to me it's controlling what you can control. And it comes from an old baseball coach of mine. He's like, Look, you're going to have bad days at the plate. You're going to have bad days in the field. It happens, but hustle never slumps, right? Control what you can control. And that's something that stands out. It's definitely separating the people who are kind of like, ah, I don't know, I'm still waiting for that perfect idea, that lightning bolt of inspiration to strike versus the people who are like, I don't know. I'm going to take a swing at this.
Nick Loper:
And actually came across a really interesting article, we just recorded an episode on this. So Nathan Barry is the founder of ConvertKit. It's a email marketing software for creators, and he wrote this post called The Ladders of Wealth Creation, where it starts ladder one, a job trading time for money, hourly or salaried, step ladder number two is this selling some type of service business, freelancing, consulting, even building up to an agency where you got your managing team members and they're doing the work and you're taking a percentage. The third ladder was a productized service where it's still a service based business, but you're selling it as if it were product. And so you got to learn copywriting and web design and inbound marketing, all this stuff. And then the final ladder, the fourth ladder was selling products, digital products, physical products, marketplaces, platforms. And it was like with every step of the ladder, there's different skills that you got to learn to make that leap, skills being the bridge between those ladders.
Nick Loper:
And so we've seen this kind of throughout the archives. It's a pretty common path that people tend to graduate and work towards. And so to go back to, well, why do some side hustles fail? It's like you may have been trying to climb a ladder that you didn't have the skills to climb yet. And that was something that was a relatively new idea to me. It was like, it could be a great idea, it could be a really cool business model, but if you haven't put in the internal skills work to allow yourself to build it, then it may still not get anywhere.
Ben Smith:
I really like that. And that's something where I could see where from our audience, and again, client perspective is there might be something that again, from that ladder, maybe I'm really interested in the side hustle. And I have zero clue at what I'm doing, and there's going to be bound to be mistakes and issues in anything I'm kind of working towards. So I want to ask the question of, there's also risk of being so optimistic and just as you said when you opened up, I will figure it out, is kind of the entrepreneurial skill. But what are some of the common mistakes or misconceptions around building a side hustle that a lot of entrepreneurs fall into? What are things that you just kind of see over and over, especially in your podcast and the conversations that come up of, I never knew I was going to have to run into that. And it seems like a lot of people just get temporarily blocked by it, or that's something that was maybe a struggle to overcome.
Nick Loper:
Yeah, I know I'm totally with you. Probably do a whole episode or a whole book on the mistakes. First one, we talked about waiting for that perfect business idea to strike. Okay, we'll scratch that off the list. One mistake that I see a lot of people making is making big upfront investments in logos and websites and business cards and talked to one guy who's like, "Well my website is almost done. It's been nine months and 30 grand in development, but it's almost done." And I want to be like, 30 grand.
Ben Smith:
30 grand.
Nick Loper:
Do you have any customers? He could throw something together on Square Space or something for 10 bucks. Test this out. There's a bootstrap way or there's a low risk way to do almost anything that you want to do. Instead of buying that delivery van, could you lease it for the weekend, see if there's any demand to make an IKEA run or something. I don't know. So that's one thing that definitely stresses me out is investing too much upfront without any validation in terms of real dollars. I'm sure there's others that will come to mind as we go through this too.
Curtis Worcester:
So I guess along those lines, and I know now I'm asking another question about failing side hustles here. So I guess I'm the Debbie Downer of the conversation today. So obviously, we've talked about the good side, the ones that work. What about the dark side of side hustles? I know you just gave us an example of a mistake maybe people make, but I'm sure in that grind of you just can't get one to stick, can you just talk about the process and I guess what can go wrong with side hustling?
Nick Loper:
Yeah, I think the biggest downside is you have worked yourself into a job that you hate. And in retirement, that's not how you really want to be spending your retirement years. And maybe you have the freedom just like, I don't need this, I to be here, I'm one bad meeting away, and I could just pull the plug and take a pause on it. For younger workers, it's like, well, I kind of need the income, but I kind of built myself into this trap. So trying to be intentional from the get go. And it's almost a little bit of a mindset shift where I'm going to start a dog walking company versus I'm going to walk dogs. I'm going to start a window washing company versus I'm going to go wash windows. A little bit of a mindset shift maybe early on can set you up to sell the result instead of selling your skills and expertise.
Nick Loper:
But there's definitely a dark side, and there was an article in the New York Times an oped piece called the con of the Side Hustle. Where they didn't reach out for comment, but they quoted something from the website. I was like, all right, any press is good press. But it was about the glamorization of the necessity of working two jobs where it's like we are dealing with some economic and financial realities for a lot of people that necessitate working more than an eight hour shift. And it's like yeah, I'm with you. That's not a great place to be, but at a certain point, yeah. So that was the con of it is if you're doing it out of necessity, if you're grinding away for a low hourly rate, I could see why that would be definitely a negative connotation of that. And especially the brands that are out there to really glamorize it, get your side hustle on. Maybe you got to build something with a little more leverage into it.
Ben Smith:
Nick, and I think you kind of made some points there of the question I was going to bring up to you because a lot of the people that they're retiring or they've retired is now they've exchanged this kind of freedom of time is they now have control over their entire calendar maybe for the first time in their whole lives. They now have six Saturdays and a Sunday where before it was, well, they give somebody else the Monday through Friday and they have their Saturday and Sunday before they have to give the five sevens back. So.
Ben Smith:
I know that's been a resistance of our clients when we talk about this is they don't want to start a job or side hustle because what they do by saying that is they give back that control of their time to something or something else or somebody. So I know what you just said about maybe the company versus the personal service is a way to retain some control over it of, get some income, but maybe not have you having to do all of it and maybe you're using a different skillset. Are there other ways or things to think about building a side hustle that's successful but can also help retain this sense of control for this population?
Nick Loper:
Yeah, I think a lot about that because I mean, if you got six Saturdays and a Sunday, you kind of won the game, right?
Ben Smith:
That's my thought.
Nick Loper:
To have control over your own calendar, that's it. You did good. But thinking about the side hustles and the business models that you're going into for the right reasons, you want something that you can work on and make an impact for and practice your craft and all that, but build it in such a way that it has some leverage. And I think about the passive income. There's a list of passive income ideas on Side Hustle Nation. It really dives into four different types.
Nick Loper:
There's the traditional type that I'm sure you and your clients are all familiar with. It's like buying cash flowing assets or buying appreciative assets that can spin off cash and retirement, dividend stocks and real estate and all that stuff. But there's also building assets, which is kind of the ball game that I have played in with websites and stuff where it's very much leveraged where I'm not getting paid at all to write this blog post, but hopefully over the course of months and years, it can stick on the first page of Google and drive traffic and drive revenue and drive email signups for months or years down the road.
Nick Loper:
There's also the sharing or renting of assets that you already have. There's some interesting... I mean, everybody knows Airbnb, rent out your spare bedroom. In California, it was crazy. We saw people renting out tents in their backyard. It was nuts. But even neighbor.com is Airbnb for storage. Oh, we've got a RV parking thing on the side of our house we never use. Like, oh, maybe somebody would pay to store their thing there. So it's kind of leveraging these assets that you already have would be number three. And then the fourth flavor of passive income is what I call reverse passive income. And this is intentionally and strategically reducing your ongoing expenses. Okay, how can I save a little bit of cash here to minimize what I need to make on the other side? Yeah, it's definitely a fun camp trying to build that leverage into it. And that's why I like these online business models. But I mean you guys know it takes the same effort to produce a podcast that 10 people listen to or 10,000 people listen to.
Ben Smith:
Yeah, we use that analogy all the time, Nick, because for us is we would rather have a really great conversation with somebody like yourself and have all the work and all the organization and to get this really well done, it's like your Thanksgiving dinner, and then I want to be able to have leftovers from this, so over the next four or five days. So it's not just one meal that's over and done. It was a really great meal, but then that's it. But to say, hey, I was able to take our show today and were able to carve it up a little bit and then have it be on social media. And here's things that came out of it. So there's that part of it too is we can find more ways to deliver our content to our audience and connect with them where maybe they don't have time to listen to us for 45 minutes or an hour, but they do have time to listen to us for two minutes on something, on a conversation about side hustle.
Ben Smith:
So that sort of thing I think is just different ways to think about it. And Nick, I want to ask the question of you too is, look, side hustles and especially things I know in our intro when I said equating Curtis as the Uber to my Lyft there of these things just weren't there 10 years ago, especially to the level that they are today. And that the people can just sign up on an app, and all of a sudden they just can start driving people around and just in its exchange of time of driving somebody around with their car for some money is a pretty new thing.
Ben Smith:
And I guess what I'm asking here is obviously we said side hustles are growing, and they're building over time. What do you think the future is here, right? Because I could see that after this pandemic, we just have become more virtual, more internet connected, and it feels like this is kind of a building trend. Where do you, say 10 years down the road and what you see is happening in side hustles and how people are, maybe it's not just the pure 40 hour week job and the career thing. How does this kind of evolve and adapt over time?
Nick Loper:
It's interesting. So pre pandemic I would've told you, oh, there's this really exciting shift from ownership to access. I don't need the car. I can just push a button in one shows up. And that was the big trend. Now a couple years deep into it, two and a half years deep into it, I don't know. It feels like it's almost shifted like, oh. Especially early March, I won't get in a car with a stranger right now.
Ben Smith:
Exactly.
Nick Loper:
So there's this shift. But on the labor front, all of the signs were pointing to, hey, we're heading toward a freelance economy. Half of the workers are going to be freelancers in some capacity. But it seems like with unemployment as low as it is, people are really trying to grab talent whatever way that they can. And so maybe there's a flexibility from the side of the employers where they're like, hey, everybody come back to the office. And all the workers are like, I'm good, maybe a couple days a week. And so it's trying to accommodate that newfound flexibility, and maybe people are piecing it together, piecing their income together from a handful of different clients. And we've seen that maybe is one mindset shift from a lot of mid-career side hustlers is adopting the mentality that, okay, I'm already an entrepreneur. My day job just happens to be my biggest client. Okay, I have this responsibility to them, but they don't control the other 16 hours of my day. So let me go out and see what other options are out there.
Ben Smith:
So I guess what I hear you saying is that especially what we've experienced from a career path where it's like you have a full time vocation profession all the way to a certain date, and then it's maybe again, trading the binge of career for the binge of vacation. Is that maybe there's kind of an evolution of that because businesses have to be more adaptable and open to more arrangements is that they tend to evolve over time, and then people can call their own shots. Maybe a little bit more of, I'm working two or three days a week, but then those other two days, the fun stuff I want to do, I can kind of see if I can make money in a different way. And maybe that could be the seed or the evolution personally for people that want to continue that in retirement. And then they maybe take away the parachute they have from their career and as it's established. And maybe there's more of that growth is I guess what I hear you say.
Nick Loper:
Yeah, I think so. And we see a lot of people slowly backing into retirement. Well, I'm going to go to four days a week, I'm going to go halftime. And it's kind of slowly scaling it back because at least in the US, okay, I want to be able to keep benefits as long as I can. You could ride that out. That's a legit concern and a non-zero cost as you're attempting to go freelance. But we see that sliding out the door versus the one drop the mic, and I'm out.
Ben Smith:
Exactly.
Curtis Worcester:
No, that's good. So we have kind of one concluding wrap up question for you, Nick. Obviously, the name of our show is Retirement Success. Our whole purpose on this show is helping people find their retirement success and be successful in retirement. So I want to ask you what or how will you define a successful retirement for yourself?
Nick Loper:
Yeah, that's a good question. Something I've come been pondering a little bit lately. We got 500. We did 500 episodes. Are there another 500 episodes in the tank here? Do you just keep doing this? At what point do you say I'm good? And when that time comes, well, how do you fill your time? And you got to have something. I believe you got to have something that you're working on that you feel some sense of progress toward. And for some people that's golf and for some people that's pickle ball. For some people that's health and fitness. For some people that's online business. And so trying to fill your days with the work and relationships that really lights you up, I think that's retirement success for me.
Ben Smith:
Awesome.
Curtis Worcester:
That's great.
Ben Smith:
Well Nick, we really value and appreciate your expertise and lending it to our show today. And again, we know there's a lot of really great blogs, and you referenced a bunch of them. And also you have some really great books, especially that are Amazon, we want to link to it. So for those that are listening, we want to make sure we're kind of also able to check out your podcast as well. The Side Hustle Show podcast. We'll give links to that there too, so people can check that out. But thank you so much for coming on and sharing some of the lessons that we know our audience will really appreciate.
Nick Loper:
You bet. Thanks for having me. Take care.
Ben Smith:
So finding a side hustle in retirement with Nick Loper. Again, I know obviously going through, there's so much that Nick has expertise on. And he's got a podcast with 500 interviews of entrepreneurs of lessons and things that they've gone through to build their businesses. I know Nick has himself having a lot of expertise around building a web presence, right? So that what he's really focused on himself is kind of building that. But I thought kind of interesting to hear all the latter kind of points of, and I know obviously from the group that obviously if you're out there listening, that it might be that it's just a simple exchange of get paid some money to give up a little bit of time, and if I want to quit it after a month, cool, move on.
Ben Smith:
But yeah, I think it's just helpful to paint the whole spectrum of all the possibilities, and we have people out there that are pretty entrepreneurial and brilliant people and might be something you're interested. So again, I think Nick did a great job going through it all there. So Curtis, what's the website people can go to if they want to find a little bit more about our show here today?
Curtis Worcester:
Yeah, so obviously we're episode 72 today, so it's going to be blog.guidancepointllc.com/72. Can't believe we're already at RMD age here, but again, so obviously there we'll have a link to the video of today's show. We'll have a transcript there. We'll have links to all Nick's books, his podcast, and I think he was going to share a couple of his blogs with us. So yeah, again, I'll have kind of the wrap up of the show and really how to get in touch and follow Nick because obviously as we said, he's built a great online presence that I think everyone can benefit from outside of this show. So that's where you'll go to find it.
Ben Smith:
And finally, we want to thank you for listening to us and spending time with us today. Again, I know that's a lot of questions where again, as financial advisors and helping people with their investments is sometimes these sorts of when results are less than you maybe expected in a certain given year period of time, these questions come up about, well, maybe there's something I can do to help make a little bit more money. So thank you for listening to our show today. Hopefully, you got something out of it and learned a little bit about and got you maybe thinking about the possibility of side hustle for yourself. But really appreciate your time. Hope to catch up with you next time, and take care.