Executive Summary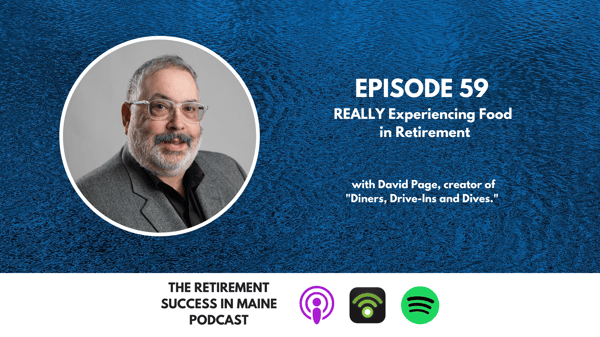 When working with retirees like as do, we know that one thing our clients generally like to do as a special treat is to go out to eat at restaurants, right? Sometimes we might have a local haunt that we visit routinely, say on a Friday or Saturday night to break up the week. Food is a big deal in our lives, not just from the enjoyment of the food itself, but also a gathering place for families to share stories and their lives. So, we wanted to have a show to not only talk about this big part of our lives that we all enjoy but how can we elevate it? How can we experience food better when dining out? What about doing a better job of finding the best places to eat for us as we vacation?
Our next guest is a two-time Emmy winner and changed the world of food television by creating, developing, and executive-producing the groundbreaking show "Diners, Drive-Ins and Dives." Creating Diners, Drive-Ins and Dives and hands-on producing its first eleven seasons took him deep into the world of American food—its vast variations, its history, its evolution, and especially the dedicated cooks and chefs keeping it vibrant. His next series, the syndicated Beer Geeks, dove deep into the intersection of great beer and great food. It is those experiences, that education, and the discovery of little-known stories and facts that led him to dig even deeper and tie the strands together in his new book, "Food Americana." Please welcome David Page to The Retirement Success in Maine Podcast!
What You'll Learn In This Podcast Episode:
Welcome, David Page! [2:15]
How did David come up with the show "Diners, Drive-Ins and Dives"? [11:22]
What can the retiree population do better when eating out? [17:41]
How can someone find spots to go eat that they may not know about yet? [23:21]
How can someone elevate their vacation food experience? [30:49]
What are David's top-five places to experience the best food? [38:53]
What is David's food experience with the state of Maine? [53:28]
How will David find his personal Retirement Success one day? [57:43]
Ben and Curtis wrap up the conversation [1:00:27]
Resources:
David's Food Americana Facebook
David's Food Americana Instagram
Listen Here:
Did you enjoy The Retirement Success in Maine Podcast?
Subscribe to our podcast directly via Spotify, iTunes, or Podbean by clicking on the images below!



Transcript:
Ben Smith:
Welcome everybody to the Retirement Success in Maine Podcast. My name is Ben Smith. I'd like to introduce my co-host, the Emeril Lagasse to my Michael Simon, Curtis Worcester. How you doing today, Curtis?
Curtis Worcester:
I'm doing well Ben. How are you?
Ben Smith:
I'm great. I'm great. I know we kind of have a good little role for guests now going on and we're really excited about our topic and our guest today. What do we got going on today, Curtis?
Curtis Worcester:
Yeah. I think this is one you and I have talked about a little bit and we're very excited to do. So obviously you and I working with retirees like we do, I know one thing that our clients generally like to do ... And I don't want to single out our clients. I know you and I like to do this as well as a special treat is to go out to restaurants. We might have a local place that we just love to visit routinely that Friday or Saturday night to really break up the week or sometimes people are big breakfast fans. Ben, I know your in-laws always wanted to start the new year together having a big breakfast at Geaghan's in Bangor, which obviously is not an option for breakfast anymore, which is sad.
Curtis Worcester:
But that would be the first thing they would do in the new year was just to spend time together over a meal. So obviously food is just such a big deal in our lives, not just from enjoyment of the food but the gathering. Gathering places for families to share stories and their lives. So we wanted to have a show to not only talk about this big part of our lives that we all enjoy, but how can we elevate it? How can we make it better? How can that experience with food be better when dining out? What about doing a better job finding better places to eat for all of us on vacation? So with that, really the theme of today's show was to discuss experiencing the best of dining out.
Ben Smith:
Yeah. Our next guest is a two time Emmy winner and he's changed the world of food television by creating, developing, and executive producing the groundbreaking show, Diners, Drive-ins and Dives. And I know I'm going to say that probably multiple times during this show and I'm probably going to mess it up. But Diners, Drive-ins, Dives, we're all big fans of here. So before that, he was also a network news producer based in London, Frankfurt, and Budapest. Or Budapest I think if you're saying it correctly. He traveled Europe, Africa and the middle east doing two things. Covering some of the biggest stories of the world, but also developing a passion for some of the world's most incredible food. He walked through checkpoint Charlie in east Berlin the night the Berlin wall opened. But his favorite memory of the eastern side before reunification remains the weisswurst sold under the S-Bahn elevated train.
Ben Smith:
He's first served couscous by Muammar Gaddafi's kitchen staff while waiting in a tent to interview the dictator in Libya. Blood oranges at a 3:00 breakfast with Yasser Arafat. Wild boar prosciutto in Rome. Venison in Salzburg. Nonstop caviar in Moscow. He's even managed to slip a few food features in between the headline stories, such as a profile of Germany's leading food critic, which turned out not to be the oxymoron one might assume.
Ben Smith:
Once back in the states, he pursued his passion, both personally and professionally. Show producing Good Morning America, he was involved in a substantial amount of food coverage, including cooking said segments by Emeril Lagasse. Creating Diners, Drive-ins and Dives and hands on producing its first 11 seasons took him deep into the world of American food. Its vast variations, its history, its evolution and especially the dedicated cooks and chefs keeping it vibrant. His next series, the syndicated Beer Geeks ... And I know Curtis, you're a beer geek yourself.
Curtis Worcester:
That's the one.
Ben Smith:
Dove deep into the intersection of great beer and great food. It is those experiences, that education, the discovery of little known stories and facts that led him to dig even deeper and tie the strands together in his new book, Food Americana. At this time, it is our sincere pleasure to welcome David Page to the Retirement Success in Maine Podcast. David, thanks so much for coming out. We're really excited to have you.
David Page:
Thanks for inviting me. I'm glad to be here. That went on forever. We should trim that intro.
Ben Smith:
I don't think I would trim a thing, honestly. I think that was really good. And again, we have a little bit of time we like to cover with our guests. Want to make sure people know what flavor they're working with here with you.
David Page:
OK.
Ben Smith:
With all of our shows one of the things that we like to do is get to know you as a guest. It's one thing to know your expertise, but why do you have the expertise and the passion you do? And that's a really big deal. So love for you just to tell us a little bit about your childhood, where you up and how your life led you to TV and news production.
David Page:
Yeah. I grew up in Western, Massachusetts. My parents were originally from New York. I was born in Queens, but they escaped to allow us to grow up in a more rural environment. Greenfield is 12 miles south of where Vermont, New Hampshire and Massachusetts come together. Which was helpful when I was a high school student because the drinking age was lower in Vermont. Anyway, it was very dangerous on Route 91. I would not advise doing it. I grew up in a world of terrible food. My mother was an awful cook. Wonderful woman, great accountant. Miss her every day. But man, she could not cook. And I didn't really develop much of an appreciation for good food at least as made in my mother's house.
David Page:
Well, let's take it chronologically. In that part of Western Mass, there are a lot of prep schools. I went as a day student at Mount Herman. Mount Herman had a student carrier current radio station and I fell in love with radio. And more broadly I would find out I fell in love with broadcasting. But I started working on the student station and then I got a job on the weekend at a local station. WCAT Orange, Massachusetts, the kitty cat with the thousand watt meow.
Ben Smith:
I love that.
Curtis Worcester:
That's awesome.
David Page:
I was certain at that point I wanted to be in the biz. So I enrolled at Oklahoma State University because they had a broadcasting program not realizing at the time that broadcasting is trade school and what you ought to study in college to be a communicator is economics and history and political science and if you're smart, languages, which I did not do and yet ended up overseas.
David Page:
From that point on I started following radio jobs around the country. Never finished college. Went to Oklahoma city, Wichita. In Wichita I transitioned to television. Moved on to Phoenix, which at the time was a much smaller market than it is today. There I specialized in investigative reporting, continued that in Houston and Atlanta. Got fired in Atlanta because I didn't like my news director and he sure as hell didn't like me. And figured I'll see what's out there. NBC had a bureau in town. I walked down the street to hand a tape to the ... Then they called them secretaries. Today I'm sure she's the bureau coordinator and vice president in charge of something. And if that sounded sexist, I didn't mean it that way.
Ben Smith:
No, no, no. We got you. Yep.
David Page:
Anyway, I'm in jeans and ratty clothes and I haven't trim my beard and she comes running after me as I go to leave. She says, "The bureau chief wants to talk to you." So I go in. Turned out that his primary ... There were several producers in the bureau, but his best producer had just told him she was going to take a leave to write a book and he needed a freelancer. So I showed up for my first day of work as a network producer, not knowing what the job was, wearing a three piece suit. Everybody laughed at me. Then I asked the best producer there, "What the hell is a producer?" And he taught me. And anyway, it ended up with me being offered a job in the NBC Chicago bureau, then being sent overseas. While I was overseas, never having expected to travel internationally ... I mean, for all intents and purposes, I was a kid from a small town at this point. I mean I'll claim New York, but Greenfield was not a metropolis.
David Page:
I'd never thought about going overseas. And now I'm being sent to all these places I know nothing about. And I realized pretty quickly that food is the gateway to a culture. That by looking at what people eat, by tasting what people eat, by experiencing it with the locals ... Even if oftentimes it's your local staff, it doesn't change the circumstance any. You start to learn about countries. You learn that Strasbourg in Southern Germany, the reason that choucroute is the big food there. I'm sorry, Strasbourg, France, next door to Germany. The main dish there, the big dish there is choucroute, which is a hunk of sauerkraut topped with a hunk of pork and/or pork sausage. And you may say, why am I eating German food in France? But in reality, that is the indicator that that was a contested region for centuries and that ownership of that region went back and forth.
David Page:
Or in Greece when you're sharing a meze, the plates with the whole table, it's indicative of the social nature of Greek society. And Epicurus, he was a philosopher and yes, the word epicurean comes from him. He had a quote along the lines of before eating, you should choose who eat with, not what to eat. Because to eat by yourself is to be like a wolf.
David Page:
So I started to develop ... Country to country, the food was amazing. And I really developed an appreciation for food. When I was leaving Europe to come back to the states ... I had been working in Europe, Africa, in the middle east. My house was in Europe. When I moved back to the states, I realized I spent four years in Frankfurt on the road so much that I never once fired up my stove. When I got back to the states, I thought to myself, "Maybe I'll try making a meal." And I found it to be fun. I found it to be creative. I found it a way to be fearless. Because if you come to my house, I may serve you something I've never made before. Last night, for example, I made one of my signature dishes, shrimp and grits, using Heritage grits from North Carolina. And I completely blew it. My wife said it's the worst thing I've ever made. So you have your moments. But the assumption would be that from that I somehow jumped into food journalism. When in fact that was an accident. After stints at NBC and then a long stint at ABC where I senior produced Good Morning America. I was the senior investigative producer of 20/20. You bounce around in this business and you're defined by whatever the last thing you were was.
David Page:
Who sees an investigator or producer doing food? But anyway, I went out on my own, opened a production company, began to starve. So I called Al Roker, who by then I think was on the main Today Show. But he had worked for me when I co-produced the weekend Today Show. And Al had his own production company. He was doing a lot of stuff. I called up, I said, "I'm starving. You got any work?" And he said, "Yeah. I'm doing a bunch of stuff for the Food Network. Why don't you do some of that?" So I did that and now I'm a food journalist. And you don't get rich working for someone. So at some point amicably, I moved on and tried pitching the network myself. And that was a constant failure. There was a nice production executive who would talk to me on it. She took my calls. But time after time, after time I'd pitch shows and she'd say no.
David Page:
And then on this one occasion, I'm on the phone with her. It's late in the afternoon, I'm in my basement office. My house in Minnesota, which is a whole other story I jumped over. And she kind of trying to help me ... I had done a show for Al about the history of diners and she's on the phone with me and she says, "Do you have anything else about diners?" And I said, "Oh yeah. Oh, absolutely. I've been developing a show called Diners, Drive-ins and Dives." And I told her all about it. And for the first time she said, "That sounds interesting. We have a development meeting Tuesday. Get me a one sheet, a write up, for a one hour special on Monday."
David Page:
I hung up the phone on the one hand elated because she'd finally said sort of yes to something. But also aware that I was full of crap because I was not developing a show called Diners, Drive-ins and Dives. I had pulled the name and subsequent description out of ... That's not good for my hair. Out of thin air or a body part. Finish the sentence any way you want. So I spent the weekend calling ... Back in those days, phones, actually people talked to people. Calling all over the country to talk to people and come up with a list of restaurants that I could include in a one hour show. And I sent it to her and they had their meeting. And shortly thereafter, they green lighted a special, which did so well. See, the host, Guy Fieri, had won their Food Network Star contest.
David Page:
The Food Network Star contest does not produce Food Network stars with the exception of Guy. He won in the second year. And at the time the network still believed this show would in fact generate stars. And they desperately wanted to get as much exposure for him as they could. So they wanted to put him in a primetime show and they had a couple of big deal production companies under some schmuck in an office. They wanted a couple of big deal production companies to pitch them each an idea. In the meantime, they figured this special would keep Guy's face out there. Well, it turned out that the big deal production companies pitched ideas that the network didn't like and the special had been a surprising success. So they trepidatiously commissioned a short season, one season, of Diners as a primetime show. And obviously it came a hit. Maybe their biggest hit ever. And it went from there and I was a food journalist.
David Page:
I did 11 seasons of that, then moved on. It's now being produced by another company. It's in season 30 something. However, I had found my niche. I loved the whole idea of talking about and exploring food because it's such a rich tapestry. I ended up syndicating because you always want to lose as much money as possible. I ended up syndicating a show about craft beer which may be the best thing I've ever done on television. It was called Beer Geeks. The host, Michael Ferguson, is very big name in the craft beer world. And we combined the making of craft beer at different breweries with the cooking with that beer at different restaurants. One restaurant in each show. And then the last act of each show we would have a pairing dinner at that restaurant. I love that show to this day. We did 26 episodes. I then decided it was time to write a book. So I did.
Curtis Worcester:
Just like that.
David Page:
All TV producers think they have a book in them because they don't think anyone knows how hard it is to write for television. You can't just sit down in TV and write, "It was a cold and stormy cold and stormy night." Cold or dark? Anyway, "Dark and stormy night. And then Addicus killed his father." TV is not a pure ... You don't just write a pure narrative. You have to analyze the pictures and situations you have and use relatively invisible language to slowly and gently push the viewer through each sequence and onto the next. The concept of being able to just sit down and say stuff was intriguing to me. So I picked a subject that intrigued me, which is, is there an American cuisine? And figured it would take me a year. It took me two. The result was Food Americana, which I'm quite proud of. And the premise of the book, the conclusion that I came to is yes, we do have a national cuisine, which we created out of bits and pieces of the cuisines of other countries and cultures and then modified to suit our own tastes.
Curtis Worcester:
Sure.
David Page:
So that's my life story. Thanks guys. Been great to be with you.
Curtis Worcester:
No. David, that was so great. Thank you so much for giving us all of that. That was just incredible. I want to rotate here to the meat of our conversation today if you will. And that's just how to really experience dining out. And obviously we have a specific focus on the retiree age group here with this show. So obviously as we discussed in our introduction there, going out to eat is a big deal for families and especially retirees as an event to break up or spice up the week if you will. And just a quick stat here. So for the 10 years leading up to 2019 food and drink sales in the United State restaurant industry steadily increased and reached over 773 billion with a B US dollars. So we know the majority of us like to go out to eat routinely throughout the year. So my kickoff question for you, David, is what are some things the average retiree could do better when going out?
David Page:
Don't buy booze.
Curtis Worcester:
Like that.
David Page:
Go to restaurants that have a BYOB policy. My wife and I ate at a place in Atlantic City the other day. Not a place in a casino. A family owned Italian American restaurant that's been there for 40 years, 50 years. They're BYOB. It was an extraordinary meal. Just a truly remarkable meal. Incredible amounts of food. We brought one bottle of wine and the bill before tip was 138 bucks. That to me was a remarkable bargain. Now, no, it wasn't $60, but we knew the level of restaurant we were going to. So yeah, the killer when you go out to eat is booze. Depending upon where you live ... In New York you can pay 15 bucks for a martini. So that's one rule. Number two, don't let restaurant dictate to you the usage of the various items on the menu. For example, if you choose a place known for huge portions split one. Secondarily, you can make a meal in many cases out of appetizers, which these days are as big as a meal used to be before we started this massive plate thing.
David Page:
Don't get appetizers and an entree. I mean, you don't do that at home do you? "Hey, honey, let's have dinner, but first let's have another dinner." Don't do that. And shy away from expensive desserts as well. Specialty coffees, that sort of thing. Consider going out for lunch instead of dinner. Lunch is cheaper. And it's still going out. And by the way, in the middle of this, let me point out there was an old stereotype. I mean, I'm basically a New York Jew. By zoning requirements we have to retire to the east coast of Florida. And the joke is the early bird special. Don't discount the value of the early bird special.
David Page:
A lot of restaurants that want to get you in before the rush and there are some terrific bargains. Now speaking about bargains, use coupons. There's no shame in using a coupon for God's sake. Also know the price range of where you're going. Everybody's menu is online now. If you go to the menu and the steak's 47 bucks, don't do it. It's just why? And along those lines, unless you're going to a real steakhouse, don't get steak. A, it's something you can cook at home. B, generally speaking, industrial steak as served at chain and other not so wonderful restaurants is nothing to write home about. It probably came frozen in Cryovac. That ain't special. What I look for when I eat out is something I don't or can't make at home if at all possible.
David Page:
I mean, duck breast, for example, is a relatively expensive item. I can't make it at home. I'll choose a duck breast because at least I'll get gustatory value for my money. But I do want to say one thing. Also, a couple other thoughts, but my interest in this goes beyond saving money in retirement. Don't go to chains. Go to local restaurants owned by people like you who really want to serve you good food and whose margin is so tiny, especially after COVID. Go to a real place. Develop relationships with regular places. I live on Long Beach Island in New Jersey. Half the year it's a tourist island, half the year it's just those of us who love it here. There's a little diner here called The Dockside Diner. And when I walk in, they know what I want. They'll check with me but they won't ask me what I want. They'll say, "The blah, blah, and the blah, blah?" "Yeah. That's fine." And by the same token, while you're trying to save money, don't do it to the help. Tip well. Don't be a dick. That should be the number one rule.
Ben Smith:
So I want to ask you ... A follow up to that David is obviously it's really tough from a chain perspective as you look at TV and you're getting thrown commercials at your face incessantly about here's this chain versus that chain and sometimes local-
David Page:
Here's Applebee's claiming they're your local bar.
Ben Smith:
Right.
David Page:
You have a local bar and it might well make a nice slider.
Ben Smith:
I guess that's what I want to ask you about is obviously when you were producing Diners, Drive-ins and Dives is you had to go find some really fabulous places that locally sourced, produced. The majority of this is not a frozen, processed food that they're providing to you. So the question I want to ask is how did you find these really great spots to highlight on the show and then the lesson being of, hey, how can somebody like us or the population that we're working with, how can they go find similar spots that maybe they wouldn't know about either?
David Page:
Yeah. By the way, I'll get to that one second. I left one thing out of our list.
Ben Smith:
Yeah. Please.
David Page:
Food trucks. Not the super fancy. Not the foodie food trucks, but legitimate food trucks catering to a particular, I hate the word, but ethnic group or neighborhood. Phenomenal food and cheap. Now, when I started Diners, it was in many respects pre-internet, in that internet wasn't the tool for everything. We were still cave painting. And that's how we communicated. So this was done much more by telephone, but it's a question of finding the people who would know. So we would call all of the people in each individual city who knew the food business. The critics for the paper, the food writers for the magazine, any friends we knew in the restaurant business and got their recommendations. Then we would call the places that seemed interesting to us and interrogate them.
David Page:
If you're touting your pancakes, but you make it from a boxed mix, you're out. If you offer paninis but in fact you're serving that pre pressed bread that looks like it has grill marks, you're out. Everything of any significance had to be made from scratch and the process needed to be described to us in such detail that we believed you. And the network didn't know I did this and thus they never reimbursed me for it. But 5% of the time, when we walked into a place we would then walk back out. Now, I'm proud that our hit rate was 95%, but if the sanitation was off, if the food didn't taste good, if something just felt strange, Guy and the crew would call and I'd say, "Adios. Go have lunch someplace else."
David Page:
Now, as an everyday consumer in 2022, the path is much easier. Simply google and find yourself the food critics and food writers for the local restaurants and magazines. And when you go to whatever their latest article is, you click on their name and it gives you the last 20 of what they wrote. And you'll find in there the little gems in town that you're going to want to know about. Eater is good for that. I would not rely on Yelp. What I found in doing Diners is that everyone's favorite restaurant ... We would get all sorts of suggestions. Most of them were not good enough for us because people's favorite restaurants are not necessarily good restaurants or the best restaurants. They're just the restaurants that these ... I mean, we'd have people recommend places because it's the best chili ever. And when we would call the restaurant, it would be canned chili from Cisco.
David Page:
And by the way, that's great. If you have a local place you love, terrific. I once spoke with the incredibly famous writer from the New Yorker whose name I will now forget, who is just legendary for writing about food. Dammit, this is really going to tick me off. He's the one who invented the term la maison de la casa has fine continental cuisine for the best restaurant in every town. Anyway, god, this is going to drive me ... When you figure this out right here on the screen I want you to put a graphic with his name because this is so embarrassing. Anyway, he said to me ... Calvin Trillin. Thank you.
Ben Smith:
Got it.
David Page:
I was lucky enough to have a lunch with Calvin Trillin in New York, near his house. And he explained to me, he said, "Look, everyone's favorite hamburger should be the one they grew up with." I grew up in Kansas City, my favorite hamburger is Winstead's. But it should be that way. And so there's that element of favorite versus good. But back to ... So I don't trust Yelp. But I would trust the works of food writers and that's where I go to ... We just went down to Charleston, which is a legendary food city. But I realized beyond Husk, I really didn't know all that much about where to go in Charleston. And I solicited some suggestions from people I know but I also winnowed my way through various local publications. Pardon me. And especially when they triangulated a place, we went. It was amazing. Just absolutely amazing food.
Ben Smith:
I like that. And you kind of teed up my next question.
David Page:
And by the way, not necessarily expensive. Let me just point something out. Don't be afraid of famous restaurants. Be afraid of overpriced tasting menus. This BS where you're going to get 20 courses, each of them the size of a quarter for 300 bucks. No. But one of the greatest restaurants in America is Husk in Charleston. And I was blown away by the fact that the entrees there did not exceed $35. You can go to Husk and eat for the same price you'll pay at Applebee's. And it was astonishing. One of the other restaurants we enjoyed there was a little shack out on a jetty famous for fried oysters where you line up at the bar and you give them your name and you pay very little money. They give you one of those numbers, you take it and put on your table and they show up with the oysters. Unbelievable. The thing to look for is ... Even google it. Where do the locals go? The best wings in Buffalo are not at the Anchor Bar anymore.
Curtis Worcester:
I like that. I want to keep going here, David. And I will start by saying, I also just got back from Charleston, South Carolina. Can't remember-
David Page:
Where'd you go?
Curtis Worcester:
That's where I was going next. No idea where I ate. I had good food, but couldn't tell you where it was. So I want to-
David Page:
We're actually thinking about moving down there.
Curtis Worcester:
Really? My wife's going back the first week of February so that tells you how much we enjoyed it.
David Page:
Yeah, no, it's an incredible town. And from a surprising perspective, many people may not know this, we're Jewish. It's a very Jewish town. It's got the oldest reformed ... First or second oldest reformed congregation in the US. There were a lot of Jews in business down there in the 1800s.
Curtis Worcester:
So I think you kind of teed up my next question and you might have even touched on your answer a little bit. We want to ask you when you are planning a trip yourself, what are some tips and tricks? I know you just shared looking at local publications there. But is there anything else you can share with our listeners on how to elevate your vacation food experience when you're traveling?
David Page:
Well decide how much you want to spend and in what variegated manner. I mean, in most vacation destinations there's at least one high end restaurant. Is it worth going to? I'd have gone to Husk even if the prices were three times what they were because I was looking for a particular food experience. But the best food in most places is not the expensive food. It's the stuff you hear about from the locals. And by the way, this is a really stereotypical point but ask your taxi or Uber driver where he or she eats.
Curtis Worcester:
Yeah. Yeah.
David Page:
Ask any local where they like to go. If you're buying something at a store, say, "Hey, I'm looking for a place tourists don't know about. Where do you go for what?" You got to have the chutzpah to not be afraid of inquiring. You also have to have the chutzpah to risk a lousy meal. But between online and personal recommendations, I believe you can find great places to eat in every town. Now, you often have to say to people, "Look, I'm really not looking for any place "nice". I don't care if it's a dive. Where's the best? Where's the stuff like your mother made?" Okay. And also do your homework on the kinds of food that are local to an area. What I hate is ... Okay, I live on Long Beach Island, New Jersey. We are still an active fishing port, which means in August we have fresh tuna caught off ... Well, 100 or 200 miles off the island but brought here. We have throughout the year the finest scallops I've ever eaten anywhere in the world. And yet, if you go into a restaurant on the island, you're quite likely to see tourists eating fried shrimp. We don't have shrimp. These are from Indonesia.
David Page:
And don't be afraid if you're in a place that's known for something to ask, "Is this local?" I was in Maryland not that long ago, they were having a crab shortage. Not all the crab was local, which means it had been frozen somewhere and I don't want to do that. But it's really important to know what a place is, what the real ingredients there are. I'll eat shrimp and grits much better than what I made in South Carolina anytime. I'll eat South Carolina barbecue in South Carolina, but I won't go to a barbecue joint in South Carolina and eat Texas brisket, which is a problem in the barbecue industry. All of the various regional styles are now everywhere. And even in a place like Charleston, if you want to eat low country, do you want to eat gullah geechee? Do you want to eat fried oysters? Do you want to eat generic southern? You've got to know something before you can really make sure you're finding the best examples of what a place does.
Ben Smith:
And David, it sounds like to some of your point about planning out the vacation is it sounds like you've got to have a pretty key crucial element of that is being flexible. Because if you get there and you have that conversation that might change your whole rhythm-
David Page:
Absolutely.
Ben Smith:
And cadence of how you plan out your vacation. Right?
David Page:
The best thing is someone just told me about this place. Sweetie, Let's go. Well, we're going to go to the museum of underwear. Oh, what the hell.
Ben Smith:
Exactly.
David Page:
This is something I think of from my time working internationally. How do I say this politely? So many Americans are timid of exploration or adventure. Go for it. You don't think you'll like that, but it's what they ... Octopus is a great example. To many people that sounds awful, but they've never had it.
Ben Smith:
That's right.
David Page:
So buy one appetizer for the table and taste it. And it's okay if you hate it. But try it. I mean, I lived in Minnesota for 10 years. Well, we all did. The family. Had a horse farm. It was nice. And one of the things about Minnesota that drove me crazy ... Minnesotans will tell you Minnesota's the greatest place in the world. First of all, they're crazy but beyond that, they'll say, "Where you're from?" I'll say, "New York." They say, "Oh I hate New York. I'd never go there." And I'd say, "How many times have you been there?" "Oh, never."
David Page:
Okay. If you leave Minnesota and go experience other places and then decide Minnesota's the greatest place in the world and it's where you want to raise your family, more power to you. If you want to freeze your ass off, go ahead. If you want to fish through holes ... Anyway. That's fine but it's ... There is increasingly available in the United States, Chinese food as served in China, which I differentiate from Chinese American food. Which is a fantastic cuisine of its own, which evolved over the years after Chinese immigrants came to the United States, starting with the gold rush in California which brought a bunch of Chinese men, many not intending to stay, who looked for gold and many others who set up stores and restaurants to feed them. And from that, we ended up with Chinese American restaurants based mostly on the food of Canton, which is where these people came from.
David Page:
And there are various regional forms of Chinese food that most Americans are unaware of. But there is increasingly available in the United States, mostly on the coasts, Chinese food as made it in China because there are finally enough Chinese young, relatively prosperous Chinese immigrants here that you can make money. You can run a restaurant serving them, not the general American population. For my book, I was taken to a huge ... This was pre pandemic. A huge Chinese food court in Flushing, Queens, New York. When I was born there, Flushing was Jewish and Italian, now it's almost completely Asian. Pan Asian. Anyway, two recent students ... One of them's now teaching. Anyway, two young Chinese immigrants took me and a bunch of people. And we sampled food from the various stalls at this food court. And it was freaking fabulous.
David Page:
But much of it was food that I fear many people wouldn't taste. Items in the food like tendon and artery. Items like congealed duct blood. A circle of it, which tastes like liverwurst with a little metal tang to it. It's fabulous. You got to be willing to try. Just take one bite. If you don't like it, you don't like it. But I got to tell you something, you get a good dry pot, which is a variety of ingredients, stir fried in a spicy sauce. And it may include tendon. It may include artery. It may include tripe. It may include any number of body parts, but you get to pick them. I want this tofu skin and the fish and yeah, I'll have a tendon. It'll knock your socks off. Especially we're talking about retirement age. This is the time to put on your dancing shoes and kick some ass.
Ben Smith:
That's right.
David Page:
This is the time to say, "Honey, we've never done this. Let's do it." And whatever that may mean to an individual couple. But do it.
Ben Smith:
And that's I think the best kickoff you could ask for to my next question, because I want to ask about not just experiencing food locally around us, but we ... I'm just thinking of one couple that's a client of ours and they're foodies. They just love food. They will book their whole trip around just the food experience.
David Page:
Yes.
Ben Smith:
So I want to ask you, because I know you've done this locally. You've done it throughout the United States and also internationally today. So I know we're kind of ... The pandemic and things have been evolving. What would you say if I was to create the best food experiences, where would be the top travel destinations for you either nationally or internationally? What would be say the top five of places you would want to have on your list to experience the best food out there?
David Page:
Okay. Well, if you live in New York, forget this, but if you don't, New York is arguably the greatest food city on earth.
Curtis Worcester:
Okay.
Ben Smith:
Okay.
David Page:
Followed in whatever order by Rome, Paris and London. So you can't go wrong in those places. San Francisco's extraordinary. New Orleans is extraordinary. Chicago is also good. But if you're asking me where am I going to go on my next food vacation? I'm going to go to Spain. It is a lesser selected location for Americans. And it has such an incredible variety of food. From the lamb of the [inaudible 00:40:33] all the way down the coast to Jamon, the ham that is produced and that is unbelievable. It makes prosciutto walk out the door in shame. I mean, they raise these boars ... And there's different levels of [foreign language 00:40:53]. But at the highest level and the most expensive these are boars that are raised on acorns. It's all free range of course. You don't put a boar in your house.
David Page:
But you can taste the acorn-ness in the fat. It's extraordinary. A couple years ago, we were in Spain and we went to the central market in ... Well, we went to several central markets. I'm not sure which city this was. I know we were on the coast. Anyway, I'd never seen this before. One of the stalls they were selling barnacles, which I only knew of barnacles as a nuisance that attached to the side of a boat. They look dangerous. They look bizarre. But basically they're no different in taste profile from lobster or maybe crab in that it is a hard shell that you have to work your way through to pull out a little bit of meat. They were amazing. Just amazing.
David Page:
And we get back to local ingredients and quality. One of the most wonderful dishes you'll get in Spain is a pan con tomate, which is a small piece of incredible local bread that's been grilled and topped with some chopped up tomato. And it'll blow your mind. My wife and I did a half day cooking school in Valencia and the ... I can live in the present tense, no conditional, badly with high school Spanish. I've retained enough of it that I can get a beer or find the bathroom. Unfortunately, no one else in our cooking class either had the ability or attempted it. So I said something in Spanish and the grandmother who was running the class decided that I was the star of the class and began talking to me at a very high rate of speed, very little of which I understood. But she taught us how to make what the Spaniards call a tortilla, which is really a potato omelet that is served flipped and is simply a dream. It's one of the greatest things on earth that you'll ever eat.
David Page:
And it's that kind of variety of terrific food to which not a lot has been done. Okay. The ingredients are so good and the techniques are so basic that, yeah, you want roast pork, go to a restaurant in Madrid and they'll roast an entire boar hog over an open flame and serve you a piece. It's that kind of wonderful ... Food in Spain is great. I would not necessarily think that most people would go there, but the food in Ethiopia is surprisingly good. It's based around ... The national dish is a sort of spongy pancake that you use to pick up various kinds of protein and vegetables. My favorite is a spicy meat and I'm embarrassed to say I don't know ... I assume it's lamb or goat, but I'm not sure. But that country, because it's only known for starvation in the minds of most Americans, would hardly serve as what people would think of as a culinary magnet. But there's some great food there.
David Page:
Throughout the middle east, street food's phenomenal. And people are afraid of street food, which is really dumb. When I worked in third world countries I was much more hesitant with restaurant food because I don't know what the hell's going on. Street food, I see you cooking it in front of me over coals at a temperature that's going to kill anything. You can't go wrong with street food in Cairo for example. Or I used to go to Baghdad a fair amount before things got a little dicey there. Well, until right before things got dicey there. And they were like a little Cairo. I say of of Chicago, it's New York with half the bullshit. Baghdad was Cairo with half the bullshit. And the street food and fish there was fantastic. I think I've wandered from the question. Did I answer the question?
Ben Smith:
Yeah. Yeah. I think that was ... Being a foodie and trying to find different places and experiences. That was awesome.
David Page:
Yeah. And by the way, let's not leave Italy out. I mean, come on.
Ben Smith:
Right. Right.
David Page:
And one thing people don't realize is every country has regional cuisines. We think of the stereotype of French food is a guy in a beret with a baguette. Food in Paris and food in Marseilles are very different than food in Strasbourg. Italy especially, the regional differences are immense.
Curtis Worcester:
David, I want to rotate a little bit. Something you brought up a couple times and we brought it up in the intro. So you recently wrote a book.
David Page:
Yes I did. Let's sell a few.
Curtis Worcester:
Let's do it. Obviously. So Food Americana, the remarkable people and incredible stories behind America's favorite dishes. So Ben and I kind of talking leading up to this episode ... I know both him and I, it's something that we'll love. There's a lot of people that we work with that just enjoy food and history and we truly think they'd love it too. So at that point, in our show notes, we will have links available for everyone to find the book and purchase the book.
David Page:
My bank account thanks you since my daughter is just now getting her MFA from Columbia.
Curtis Worcester:
Gotcha.
David Page:
It's either sell some books or donate plasma.
Curtis Worcester:
But I want to talk for a little bit about a story you share in your book which is around your experience involving one of my favorite foods, which was pizza. So you were at a school of pizza learning from the first American to be named world champion pizza maker at the World Pizza Cup in Naples. So can you just share some of the history of pizza in the US and why do you think it remains one of the most popular foods in the US?
David Page:
Sure. Let me start backwards. It's easy to eat one handed and it can be extremely cheap, as someone who spent much of my life in New York. I mean, ain't nothing better than a slice. So it's there. Secondly, on the popularity front is regional connection to it. And I realize I'm starting at the back end of this, but pizza developed in ... Right now, if you count and put a name next to them there's more than 30 different styles of pizza in the United States. So most people have some kind of a local connection to their pizza. Now, how did it get here? In the 1800s, amidst crushing poverty, there was a large exodus of Southern Italians to the United States. Now, specifically in Naples, if you were poor, one of your staple foods was pizza. But it was food of the poorest of the poor. It was literally nothing more than dough and some tomato. If you were lucky you could put on an anchovy or sardine, or this always sounds delightful, a piece of lard. But that was that.
David Page:
When all of these Naples expats found themselves in the states, mostly in New York City, among all immigrants there is a bifurcated desire to A, retain one's old food ways because they're a connection to home and B, to become American. We'll put that on hold for a minute. So you have a large population of Neapolitan in New York wanting to recreate their food. The problem is that in Naples, the ovens burned wood, in New York they burned coal. In New York, they're larger. And the protein content of wheat in the United States is different than wheat in Naples. Hence, you cannot replicate the Neapolitan pizza they were used to. You got a crunchier crust. But fine, it's here. Let's start putting stuff on.
David Page:
Then an interesting reality. These people, these very poor people who escaped having nothing come to find out that it's different being poor in New York. You can afford some meat. Not a lot. You can even afford pasta, which was relegated to Sunday in Naples because of its high price. And from there, especially as the immigrants started to become a little better off financially, was created the concept of [foreign language 00:49:36]. Abundance. The ability to have a meal with lots of stuff you couldn't have back home. And that just grew and grew and grew. And that's why we think of red sauce, Italian American foods as among other things massive. Well that happened to pizza. It started to collect toppings. And as the Italian American immigrants moved to other parts of the country, those toppings or even styles were modified based on local tastes or local availability.
David Page:
Pizza in St. Louis for some reason is topped with something called provel cheese. Which is a processed cheese that has some elements of Swiss, but it certainly was not created that way in nature. That's a very popular thing. In New Haven, they started putting clams on pizza. It's now ... That is New Haven pizza. Even though the clams originally did not come from New Haven. They were brought in I think from Rhode Island. You'll have to double check that. And as pizza developed its followings in various cities with Italian American populations, it became entrenched, pardon me, in a local way. But pizza didn't become national per se until the '50s and '60s when chain pizza was developed out of the Midwest. The area that had the least presence of pizzerias. And this sort of bland, sweet, I'm not a fan unless it's 2:00 AM and I've had too much to drink and there's nothing else available pizza. And that really is what spread pizza nationally. Mom and pop pizzerias had offered delivery, but it was the chains that really elevated that. And eventually you got to the point where the ability to order a group laden mountain of stuff at 11 at night, have it show up at your door and to make a good breakfast out of it. How can you go wrong?
Ben Smith:
David, as you're kind of talking about the Italian pizzas, my family is a big ... They're big Disney fans. So we just kind of going to Epcot and experiencing food around the area, but Via Napoli, the wood fired pizzas there, it's just phenomenal.
David Page:
This is interesting. You can get Neapolitan pizza of a form that was for those with money as opposed to peasants. Neapolitan pizza with basil and mozzarella. You can get that now throughout the United States but most of it isn't really what is eaten in Naples. Because Neapolitan pizza as made in Naples is not crisp. It is soupy and it degrades very quickly. Tony Gemignani, whose pizza school I attended, who is the gentleman you referred to in the intro. Tony told me, he said, "Look, if I deliver pizza Napolitano to a table and people are talking, if they talk for more than two minutes before they start eating, I tell the waiter to pull it, I'll give them another one."
Ben Smith:
Wow.
Curtis Worcester:
Wow.
David Page:
And Pizzeria Bianco in Phoenix, Chris Bianco, the owner is considered by many to be the king of artisanal pizza in the United States. He doesn't serve a pizza he calls Neapolitan. He serves something closer to the pizza in Puglia where his people come from, which is similar, but crisper.
Curtis Worcester:
Okay. Love it.
David Page:
Just a little useless trivia to take to the virtual water cooler.
Ben Smith:
Well, but I'm just envisioning this. Now you're making me really hungry as we approach lunchtime.
David Page:
Well, there's nothing better than pizza for lunch.
Ben Smith:
Right. Right. I want to ask another question. Again, the title of the show is Retirement Success in Maine. So we always want to ask the Maine question here too. So what's been your food experiences when you visited Maine? What are your favorite foods and restaurants that you've experienced up our way? Because again, I know you said Western Massachusetts was the original hub there for you. So what's been your experience here?
David Page:
When I was a kid we would vacation in Boothbay Harbor or one of the other famous tourist spots. Was it a lake? Anyway, we would vacation there. And to me ... And I have a limited knowledge of Maine cuisine. It's all around lobster. When we would come to Maine, we would look for the little shack right on the wharf with its own slip. And we would have them steam those lobsters right out of the ... I say right out of the ... Yeah, they came off a boat. I don't know, 10 hours ago, whatever. But we would have them steam those lobsters that had never been forced to get on an airplane and we would just gorge on them. And to this day, that's one of my death row foods. See, what's interesting as a New Englander ... See I can claim New England, I can claim New York.
Curtis Worcester:
Yeah. You got it all.
David Page:
The town we lived in, Bud Foster had Foster's Supermarket. And we were 90 miles from Maine across Route Two, which as a child seemed like an eternity. But I mean, come on. Anyway, Bud Foster would send a truck to Boston to the seafood market every morning at 4:00 AM and bring back that day's lobsters. Now, it wasn't as fresh as eating it off the pier but as I mentioned my mother was a lousy cook and what Foster's Supermarket would do is they would steam the lobster for you along with corn and potatoes if you wanted. And then mom could pick up ... I don't know if they sold it in a pot or not. That's the cool thing now. But anyway, she could stop and pick up steamed lobster and we could eat well for a change.
David Page:
Look, the other things I like in Maine ... And I have not experienced the culinary revolution in Portland, so I can't speak to it. I assume that much of it wouldn't interest me if I were visiting Maine because it's not Maine food. I would assume there's a lot of fru fru this and that, that I don't need to go to Portland for. I'm a big fan of a well made lobster role. But I say well made in that ... I'm going to say something really stupid. Don't give me too much lobster. The proper lobster roll is about the balance between the amount of lobster, the butter, and the crispiness of that New England roll. There are places that just pile lobster on so you should be impressed. Well, that's great but good food is about the flavor and texture balance. So a lobster roll can't be too much. Should not have too much mayonnaise. And I'm not really a fan of stuff in it that goes crunch. But a good lobster roll is a lovely thing.
David Page:
Now, given the choice, would I rather steam a lobster? Sure. Look, back before it became trendy to think that lobsters have pain receptors here on Long Beach Island, when we were having friends over with kids, I would go buy a bunch of lobsters, set them free on the deck and the kids would chase them around and whoever won the race died first. The lobsters, not the kids.
Curtis Worcester:
Yeah. Yeah.
David Page:
There was one other item. I don't know. Do you guys claim this in Maine? In Massachusetts obviously ... And I'm going to include this in my next book around Ipswich is ... The specialty is whole belly clams. You have clam shacks in Maine don't you?
Curtis Worcester:
Oh yeah, yeah. Sure. Absolutely.
David Page:
The whole belly clam is a wonderful thing. Again, it's another food that disgusts some people because if it's done right, you bite into it and it sort of explodes. But that's a wonderful thing. And there's lobster bisque. But at the risk of being uninformed as I am about the nuances of Maine cooking, it's always been lobster for me.
Curtis Worcester:
Yeah. Love it. That's good. That's good. So we've kind of reached the tail end of our show here. We do have one parting question for you, David. So again, obviously the name of the show there, Retirement Success in Maine. So we like to ask, how are you going to find your personal retirement success when you get there?
David Page:
Well, I have a problem which is that I like to work. I have to ... People say get a hobby. Well, everything I've always done for a living has been my hobby. But I'm branching out. A, we're looking at moving to Charleston hopefully within a year. And secondly, while I won't stop writing books, I am indulging a childhood fantasy. I started in radio and I've always been a radio fanatic. I literally ... There's a website that has air checks from WABC when it was the most popular rock and roll station in America, back in the '60s, '70s and well, that's about it. I still listen. On that site I listen to air checks of Dan Ingram, the greatest disc jockey who ever lived. And I laugh 60 years later at the jokes he made during that show. So I have signed a deal with a syndicator to begin producing a syndicated radio show. That's why I bought this big new, expensive mic.
Ben Smith:
I love it. Yeah.
Curtis Worcester:
That's awesome.
David Page:
And it's going feature the music basically of the great American songbook of the years, mostly the '30s through the '50s. A little '20s, a little '60s. But it's what I refer to as the timeless music that never gets old. Sinatra, Tony Bennett, Ella Fitzgerald and all of today's artists who are reinterpreting those same songs. We're putting that together now and that's kind of my retirement toy.
Ben Smith:
Nice.
Curtis Worcester:
That's awesome.
Ben Smith:
That's awesome. Well, thanks for sharing that, David. We're so thrilled to have you on and especially just talking about ... Especially rich descriptions of food and just how that's been a nice little through thread in your life. Ensuring that, because I think there's, as you said, there's a lot of in our experiences, the population we work with tends to be a little timid. And I think that sometimes as Mainers too, where we like to be independent. We don't like to ask for help. So you getting your expertise here of, hey, how can I do something better was such a treat to have on the show. So thank you so much. And I'd love to have you on maybe when that next book comes out too and we can talk about that.
David Page:
I would love that. It was very kind of you guys to invite and I have very much enjoyed our chat.
Ben Smith:
All right, David. Well, be well. We'll talk to you next time.
David Page:
Thanks.
Ben Smith:
All right. So for our episode today, being able to get the creator of Diners, Drive-ins and Dives-
Curtis Worcester:
Crazy.
Ben Smith:
Just thinking about how many times, whether it be watching it with my parents or with my wife, Kara and like ... Again, we watch the Food Network a lot. So watching Guy Fieri roll into town in his classic car, hopping out with his spiky, dyed blonde hair, trying all the food. It does such a great job just pulling you in. So what a cool thing to kind of ... This idea. He told the story about that today of here's the genesis of the idea, where it came from and how it developed into this big thing. Probably one of the flagship shows of the Food Network today. So pretty cool to get his take on food and kind of talking about the best of dining out was kind of the theme today. So again, we always like to wrap up our shows with things that we took away. So Curtis, what was something that you took away from today's show?
Curtis Worcester:
Yeah. I think a piece ... And before I go into it, I'll say it could probably apply to more than just food, but I know today's focus was about food and David just kind of ... I think his wording was people are timid and we talk about, myself included, wanting to try new food. Like some of the best food out there is something you've probably never thought of. And you've probably never thought of ordering because you go to that place and you get the same thing every day and you love it and that's fine. But to really experience this kind of dining out experience ... And I know we kind of talked internationally there, but even in the United States and probably in your area, there's so many options for food that there's so much out there. So try something new or order that different sauce or whatever it may be. Because if you don't like it, you don't like it, but you don't really know what you're missing I guess. And I am just as guilty there because I am probably the plainest eater of anyone listening to this podcast right now. So I need to do that myself too, but I just thought it was a really good angle he had and just go for it, try it. You're in retirement, you're at this point, do it. What are you waiting for? So I really liked that.
Ben Smith:
And I'll add there is I think just even being around ... There's a lot of obviously colleges, universities in the state of Maine. And what I've found personally just as a little tip is there's a lot of these multicultural festivals that happen. They kind of celebrate all the students that have come to that university or college. And a lot of times what's part of them raising money for multicultural affairs is a food festival. Sometimes you can go there and you can experience the best of Pakistani food or you can experience all the different cultures and then preparing their best food to raise money. And it's just a great way to try it out. So that's why, again, I mentioned Epcot is something where you can do that in maybe a more formalized and of course, Disney-ified way.
Ben Smith:
Right? And even go to a food and wine festival type thing. But that's something where I think that's a great way to get entrees to homemade food. And as David said, even the street foods where they're preparing it in front of you, you can kind of see what even goes into it. So pretty cool there. I will add is I just really enjoyed the whole, hey, here's him producing a show. And again, we know what it's like to produce something like what we're doing in this podcast. Finding people and doing that to go to different restaurants that I've never been to before and investigate whether they have the goods. Are they the real deal? As he said, there's a lot of favorite places out there, but are there a lot of really all homemade places that we want to be highlighting? And having him be able to say, here's how I did it and here's some things that you can take away.
Ben Smith:
And again, maybe today, if you're doing it in Maine that might be tougher, is you might have to rely on Yelp if there's no food critic from the Portland Press or the Bangor Daily or whatever. But that's something where I think looking for online places, even like YouTube or other social media and see the food and what it looks like, I think is important as well. But that was again a really fun show. Kind of a break. I know we've done some mental health lately and a little bit of money and charity and stuff. Kind of get to some of the fun stuff for retirement was a pretty cool change of pace as well.
Ben Smith:
We want to also highlight David's book, Food Americana. Again, kind of this merger, as he was explaining even the history of food plus here's what the regionalization of it. All that's really cool and you can read more. We'll put the link to that book on our website. So if you go to blog.guidancepointllc.com/59, for episode 59, you can see that there. Go check it out. Again, we'll put some more information on our social. If you've not looked at us, follow us on Facebook or LinkedIn. You can check us out there. But love to have you guys along for the ride. Thank you so much for tuning in and we'll catch you next time.