Executive Summary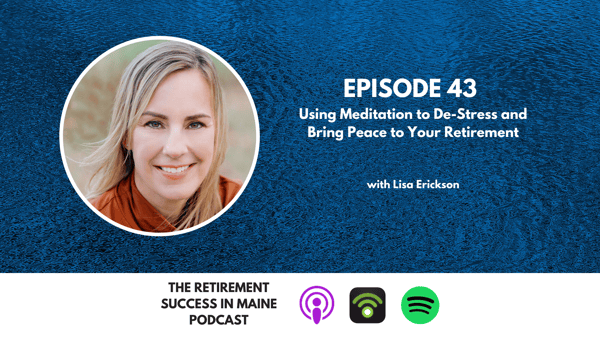 You'd think that in retirement we are going to be stress and anxiety free and life is just six Saturdays and a Sunday, right? But, there is always something to worry about - starting with the retirement transition period of "who am I and what do I do with the rest of my life?" to financial, medical, relationships, and life in general. One thing we've found with our clients is that just because one part of their life retires, other things in their life steps in to complete their time more, and with that, stress accompanies life. So what can we do to de-stress our lifestyles? How do we quiet our minds and heal ourselves from years of job, family, money, relational, and other life stresses? Well, meditation is a great way to clear our minds and de-stress ourselves. So we wanted to dive into meditation and how it can help today's retiree ~
That's the premise of today's show!
Our next guest is a meditation teacher and energy worker specializing in meditation, women's energetics, and sexual trauma healing. She is the author of The Art and Science of Meditation: How to Deepen and Personalize Your Practice and Chakra Empowerment for Women: Self-Guided Techniques for Healing Trauma, Owning Your Power & Finding Overall Wellness. She has trained in many energy healing modalities and is certified in both mindfulness meditation instruction and trauma sensitivity. Lisa is a member of the International Association of Meditation Instructors, the American Holistic Health Association, the Energy Medicine Practitioners Association, and The Breathe Network, a non-profit dedicated to supporting holistic healing for sexual trauma survivors. She supports individuals in goal attainment and to support physical healing, showing them how energy meditations and guided exercises can help.
Please welcome
Lisa Erickson
to the Retirement Success in Maine Podcast!
What You'll Learn In This Podcast Episode:
Chapters:
Welcome, Lisa! [2:11]
What are the different meditation forms, and what are the benefits of each? [7:28]
How can retirees specifically, start or develop their meditation or yoga practice? [21:24]
Meditate with us! [34:20]
Can group meditation help combat social isolation? [45:16]
What is Lisa's definition of Retirement Success? [52:53]
Ben, Abby, and Curtis wrap up the conversation. [55:20]
Resources:
Listen Here:
Did you enjoy The Retirement Success in Maine Podcast?
Subscribe to our podcast directly via Spotify, iTunes, or Podbean by clicking on the images below!



Transcript
Ben Smith:
Welcome, everybody to The Retirement Success in Maine Podcast. My name is Ben Smith. I'm joined by my two colleagues, Abby Doody and Curtis Worcester, the schooner and whitewater raft to my kayak. How are you guys doing today?
Abby Doody:
Hi there, how are you Ben?
Ben Smith:
I'm great. We're going to talk a different topic today, and I know we dart around a lot. But, one thing that we've heard is, you really think in retirement that we're going to be stress and anxiety free, right? And life is just six Saturdays and a Sunday. But there's always something to worry about. Starting with a retirement transition period of who am I, and what do I do with the rest of my life? To financial, medical, relationships and life in general.
Ben Smith:
One thing we found with our clients is just because one part of their life retires, other things in their life steps in to complete their time more. With that, stress accompanies life. What can we do to de-stress our lifestyles? How do we quiet our minds and heal ourselves from years of job, family, money, relational and other life stresses?
Ben Smith:
Well, meditation is a great way to clear our minds and de-stress ourselves. We really wanted to dive into meditation and how it can help today's retiree. That's the premise of today's show. I also want to mention that a longtime listener of the podcast, Barbara Higgins, she got in contact with us and said that we needed to cover meditation.
Ben Smith:
She says, it's helped her and it's something that brought a lot of calm to her life, and she thought it'd be something that would be key to a successful retirement. Our next guest is a meditation teacher, an energy worker specializing in meditation, women's energetics, and sexual trauma healing. She is the author of The Art & Science of Meditation: How to Deepen and Personalize Your Practice and Chakra Empowerment for Women. Self-Guided Techniques for Healing Trauma, Owning Your Power and Finding Overall Wellness.
Ben Smith:
She has trained in many energy healing modalities and is certified in both mindfulness meditation instruction and trauma sensitivity. She's a member of the International Association of Meditation Instructors, the American Holistic Health Association, the Energy Medicine Practitioners Association, and Breathe Network, a nonprofit dedicated, supporting holistic healing for sexual trauma survivors. She supports individuals in goal attainment and to support physical healing, showing them how energy meditations and guided exercise can help. At this time, please welcome Lisa Erickson to The Retirement Success in Maine Podcast. Lisa, welcome.
Lisa Erickson:
Thank you, Ben, and thank you, Curtis, Abby, and Barbara as well. I appreciate it.
Abby Doody:
Yes.
Ben Smith:
Well, I've known Barbara for a lot of years, and she was not shy and reaching out to me and said, you guys, you got to get this. We said, "Well, geez, no better time to start than right now."
Curtis Worcester:
All right.
Ben Smith:
Lisa, the thing that we always like to start our shows with is really getting to know you. In terms of your path, we want to hear a little bit more about your path growing up, and getting towards your expertise and your acumen today. Can you tell us just a little bit about your growing up experience and towards your educational path here?
Lisa Erickson:
Yeah. Well, my father was in the Air Force. So, I grew up all over. Both of my parents are from the upper Midwest, Minnesota and Iowa, and they've settled back there. Most of my relatives are there in Minnesota and Iowa. But I now live in California. But I grew up all over the United States, mostly on Air Force bases. That was a unique upbringing.
Lisa Erickson:
Then I headed to college at Sarah Lawrence in New York, just outside of New York City. That is, in fact, although I wasn't studying it at the time, it is in fact, where I was introduced to meditation in a very early yoga class. This is over 30 years ago, yoga was not as popular as it is now. But they did have a yoga and meditation class, and I was experiencing some stress issues. I was first came into contact with it then, and then later in my corporate career in New York City, I turned to it again. Then it took at that point.
Ben Smith:
Nice. In terms of getting to meditation, and really in yoga and all those pieces, can you talk about this, going from the corporate world to hey, this is something I'm passionate about, but I need to make it my vocation. That must have been a really hard transition for anybody to say, "Hey, I'm going to give up this area over here." Especially think where maybe yoga and meditation are maybe a little misunderstood. I'm sure there's social and cultural pressure there too about, hey, you're doing this. Can you talk a little bit about that?
Lisa Erickson:
Yeah, it was a long term transition. I worked in technology for almost 15 years, and my meditation practice was a personal thing. I was pursuing training, and I was, in fact, teaching classes at a certain point, in the evenings on the side, but I never contemplated it as a career or the kind of private coaching that I do now, which also involves energy work, which is a different... It's related to meditation, but really a whole different thing. I had also been studying on the side.
Lisa Erickson:
In my case, it was really a health crisis that occurred after the birth of my first daughter, she is now 16, I had children late. I was 38 at the time, and I had a health crisis after her birth, I had a severe gallbladder attack, and then pancreatitis, and then infection, I was in and out of the hospital. It really shocked me, because in many ways, I viewed myself as being so healthy. I had worked it all out, right? How could this hit me so hard, right?
Lisa Erickson:
All of the challenges of making that transition. That actually led me to do a lot of research and take some courses, specifically in women's energetics and women's health. That led me to my current line of work. I do work with both women and men, but I do a lot of work with women. That health crisis led me to gradually transition into doing this full time, and now I've been doing it for 15 years.
Ben Smith:
Gotcha. Well, I guess another question we always like to ask our guests that come on is, what do you love about your job?
Lisa Erickson:
I love seeing people transform and heal and grow. It's a privilege to see how these tools and techniques can help someone transform over time. When you're feeling down, actually, when you work with the client and see shifts in them, that can lift you up, it gives you hope. It's really a gift to be a part of that.
Ben Smith:
Nice. I love that. Well, I want to, again, for all of our shows, too, especially with meditation. I know, for some people that are already in it, and this is a show that we want to go, hey, you might be a beginner, you might never experience meditation ever before. We wanted to really start with the first question here about building some common foundational knowledge together. Can you tell us a little bit about the different meditation forms, and what benefits have been scientifically proven for each?
Lisa Erickson:
Well, I'm glad you asked this, because I do think some people get intimidated by meditation. I'll often run into people that will be like, "Oh, yeah, I tried that once, and it wasn't for me." Or, "Mine was really busy the whole time, or I felt restless." I think there's a lot of different forms of meditation, and there's also a lot of benefits associated with it. But also, the one thing that they all are tied together by is, the point is you're practicing. We call meditation, meditation practice. What are you practicing? No matter what form of meditation you do, you're practicing pulling your mind back from what it goes to on its own, and that is the gift of meditation and across all the different styles of meditation, that is what we've been able to map the changes to the brain to.
Lisa Erickson:
You might be focusing on your breath, you might be focusing on a picture, you might be focusing on music. There's a lot of different focuses that you could use in meditation, you might be focusing on an Energy Center, which is called a chakra. There's a lot of different forms. But no matter what your anchor is, that's called your meditation anchor, what you're practicing is pulling your mind back over and over. It starts thinking about what you're going to have for dinner, and you pull it back to your anchor. It starts thinking about what you should have said to that annoying person at the grocery store, and you pull it back.
Lisa Erickson:
Each time you do that, you are remapping your brain, you're actually creating new neural pathways around your reactionary mind and staying centered. That actually does change your brain. That benefit is across all meditation forms, whatever you choose to focus on.
Lisa Erickson:
Within that, you can experiment with what form of meditation you enjoy the most and what length of time works for you. But if you reframe it as oh, okay, yeah, I'm not... It isn't about every time you sit down you're feeling blissful and peaceful, and if you don't feel that, you're a failure at meditation. But if you let go of that, and you focus instead on oh, wow, I pulled my mind back 55 times. That's great, that's really what it is. Eventually, the length of time that you stay before your mind starts wandering starts getting just a little bit longer.
Lisa Erickson:
Then eventually, it starts building new neural pathways that help you pull your mind back out in life, you're starting to get irritated, and because you've practiced that, a part of you goes, stop, I don't have to react to this, I can stop and choose my response. That's how it's tied into all of its other benefits.
Ben Smith:
It's a really great explanation. Because, maybe there's a good number of people out there that have maybe just done a meditation session and tried it. I think the super hyper... The Type A people out there, I think, isn't it? Like, I'm just supposed to be in this very neutral state and very calm. Because my mind is like, well, my due date is this, on this project. What do I need for groceries, I cook dinner tonight? I really only have 30 more minutes that I need to be doing this, and what am I going to do at the 31st?
Ben Smith:
Your mind attacks you a little bit when you're doing that. It feels like maybe you're failing. I didn't ever relax, and I didn't... Maybe that's the thing that wasn't for me. What I hear you explaining is maybe just you got to that point where you pulled your mind back into... Maybe it's just the first session, you just did that once, maybe that's the win, is part of that.
Lisa Erickson:
Absolutely, yeah. It does, over time, when you become able to settle for a little bit longer periods of time before your mind wanders, it does trigger what's called the relaxation response in your body, which is releasing the chemicals and endorphins that are actually the opposite of the stress response. When we feel stressed, we release cortisol and adrenaline, and there's the opposite, hormones and endorphins linked to the relaxation response.
Lisa Erickson:
It's great when you have a meditation and you settle into that relaxation response. There's a lot of other things that can happen, when that occurs, and it remaps your nervous system, and that's great. But a meditation is not a failure, if that doesn't happen. That can take time, and every time you pull your mind back, you're retraining yourself.
Abby Doody:
Going along the same thread, what are some of the most common challenges that you see to somebody starting a meditation practice or refueling or regenerating their practice? What advice do you have for someone experiencing those challenges?
Lisa Erickson:
Well, we've learned a lot about routine formation, the ability to establish a new routine or habit based on research over the last couple of decades. No matter what kind of new habit or routine you are trying to develop, there's certain things that will help you. The main one is to do something every day in the same place at the same time.
Lisa Erickson:
Now, that's not always feasible, but there is a huge boost in someone's chances of forming a lifelong habit, if for a set period of time, and they usually say six to 12 weeks, and I know that sounds like oh my gosh, that's a long time. But I'm laying out the research, and then I'll inch it back from what you're trying to do. Ideally, you commit for six to 12 weeks, I'm going to try to do this thing every day in the same place at the same time.
Lisa Erickson:
I would say with meditation, start with five or 10 minutes, if that's all you feel you can do. 20 minutes is great. In a lot of medical studies that they try to train people to do 20 minutes, but five, 10 minutes, first thing when I wake up. Then you don't beat yourself up when you miss a day. Research also shows us missing one day doesn't really decrease your chances. Missing two days is when it starts getting harder, and then three and four, which we all know, because it's like that about going to the gym or anything.
Lisa Erickson:
You just get right back on the horse, if you miss one day, and you're still good, right? These are the things you want to do, dedicate a little corner of your house, a little corner that is just for meditation, if you can, so that your body begins to associate it with oh, we're sitting here, this is what we're doing now, right? Buy yourself a special question or just put a picture there of your favorite vacation spot, right? Something that represents relaxation to you.
Lisa Erickson:
There's a trigger for your mind. You sit down there every day and you do your thing, and then you get up and keep going. If you do that for six to 12 weeks, sorry, it will become automatic, you won't have to think about it anymore. When you don't do it, you'll feel a loss of it. That's really the basics. I think, if someone can't do that you pick what you can do, because realistic goals is really important, and that's one of the number one hurdles is someone saying, "Okay, as of tomorrow, I'm meditating an hour a day."
Lisa Erickson:
If you're like, okay, what's going to work for me, these are the two days a week I can meditate, then extend the habit formation. Make a commitment, okay, I'm going to do two days a week for six months. Give it a try for 10 minutes. Extend the length of time and the habit will still take. Then say that, have a witness to it. Stick it on your mirror. These are the things that help you do that, and eventually it will become automatic.
Lisa Erickson:
I think other hurdles are physical restlessness and things like that which we can get into if you want. But I'll let you respond, because I've said a lot, already.
Ben Smith:
I would love to hear more about that. Because I could see where you sit down, and you're saying, all right, well, maybe I have an unrealistic expectation of time, as you said. People starting out with an hour, and maybe that's way too much. Starting with 10 minutes and twice a week, and just getting to that point and trying to get to a point of relaxation. But can you talk about, again, from a physical perspective, I guess what I want to attack is that stereotype of, hey, I think people are thinking of I'm 65 years old, I'm 85 years old, I know you're going to tell another story about another person in your life that maybe is a little older that's doing this, but to the point of, I'm going to sit on the floor, and I see and what I think is the stereotype of that person sitting on the floor is crossing their legs. They maybe middle finger to thumb, and they're doing this and they go, "Well, I feel uncomfortable that isn't me in terms of my relaxation state. That doesn't make me relaxed by sitting this way."
Ben Smith:
Can you talk about what it is for everybody, and maybe how it's individualized here maybe from a physical perspective?
Lisa Erickson:
Yeah. I mentioned a cushion, and I'm going to take that back and just find a chair, [inaudible 00:16:29] I think one thing that is universal across different meditation traditions is trying to cultivate as healthy a posture as you can when you meditate. But you can do that with as many pillows as you want. At this point in my life, I have lumbar support, and all of that. You can be in a chair, you can be on your couch, as long as you have pillows behind you. You don't want to be hunched if possible. If that's a challenge, then you do what you can.
Lisa Erickson:
It's really about aligning the spine, which aligns the nervous system, the energy, body, things like that. You do your best with that. But a chair is absolutely fine, whatever is comfortable. Then with physical restlessness, I sometimes encourage people to go ahead and rock a little bit, if that feels okay to you. For some people, that will mitigate that feeling. Also, experimenting with the meditation form.
Lisa Erickson:
I find that the main meditation form you'll often find guided is focusing on your breath. For people who are physically restless, sometimes that's not the best form, because it actually brings your attention to your body, your breath, and focusing on something outside of yourself is better. You could do a candle flame, you could do, there's pictures called mandalas or yantras. This is an example of one here, you can find something like that, a symmetrical type picture. There's a lot that are designed for meditation, and you're just gazing, the very center of it.
Lisa Erickson:
Sometimes those kinds of things help someone physically settle more than focusing on their breath. It can be helpful to experiment with forms. Then there's moving forms, which I know we're going to get into. Walking meditation, I'm a big fan of and other things like that.
Curtis Worcester:
Lisa, I want to rotate to something that Ben read off, actually in your bio at the beginning, and that's energy work. For someone who maybe, completely new to the idea of energy work, can you just take a minute and describe it, define it, explain what that idea of energy work is?
Lisa Erickson:
This is based on traditions, which really have come from all around the world that teach that, in addition to our physical anatomy, we have an energy anatomy. It's like this interface between our physical body, our psyche, and our spirit or soul, if you believe in that. These traditions, some of them are energy medicine based. Acupuncture is in fact based on an energy mapping called the meridians, right? Yoga is based on another energy mapping that involves what's called the chakras or energy centers.
Lisa Erickson:
Yoga postures are not just based on our physical anatomy and our muscles and stretching certain things out, it's also based on our energy anatomy and smoothing and opening and clearing different energy lines and centers in our body. Anyone who's experienced acupuncture or yoga has in fact, been involved with an energy modality, wasn't necessarily taught to them or presented to them that way, but they are both based on energy mappings. There's other kinds of energy work you can do yourself. There's meditations where you focus on energy centers in your body.
Lisa Erickson:
I'm pointing to my chest because there's the heart chakra is based right here. That's a popular one to meditate on. The third eye is in our forehead, and you would literally just visualize light, it's one of the most common meditations or a picture in that location of your body. Then there's a lot of other kinds of energy work for healing.
Lisa Erickson:
I do a lot of trauma healing. We're working with where you might feel as if certain emotions or experiences are trapped almost in your body. That's what we've learned about trauma, things feel trapped in the physical body, trapped in the energy body, and there's different processes and techniques and tools that you can use to help loosen them and heal them.
Ben Smith:
I want to talk to you a lot about that, Lisa, because I think with... I want to maybe foreshadow here, the question that we'll just talk about later in the episode here, but I think from some of our clients, they retire and they're still stuck from the, again, maybe that they were treated unfairly at work for a long period of time. They're just stuck in different areas.
Ben Smith:
Us as helpers, is just being helpful at time and again, trying to coach wherever we can. In addition to matching money to our life purpose, a lot of people just want to have somebody that they feel they can trust and talk to. I'm interested in that, I want to talk about that as maybe a possible solution, instead of just hey, let's sit down and talk with Ben, Abby and Curtis, and really unload for two hours, which is helpful, to get things off your chest and feel that this is a safe place, and we can do something, but to make it better.
Ben Smith:
That's where, I think I want to kind of go with you a little bit. But I do want to go back to the point of, you talking about yoga, and other areas, as moving meditation. From our perspective too is, I think where we see a lot of retirees is they're starting to practice yoga more and more, not only just for physical benefits, but maybe it was what you're saying is there's meditation or mental benefits here.
Ben Smith:
Can we talk about retirees specifically, that are looking to develop or start yoga and meditation practice. How do they get going? I've never done this before in my life, I really want to take a step of it. I'm a little intimidated by what we just talked about, the I tried it once, and I felt like I failed. I know you gave that step of committing to a space and committing to time and doing that. But if they really say, I want to get started, maybe after retirement, do you have some advice there?
Lisa Erickson:
Yeah. Well, in other modalities that I would mention along those lines are Tai Chi, and Qi Gong. My 94 year old father-in-law does Tai Chi at a local senior center. Of course, that's growing in popularity as well, and that is also a mind body modality. That's what we call these modalities like yoga, that are moving meditation. They're meditation because you are trying to pull your mind back and stay present, right? When you're on the StairMaster, or the elliptical or that kind of exercise, you might be thinking about all sorts of things.
Lisa Erickson:
When you're engaged in Tai Chi, or yoga, some of these related practices, you are trying to stay completely present to it. That is a meditation form. I think the most important thing is finding a teacher and or a group or modality that understands your physical body, and how to adjust and adapt poses, because Yoga is for every body type, and a good teacher knows the different variations on every posture and pose to work to the best of that person's ability.
Lisa Erickson:
You want to make sure that you find a teacher who does that. If you don't have someone available locally, there is an increasing number of teachers available online, both live classes and recorded classes. You can really experiment and make sure you find someone that meets those needs. I think an increasing number of senior centers are doing a great job of offering these kinds of classes that are specific for seniors, and also limited mobility classes; chair yoga, and things like this, which really can be phenomenal, and they also really boost your mood as well, because they are also working with the energy body. There is this shift beyond simply the physical exercise.
Ben Smith:
I want to follow up there, at least is what you just said is, because I think one of the challenges about our state in Maine, is that, we do have a few population centers, but the majority of it is very rural. When we say very rural, we're saying, sometimes a lot of the state is maybe two hours away from a population group. For a town with 800 people, it's really tough to find that specialization of having a teacher that I can then plug into and do group work here.
Ben Smith:
I guess what you just said is, hey, finding a local teacher is one thing. If that's not available, again, what you're saying, and I know we're still pandemic times, and people are still using Zooms and YouTube and things like that, how can people maybe plug into doing that maybe online a little bit more? How does somebody find it... Again, I will just say, hey, from a population that still is adapting and learning to technology, how do they easily more easily plug in to that?
Lisa Erickson:
Well, number one is Google. If you really just Google senior yoga, or limited mobility yoga, you will immediately get dozens of choices. You will find both offerings, things like on Amazon, where you can just purchase a recorded class that you can try, and in some cases, even for free, and you'll also find teachers that are offering live Zoom classes, where they're teaching live, and they can see you too. You can try both.
Lisa Erickson:
Now, anyone who has a service like Netflix, or Apple TV, or even Direct TV, many of these also offer yoga classes that you can try. Again, then it's not live, they can't see you, so you're not getting feedback on your body. But you can try out different teachers, and then you can see if they offer live classes. Those would be the places that I would start. You can go to YouTube and search, those would be the places I would start.
Abby Doody:
Along the theme of retirees, as we age, sometimes our mental abilities begin to decline. Our memory, concentration, reasoning sometimes diminish. Can meditation assist in helping us stay mentally sharp, or at least slow that diminishing capacity? Does how we meditate change as we age?
Lisa Erickson:
It absolutely has been linked, meditation has been linked to slowing the aging of the brain. It is about that practice of pulling your mind back over and over, and the way that, that helps create new neural pathways. That's the great good news that is fairly new, the last two decades. We used to think that as you age, you did not create new neural pathways. We now know you can do it throughout your life, and this is in fact how stroke victims recover some of their functionality, parts of their brain will take over functions that were actually damaged. That's neuroplasticity.
Lisa Erickson:
Meditation works the same way, as you pull your mind back, it actually creates new neural pathways. It definitely slows that aging process, and it's very helpful for that. I think in terms of how we meditate changing, you do have to honor your body's needs. You do have to adjust around your posture and allow for more support. If you feel that longer periods of time are too fatiguing, then do shorter, find the shorter windows that work for you. I think those are the main things that you want to be looking for.
Ben Smith:
I guess one of my questions here about changing how we meditate as we age, I guess my question would be, is there a minimum that has to be met in order to achieve those re-mappings? My question is, I can't sit still for four minutes or something. But I can't get in that relaxation state if I'm really not there for 10 minutes to do the remapping. Is there something where maybe I'm not doing enough to get there? Maybe as I'm aging, there's something that's restricting me from being able to do that?
Lisa Erickson:
Well, there's the formal meditation practice, and then there's the integration practices of mindfulness throughout our day. I think you can make up for the formal practice by just really, throughout your day, committing to little breaks of one minute, and you can get the same benefits. In that case, what I sometimes recommend people do is literally, you're setting in your Apple phone, a little alarm every hour, every couple of hours or your watch or whatever works for you, and okay, I'm going to spend one minute just breathing, trying to do elongated exhales, which is one of the ways, one of the best stress management breathing techniques.
Lisa Erickson:
If you're committing to that throughout your day, you can get a lot of the same benefits. That may be an adaptation that works the best for some people.
Ben Smith:
I'm just going to say something real quick. You just convinced me to turn on the breathe thing on my Apple Watch. Because it yells at you. It's like, "You need to breathe, Ben. You're not taking a break right now." I'm turning it back on.
Curtis Worcester:
Turn it back on.
Lisa Erickson:
They know what they're doing over there at Apple.
Curtis Worcester:
Lisa, I want to rotate a little bit, or maybe zoom out a little bit. Ben, Abby and I, the three of us, our goal is to work with our clients to help them use their money to work towards their life goals and more life fulfillment in general. I want to ask you, how can our listeners or our clients work with meditation, chakras and energy cycles to reach those same kind of goals?
Lisa Erickson:
I think there are other meditation or contemplation techniques that are really based on being able to open up your vision to what you want. This can be a real challenge. Ben, you were speaking about earlier getting caught in the past, some of the wrongs of the past, sometimes there needs to be some healing before we can contemplate and think about what is my vision?
Lisa Erickson:
I think there are techniques that I work with, and other people work with, where you allow yourself to just visualize yourself a year from now, and what do you want your life to look like at that point? That, in and of itself can be a really helpful meditation. I think also, using some of these techniques to focus in on old patterns that you'd never have had time to address.
Lisa Erickson:
In many cultures, these years are called our wisdom years. I feel like in the West, we haven't completely embraced that, we've had some negative connotations around aging, that this generation is changing, right? But really, what we want to do is go, this is your wisdom years, this is when you have time to contemplate your life and what you've learned from it, and pass it on. Meditation can be a part of that process, in terms of giving you the time and the space to really look at things in a new way. I think it really works together with those other tools.
Ben Smith:
Even just passingly is hearing the comment, well, I'm going to meditate on that. Here's this idea, I'm going to just settle with this idea, or I need to feel a direction out, and maybe just finding that piece is needed through the meditation to get forward. What you just said struck along those lines of what I've heard from some of our clients that have said that is, "Well, I heard you say something here. I don't have a decision, or I don't have a go forward idea what I want to do, but maybe I'm going to meditate on that."
Ben Smith:
I've just heard that enough, where people speak to that. But... Go ahead.
Lisa Erickson:
Well, I was just going to say, one thing around that process is sometimes something brings up fear or anxiety, discomfort. Part of what meditation is, is just learning to sit with those things, instead of just having the immediate no, and that's how I take that. Well, I have to sit with that and meditate with that. It's like, part of what you're practicing is no, I can just sit with this uncomfortable emotion, just let it be, it's not going to destroy me, I don't have to go escape it, I don't have to go to my usual pattern of dealing with it, I can just be with this, and it will pass, and maybe I'll get used to this idea, and then I can think about it differently, separate from my initial reaction. I think that's where meditation really helps you with transformation and growth.
Ben Smith:
I'm going to ask, and this is not on our script, or listed here, Lisa, it just feels like what you just described is, because you see this, again, just from observation, those that maybe are a little more deeply religious, and you hear them say, "Well, I'm going to pray on this." That they use this sense of... It sounds like there's very parallels to meditation sitting in this two verses, well, I'm going to pray on that.
Ben Smith:
Obviously, there's maybe the focus is a little bit different of what our conversation is within it. But it feels like it's a very similar type practice. Would you agree with that, in terms of that back and forth?
Lisa Erickson:
I do. It's interesting, because I always emphasize that meditation can be really a secular, almost health-based practice. For me, it is a spiritual practice, and meditation does exist in every religion. I think one definition that I've heard that I really like is that praying is talking to God or source or spirit, and meditation is listening. So, we do both, in all of our interactions; we talk and we listen and we communicate and we receive.
Lisa Erickson:
There's a place for both, and many forms of prayer then involve sitting in silence, and it's like you're receiving. I do think that together, they work together, if you relate to things spiritually.
Ben Smith:
I've really never thought of that way. That's really great. Because, again, I think we're, again, just from observing the prayer piece of, you're saying something to God, or you're saying something to your spirituality. That's really great. I really like that. But I want to go back to, I know we preface this a little bit, but before we go to the next question, I wanted to ask you, Lisa is, I feel like we'd be remiss of having a conversation about meditation without actually maybe doing a little of it.
Ben Smith:
I would just maybe ask if you could just maybe do a two minute meditation with us and maybe just give that? Because I think from talking about it, versus doing it is, I think two different things.
Lisa Erickson:
That sounds great. I think what I would like to do is a basic meditation focused on the heart chakra, as opposed to the breath. If there's anyone... If you go out and do beginning meditation and you Google that, most of them are going to be focusing on your breath, the rise and fall of your belly as you breathe, or the feeling of the breath moving in and out of your nose. That is a great method, but I'll just introduce something else, because that is so much out there for people to find, and sometimes people gravitate more to this.
Lisa Erickson:
I'll invite everyone listening, and you guys as well, just get comfortable, and then the option of closing your eyes is really up to you. For some people that's helpful. For others, it feels maybe too dark or drowsy. If you feel that way, you can just lower your eyelids and then allow your gaze to go gentle and soft. But you can leave your eyes open, if that's more comfortable for you.
Lisa Erickson:
Then I invite everyone to put one hand on top of the other on your chest for this. Do just breathe for now. Feel the rise and fall of your chest, your stomach as you breathe. If your mind wanders, just bring it back to your breath.
Lisa Erickson:
But then, what I would I'd like you to do is, underneath your hands, in the center of your chest, imagine there is a beautiful ball of white light, like a star. Alternatively, if visualization is not your thing, try to cultivate a feeling of warmth here.
Lisa Erickson:
Now, just say out loud if you like or in your mind, I am centered and calm. What we'll do is we'll just sit in silence here for 30 seconds or so. Use this as your anchor. You can drop your hands if you prefer that. But this white light or feeling of warmth in your chest. Whenever your mind wanders when you come back, say, I am centered and calm, and then just try to keep your focus here.
Lisa Erickson:
Good. Now, gently open your eyes or raise your eyes, and notice where in your body might want to stretch. Before we fully reengage, just offer your body a little stretch in that place, listening to what it needs, and then use that as a transition back into present awareness. There, everyone just meditated.
Ben Smith:
Again, for those that have never done it, I know, again, you said the breath part is maybe the part where maybe we've all been introduced. I like that, that was really different and a fun way to do it.
Curtis Worcester:
That was awesome.
Ben Smith:
Doing that two minute meditation, and in retirement really representing a time to, as you said the wisdom years really working on ourselves. As we preface a little bit as enduring years of stress, trauma, never really addressing it, and never really... Maybe just never a time, life just can get very busy. I guess my question, Lisa is, how does doing that two minute meditation or doing that routinely, as we talked about maybe 10 minutes, twice a week, six to 12 weeks, working on that, how does that help address these traumas, and help us get peace from those traumas, and impact us?
Lisa Erickson:
It creates space where you're taking a break from just habitual unconscious patterns that develop from trauma, et cetera. A lot of our anxieties, our fears are based on past experiences that have never been dealt with. When you just take a break, you're creating this space, and what begins to happen is more insight then develops in other parts of your life around that. You start to realize, wow, I am so tight all the time, why is that? You start seeking tools to help do that.
Lisa Erickson:
It usually is part of a complimentary practice, for trauma healing, in particular. You might be talking to someone, a counselor, a mental health counselor of some type. Or you might be seeking other tools like yoga or healing modalities, like acupuncture, to deal with physical issues, and meditation will be a compliment to that.
Lisa Erickson:
I think in terms of trauma, if someone has trauma triggers, and really, you could say anxiety patterns are part of trauma triggers. If something causes you anxiety, then your pattern is, when this particular type of thing happens; conflict, or change, or this particular type of news gets me into a state where I just cannot stop worrying, I can't sleep, et cetera, well, what meditation again, is helping you practice doing is letting go of that not identifying with it when it arises. So, you're breaking the cycle of that habitual reaction. That does take time. It might need some other support around meditation, but it's a big part of the process.
Lisa Erickson:
Now, in energy work, we often actually go into the emotions and how it feels in the body. Like, okay, you say you get caught in these energy cycles. When that's happening, what does it feel like in your body? Because we tend to be like, "I think about this, and then I think about that." Then when you say to someone, "Well, where do you feel that in your body?" "Oh, okay, well, my shoulders get tight, my stomach starts to hurt." That, you can do something with. You can use a breathing technique to relax your shoulders, you can focus on your stomach, and there's different techniques you can do to imagine that pain going away. Those tools, when you use them over and over, again, start to remap your response.
Ben Smith:
Because it sounds like, Lisa, what you're saying here is, by really addressing, as you said, maybe coupled with other things, whether it be therapy or because maybe this is just a couple [inaudible 00:42:42] practice. But here's a way that you're self-meditating, meditation to address the physical part of this, versus I think maybe we self-medicate in negative ways, where we hear that through, maybe we go to alcohol, maybe we go to other areas that maybe leads to even more negative trauma as well.
Ben Smith:
Again, what I like here is, what I hear you saying is, again, from our perspective, we sit down with so many of our clients, and they can't address future because they've never just passed. I like what you're saying there. I know you quasi addressed this, but I want to ask the question of, how did these traumas... Maybe it's major, maybe it's something really significantly that's happened to us from a trauma in the past, how does that impact us energetically here? Again, the energy work benefits survivors of severe trauma.
Lisa Erickson:
Well, you talked about self-medication for things that we haven't addressed in terms of addiction, or it can even be TV, et cetera. But it also is emotional patterns that we develop. It can be anger, that whenever something happens, you're confronted with change, or something happening that is out of your control, you go immediately to anger, it's a habit. Or you go to depression, you go into overwhelm mode, and then you shut down, and you shut yourself away from the world.
Lisa Erickson:
Those are common trauma responses. Energetically in the body, they are actually represented as blocks in different chakras or different chakras, energy centers not being able to flow. We can work with exercises to help re-pattern them. That's how that helps is you can really look at, okay, how have I been responding to things by default for years? Let go of the idea of I'm just this way, this is just the way I am, right? That's fine if it's really self-acceptance. But if there is some pattern of yours that is causing you suffering, you can always change it with the right support. That's really what it's about.
Lisa Erickson:
I've worked with clients who are speaking sexual trauma 50 years after it's happened sometimes. Even just that, speaking it for the first time and naming it has power to it and has healing, right there and then, just speaking it to someone.
Abby Doody:
One of the things that we've touched on in quite a few of our episodes of the podcast is support. As we age, how do we find those groups that can still support us, even though we might be living farther apart than we used to from our support system? One thing that has been growing in popularity is meditation. How does that differ from individual meditation, and do the benefits of group meditation include reducing social isolation and adding to that sense of community?
Lisa Erickson:
Absolutely. Speaking to when you're mentioning your clientele being in rural Maine, obviously, the same challenges might arise to a physical group, but anyone can start their own physical group meditation. Because there are guided meditations out there that you could just get a small group together in your living room and listen to that. You don't have to have someone that is an expert in guiding it. Then you sit and have tea afterwards and chat.
Lisa Erickson:
Now, the art is doing meditation first, because we do that first, and I know this from experience. All of a sudden, it's like, okay, two hours have passed, the meditation didn't happen. DO the meditation first, that's always my rule, then chat. But anyone can do that. I know groups who decides the guided meditation they're going to do.
Lisa Erickson:
Someone finds a favorite online meditation, and each time, each week, someone brings a different one. That's definitely an option. But the other thing is, just like with yoga, there are now so many online meditation platforms, you can do recorded meditations. But you can also do live meditations with teachers. Centers all over the world are offering weekly live meditations with a particular meditation teacher or guide. I really encourage, if you find a book on meditation, or a guided meditation online, that you like, that you look up that teacher offers, or their center offers live sessions, and that can be a great way to meet people.
Lisa Erickson:
That is the one plus of COVID, that there has been a mass increase in that, in the availability of that, and I know that the meditation center I'm involved with is going to continue those, even though now some things are going back to in-person, because it opened up who could attend.
Curtis Worcester:
I want to continue on the theme of topics that come up a lot in our podcast episodes. Another one is travel. Travel has been a part of a lot of episodes. Whether it's planning that dream vacation with your family, deciding to move, where to retire to. Whether you're living internationally or relocating from us in Maine to somewhere warmer. We've even talked about traveling, doing golf trips with your friends, or retiree, that group.
Curtis Worcester:
But one thing we haven't talked about is meditation retreats. I guess the first question is, is that a thing? What are meditation retreats? Then, how would someone find one? What would you suggest they do to plan one that would be very impactful for them?
Lisa Erickson:
Well, there's meditation retreats, where you really go, and that's all you're doing. Then there's more wellness retreats or wellness vacations, where you might be going to a resort or a spa, or a center where they're offering meditation once a day, and it's part of the experience, but it's not the whole thing that you're doing.
Lisa Erickson:
It really depends on what you're looking for. There is this growing wellness retreat center where you can go and do a meditation and yoga in the morning, then the rest of the day, you're traveling, you're going to see the sights in that area, and that is growing in popularity. Then there's meditation group retreats, where it's like immersion in meditation. You're there to meditate many hours today. Often then also have perhaps private meetings with the instructor every couple of days to see what unfolds for you when you dive in in that way.
Lisa Erickson:
To me, these are usually not someone who's just an absolute beginner in meditation. To do that, you're going to want to know you have some comfort level with it, and usually some comfort level with the teacher. It's someone that you know you can spend time with.
Lisa Erickson:
There are introductory meditation retreats, and if you know a center, you trust them or someone has recommended them, then they're going to lay out an introductory meditation retreat that is paced. That could be a great way to just dive in. But in general, a group meditation retreat is more when you're really comfortable with a particular organization or teacher and want to dive in. I think you have those two different options; the wellness retreat, vacation option or the dedicated retreat, which is more within organization that teaches meditation.
Curtis Worcester:
I like that.
Ben Smith:
Lisa, I think that's really pretty important too. I think one of the things that we've just found is a really theme, again, we're in our 40s, in terms of episodes here is, it's really important to calm social isolation. One of the things that's really important about that is to find your tribe, is to find your people and the things that you are interested in, in finding people that also share those interests. That's how you continue to reinvest in your friend group, in your social group.
Ben Smith:
To do that, it sounds like that would be pretty perfect, is what you just said, is, hey, with COVID, there might be the opportunity to meet more, maybe just friends from all walks of life, but also to the point of, well, here's the teacher I'm really interested in, in terms of, whether it be the moving meditation practice or specific meditation that you want to really get involved with. But to go, hey, I can really try out that teacher. Then I can maybe... If they're offering maybe a retreat, or they're going to be at a retreat, and I can then meet them and these other people together, I can then go to that, then go back and feel reinvigorated.
Ben Smith:
Maybe my family or maybe other people are joining me on this trip, maybe I do my thing in the morning, or when that time of day that we're doing those those activities, I can then disengage from my group that I came with, then once we're done our thing, reconnect. Then either they're doing their thing that they are having fun on this location that we've never been to.
Ben Smith:
I can see where lots of themes that we can get together. I think it's important to say, hey, I'm really interested in doing this, and I really want to meet Lisa, for example, that she's going to be at this retreat. I want to go practice. I'm really excited about doing this, planning a trip with your friends together, really owning it, and doing that more.
Ben Smith:
I can even just see, I'm just thinking about my mother-in-law and her friend Pat, who they get together, as you said in their living room, and they do Tai Chi together and they meditate and they literally have their talk afterwards. They do what you're talking about, but I can see where they would go, that actually sounds pretty fun. Let's go somewhere, do something together, get a break and spice things up. I just wanted to throughput that theme, because I think what you said is really great there.
Lisa Erickson:
Yeah, I know. It used to be, it was the desert southwest was famous for these; Sedona, Arizona, but really these wellness retreats, they're all over the country now. There's many in New England, et cetera. You can really find them everywhere, and ditto for organizations that really specialize just in meditation retreats. You have both available to you throughout the country and the world for that matter.
Curtis Worcester:
That's great. Lisa, we have reached the final question of this podcast episode, and it's completely different than any of the questions we've asked you so far. One thing we like to ask all of our guests, obviously, we're on The Retirement Success in Maine Podcast, I want to ask you, what is your personal definition of retirement success?
Lisa Erickson:
Really only those years as your wisdom years, doing financial planning, which my husband and I are deep in as well, right now. To work with what you have, and make decisions that support what your goals are; your hobbies, your travel goals, your time with family, but also for me, it is about owning those wisdom years, really turning to yourself and saying, okay, what growth do I still have to do? What healing?
Lisa Erickson:
I'm both looking back and forward. Then I think the other piece to me is, how can I be of service? Because that is really the other piece of the wisdom years is that other people benefit from your wisdom, and maybe it's your grandkids and family, or maybe it's in some other more way you volunteer with some local organization, or you pass on your knowledge online in some way. But I think this is a really important piece of it is this sense that you're passing on in some way, your wisdom.
Curtis Worcester:
I love that.
Ben Smith:
Lisa, I love that too, because I think that's something where, I think for a lot of generations, and just thinking about all the generations that come before all of us, and if they could speak to us from those wisdom years, and if you had all those generations backwards, coming to you and giving you whatever piece of advice from their own life, man, how much richer and more knowledgeable we would all be about that. I think about that a lot, honestly. That's a really great point. Thanks for doing that.
Ben Smith:
Lisa, I want to thank you for coming on our show. I can't thank you enough, because again, I know meditation is something where again, maybe we've heard about, maybe we dabble in, I just love that you were able to come on and really go through the stereotypes, but also help us really, even just do a two minute practice of that, and really go through this. Thank you so much, we really appreciate to have you on and can't wait to maybe having you on again. Thank you so much.
Lisa Erickson:
Well, thank all of you for your thoughtfulness and questions, and I really appreciate it.
Ben Smith:
All right. Take care, thank you so much.
Ben Smith:
Today's topic, being Using Meditation to De-stress and Bring Peace to Your Retirement. This is something where I know we really... I know Barbara Higgins gave us that feedback, maybe 10 or 15 episodes ago, really just trying to find the right person here. We wanted to make sure that, hey, here's somebody that can connect to different forms of meditation, but also speak to it and maybe be a good, high level expert.
Ben Smith:
I think Lisa Erickson did a fantastic job today of that. I know from our end, what we always like to do is when we finish our shows is to just recap the lesson that we took away from the show with Lisa today. Maybe Abby, have you lead off with something that you took away from Lisa's conversation with us?
Abby Doody:
Yeah, definitely. As someone who practices yoga, pretty regularly, I thought that everything she had to say was super interesting and really applicable honestly, to retirees or really anyone. The mental benefits of yoga or any type of meditation, along with the physical benefits, particularly of something like yoga, which can be as strenuous as you want it to be, are so valuable.
Abby Doody:
I think she did a great job of illustrating that and showing that it can be accessible to anyone. I know, personally, I find it super helpful from a physical and mental standpoint. I think she did a really good job sharing that. It doesn't have to be something that's so out there, or so scary to start, anyone can do it, and it meets you where you're at.
Ben Smith:
I can see where... I know from maybe more traditional generations, and as Lisa saying is, even the research of meditation, the impacts of rewiring your brain pathways, and there's really now scientific evidence for doing this, and it's really not just a, here's the Eastern medicine that is maybe not understood and really not... Maybe just dismissed, I guess. Is that I think it's easy for us to dismiss that, just because previous generations have also dismissed that.
Ben Smith:
Again, being open to it, really being open to that different ways to maybe stress release, maybe to bring peace in different ways. Again, I thought was a really good job by Lisa. A very good point, Abby. Curtis, from your end, what was something that you took away from our talk with Lisa?
Curtis Worcester:
I'm going to piggyback on what Abby started to talk about with the accessibility. I think Lisa did a great job laying out that it really can be for anyone. You don't have to be in your 20s and super fit to be able to do things like advanced yoga or to reap the benefits of yoga and meditation. Even when she was talking about traditional meditation, just sitting in the chair, whether you needed that extra pillow or you need to be on a couch, the goal and in achieving the benefits are for anyone, and doing as Abby was talking about yoga, you can modify the moves and the different poses.
Curtis Worcester:
Speaking as someone who's in his 20s, but not flexible at all, I need modified yoga, because I can't touch my toes. It's great that everyone can benefit and really achieve the mental piece, I think is really important, and it's accessible for anyone. I think she did a great job laying that out.
Ben Smith:
Well, we didn't mean to make you come to terms with your uncomfortable flexibility, but appreciate you owning that.
Curtis Worcester:
It's all good.
Ben Smith:
I will say, from our end, especially me, I know we've talked about, we all have various levels ourselves of spirituality, right? I had never really, until we asked that question today, really put the two together. Is this meditation, I thought being one compartment and maybe spirituality being another. I like what she said about the whole prayer maybe being is you're speaking to the spirituality. But what I loved that she said today was meditation was really the art of listening. Is that you're really being in it and really listening, and opening yourself up and bring yourself back to that center, that your mind wanders, but you're continuing to bring that back.
Ben Smith:
I think that's where, maybe from the spirituality side, maybe there's people that are getting frustrated out there because they're spending all their time talking and never any of their time listening. It's hard to get answers when you're just always on and always talking to it. I thought that was a really neat way to bridge the two.
Ben Smith:
Again, maybe that's something it wasn't obvious to me. But I thought that was something we're meld too. Again, I guess we all have our levels of spirituality or not. But still meditation still is that active, even listening to yourself, and listening to your body and what it's telling you and where the stressors are, and really working on that to... Really, I thought, a neat thread that we pulled out there.
Ben Smith:
Well, of course, want to thank you all for listening in today's show. We are going to have some links there to Lisa's website, where actually she has lots of different publications out there and books. We'll have some links to those as well. You can find those, when you go to blog.guidancepointllc.com, and that's backslash 43, because we're at Episode 43.
Ben Smith:
Again, would love to have you check that out. If you liked this episode, love to have you hit us up with a review. Let us know how we're doing. Let us know... Again, Barbara Higgins reached out to us and I've mentioned her now three times in this show. But, I promise we don't have to out you in terms of the recommendation. But if you have topics that you want to see us address to in the future that you think might be helpful, love to do that too. Always love to hear from listeners. We can't thank you enough for listening in and tuning in. But we will catch you next time.