Executive Summary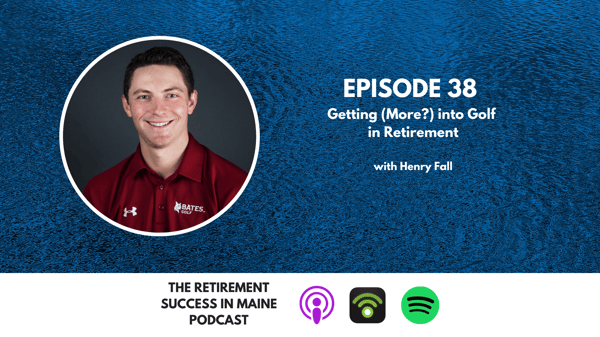 What's the one "hobby" that everyone associates with retirement? They might say "So now that you're retired, I bet you're playing lots of golf". Well, for some retirees that's EXACTLY what they want to do. But what if we've never actually played before, how do we start learning to play (is it too late)? Or we've played some while we've been busy in our careers, how can we get better? What about experiencing golf courses in the state of Maine or outside the State, what are some experiences that need to be on your list?
Our next guest is a PGA Professional, the Head Golf Coach for Bates College, a LPGA Tour Caddie, and host of Maine Golf Talk Podcast
. You can access him as a coach through henryfallgolf.com or listen to Maine Golf Talk Podcast on all the major podcast platforms.
Please welcome to the Retirement Success in Maine Podcast, Henry Fall!
What You'll Learn In This Podcast Episode:
Welcome, Henry! [2:46]
How does Henry recommend to those that are new to the game of golf, start playing and progress their skill? [20:50]
A conversation about golf accessibility as people age. [25:35]
What should we consider when planning a golf bucket list trip? [32:49]
What are some things to consider when deciding if becoming a member at a particular golf course is right for you? [41:12]
How does Henry define Retirement Success? [52:26]
Ben, Abby, and Curtis wrap-up the episode. [55:18]
Resources:
Henry's Podcast - Maine Golf Talk
Listen Here:
Did you enjoy The Retirement Success in Maine Podcast?
Subscribe to our podcast directly via Spotify, iTunes, or Podbean by clicking on the images below!



Transcript
Ben Smith:
Welcome everyone to the Retirement Success in Maine podcast. My name is Ben Smith. I'm joined by my two co-hosts per usual, Abby Doody and Curtis Worcester, the Annika Sorenstam and Tiger Woods to my Zach Johnson. How are you guys doing today?
Abby Doody:
Good, how are you?
Ben Smith:
Good. Well, really excited. This is kind of a pet project passion of ours on this topic today. Obviously as you can get from the lead, we're going to talk golf today. That's really the one hobby that I think when everyone kind of hears about retirement that they really associate with this "What's the hobby that you're going get into? What's that passion that you always wanted to do, and now you have to do?" Of course, golf is something that can soak up some time.
Ben Smith:
Yeah, of course we hear from a lot of people as they announce retirement as their friends and family around them say, "So, now that you're tired, I bet you're playing lots of golf." Well, you know, some retirees are like, "I don't like golf," but for some retirees that's exactly what they want to do. For some people, it's like we know enough retirees that just retired and they're like, "I've never kind of done certain things before. I've always been athletically inclined. I do like being outside, but maybe not in a kind of hiking perspective. Maybe I want to get into something like golf, but I've never actually played before."
Ben Smith:
So how do we start learning to play? Is it too late? Or maybe we played some while we were busy in our careers, but of course career and family, and all the other things in our life kind of comes first sometimes. Maybe we haven't devoted a lot of time to this sport. We're not quite at that aptitude level, but how can we get better? Also, but what about experiencing golf courses in the state of Maine, or even traveling outside the state? What are some experiences that really need to be on your list kind of going forward?
Ben Smith:
These are the questions that we've been spinning on a lot. Again, I think this is something where Curtis and I golf quite enough I would say. Abby will be more of our representative of the beginner golfer that maybe is not in it as much. But really, we want to ask these questions to somebody that really could embody this, that really golf is their life, and help us kind of weight their way through these topics for retirees.
Ben Smith:
Our next guest is a PGA professional. He is the head golf coach for Bates College. He's also an LPGA tour caddie, and he's the host of Maine Golf Talk podcast. You can also access him as a coach, so if you want your own help, and I think we all need a little bit of help, you can access him as a coach through HenryFallGolf.com or again, as we referenced, listening to him at Maine Golf Talk podcast on all the major podcast platforms.
Ben Smith:
I'd like to welcome at this time to the Retirement Success in Maine podcast, Henry Fall. Henry, appreciate you coming on.
Henry Fall:
Yeah, thanks Ben, and Curtis and Abby. I appreciate you guys having me on. It's a privilege.
Ben Smith:
I know it's a little bit different when you are kind of on the different side of the microphone, right, is when you're used to asking the questions versus being asked is always a different experience.
Henry Fall:
Yeah, it's kind of weird.
Ben Smith:
Obviously you've been doing your show for a bit. We've obviously been a fan listening in and kind of getting... Also, maybe in the middle of winter as we are right now recording this, it's always good to dream about golf. Even talking about it kind of keeps it alive for us. So, love that project there.
Ben Smith:
With our show we always want to start with you as our expert, as our guest. I want to hear a little bit about your story and always the first thing we want to hear about is your growing up experience. So, why don't you start there?
Henry Fall:
Yeah, no first I would say I've been extremely fortunate. I've had some great mentors along the way. I actually started when I was seven years old. I grew up in Harpswell, and I started taking lessons from Kevin Joseph at what used to be called Long Shot Driving Range in Brunswick, and then I just got hooked. It kind of gave me some of the fundamentals. I think I was hitting at like 150 yards at like seven or eight years old. My driver was pretty good at the time.
Ben Smith:
Nice.
Henry Fall:
It's like my pitching wedge now, but anyways, I got hooked on it. By the time I was 11 I started playing competitively, playing State Junior events. Then at age 12 I won the 12 and under Maine State Junior Championship. It was a pretty quick process. Definitely at that age, we're kind of sponges and we just pick up whatever we see and do.
Henry Fall:
At the time, Tiger was kind of at his prime so I think watching it on TV I definitely picked up a few things from that. So yeah, I had a really good junior career in Maine. I didn't travel too much outside of New England, I would say. I did play in the Junior Classic down in North Carolina, which was one of the biggest junior events probably in the country at the time. That was a good experience.
Henry Fall:
Outside of that, my junior career was great. High school career at Mount Ararat was fun. We had a really good team there. Then I went to Elms College down in western Massachusetts to play collegiately.
Ben Smith:
So Henry, obviously you're growing up experienced. If your parents are getting you into golf at seven years old, what was their aptitude in golf? Were they already around the sport and that's kind of some of it, why you came into it? Or they just said, "Hey, let's drop Henry off at Long Shot to hit some bombs, and we can drop him off for an hour and go to do some errands." What was them in terms of that kind of recipe, that kind of allowed you to grow in that direction?
Henry Fall:
Yeah, I think they just wanted to get me and my sister out of the house honestly. I think that was the answer. My dad plays a little bit, maybe once or twice a year. But no, everyone's really no connection between them and the sport. It was more I think I watched it on TV at a very young age and I kind of had an interest in it. At the time I was doing a bunch of things. I was taking piano lessons, art classes, other sports obviously too. But it was just the one thing that kind of stuck I guess, and has stuck since then.
Henry Fall:
There's other family members we had that we involved with the game. I think when we would spend time with them, and they had a little putting contraption in the house where it bounced back to you and those things, so it just kind of resonated too.
Ben Smith:
Nice, so obviously you've developed this hobby, this vocation, this something that you're doing a lot of that you really enjoy. Of course, there's always this kind of point with lots of different athletic careers, is "What do I do?" So, I get out of college, and obviously you're doing that Elms College, but that was I guess a pretty hard decision at that point about what do you want to do with your college degree, and how did you weigh becoming a PGA professional and learning about that was the direction that you wanted to go with your career?
Henry Fall:
Yeah, I think looking back on it, at the time I was so young. I just didn't really know exactly what I was going to do. I had always had this passion for golf, and I loved it, and I loved competing, but I never really put that and a career in the same line. I think part of it was maybe my surroundings. Growing up I was like, I don't know, being a golf professional in Maine, that'd always seemed like oh, it's a short season. It seems like in season it's so hard. The pros are in the shop for six/seven days a week, or whatever they're doing.
Henry Fall:
I think part of it was just my understanding at the time. I was like, "Oh, I'll just go to college. I'll just get a degree. Let's see what career path I'm going to go down." At the time, it was sort of like a math science path, and ultimately at the age of 23/24 is when I was like, "You know what, I really love golf. I love coaching the game. I'm not sure if I want to be a PGA professional that does work in a shop and manages a staff and the pro shop and things like that, or if I want to be an instructor. I'm not sure, but I do want to get back into the sport that I love."
Ben Smith:
So obviously then you decided to become a PGA professional, which I'd love to hear about that path because I know that's not an easy thing to do. I don't know even the word is "accredited" as a PGA professional, or getting your card, whatever that is there. Can you describe what that process is like to become a certified PGA professional?
Henry Fall:
Yeah. You could get it in school, which in hindsight I probably should have gone with PGM school because I would have had it when I got out but. There's three levels and you're considered an associate. I'm actually still an associate at this point. I'm nearing my Class A professional certification, or whatever you want to call that. For the time being, yeah it's three levels and for me I'm taking the teaching and coaching route, which involves giving lessons and setting under other instructors and high level coaches.
Henry Fall:
There's a lot of book work and stuff, and then examinations for each level. Then once you're certified you're considered Class A, which is more just to be involved with the PGA and doors that can open for you, being a little play in their events and then you get a free ticket to the master's which is pretty cool. That's a nice little bonus.
Ben Smith:
Yeah. Henry, is a playing requirement in terms of your ability that you have to prove to? I think that's obviously if somebody just walks off the street and does some book work, that probably wouldn't make the most sense to be teaching other people how to play the game.
Henry Fall:
There's a playing aptitude test, which usually you would take early on. Sometimes it may take you a few years to pass. It's pretty challenging because it's not so much that store-wise you have to be outstanding, but it's just the pressure because you're playing 36 holes in one day and you have a score in mind. You have that expectation on you, when you reach the first tee that morning and you're like, "I got to shoot this number or better." Even if it is a 76 for two rounds, it's still a little bit daunting because of that sort of tournament setting and having that target score in mind.
Ben Smith:
Is it certain courses that meet the criteria in terms of the slope rating or something along those lines? Like it has to be a certain level of difficulty I would imagine as well.
Henry Fall:
Yeah, they set the courses up pretty consistently. They're not super long, but they try to make it scorable. That being said, we played at Dune Grass, which I don't know if you guys have played there, but it's pretty tight, pretty narrow, a lot of layup shots part of golf. You have one poor tee shot, you're making a bogie or double really quickly. It's demanding, like I said, with all the pressure that's kind of put on you for that one day.
Ben Smith:
Gotcha. Well thanks for sharing that because I think that's really important to landscape here for our listeners to hear, is that obviously what does it mean to become a PGA professional? Obviously, your well on your path there to get there, but also from a teaching and training perspective. That's also important, which is why we wanted to ask you to come on, was us, you have that bench where you have a lot of pros in the area that they're running their course and really maybe they do teaching, but maybe that's not really their sole event.
Ben Smith:
Again, we wanted to make sure that that was our focus here today with you. I'd love to just hear a little bit about your podcast. So, Maine Golf Talk podcast. I'd love to hear the genesis of that, and for those who haven't checked you out, love to hear about maybe what you guys are talking about, what your goal with it is, and how you think it's going so far.
Henry Fall:
It all kind of started possibly because of COVID. I think we started in April or May 2020. At the time, I was kind of at a standstill because we weren't able to have our golf season with Bates. I had just met Dana honestly, and we were kind of starting to talk about caddying up for her on the LPGA Tour. There wasn't a lot going on, so I reached out to Zach, my buddy who's the head professional up at Sugarloaf, and we just got started talking about how we can do some content together whether it was instruction, or I'm pretty busy on Instagram so we just were kind of throwing some ideas out there.
Henry Fall:
Then we were like, "What about a podcast that focuses on bringing further exposure to Maine golf?" So we just kind of started. My dad's a graphic designer. We put a logo together in two days-
Ben Smith:
That's awesome.
Henry Fall:
We just went with it. We've had some amazing guests on. We had Mike Bender on, whose Golf Digest's number three instructor in the country. We had his student Austen Truslow who was on Korn Ferry tour. We've had just numerous great guests. Clive Clark who designed Belgrade Lakes, so we've been really fortunate.
Ben Smith:
I'll just kind of put a plug here too. I've not listened to every one of them, but there's a bunch I really liked. One was Cory Lewis because I think that... Cory Lewis, in the episode you did with him in the summer, was something that really resonated because I think that's what we're kind of talking about here, about golfing and retirement. Cory Lewis's story was he wanted to play 2,000 courses and they were really Donald Ross courses is what he wanted to play.
Ben Smith:
He and his wife, traveling around the country, going around and playing all these Donald Ross... For those that don't know, Donald Ross is an architecture of various golf courses in the... Was it early 1900s?
Henry Fall:
Yeah.
Ben Smith:
Something along those lines. He was a pretty popular architect, did lots of, of course, kind of robust 18-hole courses. Obviously there's a bunch in Maine in as well, either 18 or nine holes. But that was thing I was like, "Well, what do we want to use as a purpose in retirement? What's something that brings us pleasure? What's something that we think is fun, that maybe we can enjoy with our spouse?"
Ben Smith:
That's one of the things that Cory brought up in the show with you guys. I thought you guys did a really great job bringing that out from Cory in having this conversation. Of course, he's going around the country. What's different about Maine golf than other states and other regions, and other areas. I thought that was a really cool episode.
Henry Fall:
Yeah, I appreciate that. He was a great guest because number one, a little secret about that episode is, and we didn't really talk about this, he's actually a Golf Digest grader. So, he travels the country rating these courses. That's part of the reason he's able to get on Pine Valley and other courses like that, but-
Ben Smith:
His Pine Valley, and by the way that was his thousandth golf course that he went to, and that's extremely private, really hard to get into is my understanding of that.
Henry Fall:
Mm-hmm (affirmative).
Ben Smith:
Right?
Henry Fall:
Yeah, no it's probably one of the top 10 or 15 private clubs in the country. Anyways, you hear about people retiring and they get a Winnebago and they go national park hopping. He's kind of a golf course hopper. He and his wife are planning trips up to Cabot Lakes, or going to Bandon Dunes, or wherever they're going. I just think that's such a cool thing to see. One of the reasons we ask so many of our guests, in the Wicked Fire Round we call it, their favorite courses is Maine is so listeners can kind of... We know everyone is going to say a different course. They aren't all going to say Sugarloaf. They're not all going to say Belgrade. They're going to say, Kebo, or even some nine-hole courses.
Henry Fall:
It gives our listeners the opportunity to hear about some of these great courses that Maine has to offer, and even regionally where in the state they can go to kind of mix things up.
Ben Smith:
What's pretty cool about what your show is kind of doing, and maybe the courses are an important part of what you're trying to highlight, but also the experiences that people have on the golf course. I listened to the show because I've golfed at Goose River before with Alex Plummer, Plum Dog, right? He's talking about his course, but the culture he has at his course is a lot different. Some people will golf barefoot, or they'll have their dog with them.
Ben Smith:
It's just a different culture that you would then experience at I think prototypically or stereotypically at maybe a more private course, or maybe a more up-end. There's lots of ranges just like all people. It doesn't have to be that here's the stereotype in my mind that I have to be buttoned up, I have to have this little skill, that there's lots of really great casual courses with really great features around the state.
Henry Fall:
Absolutely. I think you hit it right on the head with the dogs out on the golf course. It's really funny how that argument comes to be. Are we allowed to have dogs on the golf course or are we not? You're seeing more and more clubs go to that, but you have a wide range of types of courses, designers, nine holes, 18 holes, how quickly you can get around, how long does it take, are you walking or are you riding, those sorts of things. I think people like the variety. I think people like the fact that in Maine you can have ocean golf courses and mountain golf courses, and that's pretty unique to our state.
Henry Fall:
I think for the most part it's a pretty laid back state in terms of golf. I think that you go to let's say the metropolitan area of New Jersey, you have a lot more of these private clubs that maybe you're walking only with a caddie or it's a little more structured. I think people like that. They come up to me even if they're from out of state, if they're hanging out on Desert Island or something they can go out for nine holes and just kind of relax and get the ocean breeze. There's a lot to love about Maine golf.
Ben Smith:
I just want to say you guys with your show, even though you're maybe newer as well, which we are, in terms of kind of pushing this out and getting this content. I think you guys are capturing the spirit really well. These people are kind of talking about it and showing that accessibility. I think that's why again from our end we wanted to highlight this as an episode on our show because I think with golf as kind of a hobby... Again, from our we've also heard from a lot of guests over our shows that, "Hey, they've downplayed it."
Ben Smith:
Well, you can't golf 16 hours a day, 365 days a year in the state of Maine. That's not the only thing you could be doing in retirement. Retirement has to be much more than that. With that idea is that, but we do still need hobbies like golf to keep us busy, active and enjoying life, which I think that's one of the cool things about this sport is you're outside, you're enjoying probably... Again, Maine's got a terrific maybe two and a half seasons. I know mud season's maybe the part that's a little bit more brutal.
Ben Smith:
We have some really kind of fun area where you want to be outside enjoying it. I will say from our end, I probably golf the most I have ever golfed was this last year because being in your house, seeing your own four walls and going outside and seeing maybe a friend, but being socially distanced that whole time, that was the one time that I could connect with somebody and have a relaxed round, be outside, really enjoy it, but also be safe during this pandemic. In talking about the value I got personally from that experience of I needed to connect with people, but also be outside and just have some fun playing a game. I could see where from a retiree perspective that's something where I think a lot of people want is, "I want to connect with others as they get older. I want to continue to be active and stay fit, but I want to also be outside."
Ben Smith:
For those... Let's start here as a question. With those that are approaching retirement, or retirees, if they've not golfed before or really haven't golfed much and really want to get into the game, how would you recommend that they start and progress their skill?
Henry Fall:
I'd say number one, most people at some point in their lives have some athletic background, even from a younger age. Even if it's been 20 years, they've been working an office job when Alan Pate decided to pick up the game. Most everyone has that sort of athletic background of something along those lines. If you can tap into that, that's number one. I would say the second thing would be to look for a local professional. There's a lot of great options out there for you. You don't have to take just an individual lesson. It could be a Nine and Wine, which a lot of these courses have across the state where it's sort of an introductory level where you go meet some of your friends, you can sign up as a group. You have a set a clubs. Maybe they provide clubs.
Henry Fall:
It gives you the option to kind of get in the game and feel comfortable and not sort of pressured by stepping up to a lesson tee for your first ever time touching a golf club. I will say though that that apprehension can go away really quickly when you get a drive 100-200 yards off the tee straight down the middle of the driving range. Whatever sort of tension or apprehension you have built up, that maybe it's not the calling that you're looking for in retirement, I would say give it a try because it's amazing how many great instructors and coaches there are across even just the state of Maine that you can go up and have a lesson within four or five swings. You hit that one shot and you're hooked.
Henry Fall:
I am telling you, I've seen it. It's amazing. It's like, bang.
Ben Smith:
I'll tell you Henry too, just a quick story personally is, I think that's how I started even after high school was I just had a friend that said, "Hey, we're going golfing today." I'm like, "I've never done it." "I don't care. I've got some clubs, extra ones. We're going to go out and have some fun." I think that was the biggest thing, the just being out there and just trying it. I will say from my own end is, until I got lessons which I probably was like four or five years ago and really started getting serious and takin lessons, the amount of enjoyment I got out of that has been even more exponential because all of a sudden it's like, "Okay, if I'm not-" obviously I'm not maybe practicing all the time, but I've honed in enough fundamentals that maybe I can execute the shot I want every two or three shots."
Ben Smith:
The fact is, you just said, is when you can flight a ball the way you want you go, "Wow, now that's what I was trying to do," that's the addicting thing for me is just it's really fun to be able to execute. What I've also learned was hey the average golfer out there is like a handicap 18-20. I thought I was getting in, and now I'm going to be like the 30-35, and everybody else is this seven. I'm just going to be the worst one on the course, holding everybody up.
Ben Smith:
That, I think for me was, that was my apprehension of I'm going to be so bad that I'm going to feel unwelcome and not feel I'm a part of this. I think when you look around or you'll be part of these scrambles, everybody has these limitations to their golf games. It is a tough game. I think that's been the fun part, is that everybody has their own kind of struggles with it. They're not that much better than you. They're not that further away from you in terms of skill level I guess is what I'd say for those that are starting, right?
Henry Fall:
Mm-hmm (affirmative), we're all terrible at one point. Even Tiger Woods and Jack Nicholas, and Annika Sorenstam, they were all terrible at one point. We all had to pick it up at one point. With anything in life, learning something new there's some apprehension. If you can just kind of be open-minded to it and say, "You know what, it looks fine-" and the thing is, you don't have to be a tournament golfer. You can make this a social sport. That's the great thing about golf, is it's a sport of a lifetime. You can play until your 90s.
Henry Fall:
I know people over 100 that have played golf. That's pretty cool. The other thing is, like I said, if you have some friends that are going out for a little social time, it doesn't have to be like a money match every time, or playing in the Maine State Amateur Championship. It can be "Let's go out and play and see if we get nine holes in on a Friday night. It's 4:00, we'll just go out and get some parks, get some drinks, and go play for the ball." That's fun too.
Abby Doody:
You had the perfect segue into my next question. Can we talk about golf accessibility as we age? You just mentioned that it's good for people even into their 90s, and even into their 100s. How is it approachable for those who have maybe flexibility or mobility issues? Is the game adapting more to people with those types of issues? If so, how is it adapting?
Henry Fall:
Yeah, I would say ever since the 90s/2000s you've seen a lot more developments in technology and biomechanical studies, and let's say that TPI, a lot of people have referred TPI with what... TPI is the Titlist Performance Institute. They've done a lot of research on biomechanics and how we can get certain areas of the body to move better, increase mobility so you can reach certain positions better, and hit the golf balls farther.
Henry Fall:
There's been a lot of developments on that side of the game. A lot of professionals/coaches are now trained in biomechanics and are TPI-certified, or at least have a decent understanding of certain abilities and can cater to you and adapt their sort of methodology or whatever they're coaching so if you can't let's say get the club very vertical in your backswing, they can adapt and say, "Okay, well you're going to have a shorter, flatter backswing. That's fine. Here's how you got to deliver the club to the ball.
Henry Fall:
The student really dictates how the lesson should be. It's not the coach that dictates that lesson for you. I would implore you to look for a coach and stick with a coach that works around you, a student, and sort of the things that work well for you and the things that maybe you struggle with because we're all different. Even twins biomechanically have some differences. They've done a lot of research on this, and that's why clubs are fit differently for people.
Henry Fall:
Even the four of us should all probably be playing different golf balls. That research that's been done over the last 20-30 years has really helped push along the idea that there're different swings and there're different clubs. I really feel like it's the most approachable it's ever been, this sport, because you can come in and even if you struggle with certain ranges and motion, you get this driver that's a lot bigger now, a lot more favorable for you to hit and tee it up high. You get this ball that has low spin, and it just goes forever.
Henry Fall:
If you can start with that, get down in the fairway, then from there you can just sort trip it up on the green and continue to play. I think it's only going to keep improving as we get more and used to this understanding that the student kind of dictates the lesson and how we can help them find their best swing.
Curtis Worcester:
Henry, I want to rotate a little bit and talk about golf specifically in Maine. I know you had an episode of your podcast back in April called The Maine 18, where you talked about building an 18 hole course throughout the state with some of your favorite holes and whatnot. I want to look at maybe your list of the best golf in Maine, and look at it from an angle as we've been talking about whether they're beginners to golf, or the mid-to-high handicappers. Does that list change?
Curtis Worcester:
I think for me when I think about the best courses in Maine, I think about the views, and like you mentioned, the ocean. I also think about trying to play somewhere like the Samoset if I've never played golf before. I think that may not be enjoyable for the sense of the golf struggle part. Can you just kind of talk about how that list of best golf may change for people who may not have the most skill in the game of golf?
Henry Fall:
Yeah. One great thing about our sport is the handicap. Ben, you brought this up, the average handicap for the golfer is somewhere around 20 we'll say. So, with handicap you could play me in a match and then based on the course, I would give you a certain amount of strokes for that round. Even if you do hit it in the ocean or whatever, eventually, theoretically then that should be somewhat even and it'll be competitive because let's say you've got a stroke around par four where there's really no trouble. If you hit a few good shots you're probably going to win that hole against me.
Henry Fall:
The one thing with handicap that we probably have an advantage on over most any other sport is it gives the opportunity for everyone to compete and be sort of level, and have that opportunity whereas let's say you and I were playing tennis against each other you might have this stealthy backhand and I might have an overhand serve that goes 150 miles an hour. Whatever it is, someone's going to have a clear advantage and there's no way to really handicap that.
Curtis Worcester:
Sure.
Henry Fall:
That doesn't get higher for you and lower for me. That's the one beauty in golf, is that with that handicap if you are playing in a tournament where it's handicap or playing with some buddies, you can play those games and go to any course. Now if you're just playing straight up stroke play, and you want a challenge versus an easier course, yeah you're going to go to those ocean-side or go to Sugarloaf where it's tree-lined everywhere. If you hit a ball, it's gone no matter what.
Henry Fall:
There's definitely courses that cater better towards sort of your beginner player. The other nice thing is there's certain tee boxes. They call it a "Lady C", but let's call it the "Foreword tee", number one, because if you're just getting into the game why would you step back to the farthest back tee when the course is already longer to begin with? It's a harder task right off the bat because it's longer. When you're first starting in a game, and what we've been doing more and more now with junior players, is at the age of five, six or seven when they're just getting in, is let's start them really close to the green, even ahead of those foreword tees, we're talking like 60 yards, and see if they can make a three. We call that a par.
Henry Fall:
Then once they've achieved that, they move back incrementally. So kind of like laddering. That's the approach I would take as you start into the game, is get aligned with a coach who can help you technical-wise, the technique-wise, and then when you go to the course and you're just trying it or making sure to keep up with the group ahead of you as well, start close to the green and work your way back once you feel confident and you can keep up, and you're starting to hit it better.
Curtis Worcester:
I like that. Kind of to follow up there too, what I hear you saying is regardless of kind of the skill, there're ways to do these golf trips and enjoy it. Specifically in the state of Maine, there's a ton of good golf weather. Like you said, you're a single digit handicapper, just picking up a club for the first time, you can enjoy it. Kind of a general question for you, if I'm building a golf bucket list, what should we include on that list? Or what do you think people should include as they try to have this bucket list of golf, whether it's just in Maine, or wherever? Are there some fundamental aspects from your perspective that people should try to include and check off that list?
Henry Fall:
Are we just talking about golf courses specifically?
Curtis Worcester:
Yeah, or the experience of a golf trip, say whether it's stay on a resort that has 13 courses if you can, or is it you know, travel to a new place every day. I guess kind of the overall golf trip.
Henry Fall:
Okay, yeah golf trip. I would say in Maine, if you're living in Maine, you can do everything really in one day, unless you're going up to Aroostook Valley, which I haven't done. I'm waiting to do that. I'm excited to do that. Most every trip you can do in Maine, you can get to Sugarloaf in two hours, you could stay overnight and go to Sunny River, you could play Belgrade on the way out and make it a stay the night trip. There's a lot of opportunities in Maine that you can do a lot of them in one day, which is great.
Henry Fall:
If you're traveling outside of the city, I've heard great things about Bandon Dunes, there's Stream Song in Florida. Any of those properties where you can go spend a few days and they have multiple courses... I think Bandon is probably seven courses now, and every single one of them is in the Top 100 on Golf Digest, which is crazy. Definitely more on the high end side, but the idea that you can just go there and just be in Golf Heaven for a week is just such a cool thing.
Curtis Worcester:
Yeah.
Henry Fall:
Outside of that, there's a lot of courses in New England too. Even in western Massachusetts, there's some great courses down that way that no one really knows about. You can have a lot of little trips anywhere honestly. That's the thing about golf, it's just like anywhere you go, it's a new experience. I hate to kind of hit on tennis here, but all the courts are the same. I guess you could be playing in a nice environment like Wimbledon or something. Golf, it's a different experience. It's a different landscape.
Ben Smith:
Henry, I'd love to ask and maybe go even further on the travel part. I've never traveled and golfed. I've always just kind of golfed locally and done that thing. The whole going somewhere is a bit of a mystery here. If I am going to go travel to say Bandon Dunes, or I go somewhere and I'm going to do a golf trip, what's the best way to do that? Should I be bringing my own clubs with me? Should I be renting when I get there? Are these trips generally I really need a few days to do this? I need three or four, or five days to make these trips worthwhile. What's the typical experience when we travel, especially out of state, longer distances to get into a golf vacation?
Henry Fall:
The nice thing with the bags, transporting the clubs, I would recommend bringing your own clubs if you can, unless you're going to Jamaica, or the Bahamas or something. A lot of these courses do have good rental sets. Even Sugarloaf has great rental sets. I would suggest bringing your own clubs, especially if you've been fit for them, which I also recommend everybody does. Please fit your clubs if you haven't already. Playing clubs from 1980 will not serve you well in this sport.
Henry Fall:
I would recommend bringing your own clubs. You have Ship Sticks now, which is great. You can send your clubs right to the clubhouse for $30.00-$40.00 or something like that. If you're there for four or five days, you can just put it in a box, they ship it, boom, it's there.
Ben Smith:
Interesting. That's way better than... I have to take it to the... It's on the airplane with me. I've got lots of other luggage and get my clubs. I bring it to the hotel. That would be the hassle to me was, I didn't know that you can ship right to the clubhouse. That would be phenomenal.
Henry Fall:
Right, you've heard nightmare stories of "Oh, I brought my clubs on the plane. My driver broke. My brand new tailor-made," whatever, "$500.00... I had this special shaft." Everything, blah, blah, blah. Ship Sticks has been around now for 10+ years now. I don't think Zach... I've never used them myself, but I've seen it used a few times. When I was working at True North last year, we brought Ship Sticks clubs in everyday it seemed like.
Curtis Worcester:
Awesome.
Henry Fall:
True North is one of the premier destinations of folks talking about right now.
Ben Smith:
Mm-hmm (affirmative).
Henry Fall:
That's convenient. I would suggest bringing your own clubs. I really feel that if you had the opportunity to... It just makes the experience better too when you know you're playing your own set.
Ben Smith:
Absolutely.
Henry Fall:
Yeah, sorry. I was just-
Ben Smith:
From a confidence perspective, I think that's really important. Especially when you have been fit, and it's like, "No, I hit this club this distance. It's used to doing this thing." I've even played clubs that are very similar to what I'd been fit, and it just feels like I still don't have that confident level being if I lose any confidence at all, then things can cascade and go really wrong. Now the golf round goes horribly bad, and I've not enjoyed as much as I could.
Ben Smith:
I echo what you're saying there, Henry. I'd love to just hear about obviously, just quickly on the travel to places. I know we actually had a travel advisor come on. Her name is Keri Forbringer. One of the things we were saying around was, "Hey in travel," and retirement is really tough because sometimes we have couples that don't really agree on what they want to do. I don't want to prototype or stereotype too much here, but say once spouse says "I love to golf," and the other doesn't. Well, obviously if that spouse doesn't want to go golfing, that they maybe find a group of buddies and they do the girls' trip, they do the boys' trip. They do whatever, all the golfers together go do that and they don't feel guilty while they're doing that, that "Hey here's somebody that really isn't into it, but they're doing it as a favor to me. Now I don't really enjoy it as much."
Ben Smith:
In terms of those experiences, is that something that you're seeing happening? Obviously, we're in pandemic times, but pre-pandemic or post-pandemic, is that something you're seeing kind of happening more, is more traveling to destinations?
Henry Fall:
Yeah, definitely. These golf trips are becoming an annual thing for a lot of these groups. At Sugarloaf, for example, is a place you see it every day in the summer in the peak season, is groups of whether it's four or 40. These groups come from all over the place, usually Massachusetts and New York, but sometimes even Nebraska or Texas. These groups really know what they're doing, and they've been doing it for a while. One thing on these golf trips too is that once you're aligned with a coach, or a PGA professional, a lot of these PGA professionals set up trips themselves.
Henry Fall:
You could be going to St. Andrew's with your PGA professional, with eight other members or whatever, have a three/four day trip where you get clinics every day, you get instruction, and you get to go to play. We've seen a lot of those trips as well. There's a lot of options. I would say sort of the destination that you hear a lot about is obviously Myrtle Beach. I brought up Bandon, but we have Scotland, and Ireland.
Curtis Worcester:
Yeah.
Henry Fall:
There're these groups all around. The only way to really get into them and evolve is by knowing somebody or just getting into the game, becoming a member at a golf course, playing in some of these men's leagues/women's leagues and then usually there's somebody that knows about these groups that travel around. It's always better to kind of I think get acquainted to those trips through somebody else that's been doing it for a while, that way you kind of get the experience, you kind of understand what's going on. That way, if you do let's say you go with your significant other somewhere else and they want to go to the beach instead of play golf, you know how to use the league to set that up and you guys can both be happy for that trip.
Ben Smith:
Nice. I want to ask another question, Henry, here but obviously there's a lot of golfers that just really only golf casually. They just maybe go once a month, as you said with your dad, maybe twice a year going out. In terms of what would you say if... If somebody says, "Hey, I've always golfed casually, and now I am retired and I have more time, I do want to do this more." How do they weigh becoming a member at a golf course? What would be the inputs you would say "Hey, here's the benefits of becoming a member," and when it would become worthwhile to you?
Ben Smith:
Obviously, I'm just thinking outside the financial realm for a second, but just in terms of "Should I become a member or not?"
Henry Fall:
I think having at least a basic understanding of the game helps, having a played a few times, making sure that you can get around the course, let's say play nine holes in under three hours that's ideal. There's some certain things to learn: etiquette, and the rules. You don't need to know every rule, but certainly a basic understanding before getting a membership, I would start with that, having played a few times with somebody that you know that kind of understands those things to help guide you. If it is just your PGA coach, that's great too.
Henry Fall:
Once you sort of have that basic understanding, certainly with membership there's a lot of options. Some of these clubs will do a trial membership, or a social membership, which allows you to sort of experience the club even outside the playing side where some of these courses will have gyms and social gatherings, and things like that. We can then get involved with. It gives you the chance to experience that membership to prior to really joining.
Henry Fall:
You could start with that, but usually from a membership standpoint, it's like do you want to play nine holes? Do you want to play 18 holes? There're certain memberships for that. There's play cards. You could play... Let's say you're more on a tight budget and you don't really play a lot, you could get a 10 play card at some of these courses where it's a little bit discounted. Maybe that's a good way of getting you involved?
Henry Fall:
It's kind of similar to some of these gym members you see where they start you out with trial basis for the first few months, or discounted. Whatever it is, there are those options involved. That's great. Even from an instruction standpoint, like I was saying before, there're certain clinics you can get involved with. Things to kind of get you in the door and experience it, and see if you really enjoy it before making that sort of financial decision on the sport, whether you're really going to commit to it.
Curtis Worcester:
I like that. I want to rotate a little bit again on you here. When the three of us were thinking about this show and getting excited about it, we were thinking about the group of listeners, or our clients, who would really learn a lot from this episode. I think we concluded that we can estimate that they're probably competitive people. When you think about it with golf, and I know we talked about it a little bit ago with the beauty of the handicap system and how it naturally tries to keep things even because naturally some people are a lot better than others at this game, what are some other ways that friends can just get together, whether it's types of games they can play on the course?
Curtis Worcester:
If I'm going out tomorrow with three of my buddies, and we're all across the spectrum on skill level, are there certain types of rounds to play golf, like different game modes within just playing a round of golf that could make it fun and competitive regardless of how good we are? Could you just share some of those?
Henry Fall:
Yeah, I think there's a new game that gets developed within golf every single year. I swear. It's like there're unlimited choices. There's individual. You can just play by yourself. You play nine holes in the afternoon or whatever it is. If you bring your buddy, you guys could play a couple of other people: Best Ball, you can play Scramble. So it's a team event. It doesn't have to be just individual. Again, so the great thing about golf is that you have options. It can be communal, or it can be individual.
Henry Fall:
I think it's nice to mix it up once in a while, and even at the highest level you're seeing that. You have your Ryder Cups, you have your two man events now. You're seeing more and more of that as well. It's exciting. Who doesn't love the Ryder Cup or the Solheim Cup? Those two events are awesome. You have a lot of options. Even a lot of these courses do have a sort of weekly scramble or a league, or some type of sort of fun, more laid back event. Maybe there's a little money or prizes on the line. You have your closest to the pin. You have a long drive.
Henry Fall:
There're little games within the game that are so much fun. Even someone that has just picked up the game, had no clue what they're doing, they can step up on a par three, hit a driver, it takes a few funny bounces, goes in the hole and they win closest to the hole and they get a hole-in-one. I've seen it before. It'll happen again. How can you beat that, right?
Curtis Worcester:
Right.
Abby Doody:
Bouncing back to what we were talking about a minute ago with affordability, as financial advisors we often talk about how affordable things are in retirement. We've talked about a lot of things: your own set of clubs, and getting fit for them, and coaching, and membership. Can you speak to what the affordability of some of these things are for people getting into the game?
Henry Fall:
Yeah. I think this goes back to if you have the opportunity to start with a coach or a professional, whether it's the club professional or an instructor at the course, they can be a great guide for you, let alone just from a technical standpoint, what you're doing in your swing and short game. They can be a great guide as far as "Okay, I want to be a member of this course. How do we get there? What are my goals? How can we achieve these together?"
Henry Fall:
So you get up to a certain playing level and you become a member. Okay, now I want to go on a trip. Well, you probably shouldn't go on a trip until you've gotten fit for your clubs, because you bring along good clubs that you can bring with you. Having that sort of guide, it really provides that service so that along the way you kind of can make those decisions. I wouldn't recommend for everyone to just step in and say, "Okay, I'm going to get a membership, fit my clubs, get a couple lessons." You're talking thousands of dollars right off the bat depending on where you are and what sort of course you're joining.
Henry Fall:
If you can just get through the door, start out with a clinic or maybe one lesson, if you have some used clubs maybe start with that. That's great. A lot of these courses, if you take a lesson, will have clubs that they can bring with them so even if you don't have clubs, it's like for an hour lesson let's say you spend $75.00 on a lesson for an hour, they'll bring the clubs, you get to experience it, see how it went, maybe they say, "Okay, we actually have a little Nine and Wine later today. We have a clinic. You should stick by."
Henry Fall:
Things like that, that's how you kind of get in the door. Then they can set you up with the clubs. Then they can talk to you about membership. Having that guide, I think is important. Or at least someone that's involved with the game, or a friend that plays the game a lot. Because I've seen it too where people get into it for a week, they spend a few thousand dollars on clubs and get a membership, and then they don't really experience it at all. They don't stay after that first year. I think sort of that more long-term approach and gradually building your way up, that's one approach I would take because if you do it right, let's say you do get fit for your clubs, those clubs could last you 10+ years.
Henry Fall:
It's a little bit like skiing. I kind of relate it to that where if you do it right, if you get the right speed and fit, find your trails that you like and the ones that you're not able to do, like the Double Black Diamonds of Moguls, you can still enjoy it and sort of take that slow approach to improvement.
Ben Smith:
Henry, I really like what you just said there too, is almost just establishing goals. Obviously, we're organizational people, financial planners. There's a lot of what we do. Again, what I just heard you say, which I thought was really great and I want to highlight is being able to call that professional, talk to them and say "Here's where I'm at, I've never picked up a club before. I really don't know what I'm doing. I need help. Here's what I'd like to accomplish. In the first year I'd like to be able to get the golf ball in the air."
Ben Smith:
Whatever it is, "Here's kind of my goal, so that I eventually at the end of this season or this year I can then at least go out and play with my friends. With the handicap system, at least I can feel like I'm keeping up a little bit." Things like that, I think is really important where "Hey, what's really important to me is I'm really lonely. I don't have a whole lot of friend network. I've really been busy in my career. I'm retired and I want to meet people. It's really important for me to be able to just meet new people, have fun conversations, enjoy some of this together with somebody else I don't know. That's important for me." Lots of different goals, and that golf is the vessel to do it.
Ben Smith:
What I hear you say is just expressing that to the professional and saying "What do you think I should do?" Because your point about being fit is "Well maybe I should wait until I get some skill then get fit, and then the clubs will be good for 10 years," versus, "If I get fit immediately and my golf skills aren't there, I get fit and then all of a sudden I've maybe done really well. I've really improved. And now my golf clubs really don't fit me anymore," or something along those lines, right?
Henry Fall:
Right, a lot of professionals will be the fitter, or they'll go to the fitting with you. So, if you have a sort of technical thing you're working on, they can be at the fitting and tell the fitter, "Well, yes that line angle would be good for them right now, but can we try this line angle and this chaff line," or whatever, "Because this is how we're kind of adjusting their swing."
Henry Fall:
They can be there throughout that process. Again, if you're paying them and they're there with you, they're going to help you along the way and they're going to be your sort of guide. I think that's what you're finding more with these coaches and instructors is, it's not just a one-off lesson. It's a sort of wholistic approach to okay, now we have a fitness side. We can go to TPI. Then we have the club fitting side. Then we have "Let's go on this trip to the UK. This is going to be great. We're going to play some games. It's going to be a four day trip." Obviously the technical coaching side.
Henry Fall:
So, the coaches, the PGA professionals, they're coming at it from a much broader view now. It's not just this narrow focus of your club needs to be in this position at this point in your screen.
Curtis Worcester:
Yeah.
Henry Fall:
It's much more than that.
Curtis Worcester:
Yeah, that's great. We've reached the end of our show, Henry, and I think it's very clear that you've spent a lot of time, if not your whole career, making people feel more successful and happier on the golf course. I want to kind of flip it around and talk about your own personal success and happiness. One question we like to ask everyone is, how would you define a successful retirement?
Curtis Worcester:
So, sitting here today and looking ahead 30-40 years to your own retirement, what do you think that will entail to be deemed successful?
Henry Fall:
This is probably going to change about 100 times between now and retirement. I would say right now the opportunity to travel, to play golf and still be involved from a coaching perspective. I look at a lot of these professionals, especially the coaches who I look up to and whether it's Butch Harmon or David Ledbetter, some of these names you might know, who are 70/80 years old still coaching the game, and they love it.
Henry Fall:
Harvey Penick, who was probably one of the best instructors ever of any coach until the day he died, which was like he was 88 or whatever he was. I can't remember. But that's pretty cool. I don't know if I'd want to be on the lesson tee all day long, but the idea of still being involved in some capacity, and even coaching myself because I'm always trying to learn, and I don't think I know the least thing about trying to go out and shoot 10 under par? I mean, I still got to improve my game as well.
Henry Fall:
To say that anyone has this sport conquered is... Even Tiger Woods was trying to get better every day. For me, having the opportunity to travel and play, and still coach. I love going to different courses and different regions. I'm a national park go-er too, so that would be a dream scenario where I could national park hop, go play a course and then do that as well. So, yeah.
Ben Smith:
Nice. Henry, thank you so much for being on the show today. Learned a lot. Any time we can talk golf anyway, always a good excuse regardless. For a lot of retirees that we know that really want to get into this, I think this will be a really good resource, a really good help for them in the future. I can't thank you enough for being on the show today. Appreciate your time.
Henry Fall:
Yeah, no, thank you. I appreciate you guys having me on. I hope that our listeners have the opportunity to get on the course this summer. We were up 30-40% last year in Maine, so I expect that it's just going to keep going up. Thank you listeners for playing, and if you're just getting into the game, stick with it. Stay relaxed because I can be pretty stressful at times, but it'll all work out when you start hitting the drivers straight. Then you'll be like, "Oh my gosh, I love this game."
Ben Smith:
All right Henry, well thank you so much. We'll catch you next time.
Henry Fall:
Yeah, thank you.
Ben Smith:
It was really great to have Henry Fall on the podcast today. Again, he of course is a cohost of the Maine Golf Talk podcast, but what we really interested in was especially his bent as a coach. He is a coach for Bates College, and he kind of just in passing mentioned this, but he has a tour caddie on the LPGA which is why he's out in Arizona there during the winter is he does caddie work.
Ben Smith:
He kind of has a lot of different various ranges of experience we wanted to bring to the show today. So, I think Henry did a really great job representing all of that. I know we covered a really wide range of things today, as there's so much we could get into. We wanted to make sure it was... We're trying to make it as accessible as we could, was the goal of today. I apologize if it got a little bit in the weeds here and there, but I think Henry did a good job keeping it on a very topical basis.
Ben Smith:
As always, we like to highlight lessons that we learn from each show. I'd like to have Abby start with... Abby, what is something that you took away from the show today?
Abby Doody:
As somebody who doesn't really golf, he did a really good job making the sport seem very accessible to people who don't play very often or just getting into it. I thought his point about different courses have different personalities was a really good point. You can find one that kind of matches what you're looking for. You're going to feel more comfortable and more confident getting out there and playing. I thought that was just a really good point that he made.
Ben Smith:
Right? I agree, because again that's somewhere I think everyone has this idea in their head of what they think it's going to be when they step on a golf course, that they think it's really high intensity, you have to have lots of money and lots of comparisons going on, which is why we want to bring up the Alex Plummer episode on Goose River down in Lincolnville, right down by Camden.
Ben Smith:
That's something where again, barefoot and kind of a dog is going to fit right in there. There is a place up in Old Town, Hidden Meadows, that they had golf surfboards that you could try out. There's lots of different cultures and experiences going around the state, and it can vary from course to course. Which is the cool thing of what obviously they mentioned in their show was, is highlighting different cultures and what's kind of happening in different places because of course the higher end gold courses that cost more money, that are more established, those are going to be the prettier, the more maintained and kind of give you those views. But there're different ways to experience this sport across the state.
Ben Smith:
Curtis, from your end, what is something that you took away?
Curtis Worcester:
Yeah, I think it kind of takes the accessibility that Abby was talking about and goes a little deeper in once you're actually playing the game. I think Henry did a great job of just talking about how everyone can play this game. Don't worry about if you're not great, if you've never played, or if your way better than all your friends. There're ways to play this game that make it seem even and competitive.
Curtis Worcester:
We talk about people who may using this idea of the fear of not fitting in at a golf course, holding other people up, or you look around and everyone's so much better than you, there're ways to still play golf and not hold up... You're not going to bother everyone else by just going out and trying to play golf. Obviously, the more you play hopefully you'll love it, and things will get better. I think he just did a really good job at explaining how literally everyone can play golf together.
Ben Smith:
I'll share a story too is, I have a client that I've worked with for probably almost 20 years now. After her husband passed, she moved to Florida. She moves to Florida at I think 72. She takes up golf for the first time at 72. She's again, 91/92 today. She golfs 18 holes every day. I think she's down to a 15 or 14 handicap. She goes, "I have so much fun with my friends. We just enjoy the sun. We come back afterwards. We have a nice together." She goes, "It is the best part of my day, and something I just picked up," which again for some people go, "At 72? Isn't this too late?"
Ben Smith:
She goes, "No, this has kept me active. This has kept me social. This has kept me the best version of myself during retirement." That's somebody I was thinking about when we were talking about content, was this today. I'll kind of add another point is, I think Henry ended the episode on a really solid note was the idea of coaching versus teaching. I think what this legacy model we've seen in golf has been you need help. You sign up and you get one lesson, or two lessons, and you spend an hour with one person.
Ben Smith:
Which by the way, when you do it on that model, and I've had that experience, and all of a sudden you try one thing and then by the way you forget some of the lessons, then you kind of incorporate the new lesson to the old thing you did, and now you're in the middle. Now you've got lots of pain. So with Henry, what he's talking about is more coaching. You're seeing more of these golf pros getting into "What are you trying to accomplish? Let's set one goal. Let's really take it one step by one step."
Ben Smith:
That's thing that Keri Forbringer said as being a travel advisor that they've seen is, not just transactional booking a trip. It's more coaching. For us, for financial advisors, is you're seeing more coaching and "What do you want to do with your money? When do you envision this happening?" Again, that's the purpose of this show is obviously retirement, and what do you want to do with it. One thing is golf.
Ben Smith:
I think a lot of these things are kind of blending together, which is really great. Again, it's life. It's not just one niche or the other. I'll say from my own perspective, hey I've loved that I've not been great in my past, and I've gotten better in the last four or five years, but it's still probably below average. I have so much fun having these experiences and being out with friends, and getting outdoors. We're in an indoor environment a lot with our clients and our offices.
Ben Smith:
And he says is right. He's like, "You hit one really phenomenal golf shot, and that just sticks with you for a long time." That's a really phenomenal experience. I think there's a lot of stuff that encapsulates what... I know Curtis plays as well. It's a lot of what I love personally about the sport, and what I get out of it. Again, really excited to have Henry Fall on the show today. Again, we want to also point you to some more resources.
Ben Smith:
You can go to blog.guidancepointllc.com/38. You can go to the website there and get some more resources. We're going to point you to a little bit more of Henry's pieces, but also you can access Henry as a coach too. We'll have that link there with links to Main Golf Talk podcast. We really appreciate everybody tuning into the show today. Again, I know for those that maybe aren't into golf, we might not be your number one show, but for those that are thinking of it and for those that are really looking forward about what they want to do with their time, hopefully we'll give you some good places to start here.
Ben Smith:
Again, even if you're 72 or 80, still a great place to start in kind of working with somebody. Reach out to the clubhouse. Find somebody that you can connect with, and put some goals in place and have some fun hitting some golf balls. All right, well everybody appreciate you tuning into Retirement Success in Maine podcast. Until next time, we'll see you later.