Executive Summary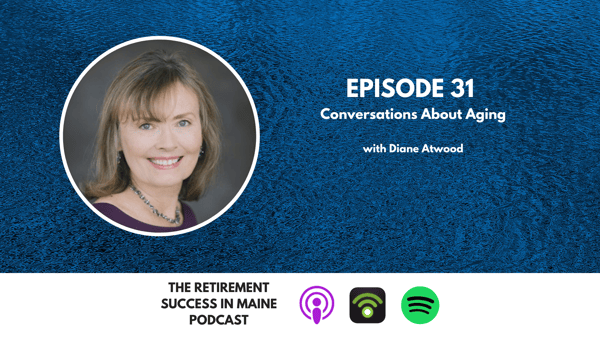 As we were creating our podcast, we looked around the State of Maine to see if anyone else was having similar conversations as what we're having here. We reached out to our next guest, Diane Atwood, about her "Catching Health Blog" and "Conversations About Aging Podcast" to discuss her writing and audio show. Many in Maine might have seen Diane's previous work as a Health Reporter at WCHS6 for over 20 years. Diane, with her reporter expertise, highlights individuals 60 and older life stories and also explores the joys and challenges of what they are currently facing. Join us on episode #31 as we have "Conversations about Aging" and hear more about Diane's passion project!
What You'll Learn In This Podcast Episode:
Welcome, Diane! [1:20]
How did Diane's blog and podcast come to life? [11:56]
Why is it that aging and loneliness seem to go hand in hand? [24:13]
What are some of the best responses that Diane has received to her question, "If you could go back and change anything, would you?" on her podcast. [31:19]
What is Diane seeing in the realm of caregiving, specifically with children/grandchildren stepping in to provide care for their parents? [34:16]
How did Charles Garfield's book, Our Wisdom Years, personally impact Diane? [44:16]
What does Retirement Success mean for Diane? [50:00]
Ben, Abby, and Curtis wrap up the episode. [52:50]
Resources:
Conversations About Aging Podcast
Listen Here:
Did you enjoy The Retirement Success in Maine Podcast?
Subscribe to our podcast directly via Spotify, iTunes, or Podbean by clicking on the images below!



Transcript
Ben Smith:
Hello everybody. Welcome to The Retirement Success in Maine podcast. My name is Ben Smith. I'm joined by my cohost, Abigail Doody and Curtis Worcester, the News Center and WGME 13 to my WABI. How are you guys doing today?
Abby Doody:
Good. How are you Ben?
Ben Smith:
I'm great. I'm great. Curtis, you doing okay?
Curtis Worcester:
Oh yeah. Great day for a podcast.
Ben Smith:
Great day for a podcast. Well, one of the things ... We've kind of been getting a nice little rhythm of shows going on here and getting experts around either the state or even some of the country on different things that are impacting us as we retire, as we age, and as we're kind of looking around and seeing what others are doing. It led us to ... There's another podcast and blog out there that we just said, "Hey, we're kind of on these parallel tracks. It'd be good just to touch base and network." So that started a little bit of a networking thing for us. And we actually reached out to our guest today who's running a blog called Catching Health and also has a podcast called Conversations About Aging. So she's a former health reporter on WCSH 6 in Portland, Maine. She's going to spend a lot of time around the health field, and in terms of kind of this podcast and health having really great conversations with folks that are either doing it or have done it and have some life lessons to share with us. So we wanted to have Diane Atwood on the show today and kind of talk about her Conversations About Aging podcast. So I'll bring on Diane at this time today. Thank you Diane for coming on.
Diane Atwood:
Well, thank you for inviting me. I think this is going to be fun.
Ben Smith:
Yeah. Well, I know probably a little bit different from the way your career has gone is you're having the microphone in front of you instead of being the one asking the questions. So we're going to flip the tables on you today.
Diane Atwood:
Yeah. Thank you for that. Yes, I am anxious. I'm never anxious about asking questions but now I understand-
Ben Smith:
Yes.
Diane Atwood:
This perspective.
Ben Smith:
Well Diane, one of the things as I kind of mentioned in the intro, you're kind of well ahead of us on this track. We've only been doing this since really September of 2019 and you have a few years on us in terms of the blog and the podcast you're doing. So where we're anxious to put a little spotlight on your show is get a little feel of Conversations About Aging, get a little feel of Catching Health and introduce our listeners to that because we want them to absorb as much information about this from wherever it might be. So thank you for that project because that's a really tremendous project that you're undertaking. I'd love to just kind of dig into that in a bit but we always want to start with our guest on you. Let's hear about your story because I think the best part about podcasts is storytelling and get to know you as our guest today. Love to hear a little bit about your story about growing up and kind of your path towards health and wellness writing.
Diane Atwood:
Well, I'm an Army brat. So that means that I have no memory of any bedrooms that I ever had growing up because they changed every two or three years. I was born in Munich, Germany. Lived there until I was about two. Came back to Maine which is where my parents were from. My dad got called up to go to Korea. That shows you that I have a few years on you in life too as well as in blogging and podcasting. But anyway, he decided to make a career of the Army after that. It offered him a lot of opportunities. And so we moved around and we went back to Germany one time. I lived in New York, New Jersey, Massachusets, Virginia and settled back in Maine when I was high school because my dad was called up to go to Vietnam. And so the family ... I have to say that we moved every two or three years and my parents had another child every two or three years too. So I'm the oldest of eight children.
Ben Smith:
Wow. That is a family.
Diane Atwood:
That is a family. And we stay in touch. We Zoom. We have a Zoom call, all of us, every other Sunday and we're scattered all over the country.
Abby Doody:
That's awesome.
Curtis Worcester:
That's so great.
Ben Smith:
That's special. Yeah. Excellent.
Diane Atwood:
It's wonderful.
Abby Doody:
Yeah, that's great.
Ben Smith:
So Diane as you're kind of growing up and all over the place and learning lots of cultural lessons and things, I'd love to hear about your path on ... Because I know you got into some of the healthcare field for a bit but also in terms of health reporting. Can you talk about the genesis there and kind of what your calling was to those fields?
Diane Atwood:
It's not going to be a short, short, short story.
Ben Smith:
That's okay.
Diane Atwood:
But I was called because I had an uncle, my favorite uncle, Uncle Al who was training to be a radiologist at Maine Medical Center. And when we had career day in high school one of the representatives came from the radiology department at Maine Medical Center and I thought, "Ooh, I'd like to do that. I'd like to become an x-ray tech because if Uncle Al's doing it, it ought to be good." So I became an X-ray tech and as part of our training we went through radiation therapy and I was drawn to radiation therapy. That's treating people with cancer. So I had a 10 year career as a radiation therapist treating patients and as a dosimetrist, the assistant to the physicist calculating the doses of radiation. But 10 years in I had an opportunity to go to college. St. Joseph's College was offering a degree program for radiologic technologists and I could not turn that opportunity down. So I worked part-time the first year, quit the second year and moved in with my grandmother who lived in Westbrook for two years and got my degree. And realized I didn't want to do what I was doing anymore.
Diane Atwood:
Instead I traveled alone through Europe, backpacked and didn't think about anything but having a good time. And when I came back I got a job as a researcher for the public interest research group through the university, PIRG. And it was a consumer program so I instantaneously became a consumer expert. And I met some of the consumer reporters at the local television stations. Interviewed them. And when funds ran out for that program I was in, I thought again, "Gee, TV, that looks like fun. Maybe I could get a job in TV." And lo and behold I was in the right place at the right time and I knew the right people and I got a job as a consumer reporter at channel eight. I had no clue what I was doing. Absolutely no clue. And would never get hired today. But anyway, after a year I heard that channel six had an opening and so I thought, "Well, I could walk to work if I had a job at channel six." So I tried out for that job. And I got it. So I was hired as a consumer reporter and as a general assignment reporter. But one day we got a new news director who decided that he wanted to created beats. And the first beat he wanted to create was a health beat and it spoke to me.
Diane Atwood:
10 years in the field. I knew the language. So I went in and lobbied for the position and got it. And I grew it so that I was the health reporter for channel six. It's all I did was health reporting. And I loved it. I loved it. I did it for more than 20 years. But then one day I got called to do something else. Mercy Hospital had an opening for a manager of marketing and public relations and I'd always loved Mercy Hospital. And going over to PR and marketing when you're a reporter is going to the dark side. But I felt like it's okay because I'm going to be telling the stories about a wonderful hospital. And it was a wonderful opportunity and I was there for nine years. Then I got this other calling. I'd always wanted to be a writer. And I thought, "Well you know, you're getting on in years now so if you want to ever pursue that job ..." I thought I'll become a freelance medical reporter. "But you better do it now because before you know it you're going to be dead." And that is actually how I make decisions these days. I ask myself, "If you don't pursue whatever's in your mind, imagine yourself on your deathbed. Would you be kicking yourself for not trying this or that?"
Diane Atwood:
So that's how I made the decision to quit my well paying job with benefits at Mercy Hospital and become a freelance writer and get clients to write for as a beginning. And my daughter who was in graphic design school said, "Mama, you need a blog." And my response was, "What the hell's a blog?" Had no idea. That was 11 years ago. 10 years ago. It's my 10th year anniversary doing this.
Ben Smith:
Congratulations. That's great.
Diane Atwood:
Thank you. She just said, "You need a blog. It's a place where people can go and get samples of your writing and it's a place for you to practice writing." So she set it up and the first time I wrote something it was like being a reporter again and that's how I approach all the blog posts. I do research, I interview people. And I loved it. I loved it. I thought, "Oh my god I can do the things I love and no one is telling me how to do them or when to do them." So that is how it all happened. Just being in the right place at the right time and recognizing an opportunity that spoke to me.
Ben Smith:
Well, I'll say too is one of the guests we're interviewing in the next few episodes, she's actually kind of a life coach, career coach and it sounds like one of the things she's been talking about is what you just described, is it's like a career 1.0 where you're kind of saying, "Hey, I'm in radiology and x-ray and working in that field," going to then a career 2.0 and saying, "Well hey, here's something at the colonel ... Like the health expertise that I really enjoy. But here's a different itch that I really need to scratch and develop." And getting into kind of the reporting TV area and molding that even more into the career 3.0 in terms of hey, you're getting to the PR marketing side of it. And then even now a 4.0. You're saying hey, from a writer perspective. And that's one of the things we've been hearing is, retirement is obviously different to everybody and retirement might not necessarily be retirement. It might just be a pivot to another career field, right?
Diane Atwood:
Right.
Ben Smith:
It might be a different speed. It might be a different slant. But that's really great how you described all that is kind of the segments of your life and continued to build them as you kind of get to the next thing. But they all build on each other. That it's not start stops.
Diane Atwood:
Right. And they're lessons to be learned. For instance, when I wanted to pursue the job at Mercy Hospital I on some level didn't think I qualified for the position. And so I went to a trusted friend and he helped me to put together my resume but he also showed me how you have transferable skills. I told him, "I don't know how to do PR. I throw press releases in the ..." No, I shouldn't say that. "I know what a good press release is but I don't know how to do PR. I don't know how to market." Like I said, that's the dark side. And he said, "Of course you know how to do that. That's what you do. You market yourself, you market your stories. You do PR on yourself in your stories every single day. You just don't realize you're doing it." So that was a really important lesson to realize my worth and what I brought to the table that I didn't think I really had.
Ben Smith:
That's great. And I'll say Diane too, in terms of obviously you're getting into writing in terms of that blog 10 years ago and one of the things that I think trip people up is now you have so much freedom. So you don't have someone telling you well here you're going to be a beat reporter on health and this is what we're going to do. Now it's all you. In terms of hey, I'm going to create a blog. I want to write about health. How did you kind of come up with the theme? Because I think that's something where if you're writing a blog and you're trying to string things together ... And I know we'll get to the podcast here in a second. But getting to this theming of what can I write about continually that really has legs? That's not like a four part series and I'm done and then I don't know where to go next. How did that kind of come about and how did you kind of come up with this Catching Health as a tite?
Diane Atwood:
I'll start with the title. It was my daughter who built the blog who came up with the name. Very creative. And she said, "How about Catching Health? People catch diseases, why can't they catch health?" And I went, bingo.
Curtis Worcester:
I like that.
Ben Smith:
I like it.
Diane Atwood:
I loved it. So that's how the name came up. And it was easy to decide what the theme was. The theme was what I know best. And I could cast a wide net because everything that we do or say affects our health, mental health, physical health, spiritual health. And I was used to having to come up with story ideas. As a reporter, everything can be a story. Everything. And you just have to stop and think about, how could I turn that into a story? And I also do research to find out what's relevant these days. What are people asking about? I have kind of skewed more toward aging topics as I have aged. So maybe I've narrowed the field a little bit. But in talking about aging topics when you're writing or talking about aging topics you do have to take the whole age spectrum into consideration. We have wisdom that we can share with younger people. So I'm never at a loss for topics. And I ask people and people solicit all the time and they recommend ideas.
Ben Smith:
And I'll say to you Diane is one of the things that I guess we've gotten out of this is we're saying hey ... Of course as we've talked about is we do finical planning for people. Every time we get into a new topic we go, "Man, we really don't know much about that topic." And getting to you as experts and all these different shows we're doing and these blogs we're doing, you go, man, I have to research to really even ... Some of the purpose is to educate others, but to educate others you really have to educate yourself.
Diane Atwood:
You cannot do a good interview unless you know what you're talking about.
Ben Smith:
Yeah. I think that's for us too is seeing what you're doing is look, we know what effort we put into this to really make a good product, not only just for people to see and hear, but also is there's a selfish component to this of, hey I'm really kind of interested in this. Fast forward myself a number of years and go, what am I facing or what sort of things are people seeing? Listen to that versus well ... I think a lot of people presume or they put out this image that they're the all knowing expert and nobody is. I think that's where we are ... Again, I kind of want to create similarities between these shows because I just know how much work it takes to do this and as you were saying you were getting solicited to come on the show and such. It's still work. There's still a level of component of research. Thinking about how does this theme together? What sort of questions. You're the interviewer as you know, sometimes from a guest perspective it's tough to keep this line of thinking going in a conversation that continues to flow in productive ways because sometimes it can sideways, left or right. So that's a skill too that we've had to learn which I'm sure you just have done your whole life which is probably a little bit easier for you.
Diane Atwood:
Seems like my whole life. But I remember when I first started reporting for instance, I was wooden. I still have some of those first tapes. "Hello. I am Diane Atwood and I'm going to tell you about frozen pipes." So I was like a little wooden doll. And I am actually a shy person. And so I would sit in front of the telephone for instance, rehearsing what I was going to say to people. And all I was going to say is, "Hi. I'm doing a story about such and such. May I interview you?" But it was really, really hard for me to approach people even on the telephone. So my ability to ask questions, to ask questions that are none of my business, I learned it along the way. So now I may feel anxious but I'm generally not afraid.
Ben Smith:
So Diane I want to ask about ... So you go from hey, I'm a writer and I'm doing Catching Health and I'm writing these blogs. Can you talk about the genesis of the podcast? This Conversations About Aging? So obviously you have a writing component and you have a blog for every episode you're doing on the podcast. You still are doing the writing piece. But it seems like there's a melding now of hey, you're using your reporting skills that you have and in listening to your shows, your show is just structured differently than this show. We just have a running conversation in ours which is just mildly edited here or there. Yours is, hey, here's the question, here's the theme, here's the answer. Then you can give a bridge to the next question of, well then we have this conversation. Can you talk a little bit about that genesis of a podcast and how you kind of came up with format and about kind of what your accomplishing there?
Diane Atwood:
Well, first of all I need to explain that Conversations About Aging is actually a special project. So when I started the podcast, the podcast is the Catching Health podcast.
Ben Smith:
Gotcha.
Diane Atwood:
And I started off just interviewing so called experts on various topics. Kind of like what you're doing.
Ben Smith:
Yeah. Sure. Yeah.
Diane Atwood:
And I was doing it at first on Skype because I was interviewing people around the world on just various health related topics. I've done interviews with people about procrastination, about gratitude, about various diseases, about mental health issues. And my format for those was more formal. I would have things tightly scripted out and I would do a lot of research. And I did that for about a year. I'm thinking I started that in 2016, 2017. Did it for about a year and then I took a break and didn't know if I was going to continue with it or not. But I attended a conference on loneliness and as I was sitting there toward the end, I kept thinking, "Wow, I had no idea that it was such a huge problem. I wonder if there's something that I could do about it." And suddenly a little light went on in my head and I realized, wait a minute. Maybe you could start up a podcast again and you could find older people to interview and you'll go to them in their homes and talk to them face to face so you have a personal connection with them. And maybe for an hour or so you might help that person not feel lonely and then you can share their story and other people could hear it.
Diane Atwood:
So that is the genesis of the Conversations About Aging project. And I just reached out to a ton of aging agencies in the state and that's how I started with people to interview. I tapped some of my aging friends. And again, I am never at a loss for finding somebody who's willing to talk. And with those conversations about aging it truly is more of a conversation. I have some stock questions that I like to ask, but I'm truly just wanting to have a conversation with people to find out what their lives were like. Just like what you were doing with me. What was it like for you growing up? A lot of the people I interviewed are veterans. They have incredible stories to tell and they want to tell them. So we segue from talking about their life history into what their lives are like right now as they're aging. How do people treat them? Are they lonely? What makes it a good day for you? Things like that.
Ben Smith:
And I guess what I want to ask is around that right now is are you finding that you're seeing themes as you're kind of interviewing people? Because I know one of the stories that you shared on your blogs is ... And I want to highlight that. Is it feels like what we have access to technology now and maybe what we're in the beginning of is what you're doing now is capturing everyone's stories. If you fast forward 100 years and you could say, "I listened to Diane and I am Diane's great grandchild and I could hear Diane 100 years ago talk about her life, what was important to her, what the challenges she faced." It feels like now, looking back in genealogy, if we knew that of our ancestors 100 years ago or 200 years ago, how much richer our lives would be in terms of having these shared lessons and throughputs from families that it feels like that's a theme that I know we're not there yet, but being able to tell stories ... And one of the things that you highlighted on a blog was you had a family that was saying, "Hey you captured my dad really well." And I think he had passed at that point.
Diane Atwood:
Yeah. I can't remember which one you're talking about though.
Ben Smith:
In terms of having a family surrounding this story and saying, "Hey, that was really great to hear them talk about their life and what their challenges were and we are able to celebrate them a little bit more. And this is a show that we've been sharing all across our family. We didn't even know he did it."
Diane Atwood:
Oh. Yes. Okay. I know which story you're talking about now and I was actually going to bring that up. It's interesting about the family interaction. I usually work directly with the person I'm interviewing and I leave it up to them to decide if they're going to share it with their family or not. Sometimes it's the family members. A son or daughter will get in touch with me and say, "You have got to interview my mom or dad." I had one woman who did that. Her dad is in his 90s. And she asked if she could sit in. And I let her sit in but I had to ask her politely to stop interrupting because she'd be in the background and she'd be saying, "Oh my god dad, you never told us that. You did that? Oh my god. I never heard that story." That was kind of fun.
Diane Atwood:
But other times the person I interview doesn't even bother to tell their kids and that happened with one guy Bill. And I found out because his son Bill Jr. who lives in Texas sent me an email and he said, "We just found out that you did an interview with our dad. Our sister was researching genealogy and googled his name and up popped this podcast." And we've all listened to it. The grandkids ... There was one thing just really hit him hard. And it was when I asked his dad if he was ever lonely. Now, the dad had just moved into an assisted living facility and the dad was very social. Went to all the activities. He's still alive but with COVID they're not doing things. But he's very social. Hanging out with people. Getting in activities. When I asked him if he was lonely he said, "I am. I am. I'm active but I miss my kids." And his kids are scattered around the country. But when he lived home alone there was room for them to stay when they would come to visit. And they would just show up and they'd inhabit the house. And it's not possible to do that living in an assisted living facility.
Diane Atwood:
So the son didn't realize that his dad was lonely. Had never even thought about that. A lot of kids, I'll call them kids, they're relieved almost when the parent goes into assisted living because now they have company. They're not alone. Not really looking at the whole picture and understanding that it's family that means the most. So what ended up happening is that I asked the son if he'd be willing to write an essay for the blog. And he did. It was about coping with COVID but he wove in this story about his dad. And now they connect more frequently online. They call him more often and they do Zoom calls and FaceTime. So in a way COVID has been a blessing in those regards.
Ben Smith:
Sure.
Abby Doody:
So just to kind of keep on the loneliness thing because it's pretty prevalent in Maine. We have long winters, we have a pretty rural population. An aging population also. So can you share with us why aging and loneliness seem to go hand in hand? And then secondly, what have you heard for advice about how to cope with that loneliness or how to reduce those feelings of loneliness?
Diane Atwood:
Well, they could do a podcast interview with me. I think for the most part older people around the country are living longer. They're leading healthier lifestyles. They're active. But they might have some other issues. They might have health issues or other issues that don't allow them to be as independent as they once were. And they don't want to ask for help. They may be proud. They don't want to bother or burden their kids. And they may not be aware of resources that are available in their community or if they are they might not feel comfortable reaching out. And then there's the issue of loss. I think that that's huge because you figure as you get older you're going to experience a lot of loss. You're going to lose your partner, your spouse, your siblings, friends. So those social connections that you had, they dwindle, they disappear. And I don't think we think about that as much. All those people in those activities that help to keep you grounded and sustained you, they don't exist anymore. The other issue is how families tend to ... In other cultures all the generations live together. That's not the way it is in our culture. And kids move away.
Diane Atwood:
So that's where the isolation comes in. The older person doesn't want to bother the kids. They don't want to be a burden. The younger kids don't even realize it because the parents put up a big front. So it's kind of like a spinning wheel almost.
Ben Smith:
Diane, in terms of outlets too ... I think that's something where what you're describing is, hey we feel like we don't have somebody that we can talk to because maybe the social network that we have, those people that we could share our thoughts with, our fears with are ... Hey I am having a health issue or I am having these ... And they don't feel comfortable enough to go to the doctor or whatever the piece is. What we're seeing from a technology perspective is what you just said, is hey people are zooming more, like Bill kind of zooming with his family. So are you seeing that as kind of something that's starting right now in terms of obviously we have an aging population that may be not quite there with technology but as they are, do you feel like that's going to be the bridge of some of this loneliness?
Diane Atwood:
I do think that technology is wonderful and I think COVID has given us this opportunity. This unexpected opportunity. There are tons of programs that you can connect to happening all over the place. The thing is that, especially in the rural areas, some people don't have internet connections.
Ben Smith:
That's right.
Curtis Worcester:
Yeah.
Abby Doody:
Mm-hmm (affirmative).
Diane Atwood:
They don't have internet connections. Maybe if they do they don't have the appropriate devices so I think that we as a society need to do a better job of connecting people. Because I think that that would be so wonderful. Let me just give you some examples. UNE and St. Joseph's College for instance have a pretty robust intergenerational aging programs where they try to connect seniors and students. But they both have a ton of online programs now. They have coffee time. You can just have a Zoom call with other people. They have exercise classes, poetry classes, ukulele classes. Tons of things. There's a library in Cape Elisabeth that's doing the same thing. And I have participated in some of them. I do a weekly meditation group. There's about 15 of us who meet every Friday online and a woman leads us in mediation and we're going to do a four hour online retreat Saturday.
Ben Smith:
Wow. That's great.
Curtis Worcester:
That's awesome.
Abby Doody:
Awesome.
Diane Atwood:
They have a wellness program. So they have therapists come in and do Zoom workshops. I'm doing one now on eco wellness, which is basically going outside and appreciating nature and that will make you calm down. So I think that online is huge and I don't think we even realize it. I even did a creative writing workshop with a writing ... It's called a writing salon based in San Francisco.
Curtis Worcester:
So Diane, I want to continue because I think along with loneliness, I think a topic that comes up with a lot of your conversations is your guests describe feelings of struggling with anxiety or depression. Is that something that you think is just a common theme with an aging population and kind of what goes with that? I don't know if everyone will be watching the video but I see you shaking your head no to my question.
Diane Atwood:
No. I've been doing a lot of stories lately and podcast interviews about anxiety and depression. Because I think most of us are feeling it right now because of COVID, because of politics. I think it's rampant. I think it's rampant. And it's people of all ages. And I don't think that anxiety and depression are a normal part of aging at all. I think of interviewing my mother for a story when she was alive and I asked her about feeling depressed because I thought she was and she said, "Yes, I have my moments but I know how to deal with them." So I think by the time you get to be my age, older, you've dealt with life's up and downs forever and so you know how to deal with them. And so it's not a normal part of aging but you do have people who have chronic illnesses or issues that can lead to depression. They might be depressed about their condition, anxious, or the medication that they're on could be causing it.
Diane Atwood:
So in my research I found that there are studies that show that most older adults feel satisfied with their lives even when they've got issues. Illnesses, physical problems. But I think it's important for us to take into account that as we get older there are some issues related to aging, as I said, chronic illnesses, that may make us feel anxious. But we are much more resilient than people give us credit for.
Ben Smith:
And I think what you're saying is right. And maybe in the moment itself is what you're describing is hey, it's been a really hard political year and we're very divisive in how we are feeling about one party versus the other. And then you get a pandemic which disrupts even some of the ordinary things that you're used to doing and just disrupting that life and having to find new rhythms and routines can obviously lead to feelings. Sometimes it might be hey, there's positive explorations. What we talked with Zoom or other technologies. Maybe there's some negative feelings that creep in because I'm mourning some of my daily rituals that I really enjoy every day or people I'm used to seeing. But I want to ask another question. In your podcast what I love is ... Kind of these questions that we like to repeat and you ask is you ask guests if you could go back and change anything, would you? Which I love that questions. That's a really great questions. Especially as people are going ... Because I think where you go if I'm looking forward ... You just made that point yourself of, you've been making career decisions of if I'm on my deathbed and I have to look backwards, that's what's driving some of my decision making in my life.
Ben Smith:
Asking that question to your guests and saying if you could go back and change anything would you, I'm interested if you could share with us, what is some of the best answers that you've received from that question there?
Diane Atwood:
You may be disappointed by the answer because most people would say, "Nope, I wouldn't change a thing."
Ben Smith:
Because my path is my path. I am who I am because of everything I went through positive and negative, right?
Diane Atwood:
Yep. They might say, and I would say this myself, "I wish I had known something back then. That's all. But I wouldn't change anything because I wouldn't be where I am today."
Ben Smith:
That's right. Again, I love that from a ... It's interesting that dichotomy of hey, when I'm younger I'm fearful of that thought being something that I have regrets when I pass. But those that kind of have really gone through more of the aging process looking backwards that they really don't have that thought going backwards. It's more of a forward looking fear is what I hear people say.
Diane Atwood:
You mean like saying, "I probably shouldn't do that. I'm going to regret it."
Ben Smith:
Yes, exactly.
Diane Atwood:
And then we do it anyway because why not?
Ben Smith:
And then you didn't regret it in the end. Right?
Diane Atwood:
Not usually.
Ben Smith:
Not usually.
Diane Atwood:
Or if you're lucky you learn something from it.
Curtis Worcester:
Exactly.
Ben Smith:
Again, from a positive I'm happy or satisfied that I was able to do it or it didn't workout but I did learn something from it in the end which is why I didn't regret it in the end. Again, we make our choices, we weigh what we think is the best thing to do at the time for us and lots of different things. But again, I thought that was a really good throughput from your show, it's continuing to stress test that with your guests and to hear what they're responses have been. So that was a really kind of neat takeaway. So again I want to urge people that are watching and listening to this show, go check some of those out because I think those are some really fun conversations to listen to. And again, learning something from lives.
Diane Atwood:
I did have one woman who ... Well, I've had several people who regret not being able to do some of the things that they used to do anymore. There's one woman, Lavon, she's 100 years old when I interviewed her. And she loved to dance. And she just went on and on about how she and her husband used to go here and go there. And she said, "Oh, I just wish I could dance." And she said, "If somebody would ask me, I'd dance in a second."
Ben Smith:
That's awesome.
Abby Doody:
So sweet. We're kind of shifting gears here. So we're going to talk or ask you a question about caregiving. So one of the biggest concerns that we hear is who's going to take care of me when I get older? And so there's a fear that the younger generation, kids, grandkids, won't step in and take care of older people when they need some help. So what are you seeing in that realm? And do you see families stepping in to help caregiving the older members of the family?
Diane Atwood:
The most important thing that I have learned from talking to people is you need to start the conversations early and you need to keep them going because things change. And it's harder I think to have a conversation when you're in crisis than it is back when things were okay. And you can use humor. You have to have ... It depends on the relationship that you have with your children. But humor. Things that can break the ice. I remember one time thinking ... I was just musing and I was driving home and I was thinking, "Gee, what if my husband goes first and I'm older and I'm alone? What am I going to want to do?" And I instantaneously realized, I am not going to want to live in my house alone. I am going to need to move closer to one of my kids. And I decided which kid it would be. I immediately called my daughter who has a family and I said, "Honey, I need to tell you something. If dad goes before I do I'm not going to want to live alone and I've decided I'm going to need to be near family and I've chosen your family."
Curtis Worcester:
That's great.
Diane Atwood:
"So I just wanted to warn you that I might be a burden to you." And I said, "I don't want to move in with you unless you find a new place that has a lovely mother-in-law suite. But I just would want to be near you." And she said, "All right, all right. Well, I'm glad I know that." And then I called my other daughter to tell her my decision and she said, "Thank you for the warning mom and I'm glad you chose my sister." It was a wonderful opportunity to acknowledge the notion that their parents are getting older. And so we do have discussions. And you have to plan. Like you guys are planners. You're helping people plan their retirements. And I think that all of that is critical. And I feel that it's really important to share your plans with your kids. And a lot of families don't do that and everybody's surprised or they have no idea where anything is or what their wishes were.
Ben Smith:
I think that's a thing where I don't know if it's just generational. There's obviously a lot of hard things that we've gone through as a few generations, as going through wars, going through Korean war. Things that we've experienced and that we almost maybe get more insulated and kind of trained to not share things. And I think that's starting to open up more and more. But we see this still every day. It's not just hey, who am I going to live with if I need help as I'm getting older? But also the surprise of people that when they pass, they've really not expressed to anybody, "Hey, here's my will, here's how my assets are going get distributed," anything like that. So that also can create hard feelings of, "Hey if I knew mom and dad were going to give 80% of the money to the humane society because they loved animals ... I thought that this meant something to me and I would have thought that they were going to give it to me." So we just kind of talk through is by just communicating some of this and at least maybe expressing where you are and why you're making decisions ...
Ben Smith:
And while it might be uncomfortable if they're saying, "Hey, I thought you were going to do it this way versus that way," is they are your wishes and how you want things to be done in your life. They might not like it but at least they might respect why you did it and they got an explanation versus they read it in a piece of a legal document that was really not very personalized to them and didn't feel very warm in how it was conducted as a transaction in the end. So you see that with estate planning. But we always want to make sure that we're expressing to our clients, "Hey, we got to communicate, not only just with your friends, your families." We talk about solo aging has been a show we did about hey, you got to have a big network because if you don't have kids to support you as your aging, having communication with these people ... Like hey, you're 20 years younger is there a way that you can help take care of me as I age? Things like that. But you only get there by communicating. You only get there by having those discussions even though they might feel uncomfortable at the time.
Diane Atwood:
Absolutely. I know of one family. They have three kids and the mother decided to divvy things up unevenly. And there was one decision that she made in particular that would have been nice if she'd shared it ahead of time because it was like a slap in the face to the kids. And one of the kids ... The kid who was getting the bigger share of something was informed but the other two kids weren't. And that caused a lot of pain. Because the kids who didn't get this equal share were left with feelings like, "Gosh, did my mother really love me?" It gets to be that deep a feeling. And then you feel a resentment toward the sibling that did get more. And if only the parent ... I say courage in this instance. If only the parent had had the courage to sit the kids down and say, "Here's why I'm doing what I want to do." And like you said, maybe it still hurts but at least there's an understanding and they feel like the mother does care about their feelings. It was a really sad situation and fortunately the siblings ... It took a while but had whatever it took to realize that their relationships to each other were important.
Ben Smith:
And what you're expressing is validating. Is that what's hard is once you pass is no one can ask you that question of why now. They really can't get that explanation from you. That opportunity is passed. So it's all of these things of ... I think that's a lot of what we see from an aging perspective of look, there's going to be some courageous conversations that if you can do it, if you can muster up that courage and really find it in yourself to sit down with these important stakeholders in your life, it will help all of you probably have better outcomes because of it. And again, you can hash through it and go, "Well, I'm feeling this way," or, "I see that you're taking care of your two kids and I want to move closer to you so that maybe you could help in my caregiving." It gives them the opportunity to say, "Hey, is there a structure we can work out where I can take care of my family requirements and take care of you together?" Can we figure out that structure that works for everybody versus it's an emergency situation as you said. We have to do the best we can at the time because mom needs help and now it's probably not the ideal situation and they're left figuring it out by themselves.
Ben Smith:
So the more you can communicate, the earlier, I think the better the outcomes really are. So I think that's a big important theme there.
Diane Atwood:
And also when you think about all these little things like passwords and where different accounts are and how do you do this or how do you do that? Those are teeny little details that are critical in the heat of the moment. So we've put together a binder. I got the idea from somebody I interviewed. So we put together a binder and I'm continually trying to update it. It's interesting because my husband and I were doing our living wills and we were describing what we wanted for funerals. And I said, "I don't want a religious funeral. And these are the songs I want." I wanted it to be just so. And he pushed back and he said ... I don't know if you'll use this or not. But he said, "But you're going to be dead. The funeral's not about you. We should be able to do what we want." And I said, "No. No. My wishes should be followed. It's a respectful thing." So we had an argument. Didn't finish our living wills for two more years. But when we came back to them we had the discussion and I realized I needed to tell my daughters. I needed to say, these are my wishes.
Ben Smith:
You're right though. Both sides are valid. Your husband's saying, "Hey, this is really a party for us to celebrate you." And then you're going, "No, this is how I want this memorial, this memory of me to be celebrated." And again, that's the thing about life is there's no playbook here or handbook that says this is the way a funeral has to be. It's yours. So that's nice.
Diane Atwood:
My parents took me ... My sister and I went with my parents to the funeral parlor. I don't know if they call them that anymore. And they made their arrangements. It was really my father who was making his arrangements. My mother didn't really want to talk about it until she noticed that the casket my father had picked out gave her some color options of the lining and she said, "Wait a minute, does that come in baby blue?" And he said, "Well, as a matter of fact ..." And she says, "Okay, I'll take one of those. I'll make my plans." So even that turned out to be a humorous situation when it could have been just fraught with anxiety. But the plans were made and we didn't have to worry about it. We knew exactly what they wanted.
Curtis Worcester:
So Diane, I want to rotate through an interview you did with Dr. Charles Garfield about his book Our Wisdom Years. That interview kind of stuck out to us just because our show. We felt it went kind of hand in hand with that book and his idea of you may be in your 70s and your 80s but you still have 20 years of life. You can still live a full life. It's not too late. So I guess my question for you is, how did that impact you personally Diane and what are some things you took away from that conversation to impact your life? Not just trying to share with your listeners.
Diane Atwood:
His book came at a really good moment for me. I interviewed him, I think it was in the beginning of the summer. So COVID was here. And I had stopped doing the podcast. And instead of writing lengthy blog posts, I was soliciting stories from people about how they were coping. I was inviting people to write their own essays. And so I had a lot of leisure time on my hands. And I realized that it felt good. And I felt relaxed and didn't have so many responsibilities or deadlines. Self imposed deadlines I might add. And so I suddenly began to think about, "Should I still be doing this work? What is the meaning of my life? How do I want to live the rest of my days?" And then his book came. And then his book came and I went through all the questions and I was able to ask myself some of the questions. And I realized that the work that I do feeds my soul and that's one of the things that he talks about. What is it that feeds your soul? And the work that I do feeds my soul. Talking to people, writing their stories. Even doing research. I love doing that. I'll repeat, it feeds my soul.
Diane Atwood:
He also has you ask yourself what brings you joy. And I made this big long list and I realized lots of things bring me joy but I didn't really take the time to appreciate it as much. So that was really helpful because it made me recognize that tiny little things, just being able to look up from your work and look out the window and see a bird at the bird feeder or to hear somebody laugh, that is a joyful moment. And I also learned that I needed to start meditating every single day. So Dr. Garfield's book and the interview was important to me because it helped me to make the decision to keep on with my work.
Curtis Worcester:
I like that.
Ben Smith:
I'll add to you there Diane, what's really ... Again, there's been obviously a lot of pain and suffering with COVID and it's even going to keep on coming back here. But personally there's a lot of time here to do some self audits. And just what you described of hey ... Because there's things out of my life now that maybe has been removed forcibly that involuntarily is something that we're not able to do. As you said, traveling to people, sitting down in their homes, having conversations. We just can't do that anymore right now. We've done that too is we travel to our clients a lot. And Maine's a big state and you travel two hours in lots of different directions to reach where your destination is. That's a lot of road time. We're getting that time back. And we kind of looked at this and said, what do we love to do? And just having the ability, the opportunity to reach out to somebody like yourself Diane and say, "Hey, here's somebody that's doing some really cool stuff. They're having really important conversations. They're what we hope to be in terms of these sorts of conversations, but also that they move the needle." And we don't see that you have to move the needle by 50 degrees. Maybe it's just a half of degree.
Ben Smith:
But to be able to say, hey I made a difference and there's a few people ... If it's just one person that listened to it and said, "Wow, that was a really cool ... I rethought something of my life because of a conversation that you guys had." There's monetary compensation, there's life compensation. That's just life compensation. That's just fantastic. So I think to kind of wrap up the show, that's something that we just wanted to put a spotlight back on you Diane. Is go, you're one of the forerunners here on having these conversations out there. You're the trailblazer, we're just walking behind you. So we just want to also just express to our listeners, the people that are tuning into us, is to also tune into you. Because you're covering a lot of the same themes. We have kind of a nice Venn diagram but you've got your own vantage point. And that really is valuable. It's Maine based which is something that you don't see a lot of. You have just a wealth of knowledge and expertise that you're bringing to these questions and the research in the topics that you're carrying.
Ben Smith:
Basically at the end of it I just wanted to say thank you for everything you're doing. Because of you we're able to do this too.
Diane Atwood:
Well, thank you. The wealth of knowledge that I bring comes from the people that I interview. I'm just the vehicle.
Ben Smith:
Yeah. And I think that's important is we just are giving people a platform and a microphone to kind of tell their stories. At the end of the day podcasts, these mediums as you're saying, stories are what translate. Not 38% of the people are this and 74% of people are that. So I want to turn it over to Curtis because I know Curtis has the most important question of the day-
Diane Atwood:
Oh no.
Ben Smith:
-to ask you so let me turn it over to him.
Curtis Worcester:
So yeah. So we like to end every episode or every conversation with our guests with one question. So obviously you're here on The Retirement Success in Maine Podcast. I just want to ask, what is your personal definition of retirement success?
Diane Atwood:
Well, I don't actually think of myself as retired, but I guess technically I am. My take on this phase of my life has evolved. There was a time when I imagined I would work at that full-time job that I had at Mercy until I hit retirement age, they'd throw me a party, and then I'd go home and I didn't even know what I was going to do. That changed. And it changed because I paid attention to a dream that I had and I decided to pursue it. So my definition of retirement success is to pay attention to those things that interest you and don't think of retirement as an ending but it could be a beginning. A new phase of life in which you try something that you never thought about or had the time to do before. Or you go back and think about the things you loved doing when you were a kid. And is there a way I could keep doing them now? So as I said before, if I'm presented with an idea I ask myself, would you regret it if you didn't at least try that? And if the answer is a resounding yes then I find a way to do it.
Curtis Worcester:
I love that.
Diane Atwood:
For instance, I'm planning to go hang gliding for my 75th birthday.
Ben Smith:
Oh my goodness.
Curtis Worcester:
All right.
Abby Doody:
Cool.
Diane Atwood:
I didn't think I would ever dare to do it but I realized that all my life I've had dreams of flying like a bird. Not jumping out of an airplane, but flying like a bird. And that's what hang gliding is and I happen to have a nephew who is an expert and he's agreed to do it.
Curtis Worcester:
That's awesome.
Abby Doody:
That is so cool.
Ben Smith:
Round of applause there. That's fantastic. That's great.
Diane Atwood:
Check with me in two years to see if I ... When I think about it I get really excited. I've watched some of his videos. And you don't just jump and plummet, you step off and you flap your wings. So my overarching definition of retirement success is doing something that really speaks to you.
Ben Smith:
Diane, that's a really awesome answer. And again, even the very specific example of hang gliding. That's great. Versus the well, just do something that makes you happy. Love it. We can't thank you enough for being on our show today. It means a lot to just have these conversations. Again, we're titling the show Conversations About Aging with Diane Atwood. So we really appreciate all your time and attention and wish you the best with the future.
Diane Atwood:
Well, being on the other side of the mic wasn't as bad as thought it would be. It was fun. You made it easy. All of you.
Ben Smith:
Thanks Diane. Be well.
Diane Atwood:
It was a pleasure.
Abby Doody:
Thank you.
Diane Atwood:
You too. Thank you.
Ben Smith:
So really excited to have Diane Atwood on the show today. Again, from our end, kind of the pioneer of kind of what we're doing. Is this whole kind of putting together a podcast talking about the aging process. Kind of the soft end of this. So again, Conversations About Aging with Diane and we always like to wrap up our shows with some learned lessons and some yellow highlighters to what we kind of took away from it. So I will start with Abby. Abby do you want to share something that you took away from the show today?
Abby Doody:
Yeah, definitely. I think my favorite part was when she was talking about the question is, would you go back and change something that she asked to her guests on her podcast. And most of them say no. And I think that's so cool that that's really quite universal that people, even though they feel anxiety or stress about decisions when they're making them, they don't really want to go back and change anything because it got them to where they are today. So I think it's just kind of a cool thing that everyone can relate to and a good thing to hear as a younger person that all of this craziness that you go through really is kind of meant to be in the end.
Ben Smith:
And younger, which actually probably sub kind of at any point in our life you can kind of say, "Hey, I got a lot of peace from that point." That was what was interesting to me reciprocating is, that actually is a very peaceful mindset. I know Diane talked a little bit about meditating. And obviously it's about finding peace. But hearing that really as we're getting kind of closer towards the end of life, that we kind of end up settling and finding that peace on our own. And when we're reviewing those decisions like, "No, even though I poured over that and it was a really hard thing at the time, it all worked out in the end." Or again, it didn't but I learned something from it. So I that was kind of a really cool thing there. Curtis from your end, what was something you took away from today?
Curtis Worcester:
Yeah. A piece that really stuck out to me Ben was ... And it was actually a question that Abby asked about loneliness and aging and sort of why it's prevalent or why it happens so often. And Diane kind of referenced as we age ... Whether it's siblings or your spouse, your partner or just your friends, as you age naturally people pass away and that social circle just kind of gets smaller and smaller and then you're left by yourself. It just kind of reiterated a point that I think Dr. Sara Geber shared with us back on our episode about solo aging and how important it is to really invest in your social circles. And not only initially but to keep investing and really keeping your connections alive so that as you age and stay alive your network is as well so you don't find yourself just sitting in a living room drinking a cup of coffee by yourself. It was just kind of good to hear that reiterated.
Ben Smith:
Yeah. Again, I kind of really like that because again kind of as a state this is something that feels like we can augment this a little bit with some of the preexisting condition of our state. Rural, kind of some weather issues that are happening, service centers which we might not be close to. Our friends that might move away. And we've had a couple of episodes about moving away ourselves. Being able to find friends and being able to connect with them on mutual interests and things. I think that's a really important thing to put effort in. And Diane is saying herself, she's an introvert.
Curtis Worcester:
Yeah. That was interesting.
Ben Smith:
Right. You can kind of almost see this from her perspective of, hey, she's investing in ... Even though maybe not everybody is her friend here but she's investing in the social network even by doing this activity of putting on a microphone on other people and asking them questions. So again, you kind of see ... I'm presuming. I don't know that that's actually the case. But that's a byproduct of some of the things that she's doing there.
Curtis Worcester:
Sure.
Ben Smith:
With myself I know Curtis you asked the question about the episode of Dr. Charles Garfield and his book on Our Wisdom Years that she did that interview. I really like this whole idea of that it's never too late to start. That you could be 80 years old and go, "Hey, I wanted to go take something up new." Or Diane even saying, "Hey, I'm going to go hang gliding." Why not now? Why not now and start now? So I really love that. And also this whole like, well what should i do? Because it can feel overwhelming. Because there's so many things I can do. It's my time how I want to do it and you can feel overwhelmed by all the possibilities. I like that simple advice of, do something that feeds your soul. Something that you really go ... Even the fact of, hey if I like gardening and gardening allows me to connected to the earth. It allows me to feel like I'm providing food. If that feeds your soul that's something that's absolutely worthwhile to do. Even if somebody else doesn't view that as valuable, to you that really is. So finding those things.
Ben Smith:
And I know from our client perspective we got a client that moved out to Washington and she says that a lot about she invests in her church, she invests in gardening. She likes being outside in nature. She just likes being with some of her family and with nature and that feeds her soul and that keeps her optimistic. It keeps her from getting lonely. It keeps her really wanting to keep going every day. So again, those are some really ... I think those are good lessons there. We keep progressing in our shows. So I want to wrap up the show by saying if you want more resources or a transcript of the show or find more about Diane and especially Catching Health is a blog and Conversations About Aging, you can go to blog.guidancepointllc.com/31.
Curtis Worcester:
31.
Ben Smith:
So you can go to 31 and you can find all those resources there. Again, we really just highly recommend everybody just check her out in terms of the stuff that she's doing because we think it's just really ... It's a good tandem from what we're doing here to what she's doing there. So always appreciate everyone's attention. We'd love to hear feedback. If you have anything you'd like to share, love to hear it. But until next time, be well.