Executive Summary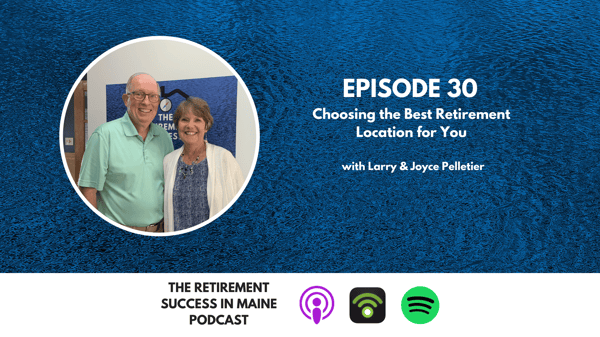 Do you ever get to the point that the weather in Maine kind of gets to you? Do you ever dream about moving to another destination, perhaps in retirement? Well, following our episode about international living, we wanted to explore a more traditional move that many Maine retirees make ~ moving to a sunnier locale in the U.S.! Our colleague, Larry Pelletier and his wife, Joyce, did just that a few years ago. What process did they undertake to find the perfect spot for them? What did they find out once they got there? Do they have any regrets now after a few years later? Join us on episode #30 as we go through a process that every pre-retiree should think about ~ "Choosing the Best Retirement Location for You!"
What You'll Learn In This Podcast Episode:
Welcome, Larry & Joyce! [0:39]
How do you know when it's time to retire? [4:04]
What was the first step for Larry & Joyce to make the decision to move from Maine? [7:55]
How can you navigate through the objection of moving away from your children/grandchildren? [11:06]
How did Larry & Joyce deal with the logistics of moving? [20:33]
What is the research process like when looking for a new place to live in retirement? [37:22]
How can you work through disagreements that may arise during this process of moving for retirement? [44:07]
What is Retirement Success for Larry & Joyce? [1:04:35]
Listen Here:
Did you enjoy The Retirement Success in Maine Podcast?
Subscribe to our podcast directly via Spotify, iTunes, or Podbean by clicking on the images below!



Transcript
Abby Doody:
Hi everyone. My name is Abby, and I am going to be guest hosting today's show. So I'm joined by my cohost, Ben Smith today.
Ben Smith:
Hey Abby, how are you doing?
Abby Doody:
Hey Ben, thanks for joining me.
Ben Smith:
Happy to be here.
Abby Doody:
So we're doing a special show today with one of our coworkers because a question that we hear a lot is, how and where to choose your place to live in retirement? Most people maybe don't want to winter in Maine, and so they're looking for someplace a bit warmer but easier to live. And so when we were talking about this topic, we thought of our colleague Larry Pelletier who successfully did this. So he went and found a new location to move to with his wife, Joyce. And so they're here today to kind of talk about that process of what they went through to find their perfect retirement location. So with that, let's welcome Larry and Joyce Pelletier. Thanks guys for joining us.
Joyce Pelletier:
Thank you.
Larry Pelletier:
Good morning, Abby. Good morning, Ben.
Abby Doody:
So usually we start with telling us a little bit about yourselves. So it helps to give people a little background of you two. And Larry, you work with us, so hearing a little bit about your background. So let's start with you, Larry.
Larry Pelletier:
First of all, I'm Maineiac. I was born and bred in Maine.
Ben Smith:
True Mainer.
Larry Pelletier:
I am a true Mainer. As Tim Sample would say, I'm a biscuit, to use that expression. Born and raised in Lewiston. During our marriage, we've lived in a number of locations around the country. But while in Maine, we lived for a lot of years in the Bangor area and then almost an equal number of years in Southern Maine. So we've kind of seen both ends of the state. And during that time, among other things, I worked in retail banking and then in investment management for all of those years. And then a few years ago, we decided that we would change our lives and go in a different direction. Still with Guidance Point obviously, but we reside in North Carolina. And we'll talk with you a little bit about that today.
Abby Doody:
And what about you Joyce?
Joyce Pelletier:
I'm originally from Massachusetts, and I spent most of my younger years in Quito, Ecuador, South America. I met Larry at college when at Massachusetts and lived in Maine for how many years?
Larry Pelletier:
A long time.
Joyce Pelletier:
A long time. Actually did graduate work at the University of Maine in counseling and became a clinical counselor. So I worked as a school guidance counselor up here in the Bangor area, and then I was in private practice in Portland.
Ben Smith:
Excellent.
Abby Doody:
That's great.
Ben Smith:
That's fantastic.
Abby Doody:
Ecuador, that is interesting, I didn't even know that. That's very, very cool. What a unique place to grow up.
Joyce Pelletier:
It was great, I loved it.
Ben Smith:
What's pretty fascinating about that, you mentioned that is we just did an episode as well with a gentlemen. He's an editor at International Living Magazine, so they've been traveling abroad. And one of the places that he has gone is Ecuador. So we talked a lot about Ecuador in that previous episode. So kind of a nice little thread there, that's great.
Joyce Pelletier:
Yes. And it's actually a place that a lot of Americans retire interestingly.
Ben Smith:
Yep, yeah. There's a nice ex-pat, was the terminology, community there. He goes, a lot of mobilization back and forth. A lot of people don't know that, but, yeah, that's a really cool factor. I didn't know that, Joyce.
Abby Doody:
Yeah, very neat. So Joyce, how did you know when it was time to retire?
Joyce Pelletier:
Well, I think we had been talking about it for many years. We were kind of looking at around 65 is probably being the age that we might retire. But I also had an elderly mom living in Portland, and I'm the only surviving child in my family. So we were concerned about leaving her. So we were just kind of taking it year by year to see how her health would be and also when Larry would be ready to retire. We just knew it would be somewhere in the mid 60s.
Abby Doody:
And what about you, Larry? How did you know it was time?
Larry Pelletier:
Because I wanted to retire at 29 and play golf every day, but that didn't happen.
Ben Smith:
Can I vote for that too?
Larry Pelletier:
Yes. It became an issue of how to pay for golf. We were at a point in our life with some health considerations that we had that that we knew it made sense especially in light of some recommendations from one of our doctors we should change climates. And then for me, it worked out great because I had the opportunity as both of you know to join forces with Guidance Point and kind of have the best of both worlds to be able to maintain some professional connection with clients, and I'm very thankful for that. But at the same time to have somewhat a significantly lighter load than I had as a full-time advisor. And then to be able to end up in a locale that in many ways reminds us of Eastern Maine. And I know we'll talk a little bit about that later. But things just came together.
Larry Pelletier:
But as Joyce said, we looked for a long time. We visited lots of places, we made our own little spreadsheet at home. Most people think of that and they think of this great big computer program. Abby knows me, it was on a yellow tablet. And I made my own categories, and we tracked everything. So there were a lot of things going on. And when we decided to move, it actually happened pretty quickly.
Ben Smith:
And what's pretty neat about in terms of us working together too is so you have really five of us that are in the state of Maine together working as a team. And what's been pretty nice is the mobilization, and with technology now as a gig economy is we can kind of be anywhere at times. If you have a smaller client force that you go, "Hey, I'm friends with these people, I know them. I have had a long standing relationship." But there's four or five of us that are surrounding them. And at any point if they need something more closely than we have people here, if it's, well, Larry's the primary on that person and they know to talk to him, but we can all do our roles and work in concert together.
Larry Pelletier:
It works great.
Ben Smith:
And that's been the fun part. I think we all truly, and not just because it's being recorded, we really truly just have fun working together. Just check in and see how things are going, but, "Oh, I also talked to this person today, and they have this cash need or this is what's going on. Let's talk about how that means and changing their portfolio." I know we don't talk a lot about investment strategy on the show, but it's kind of nice to, from the five of us kind of get that perspective of how we work together.
Larry Pelletier:
It's worked very well. I think our clients are very happy. Abby and I just had digital appointments, I guess that's the right term last week with all of our clients because we're not in person right now, and it went very, very well. I happen to have only a couple of clients in New Bern, and they see us all the time. They just walked down the street to our house. It's a little different.
Abby Doody:
So you provided a great segue to kind of getting into why you and Joyce are here today. So we really wanted to talk to you guys about the process that you went through for finding where you wanted to retire. And that process can look a little bit different for everyone, right? So we're just kind of gaining what you guys have learned and your experience in that. So as you know, moving can certainly be challenging let alone several states away when you're in your mid 60s. So what was your first step in making a decision to move from Maine? Was there a catalyst that started that conversation between you two?
Larry Pelletier:
Yes. But we're looking at each other smiling, and everybody can't see that. The catalyst was when we first started dating a long time ago, I promised Joyce that we would never live in Maine because she's not a winter person. It has nothing to do with me-
Ben Smith:
It's never good to start a relationship with a promise that you break immediately, that's never good.
Larry Pelletier:
But we lived in a number of locations and moved to Maine. But one of the things that we knew early on in our marriage, in our relationship is that one of these days we're going to want to move to a warmer climate. Joyce has been a very good sport about letting me ski and play hockey and snowmobile and snowshoe and do all the things that a lot of Mainers do. And we raised our three children here, and they've kind of followed in those footsteps to one degree or another, but Joyce has always been a great sport about it. But we knew one day the time was going to come, and that's my perspective. And what do you say?
Joyce Pelletier:
I'd say that really the number one factor was the weather if we really wanted to get down to it. We had talked for years about moving to someplace warmer.
Larry Pelletier:
But Abby, if I could jump back, we probably started seriously looking in our very late 50s. So we're five or six or even seven years out before the actual day we made the decision and started looking. And we looked a lot. We looked at possibilities in Delaware, and that was really driven partly that it would be a little bit better, actually a lot better weather. And it would be cheaper for taxes because we had two different things we were looking at at that point. And we went down the East Coast and ended up as far South as Naples, Florida. And have looked at an awful lot of places in between. And the one thing I can say to everybody is there are lots of right choices, the same choice doesn't fit for everybody, so you have lots of right options. And what you have to really do, and what we did is we looked through this process was to say, "What is it we really want? And in some cases, what is it that we don't want?
Abby Doody:
I think starting early can be a huge benefit. So you talked about starting this process 5 to 10 years before you actually made the move so that you don't get, for lack of a better word, stuck in Maine and having to deal with the winters that you really don't want to later into retirement. So I think that's an important point for people to realize is that this process doesn't happen overnight, it takes time to find and research and explore all these different places.
Ben Smith:
And I think there's an objection we hear a lot from people that we're talking to about this or even family members, and they go, "I do want to go to that warmer climate." Because they dream of, "Hey, I'd love to be in a city with more activity, more community," or, "hey, there's more things going on, I'm a big sports fan, and I could see a sports team 20 minutes away," whatever that thing is. And they start dreaming about that, of course, the grass is always greener.
Ben Smith:
But one of the primary objections we hear right out the gate is, to snap your fingers, it's like, but I can't because. You mentioned you have three kids, but my family's here or, hey, my mother is sick, and I'm the caregiver. I've dreamed of getting to this point on mid 60s, this is our time now. Now it's our time to dedicate to each other. I have an obligation maybe to previous generations or do I have a feeling of guilt of future generations of, hey, my kids are here, my grandkids, that sort of thing. And they go, "I can't." So can you talk a little bit about how you navigated that? Because I can see where that is just a hard stop for a lot of people.
Joyce Pelletier:
Yeah. I think that really is a hard stop. And we've talked about this a lot because actually in the community that we ended up in, everyone who lives there is in a similar position to us. Very few of them have their children living in the same town. And so they've all had to make decisions about how close they want to live to the children, for instance, or how close they want to live to elderly parents. And for everybody, it's different. In our case, our children live in three different states, so there's no way we're going to live near all of them no matter where we live. One of our objectives was to be within driving distance of our kids.
Joyce Pelletier:
In our case, that means the East Coast versus the West Coast and not as far South as Florida. We've also known a lot of people who have stayed put too long because the factor that you really can't judge ahead of time is how your health is going to be. So the people who get what you called stuck often suddenly someone in the family gets sick and then it's really too late for them to move because their health concerns dictate that they really need to stay where they are for medical treatment or for many other reasons. So that's why I think it's important to get started young because many people who say they will move never get there.
Larry Pelletier:
And our experience has been with some of our neighbors that they've gone through similar processes. Some been shorter processes than ours, some have been a longer process. But in each situation, the couple has had to go through a similar thought exercise of, how do we take care of a prior generation or the preceding generation, I like to call them, because they're the ones that brought us here. And then how do we take care of the success of generation? And one of the things that we have found, it was more interesting than I thought it would be is that most people in our generation find it easier to go visit particularly their children and grandchildren whose lives are developing in Michigan or Pennsylvania or Ohio or wherever. so it's easier to go, pick up for a week or two, go visit the kids and the grandkids and come back than to have the children and grandchildren actually pick up and come visit in North Carolina.
Larry Pelletier:
So it's turned out to be a very interesting sidebar that I hadn't really thought about because I expected we'd see grandkids coming into our neighborhood all the time. And what we see are our grandparents, our neighbors leaving all the time to go visit the family. And it just is easier on everybody.
Ben Smith:
Because anecdotally again, for my end is, well, yeah, you get a little wanting you go. You think of all of the stuff, to mobilizing a home to go, hey, we're going to go on this big trip. And I got to have, if it's a week visit, geez, you got all the apparatus, all the toys. And if they're really little like a baby or a toddler, you're like car seats, strollers, play pens, diaper bags, all that. It starts getting pretty overwhelming, especially as a parent that goes, "Hey, I'm trying to organize all this." Not saying it's not worth it to come visit, but it is a really difficult undertaking. Versus maybe the grandparents that are easier to move in different ways, that might be easier for them to come and be more flexible. So I can see where that kind of, I guess not to stereotype it, but I could see where that situation happens more often than not.
Larry Pelletier:
And it's just easier on everybody. If you're a parent and you're traveling to see your children and grandchildren, you can pack your bag, throw it in the back of the car and you can drive. And most everybody we know can drive because of distances. Most of the residents in our community of East Coast people, particularly Northeast people, occasionally they'll fly somewhere. But it just works much easier. And then they come back to their new home and kind of sigh and go, "Oh, thank you." So everybody can be happy.
Ben Smith:
And I want to ask about the, because you made the comment about the driving distance. Now, that's a comfort thing, which is going to be different for everybody. And I can also see where, as we all age in our own retirements that driving distance comfort level shrinking. Obviously, you kind of made a decision on what you're comfortable with, and you eventually ended up in North Carolina. But how was that driving distance kind of figured out? I guess what was the perimeter for you that kind of triangulated to North Carolina? Because you said East Coast. Well, if you have to go to Michigan, that's maybe more central than it is East Coast, right?
Larry Pelletier:
For us, it came down to, what did we think we would drive in an average day? Joyce and I have always during our whole marriage had the opportunity to drive. Early in life, we lived in Southern California. We've driven coast to coast on several occasions. Most of the time, we flew, bu we actually drove a couple of times. So driving for us is very comfortable, going on a road trip. At 70, it's a little different than when we're 22. So what we figured out is, what are we comfortable with? And most of our days are 500-mile days is really what we came down and said, "Are we comfortable?"
Ben Smith:
That's a poke.
Larry Pelletier:
Those are about 10 or 11-hour days. So when we come to Maine, it's two days if we go to for that child. If we go to Maryland for a child, it's a seven-hour day. If we go to Pittsburgh for the third child, it's a 12-hour day, it's a little over 500 miles, closer to 600. But we're comfortable with it, we get out and we stop when we want to. We're typical older travelers, we can relax. And we do what we need to do to make sure that we can enjoy the trip.
Joyce Pelletier:
However, we also also chose a community that has an airport, so that's kind of the backup plan. So if we have to be somewhere fast, we can be somewhere fast.
Ben Smith:
We interviewed Cary Weston who was a former city councilor, former mayor for Bangor. And we're talking about where and why Bangor might be a destination for retires. And that's one thing he said was having major airports nearby, they you don't feel stuck because you can leave and that you have an airport nearby that connects to major hubs. And you can get to where you need to without a whole lot of hassle to kind of get in and out. But I want to ask, kind of going back to the radius question with kids, have you thought about then going forward of, "Hey, when I'm 80, when I'm 88, when I'm 92," and that desire to be near kids and grandkids, or maybe them taking care of your aging, have you considered that may change your geography?
Joyce Pelletier:
Yes, we've talked about that, it's just hard to know at this point. But for a lot of the people that we see around us when they especially get in their late 80s or 90s, sometimes one of the spouses will pass away and then the remaining one will want to go live near her children. But that's ways away for us. Right now, we're happy we are. And our community also is putting together an assisted living facility and a long-term care facility. So some of the people that we know are making plans to go there instead.
Abby Doody:
That's great. So moving is a big job, just the whole logistics of it all. So how did you deal with the actual logistics of moving, and what did you do with all of your stuff in Maine? Because there's a lot of winter stuff that you likely don't need in North Carolina.
Larry Pelletier:
Go ahead, darling.
Joyce Pelletier:
Well, we've moved many times, so it wasn't a new process to us, but we did start downsizing. So we basically got rid of anything that had to do with our kids, tried to get them to take what they would take. The rest of it, we gave away. We knew we were going to downsize our house as well. We talked about what we thought was an ideal house and how big that would be, how many square feet. We built this house, so we also had the floor plan. We knew exactly how much furniture would go in each room. And so we spent the year between the time we bought a lot and the time we actually finished building the home, we spent that time getting rid of things and downsizing.
Larry Pelletier:
And we made the Salvation Army and a few other organizations very happy because there were a lot of things that we didn't take with us because we were going to a smaller house. And there were a lot of things that quite frankly don't fit in our new house. It's a different culture, it's a different location, that we're in great shape here that we're able to help other people with. And it was our pleasure to do that.
Ben Smith:
Obviously, you guys have had a different experience or you've moved upon. I think when you kind of sit, and I don't want to use the word sit. But in terms of being in one place for a longer period of time or maybe your entire life or your career and you inherit things, and these are generational things and you accumulate. And you maybe have not gone through a purging of things. I can see where, and I know you help people too from kind of going through this of moving.
Ben Smith:
Can you talk about how people have overcome this whole, hey, I have to move, but I can also see where I'm stuck on. How do I deal with this room? This is my father's you antique rifle from World War II, and this is my grandmother's thing from when she immigrated from Europe, all that, which is our big barriers of like, "Well, how do I move it? How do I take care of it? Who wants it? Can you talk about that a little bit? Because it sounds like you didn't maybe have as much of that emotional issue, but I'm sure there was something there that was hard.
Larry Pelletier:
Well, just real quickly, we lived in this part of the world. This part of the world, by the way, for everybody listening is Bangor. And then when we moved from Bangor, actually from Veazie to Southern Maine, we cleaned many things from our house up here, so that was a precept. And our kids were happy to see us do that because they've said to us more than once, "We don't want this job." So we moved from Veazie to Falmouth and we were there for 10 years. And it was amazing all of the paraphernalia that we picked up and that we were saving for everybody or for another day. Then we moved from Falmouth to Scarborough. You can see we don't stay very long, but we had 10 or 12 years in lots of places. We then downsized again.
Larry Pelletier:
So when we left Scarborough to go South, we did not have 30 years or 40 years of accumulated items, and I'm glad that we didn't. But part of it was that we knew our children didn't want to do it, we didn't want to be faced with a big cleaning process when we got to North Carolina. And some of our neighbors have, by the way, they unloaded the trucks and went, "Oops, this doesn't fit." And Joyce and I unfortunately had to along the way during our lives here in Maine, had to go through this process for our mothers of sorting out what they had and what was important to them or to us, or what would be better served by going someplace else.
Larry Pelletier:
And so we had practice steps before we actually had to do it, Ben, at the very last time. And even now I hate to admit it publicly, we still have plastic folders that we haven't opened in four years. And I'm going, "So what's in those?" We were just talking about on the way up here, "We need to go home and pull this out of the garage and say, "What do we really need, what's here?"
Ben Smith:
Because all those things add up as they continue to go. I do want to explore that topic because I think that's a big deal in terms of what you just said around, hey, we went through this with our mothers. Obviously, each of us, doesn't matter if it's different generations or we're just all different people, we all have different values on things, and what your mother's had for value on a thing. You always hear that, well, when I pass, I'm going to give you this. Or your great grandmother would have loved to have you had this type stuff. What a wonderful sentiment to be expressing this that they would have thought about you and all that.
Ben Smith:
But that's a one way of, you think about all those conversations you might've had in your life. Or I bet she would have wanted you to have these things. These in your mind as you're thinking about, "Well, how do I decumulate my property, things that are meaningful to me personally, but also what I maybe go backwards and think about, or my kids when they were four, here's their first drawing of a bear, and isn't that great? Wouldn't they like to see that in 30 years? All of those things. I think that can create just this wall of things and stuff. How did you go through it? It's fascinating because I think that's a big barrier.
Joyce Pelletier:
I don't know how I can answer that exactly. I think that some people are more attached to things than others. And some people place a higher value on antiques that were owned by grandma than others. What I tried to do was save one important thing from each person. And for me, they were mostly pictures that I wanted to keep as memories. I have a few items that belonged to my mother, a few that belonged to my father, and a few very small things from grandparents, but that's it. And I'm happy with that.
Larry Pelletier:
I think I'm of a similar mindset, although I may have an attachment to a few more things than Joyce does. But we said, "What will be important to us going forward?" And so we have in our house, if you were to come in, when you guys come in and look around, and you'll see some things from grandma or great-grandma that are sitting there, but we don't have a house full of those. We were a little surprised I think in how few momentos or things from the past that our children really were interested in. When we were in Veazie, we had a basement full of things that we were sure the children were going to have. When we were in Falmouth, we had an even bigger basement full. And our children were interested in some of the heritage, things we'll call heritage, and they weren't interested in others. But we found homes for people who are really interested in those.
Larry Pelletier:
And it took a little bit of work to do that. But at the end of the day, it worked out okay. What we didn't want to do, this was really important to us personally, we were going to have a smaller garage than we have in Maine. We had a big garage, three-car basically. We have a small two-car. We had a big basement in our last house and an attic, we have neither in our new house. And so when you start doing the mechanics of, where will we put everything? The last thing Joyce and I wanted was to move and to have boxes and boxes of things that we've been saving for years and have to go rent storage spaces. That just didn't seem to make sense. So we really walked through a process and said, "Why do we hold near and dear? And what are we going to keep that when we're looking at a particular item or holding in our hands or reviewing, if it's hanging on the wall, how will that help us with the memories and the feelings?" And that's really what we focused on.
Ben Smith:
That feeling of the goldfish in the water bowl, in the fishbowl. I think the bigger the fish bowl, the bigger the fish gets here. And it's like, well, hey, we have that corner in the attic or we have that space in the basement, nothing's there. Why not just kind of put it over to the side, it's not hurting anything.
Larry Pelletier:
And we did/
Ben Smith:
I think this is a very natural thing, which we all do. And then go, "Well, now we need to decumulate." Now it's just such a process, and that just slows you down. I think our episode was on the travel advisor that says, there's one couple, they're trying to celebrate their 40th anniversary, but they could never agree on what to do on their 40th anniversary. So they didn't celebrate their 40th anniversary till year 42.
Larry Pelletier:
That happens.
Ben Smith:
And that's what I was trying to get to here with, sometimes it's the little things that just stop us from getting to the next step. That's why I wanted to spend a minute with you there on that process of going through.
Larry Pelletier:
If I can, Abby, and then just one other thing. One of the things that we see happen in our community ... And our community, just to put it in perspective for everybody is about 350 homes at this point inside a town that's almost the same size as Bangor. The similarities are just amazing. And it's one of the things that drew us here. We have 350 homes, runaway to about 800, and I just sent that out as reference. But it's amazing to us how often on our community webpage the new people in will say, "So how do I get rid of ... We've emptied everything out, and we've realized that we still have half a garage full." And so we go through this process, people provide numbers of the Salvation Army or other charitable groups that are in the area.
Larry Pelletier:
And it just happens all the time. We all bring things that we think are important, and they are for some reason. And then we realize, we move into our new space and we've purposely downsized, and almost everybody has. Just so you know, some of those people have downsized from 7,000 square feet to 3,500 square feet. Some have downsized from 3,500 square feet to 1,800 square feet, it's different for everybody. But it's just amazing how many things we bring in and say, "I guess I really don't need it."
Ben Smith:
And Larry and Joyce, I want to ask you both because if you look generationally, you think about what is pattern for retirement has been a lot around, hey, you know what, what I see is it's the Florida. And I'll use the word snowbird, which I think us in the Northeast maybe know that term a lot of, hey, it's cold here, let's go somewhere when it's cold to where it's warmer. And then we can come back to maybe the Northeast somewhere. So we kind of use this term, we have maybe listeners outside of Maine and outside of New England that maybe don't know that. But in terms of your process, we talked about moving. Well, did you consider doing that? Because I think that that's a pattern which you hear a lot of people doing and maybe even, and again, Florida, Arizona being that spot.
Joyce Pelletier:
We had talked about that too. And pretty early on, Larry said he didn't want to do that. He didn't want to maintain property in two states. And I think he had learned that from working with clients over years that eventually they do sell one or the other. So it sounds like a great idea at the beginning, but the logistics of it become harder and harder as a person ages. So we really had Xed that off the list. We know people who have resolved that by buying timeshares or by going to the same rental every year. And so they're able to still get out of whatever climate it is they're trying to avoid. And some people do it and then 5, 10 years later, they end up selling one or the other.
Ben Smith:
And on top of that with having two locations, you buy in and at some point, and again, Larry, you and I have had this conversation a lot privately. I think the neat part of the role that we play with working with people in their retirement especially is you kind of pick up on things here or there like, "You know, that really wouldn't work for me." That was really neat that they did do this snowbird thing and have two locations. But you know when they do estate planning, you have to probate through two different states with that. So you now created another complication when you pass. So all those things are pretty neat considerations, right?
Larry Pelletier:
And we thought about the tax implications, we talked a little bit about the concept of being domiciled. And so where do you really live and where do you vote? And which taxing agency, whether it's North Carolina or Maine or Maine and Arizona, where are you going to be considered to have the bulk of your assets? And so that's where you're going to get taxed. So we just decided we didn't want to do that. To be honest, I was a little bit lazy. I did not want to have two properties even with management companies helping in that we had responsibility for at the end of the day. And it's turned out to be very good for us.
Larry Pelletier:
But again, our experience in our new world has been that most people have decided to downsize and have gone to one home. And it's been interesting to watch because there have been a few people that we've known for several years now who were really happy they had two homes, they could always run back to home, wherever that might be. And they woke up one day and said, "So why are we doing this?" As you guys both know, it's different for everybody.
Ben Smith:
It is. And you can see a lot of allure to that, I can get the best of both. Doesn't that seem like a really kind of great concept of, hey, if my family is still in that place where I moved from, I can come back to that. You've seen enough of, hey, I am in Florida. And you guys in North Carolina, and we'll talk about this a little bit, but weather becomes unexpected and maybe I'm not used to that. And things like, hey, I'm in one location, by the way, a hurricane is coming to hit my town, and I'm not there. Do I then go into the hurricane to board things up and take care of it? The stress I think from things like that that you go, I have to worry about what if I'm in the wrong place at the wrong time and have to make sure I'm protecting that other place. Again, those are maybe disadvantages to it, and you have to be very flexible about being able to go back and forth.
Larry Pelletier:
You can think about what you really want to do and the nice decision it is that you don't have to decide immediately when you move, that's a secondary decision. But usually everybody kind of gets to that point where they say, "I'd like to have one primary, and then I can go rent if I'm going to go home, which is where we came from. I'll rent for a month on a lake or a pond or on the Back40 somewhere." It all works out.
Ben Smith:
We don't do a ton of financial planning on this show. But the idea is, but also from an asset perspective, if you then have to purchase and acquire another home as you're entering into retirement and maybe using retirement accounts that you have to pay taxes on in order to then buy and secure another property, and then it's not as liquid. Then when you want to get out of that, that's tougher as well. So being able to be more flexible and stick and move of, "Hey, I want to be on a lake this year, let's go rent a lake property for three months," or, "Next year, I've never been to San Diego, and I'd love to go be there for a couple months and do that."
Ben Smith:
Again, different house for every mouse, it's all different for everybody. But I wanted to have that conversation with you about, again, snow birding is an interesting concept, which I think people have always had an interest in that. But again, interesting to hear how you guys kind of positioned it for you.
Abby Doody:
So you have both touched on this a little bit, but your research process that you went through was pretty extensive. And I think it can be really helpful for people to hear how you went through the process of deciding that North Carolina was ultimately the place where you wanted to spend your retirement. So can you talk a little bit about the process, what you went through for research, for visiting different locations? What some of your criteria was that you were looking at in each of the locations that you looked at?
Joyce Pelletier:
I think it definitely was criteria-driven. Some of the factors that were very important to us were weather obviously, cost of living, let's see, medical care, health providers in the area, overall safety, recreation, and then just a general community. We wanted to be within a community or a town versus just a retirement group out built somewhere, it's all self-enclosed. We wanted to be able to get to town and do some fun things in town as well. what else am I leaving out of that criteria?
Larry Pelletier:
Well, those are the major ones, but being an anal person, as you guys know. One of the things I look at were some of the fine details. Living in an Eastern Maine and in Southern Maine too, you're involved in communities that are really blessed to have universities and colleges and what the impact is on the communities from those institutions. So we were looking for the opportunity to be near institutions, educational institutions, because of what they bring to the community. We were looking for community theaters. We were looking for a church that we wanted to be involved with. I also went and started studying all kinds of things on a couple of websites about community crime and crime by neighborhood. And there were some nice places on the surface that we crossed right off the list when you see how they're ranked with crime statistics and some of the issues that they face.
Larry Pelletier:
Coming from a relatively safe part of the country, we just didn't want to have to deal with that, and so we incorporated that. We also looked at education and what was happening at different levels of education because that impacts a town. And last but not least, we did a lot of reading and a lot of talking with people in the respective chamber of commerce offices wherever we went to try to get a feel. Of course, they're great at selling what they have, but it never hurts to hear what it is they're selling and see if it makes sense. And as Joyce said, we really wanted to be in a community. We're living in the town and ended up in a town that's about the size of Bangor. So when we drive out of our neighborhood, we get on the road, the main road and we drive downtown. And it's like being in downtown Bangor in some ways as far as size or some similarities, they're not exactly the same.
Ben Smith:
I guess that's a natural fall. It's one thing to go, here's the checklist of like it has to have this and I shouldn't have that. Again, I know you just described your spreadsheet as not being this actuarial table with a three by three grid-
Larry Pelletier:
It was homemade.
Ben Smith:
I think you could almost go, once you kind of find communities that fit those boxes and you can kind of go there, that really there's a fell. As you go to these places and almost ... What you described is obviously you were in this Bangor community for a bit. So you know what you liked about this community and maybe things that you didn't like. But it sounds like to me that there's almost like when you got there that you were looking for a certain feel. So it's a gut deal and not necessarily like, well, it's mathematical and scientific of a thing that we went through. I think when you visit places, you can kind of start getting that too. And I don't want to kind of out places or things that were not good, but can you talk about maybe things that didn't get the fell and some that did?
Joyce Pelletier:
Yes, for sure. I think that is a really important factor because ultimately the day that we drove over the bridge into New Bern and we saw the harbor with the sailboats and we saw the river, it just had this sort of New England feel to it, although it wasn't New England was the day I said to Larry, "I think this could be the place." And we were looking for, because we've lived near the water in Southern Maine for quite a while, we wanted a place that had water. We wanted golf, we wanted a lot of these factors. But yes, I do think that you get a sense after you've visited a lot of places of, is this community friendly? Does it seem like I can relate to the people here, I'll be able to make friends here? There will be fun things to do that I enjoy.
Joyce Pelletier:
So, yes, for sure. Some of the places we Xed off our list, the community didn't feel friendly even though there were a lot of beautiful things about it. Sometimes we felt like it was too remote that they'd established a very nice retirement community, but then you had to drive 10 miles to a grocery store. So that really wasn't going to work for us. It is a give and take for sure, you never get every single thing you're looking for. But if you can get most of the things that you're looking for, then that's a good thing.
Ben Smith:
I love that. And I want to ask maybe the other side of this, because I think one of the barriers that you can kind of see with a lot of people is, you talked about really starting the process early. And I think one of the things that I think all people struggle with, especially in relationships is communication, is that talking back and forth and going ... And we all maybe sometimes get the sacred cow of, we can get hung up on things and that's just something I'm not willing to sacrifice. I like to hear in terms of relationships of, hey, if there's a disagreement of, hey, how do we optimize or how do we think about our happiness together as a couple, but we're all individuals and we all have different ideas of how we do things.
Ben Smith:
So can you talk about, was there any disagreements that you had, as we're setting on New Bern because I could see where Joyce says "New Bern is the one, we went over the bridge, and this is it." And Larry is kind of this other side of, "Well, I want to be in Ohio because it does all these other other things. And you can see, that could be, again, talk about a block, something that can just stop people in their tracks because they just can't resolve. I'd love to hear about, was there a disagreement, small or big and then how you resolved it?
Joyce Pelletier:
Well, I think the big disagreements were at the outset. I think the longer we went through the process, the more we had narrowed down areas that we knew would work for both of us. So definitely there was a give and take there. But you can tell them about the day we were headed to buy a house somewhere else-
Ben Smith:
And it's always awkward.
Larry Pelletier:
No, this is a great story. My only regret is that we have so little time. Real quickly, when we started this process, we have very close friends of ours who live in the villages in Florida, and I'm not doing a promo for them. But I wanted to live there because they have 50 golf courses, enough said. And at that point-
Ben Smith:
New golf course every week.
Larry Pelletier:
Every week. But that wasn't to be. A beautiful place, I'm not saying anything negative, but it just wasn't for us because there were a number of the other things we were looking for. And so we went through this process, we visited a number of places over the years. We had the opportunity to try to get the feel that you're talking about. And sometimes almost immediately when you walk in to the office to meet the people, whoops, this is the wrong place. Others, we spent a little more time on because they felt like they might be possibilities.
Ben Smith:
And I want to interrupt for one second because there's a key point you brought up. So you were visiting places well before retirement. So was it, okay, I'm 55 years old. Were you then thinking, obviously we're in our careers, we're still working, were you then taking your vacations kind of 10 years going, "Hey, this is an interview process. We're going to have some fun, we're going to do our thing." But were you then interviewing the communities thoughtfully as you're kind of going forward? Was that something that you did?
Joyce Pelletier:
Yes, we did. Often we'd go on vacation somewhere and we'd say, "Okay, there's two or three different retirement communities, let's drive through and see what they're like. And then if one really seemed to be close to what we were looking for, we talked to a realtor or we talked to a community representative. So yeah, that is really how it worked.
Ben Smith:
How did you budget your vacation then? Because I could see where, all your vacations for 10 years get to be very like, well, we're really structured, and we need to do all these boxes. Did you go, one day out of seven was the interview process for us? How did it kind of-
Larry Pelletier:
I think it was pretty free flowing. Except when we went to Florida because the distance was so great, and we were going to be 1,500, 1,900 miles from home, which is Maine. Then we kind of had an outline ahead of what we wanted to try to do. And because there are so many options in Florida. You could spend 10 years just looking at legitimate options in that state alone. So we had structure there. But then in other states where it's a little bit structured, so we could play, enjoy the area, and try to get to know the community. So we did a lot of exploring, a lot of poking our nose in all kinds of little places just to see what were the people like and how did they respond? Because it is a different culture than that in Maine. And that's neither good nor bad, it's just different. On we settled on New Bern-
Ben Smith:
I hijacked you, so I appreciate that.
Larry Pelletier:
We were actually on our way to South Carolina on the strand. And the strand has Myrtle Beach at the North, and it has Litchfield Beach and Polly's Island at the bottom. It's about 30 miles long. It's a big sandbar and miles wide, four or five miles wide. We had spent a number of vacations using that locale as a jumping off point for looking all over the South. And so we knew it well. So when we decided that we're going to buy the year before we were down there, we really intensified looking at communities built into that area. And so what do we like? What don't we like? What do we feel comfortable with? And we ended up meeting a realtor who's from Winthrop Maine, and she's the sweetest lady in the whole wide world as luck would have it.
Larry Pelletier:
So we're on our way to South Carolina, she has roughly a half a dozen houses we're going to look at them, we're going to buy one of them. We've been talking with her for a year going back and forth. And we're running down 95 and Joyce says, "Well, the one place that we haven't looked at that's on the way is New Bern." Well, for those of you who are familiar with the map, you run down 95 and New Bern is 90 miles East. You just don't swing by New Bern. But it's on its way to the Outer Banks but still on the main land. So after some give and take on that trip discussion, we're going to swing by New Bern. And we went through the countryside, it's like rural Maine, it's beautiful. There are a lot of similarities. We drive over this big bridge, it spans two rivers. And I'm fond of saying, "Joyce basically said, "This is it.""
Larry Pelletier:
And so we spent a day or two there looking at the community. It was on our list, it meant all of the check marks that we had to have, we knew it fell inside that grid. So we decided that we would take a look around. And while we were there, we looked at a number of the developments in the greater New Bern area. And we looked at a number of the towns, several of the towns because that's not the only little town there and tried to get a flavor and a feel. And from the get-go while we're running around town and walking through the downtown and talking to merchants and just meeting people, they were just so kind, it was amazing. I kept looking around and saying, "This can't be this good," but it was for us. So it turned out to be. And then we found our development, we went and looked at it.
Larry Pelletier:
We liked some of the things about it, we weren't so sure about others. Because remember, we had just landed. We didn't know much about the development per se. Then we got in the car because we had our two days in New Bern and said, "Well, we're on our way to South Carolina, and we're still thinking where we're going to buy a house." But by the time we had driven the next four hours and got out of the car in South Carolina, we had kind of decided more or less that wasn't going to happen when we were in South Carolina even though it's beautiful, drop dead, beautiful. I have to put in a plug. And that really our interest was more aligned with what we saw in New Bern.
Larry Pelletier:
And I have to say, and I'll let Joyce speak for herself. But I have to say that I've been able to get up every single day for four years now and say, "I'm very thankful that we're here, I'm glad that we ended up here and with no regrets." I wasn't sure that would happen then because we're making a decision that's kind of at the last second even though we've been in this process for a number of years. We're deciding on the neighborhood in a development that we've seen once and I haven't really put through my whole grill. So I had to take a quick aside, you might edit this out.
Larry Pelletier:
When you go into the tax office in the town and saying, introducing myself to the county tax people because they're right in New Bern and saying, "We're here, we're just getting to know the area." I don't know the developer, and the lady behind the county, "Well, darling, what can I do to help you?" She took the time to tell me about the development and what it was like in 2006, 7, 8 when things were tough and that their taxes were always paid on time. No, she was not on the Christmas card list of the developer, she didn't even know the guy." We went that far, most people won't do that. But we didn't know anything about the area, and we're talking about buying a lot and writing a check while we're there. I never do that. I don't spend 50 cents without thinking about it.
Ben Smith:
Again, on a previous episode we had Dan Prescher from the International Living Magazine, and he was talking about, he uproots from, was it Nebraska?
Abby Doody:
Yes.
Ben Smith:
He's in Nebraska, any he uproots to Ecuador. He goes, "We were writers for International Living Magazine, it was the new job. We're going to live internationally, this is something I've always wanted to do. We moved to Ecuador. This is our life purpose, and we're very excited, and we cried for six months, "What did we do? What did we do?" You've now landed and you've built your new home, was there any sort of homesick ... Because I know you kind of obviously probably have gone through homesickness anyway from moving as it was, but was there any kind of that that you felt like?
Joyce Pelletier:
Just a thing about Ecuador because we actually looked at Ecuador when we were visiting an Ecuadorian because Ecuador has very low cost of living, and Americans can live very well there. And there are some towns in Ecuador that have a lot of Americans in them. But I think the key for living in a foreign country is having lived in one before and enjoyed the culture and felt comfortable, do you speak the language? Those factors kind of eliminated it for Larry. And I really honestly wasn't ready to go back and live there again as a retiree. I think that it's good to go visit the place that you're going to be buying into. And the longer you can spend there before you make that decision, the better.
Joyce Pelletier:
In our case, we did turn around, change all our plans and go back and spend a week in New Bern before we really made all the final decisions. And I think that's really important. There are things that we miss about Maine, no doubt about it. But I would say there are fewer than we expected. And one of the things that's been a continuous surprise to us is that the community is even better than we thought. So we've made a lot of new friends there and there's a lot to do. It really ended up being the right choice for us.
Ben Smith:
Excellent. Because again, sometimes it's the thing you know. Again, what we wanted to do here, I think the purpose of our show is to inspire people in retirement. Obviously Larry and Joyce, you did something that was right for you. But to give examples to people of, hey, you can go through something, and maybe it's as good, maybe it's better than you ever imagined. And to say, hey, isn't all of our lives really worth it? Even though it was a risk and it could have been worse, but it could be so much better and to go, isn't that worth striving for? And kind of experiencing something new together and then go, "Man, these are all new things. And that's what's going to keep us young and that's what's going to make us live longer. We're going to have more to talk about, connect on."
Ben Smith:
Because I could see where people if they don't change anything, you could see where 10, 20, 30, 40 years in a relationship things get stale because it's a little of just about the same minutes, which is fine for a lot of people. And I'm not trying to paint that that's a bad thing. But for some people, they're looking for a little more adventure. So I commend you guys on that because that's kind of hard to do.
Larry Pelletier:
Can I throw on two things I think?
Abby Doody:
Yeah.
Larry Pelletier:
The whole process was an adventure, and there were some days we were a little frustrated with where we're looking at, we didn't think we could find what we're looking for. We weren't frustrated with each other, but we enjoyed the process because we got to see a lot of good choices. I wanted to remind anybody who might be listening that there are lots of good options, there's not just one answer. So that's wonderful for everybody now. And the other item that I think worked well for us is that we don't live in let a standalone retirement community. And by that, I mean, we are a series of neighborhoods that are part of a development that covers 16 or 1,700 acres. But we're five minutes from downtown. And that's really important because one of the things that Joyce and I finally came to realize is we were looking at a lot of retirement communities is that we didn't want to be in a neighborhood that had everybody in it over 55-years-old.
Larry Pelletier:
That part of life was the newness of life. And so in our development, we happen to pick the neighborhood that has the greatest concentration of young families. Then you go, and why did they do that? When I say greatest concentration, there might be 8 or 10 young families in the neighborhood of 40 houses. But we get to see the school bus come down every day. In the year, we get to see the kids out at Halloween, they come to our house and they Christmas Carol. They do a Memorial Day parade on their bicycles and wagons. So we could see all of that. And that was very important to us that we not get into a community where that was absent from our lives.
Larry Pelletier:
And when we want to get downtown, we're involved in that community, but we also have great presentations made to us. And we've chosen to be involved in nonprofit ventures and to be able to give back to the community at large. So we're involved in New Bern that way. And I think that turned out to be maybe one of the most significant things that we did. And that was to not be in a very narrow range of senior citizens. But we recognize that for some people that's the perfect answer, and that's okay, that's okay.
Ben Smith:
I can see where, obviously you could go through your process. You can move there and it could be not a good decision. And you can say, "We did all the homework and there's a reason it doesn't work." And I could even throw at you, you move to New Bern. And within so many months, you get a devastating hurricane that comes through.
Larry Pelletier:
And we did.
Ben Smith:
And wipes out large amount of homes, and yours could have been one of the homes. Disaster can happen. Right. Can you talk about that of going into this? And did you think about, What if it goes bad? What would we do? How would we change? How do we adapt? How would we respond to it? Was that part of the process of we're here?
Joyce Pelletier:
I don't really think so. I think maybe Larry and I are optimists and don't always go down the road of, oh, what's the worst thing that could happen except of course expecting that at some point one of us will pass away and there will be changes in our life. No, I don't think we anticipated disaster. I think that we looked for a lot of safety factors in where we were building. So what we were doing was not risky for us in any way. Yes, we had a hurricane and some people had trees through their roofs, but the community bounced back. There are a few people who have moved into our community and have changed their minds, but they are really a very small minority. And usually, it has to do with a family crisis of some type that makes them then decide to move home. Or a few people got there and decided they weren't close enough to the water, for example. And maybe they wanted to move a little bit closer to the Outer Banks. But most of the people who have gotten there have been happy and have stayed.
Ben Smith:
A lot of times what we're finding is there's three stages to retirement. There's this kind of first, second, and third. And sometimes I think when we go, hey ... We make decisions, we're so excited about retirement. We really are so excited about the first stage. We might not be considering the second and the third here. Is that something that's kind of played in your minds here a little bit of, hey, here's somewhere where we can age throughout the entirety of our retirement. Could you see yourself moving again, and would you have to then go through another process in order to do that?
Larry Pelletier:
Well, let me answer the first part. Did we think about the progression of time? I guess this is how we categorize it. And the answer is yes. If you were to walk into her house, you would see some things that we built that allow us to stay in that house even if our mobility, for whatever reason, and to be able to get around in the house. Where we've put appliances, where we've put counters, how wide we made doors, you can come into the house on one step from the outside were all designed with the thought that we're not going to be at this age or in this kind of physical health that we're in today forever. I hope that we are, but that's probably pressing that a little bit. So we designed those things in. We didn't build any closer to the Outer Banks even though we can get there in half an hour because you go down the slope, the land slopes all the way to the ocean. The hurricane proof, the downside of that is that we went through.
Larry Pelletier:
And so we did think about all of those things and say, "We're going to make the best informed decisions we can knowing that they're not perfect." And so we just took that as a guideline up front saying, "It's not going to be perfect, we're going to do the best we can. If there's a mistake, we'll piece it back together." Being a Mainer at heart and born and bred here, you just grow up with if it doesn't work right, you back up and you do it again, and you find a way to press on.
Ben Smith:
Yankee ingenuity.
Larry Pelletier:
I was going to say that.
Ben Smith:
I know Yankees are a swear word around.
Larry Pelletier:
Not in our house. But we just assumed that we could go forward, and we had that optimism. That's the only way to go ahead. As far as building another house, we kid with our neighbors all the time, some of them are younger than we are, some of them older. But the concept is that people have built a house with the concept of coming in, staying till they can't stand anymore. And for some people, they fully see themselves in this house until such time as they need to go into the extended care facility down the street that's being built now right in our neighborhood. Other people say, "I'm never leaving there." And so we'll see. And we have people well into their late 80s, some, not many. In fact, we have a couple of people in their early 90s who are just matriculating through life and just moving a little slower, but they keep moving, and this is where they want to be.
Larry Pelletier:
One of the interesting points we didn't expect to see was how quickly neighbors would rally around and become friends. Everybody has come from someplace else. Everybody has chosen to move, so you have a certain mindset coming through the door. And neighbors have become friends very quickly. And if somebody needs help, neighbors rally unasked.
Ben Smith:
That's great.
Abby Doody:
That's great. So we have reached the end of our podcast, and we always ask our guests one final question. So for each of you, so the title of the podcast is The Retirement Success in Maine podcast. So we ask every guest what their own individual definition of retirement success is. So Joyce, do you want to start? It's a loaded question.
Joyce Pelletier:
I guess retirement success would be feeling healthy and happy and having contentment where you are.
Abby Doody:
That's great. What about you, Larry?
Larry Pelletier:
I would say that it's happy and healthy because as we talk to our clients all the time, the two that come on is you can't buy our time and health. And so right now we've been granted time in our life to be able to do some of the things we'd like to do or not do anything, have those days where you don't do anything, and we're reasonably healthy. But I think the most important thing in retirement regardless of where you end up or what you end up doing is to be really comfortable and thankful in your own skin for who you are and what you have no matter how much that is or how little that is.
Abby Doody:
Yeah, that's great. Well, thanks again to you both for coming on the podcast. I think this was great and really informative. And I'm sure it'll be very helpful to retirees who are looking at different places to move. And like Ben said, giving them the confidence that they can do it, that it is possible, and it's possible to be happy and successful wherever they choose to be. So thanks again.
Larry Pelletier:
Our pleasure.
Joyce Pelletier:
Thank you.
Abby Doody:
Well, that was a great episode with Larry and Joyce Pelletier. We really enjoyed having them on talking about finding your retirement location. I thought they did a really good job of explaining the process that they went through for finding their ideal retirement location. So at the end of every episode, we have a little conclusion, a wrap-up between Ben and me. And so Ben, what did you take away from the episode with Larry and Joyce?
Ben Smith:
I think Larry and Joyce did a really great job kind of talking through the process. I think there was, of course, lots of takeaways. One thing I'm always interested in is kind of what are the barriers that kind of stop people? Where do people get hung up? And I know they did a really great job on talking through that. It just felt like for me, the kind of things that we were asking them about, what about kids and those gravitational forces that keep you in one place. It seems like from hearing their life story, they both have moved a lot in their lives. And not just nationally, but internationally too with Joyce even hearing that she grew up in Quito, Ecuador for a bit.
Ben Smith:
Those are really formative things on, hey, if I'm able to really break down those barriers and it's really not that big of a deal, it is easier I think when you get to this stage and saying, "Hey, I do want to think about moving somewhere than where I have been for a longer period of time." So again, I think there's really good lessons to highlight there throughout the episode for people. But I think one thing is kind of the body in motion stays in motion. And with them, they've kind of done a lot of this moving throughout their lives. And I think that made that process easier for them when they got to retirement.
Abby Doody:
Yeah, I totally agree. I liked when you brought up about all of the stuff that they had inherited over the years. I think that can be a big barrier for a lot of people. And by moving consistently every so often, you kind of weed a lot of that out by the time you hit retirement age. So what I found really interesting was their story about how they were on their way to purchase another house, ended up swinging through New Bern, North Carolina where they decided to eventually live and not buying the house. And so trusting your gut instinct and really going with what you feel is right for you is really important because otherwise they could have ended up in a place that maybe wasn't so great for them, then have to go through the process of re-evaluating locations again. I just think that's encouraging for people who think that maybe they haven't quite found it yet. It's okay to keep looking until you really feel like you've found the right spot for you.
Ben Smith:
It's kind of interesting too, obviously within like 12 months, they had a cat five hurricane come through to New Bern. And of course, it touched ground right on New Bern. I was interested to hear about was there regrets on once they're there. They're like, "No." I think all those things that they've pointed to that they liked were all still there. We've heard stories from Larry over the years too of, "Hey, I'm helping rebuild. All of our neighbors have gotten together, there's a bunch of houses that have been hit," which is why they're there. That's what they're looking for for the community.
Ben Smith:
So even though there's a natural disaster that hit, which is really terrible and caused a lot of devastation, luckily they weren't ... That terribly impacted like others, but they're banding together, which is what was kind of interesting to hear that they were looking for that. That was very important to them.
Abby Doody:
Yeah, absolutely. Well, thanks again to Larry and Joyce and Ben for having this episode about finding your ideal retirement location. So we'll have the transcript and audio recordings on our website, which is blog.guidancepointllc.com/30. So thanks again for listening everyone, take care and have a good rest of your day.