Executive Summary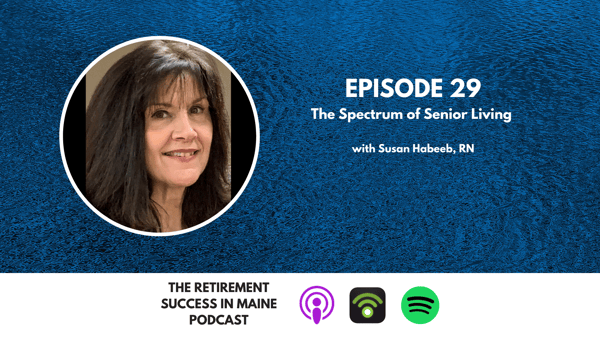 A common goal we hear from our clients is that "I want to age in my home for as long as possible!" But when do we know that its time to consider other living arrangements specifically targeted towards us as seniors? What are the various types of living and care arrangements and how do I know which one is right for me (not only now but in the future)? These are the types of questions we wanted to answer in episode #29 where we discuss the Spectrum of Senior Living with Susan Habeeb, who is the Director of Transitional Care at Dirigo Pines in Orono, ME. Susan has a very unique perspective as she was an RN for many years before working in the senior living industry. Join us as we dive deep into the common myths, concerns, and fears around senior living and how it can be much more than end of life care and the stereotypical nursing home environment!
What You'll Learn In This Podcast Episode:
Welcome, Susan! [3:50]
What is Dirigo Pines and what are the services they offer? [13:36]
What are the various life stages of senior living? [18:50]
What are some myths that people have in their mind about places like Dirigo Pines? [34:13]
With life expectancy being longer, what sort of things are coming up that previously hadn't been top of mind? [45:20]
What are the costs associated with living in a place like Dirigo Pines? [53:57]
How does Susan define Retirement Success? [1:05:20]
Ben and Curtis wrap-up the conversation. [1:08:29]
Resources:
Listen Here:
Did you enjoy The Retirement Success in Maine Podcast?
Subscribe to our podcast directly via Spotify, iTunes, or Podbean by clicking on the images below!



Transcript
Ben Smith:
Welcome, everybody. My name is Ben Smith. I'm joined by my co-host, Curtis Worcester, the Portland Sea Dog to my Maine Red Claw. How are you doing today, Curtis?
Curtis Worcester:
I'm well, Ben. How are you doing?
Ben Smith:
I'm great. We, of course, we always have Abby Doody on with us too. I'll do the, she is on assignment today, missing the conversation. She actually has several client meetings up in Aroostook County. So she's doing Zoom virtual meetings with those clients today. So she's missing this conversation.
Ben Smith:
But one of the things we wanted to talk about was, again, from a lot of the shows so far, I think we're in our 20s at this point. We recorded a bunch of episodes. And one thing we have been hearing from feedback, from not only from our clients, but also from our listeners is, we really haven't tackled this idea of senior living.
Ben Smith:
At some point, and we hear this goal from a lot of our clients, "I want to stay in my house as long as possible." But maybe that goal is staying as long as possible, maybe there's a point where it's too long, right? Maybe there's a point that it isn't right for me. But I've never gotten to that point in my life before. I don't know when is an appropriate time, right?
Ben Smith:
And a lot of us, I think have this idea of, that senior living might be just end of life care. And if I go to that place, then does that mean I'm now truly at the end of my life? So we want to debunk some of these of thinking about, "Hey, I can be living, maybe not in my home, but maybe I could be living a better life. Maybe I could be doing things that I didn't think was possible. Maybe there's systems and structures in there to keep me safe, but also to allow me to live a better, happier, more fulfilled life, that also allows my kids that are worried about me, it allows them to have some peace of mind, in terms of checking in on me."
Ben Smith:
And we had a conversation with Dr. Sara Geber, about the idea of solo aging, about people that don't have kids, and that structure is not in place to check in on us. Having this as an idea of who's going to take care of me as I'm aging and as I have more needs? Whether it be medical, or attention, or social, or just spiritual, whatever.
Ben Smith:
I think those are the things we wanted to talk about. So we've actually been reaching out to a person that we just hold in a lot of high regard, in her role as a Director of Community Outreach for Dirigo Pines. So as a lot of people know, Curtis, you and I are sitting in Bangor, in the Bangor area and Dirigo Pines is up the road to us in Orono. But they have such a great reputation and our community here, for the whole spectrum of senior living, and it's not just that end of life idea that people have in their minds.
Ben Smith:
So we wanted to reach out to Susan and we were going to actually have this show probably several months ago.
Curtis Worcester:
And then the world hit.
Ben Smith:
And then COVID. And talk about ground zero, in terms of COVID and the concerns is, this is a population in senior living is so susceptible and so vulnerable. So Susan's world just got turned upside down. So we had to postpone, but I want to welcome her on, because she's been very patient and gracious to come into our show here. So Susan, thanks for coming onto The Retirement Success in Maine. We're so happy to have you.
Susan Habeeb:
You're so welcome. Thank you, I'm glad to be here.
Ben Smith:
And Susan, I want to just give you a little bit of an intro here too, because you have what we really were gravitating towards you was, you have experience in terms of nursing as well, that you have your RN, in addition to your role with Dirigo Pines and senior living. So you have the health side of it and the nursing side, in addition to just the structural end that you see in terms of senior living. So we are really excited from that combo, because I think in the state of Maine, that's a very unique perspective. We're excited for that to be shown through today.
Susan Habeeb:
Great. In fact, it is unique, because in my parent company, which is across the country, there are 64 communities, I believe. I'm the only registered nurse in this type of sales position. All the other people are not nurses. So this is completely unique to us here at Dirigo Pines.
Susan Habeeb:
I was originally brought on as the director of transitional care and with the purpose that it be a registered nurse to assist people in their transitions along that continuum. So it morphed into a new title. But that was the original intent, to have a clinician who could guide people toward the levels of service they needed.
Ben Smith:
I know we're going to cover that a lot in depth here, Susan, today, because I think that's the big point is, what service levels are there, in terms of... because again, I think people only think maybe, I don't want to just broadly say that, but I think there's awareness of it, or there's things of like, I can't afford it. I just dismiss. And that's what I think will be a really great point of conversation.
Ben Smith:
But with every one of our guests, we always like to start with just you, in terms of your background, your biography. So I'd love to always ask the question to start off the thing Susan here is, where did you grow up? Where was that for you in your formative years?
Susan Habeeb:
I grew up in a small mill town, East Millinocket, Maine. So it's about 45 miles north of here. It was a beautiful upbringing. The mill was thriving. It was during their heyday. They were the paper makers for the world, Great Northern Paper Company.
Susan Habeeb:
I grew up with five siblings, three girls, three boys. The true Brady Bunch. I'm Jan, I'm the middle daughter. And we just had a regular middle-class upbringing. My dad was a hard worker. He instilled a strong work ethic in me. He never owned a credit card. So everything he purchased was with cash. He built his own home, he built our camp on the lake, at a local lake up near Baxter Park.
Susan Habeeb:
So just a hard worker. It was a wonderful upbringing. I had lots of friends there, and I'm still close enough to be able to go back and visit. My parents are gone now, but I have four siblings who live there with their families. And my other sister and I are the ones who left that area.
Ben Smith:
Which as you said it's like leaving the area is one thing, but again, not like you can throw a stone to it, but you can certainly, it's a short little drive to always go back, so that's really nice.
Ben Smith:
Love to hear a little bit about your path towards healthcare and then in terms of nursing. Where did you discover that passion, especially with, again, five siblings, you're in a mill town. And sometimes we all get caught in patterns, like generational patterns within a certain vicinity and area. Sometimes there's expectation of, well, Susan, your mom did this or grandmother did that. And isn't that a good thing?
Ben Smith:
Can you talk about, how did you get into healthcare, and then the nursing side?
Susan Habeeb:
Sure. In high school, I took the college course career track. But by the time we became juniors, we were asked to think about what do you want to do when you graduate? I didn't know what I wanted to do. I loved everything, but I couldn't be everything. My mother never went to college. When she spoke with me about my aspirations, she said, "Susan, I always wanted to be a nurse. What do you think about that?"
Susan Habeeb:
Well, I never considered nursing, but I know that I really like meeting new people. I think just basically I'm a caregiver anyway, so I thought, well, that's a pretty good fit, I'll give it a try.
Susan Habeeb:
I did take all of my... when we did the college entrance exams back then, if you are going to go the nursing career track, you did what they call the NLNs, rather than the SATs. It stood for National League for Nursing. I came to Bangor and took all my entrance exams.
Susan Habeeb:
And then I applied to a number of different schools and I was accepted at the Eastern Maine Medical Center School of Nursing. Because of its close proximity to my hometown, I thought that would probably work best for me. So that I'd still be far enough away, but have access to my family.
Susan Habeeb:
At the time, that was a diploma program. It was later taken over by Husson College is what it was called then, which now is called Husson University. So I did go back to school to complete my bachelor's degree at Husson College when it was still Husson College.
Susan Habeeb:
And then because I trained at the Eastern Maine Medical Center, which is now Northern Light Eastern Maine Medical Center, I chose to work there after. I entered into the oncology program there. So for 30 years, I remained there as a cancer research nurse and that was my love. I truly loved working with people who had cancer and helping them along their journey. So that's how I started with my nursing career.
Ben Smith:
I love that. And we always like to ask the extension there, because I know you gave a nice little thorough thread of, it's very linear and it works really well. But I think with a lot of generations, there's a push to get out of Maine. There's this, let's go, the grass is always greener on the other side of the fence and let's go to the bigger cities and you can make more money, more job opportunities, all that.
Ben Smith:
I know you described, again, your parents and your siblings there. But why did you stay in Maine?
Susan Habeeb:
Because I trained at the Eastern Maine Medical Center, and at the time, it was up and coming. They were adding a lot of towers there, it was growing. I fell in love with cancer nursing. I just couldn't imagine leaving. And then again, I had the benefit of being close to my friends who typically were at the University of Maine or at Husson. So my circle of friends was right here in the Greater Bangor area, my family was in the East Millinocket area. So it was a best of both worlds. I had no reason to leave. And I loved Maine. I absolutely love the state of Maine. It's beautiful.
Ben Smith:
I love that too. Of course, we're doing the show Retirement Success in Maine. So we certainly have an affinity towards the two. But I would like to ask you too, Susan, so you talk about, hey, you really just felt this love for oncology nursing. And you did it for 30 years.
Ben Smith:
Well, can you talk about how you fell in love also to senior living? You're going from this area here and going, you know what, there's a pivot point at some point in your life where you say, "I need to make a change in my career." And obviously in your role at Dirigo Pines there as Director of Community Outreach. Can you talk about that movement?
Ben Smith:
And then how did you fall in love with this new position and career path?
Susan Habeeb:
Sure, it was an interesting career path, because when I left the medical center, I started a job with a local home health and hospice program. And a lot of our, we call them clients, which I just had a hard time getting used to calling a patient a client. But we had a lot of clients that were seniors. So, many of my patients that I cared for in their homes were older folks.
Susan Habeeb:
And then the reason that I eventually came to Dirigo Pines, is that I got a referral for a person who lived here in one of the private cottages, but I had never been on the campus. I mistakenly went to Dirigo Pines Inn to the reception desk, looking for my client. And they said, "No, he lives in one of the private cottages out back."
Susan Habeeb:
But I was in the inn, and when you're in the lobby of that inn, it is absolutely gorgeous. I thought, "Wow, what do they do here?" And then I went down to one of those lovely private cottages, it was the middle of winter. They have natural gas, the natural gas heated floors, the radiant heat in the floors. I took my boots off to go see this gentleman and I thought, "This is nice, nice cozy floors, all heated."
Susan Habeeb:
But I just thought the whole campus was beautiful. As I drove around, they have two ponds here. And all of the housing, the cottages are gorgeous. But, no, I was interested in the inn. So I later called the person who was the then executive director to find out if there were any career opportunities here. Because I did find out that they had three levels of assisted living.
Susan Habeeb:
And that was what led to my transition from home health and hospice to here. And again, it was because a lot of my clients were seniors already. So kind of a natural transition.
Curtis Worcester:
Yeah. And I'll keep going with the natural transition here. So we've touched on you're now working or wanting to seek opportunity at Dirigo Pines. For those who may be listening that maybe aren't as familiar as Ben and I are with Dirigo Pines, can you just take a minute and talk about what is Dirigo Pines, the services that you all offer and just dive into that a little bit for us?
Susan Habeeb:
Sure. So Dirigo Pines is a private pay retirement community. So there is a minimum age requirement of 55 or over. We provide the whole continuum of care, which is what is so unique about our community. We are the only community in the Greater Bangor area that does have the whole continuum.
Susan Habeeb:
So we provide the independent cottages for folks who still want to live in an independent home. And then once you come to Dirigo Pines Inn, we have 56 independent apartments. We have 17 assisted living apartments. We have 22 secure memory care apartments and 19 specialized care apartments. So a lot of options for folks who need any level of assisted living.
Ben Smith:
Can you expand on what specialized care is? So when you say 22 specialized care apartments, so what is specialized there?
Susan Habeeb:
Specialized care is a term that we use for folks who need maximum assistance with their activities of daily living, such as mobilizing, bathing, dressing, eating. And typically the only option they would have as an alternative would be a nursing home, if we didn't provide that here. They would end up in a semi-private bed in a nursing home.
Susan Habeeb:
But I think it's important for me to distinguish that we are not a nursing home, we are licensed very differently. We provide residential care. So we have a level two and a level four residential license. What that limits us to is simply hands-on care for people who need that kind of help with bathing and dressing, transfers, mobilizing.
Susan Habeeb:
We are not a skilled community. We don't have a license where we're able to do IV therapy for people who need antibiotics. We can't do tube feedings here. We can't do pressure ulcer care here. So those kinds of services are going to be provided on a rehab wing of a nursing home.
Susan Habeeb:
So we're very different though than a nursing home in that all of our apartments are private. So the residents who come here will never have to worry about getting a roommate and as you know, at a nursing home, especially on a rehab wing, that's like rotating through. People get better, they get discharged, your new roommate comes. And you really have no control over who that person is going to be. Are they going to be compatible with you? Are they hard of hearing and they're blasting the TV all night? Do they talk a lot? Do they have a lot of visitors? So there's not a lot of privacy when you're in a semi-private room of a nursing home.
Susan Habeeb:
Whereas here, it is their home. On our specialized care, and we call them neighborhoods. You're going to hear me call them neighborhood instead of unit. This is their home. So we have tried to eliminate all language that sounds more medical. So we don't have units, we have neighborhoods.
Curtis Worcester:
I like that.
Susan Habeeb:
And we don't do admissions here, we do move ins, because this is their home. So we do have nurses here though, because we are regulated by the state of Maine. And the wellness director has to develop a plan of care, so that the people who work in the wellness department will know what care to provide for our residents.
Susan Habeeb:
So on specialized care, those folks typically are physically debilitated to the degree that they're not independently mobile. Some of them may have been post-stroke, or they may have a cognitive decline where they have, no longer been able to bathe or dress themselves, because they wouldn't know how to do that independently. So the people living there do need very maximum assistance for their care.
Ben Smith:
Excellent. I think that's a really good summary. Because again, we're going to cover in a second where everything fits within the spectrum of senior living there. But I think that's really good to hear, here's where Dirigo Pines fits in within the community. And again, where the need is, what people are looking for. So again, we'll continue to visit that into the range of it.
Ben Smith:
But I think this is probably a good time to move into this whole idea of the spectrum of senior living. That's really the idea what we want to be continuing to go into today in our show. Because I think to set the table here a little bit, there's obviously people that are maybe in retirement, or maybe they're advancing in retirement, and they're having the concern here about, "Hey, at what point is too late in terms of my own home, and what are my options as I'm getting there?"
Ben Smith:
But also, I think we just have a lot of pre-retirees that are thinking well ahead. They're 50 years old, they're 55, 60 years old, and they're thinking about that next 30 years. And they're going, "Okay, if I'm trying to plan this out, what does this look like?" And that may dictate what they do to their current home and what they position there.
Ben Smith:
So I want to start with the... again, there's a lot of confusion about, again, that we talked about a couple times. But this idea of senior living that really is just like nursing home. It's like, I go from home to nursing home and that's it.
Ben Smith:
But there's a whole as we're saying, there's a spectrum of things here and different arrangements, which can be, there's things that they do and they don't do. So I'd love to have you start with, could you walk us through the life stages of senior living?
Susan Habeeb:
Sure. So first of all, senior living, let's define it. What is senior living? It's actually retirement living and there's usually a minimum age requirement for senior living. And then there is that whole spectrum, so people have to decide where they fit along that continuum. And so independent living would be for people who are completely independent with their personal care, but perhaps they're just tired of the maintenance of their home. As people age, their bodies don't work the same and it may be difficult to mow a lawn. It may be difficult to get on a ladder to clear the gutters, or clear that ice jam on the roof. And it may not be safe anymore for some people that are a bit physically debilitated.
Susan Habeeb:
But then you look at the inside maintenance of a home as well. So for some of the women that we work with here, they have all their faculties, but they've got some type of comorbidity that has led to a little bit of physical debility. Maybe it's osteoarthritis or spinal stenosis. So that standing at a countertop at a kitchen, preparing meals three times a day can be very taxing for them.
Susan Habeeb:
Maybe going up and down stairs to get to the laundry room to do another load of laundry is too difficult and becomes unsafe. So they have to think about those kinds of things that they no longer want to do, or they no longer can safely do. And that often helps determine when to make a move.
Susan Habeeb:
And it's the same for anybody. If they can't do the maintenance outside of the home, shoveling snow, snow blowing, clearing the ice jam off the roof, cutting the grass, those things are, it takes some physical ability to do. And as people age, it becomes more difficult. So that is a lot of the reason why people begin thinking about putting their home for sale and moving someplace that's more maintenance free.
Ben Smith:
Got you. And I would like for you to go through for us here, Susan, and really define each of the stages. Because again, I think maybe people are more familiar with the end stage, but maybe not necessarily, hey, what you just defined as, hey, I have an issue where it just feels like I'm not able to do things in my home, so I don't do them. So maybe that light bulb did go out. I can't change it, I don't have anybody to ask about it. So I just leave it out, because it's not safe.
Ben Smith:
Or I get on a ladder, unsafely get on the ladder. I then have... might not be the first time I change that light bulb. Maybe it's the third time or the fifth time, or the 12th time, but at some point, I have a fall risk. I fall and I break a hip, I break something. And now that changes life.
Ben Smith:
Can you walk us through all the individual stages here of senior living in that spectrum?
Susan Habeeb:
I just went over independent living, and then the next natural step is assisted living. So people who are considering assisted living typically are people who are still quite independent, but they need very minimal assistance with things such as bathing or dressing. Or maybe they're completely independent, but they just can't stand for long periods of time to cook.
Susan Habeeb:
So if people choose assisted living, typically they're going to receive help with just very minimal assistance for bathing, dressing, meal prep. They might need help with their medication delivery, because they can't open bottles, or they forget to take a medication. So that's what assisted living will do for folks.
Susan Habeeb:
We also have a level of memory care services. So anybody who has some form of dementia, if they begin to exit seek or wander to the degree that they're no longer safe in their home, because they're living with someone, but that person went in to take a shower and they come out and all of a sudden, their house husband is gone. And then they find that they've wandered away from the house.
Susan Habeeb:
So we do have that secure environment for people that would be unsafe, if they were in a non-secure environment or left unattended. And then specialized care, we did briefly go over that before, for people that are a bit more debilitated. And if they don't go to a place like Dirigo Pines for specialized care, they would likely go to more long-term care at a nursing home.
Susan Habeeb:
There's also that skilled side of a nursing home, because some people just need a short skilled stay. That would look more like maybe I had a hip replacement and I live alone. And there's no one to help me when I get home. I'm not quite ready to do everything.
Susan Habeeb:
A lot of people are referred for a short-term skilled stay to get their physical and occupational therapy services. Once they meet goals, then they go home. So that's the spectrum from independence, all the way to nursing home and rehab. Those are the different levels.
Ben Smith:
I love it. Yeah, that's a really good summary. Because again, from our end, I think our population is looking at themselves and saying, "Look, I don't know this. I don't know what's available." But maybe worse than that is, "I don't know what type of senior living really is best for me now." I think you and I connected previously, Susan, you were saying, I echo that completely is that people just, they stay in what's comfortable. And they're like, in that first stage of retirement, everything's great and we're doing fun stuff together and we're enjoying stuff. And it's just very easy to get in that habit, that comfortable space and just assume that forever.
Ben Smith:
Where, as you said, as we're in physical changes and where we're slowing down a little bit, then maybe there's something that you could change there that you aren't able to do in your home, but now it could be done for you. And then you're either safer or living better.
Ben Smith:
So can you talk about how people would know what's best for them, in terms of right now, how do I assess myself?
Susan Habeeb:
Okay. Well, first of all, people are very aware of their abilities, and what they can no longer do. A lot of people will put off a move, because they are so comfortable in their home, and they just don't want to leave. I think it goes back to resources. Who do you go to?
Susan Habeeb:
So they have their primary doctor who sees them regularly. And very often, we get referrals from doctors' offices saying I'm working with this person and I have finally convinced them that it's time for some assisted living services, and told them it wasn't safe for them to be home anymore, unless they got 24/7 health. That's very costly. And we'll go into the costs of all that later.
Susan Habeeb:
But it often comes from a physician practice, their doctor recommends it. But who else do they talk to? Well, people talk to their friends. We get a lot of referrals from people, I'll take phone calls and people will say, "Well, my friend used to have a father who lived here." So those friends make referrals.
Susan Habeeb:
They need to research online. Every community has a website you can go to, and there are live chats on those websites. Keep in mind that there are also referral sources such as A Place For Mom, caring.com. And they contract with companies. So they give us referrals of people that they pre-screen, and they have some sense of what they need. Then they send that referral on to us and then we take it from there. So there are a lot of places people can look to.
Susan Habeeb:
And then, Ben, in your case, you're a financial planner, you must get a lot of questions from people about when do I need to start looking, financially? Because they're going to come to you for the advice financially about senior living. So there are a lot of resources out there. We want people to talk.
Susan Habeeb:
The other thing is I do home visits, where I can look at how people are functioning in their home environment. I have them walk me through the whole house. Show me how you get in and out of bed. Put your toilet seat down. Just show me how you get onto and off of your toilet. I'm looking for things like grab bars, and I'm looking for them reaching out saying, "Okay, help me up, help me up."
Susan Habeeb:
Well, if they live alone, and they need help, then that's not good. I actually have them step in and out of the shower, because I want to see if they can transfer safely. Are there grab bars in the shower? Is the surface slippery? Should they have something on the floor of that to prevent slips?
Susan Habeeb:
We look at things like the height of their counters in their kitchens. I look at whether they're cooking with gas, versus maybe one of the glass top surfaces. Because some people do leave food unattended on a stove. Some people don't realize they're dragging their sleeve in a flame.
Susan Habeeb:
So I look for all of these things. Especially if I know someone already has an early cognitive decline, because we're always looking at safety. I will always have my nurse's cap on and it's always going to be, are they safe doing this? I've even had some people... I say, "Show me how you put your socks on and off." I don't make them do it. I have them reach down.
Susan Habeeb:
But I've had people sit on the edge of their bed and they tell me, "This is really hard for me to do. It takes me about a half hour to get my sock and my shoe on." That should take like one minute. I'll watch them and then they'll bend over to do it. They'll fall sideways on their bed. So they don't have that upper torso mobility or control to safely perform that activity of daily living.
Susan Habeeb:
So technically, yes, they did it. But did they do it easily? Did they do it safely? So as a nurse, I can say to them, "Well, my goodness, we can help you with lower body dressing." We can get that done in 10 minutes, so that you can be off and going to your exercise class or to art class.
Susan Habeeb:
When they take several hours to get showered and dressed, that takes up a good chunk of their day and their time is valuable, too. So that's a kind of evaluation I do when I do the home visits. I'm looking for safety and their ability to be safe in their home environment.
Ben Smith:
I love that. Susan, we had Mike Wilcox from Wilcox Wellness & Fitness on a few episodes ago. And that was one of the conversations is around, because it's not saying you got to be able to run a marathon at 84. But it's about, hey, there's things about balance and maintaining balance, so we avoid falls. And can we have enough core strength in order to lift our ankle over our other knee, so that we can put the sock on? And making sure you're pliable.
Ben Smith:
And all those things, which I think when you're 50 or 55 or 60, you can feel like sometimes we're tightening up a little bit. But you're not able to project forward that far and say what am I going to be like here if I'm not able to bend something or move and how that's going to restrict. I like what you're doing there, because I think that shows some of the gaps.
Ben Smith:
I do have another question just on this vein on the spectrum of senior living. I think a big point that I just wonder about is when. So if I'm in independent living, and I'm going, when do I start shifting from that to maybe assisted or to other points? Can you talk about the triggers there that maybe move people from one level to another?
Susan Habeeb:
Yes, I can. First of all, it's important for me to say that when someone moves here, we have a contract with them. It's a standard state of Maine apartment contract. The difference is we don't hold them to a one year rent, lease, a one year lease. They go month to month.
Susan Habeeb:
However, we deliberately put a clause in that contract that says, and I'm paraphrasing, in so many words, that if I become unable to take care of myself, or I am unsafe in my apartment, or cause someone else to be unsafe, I agree to move along the continuum of my choice. It doesn't mean they have to move along Dirigo Pines' continuum. But they have to agree to move along.
Susan Habeeb:
And the reason for that is multi-folded. We want our other residents who are completely independent to feel as though they too are among their peers. But if someone begins to really struggle in their independent apartment, whether it's cognitively or physically, then we don't immediately tell someone, "We really think you should move." We watch and see, is there anything we can provide for them to keep them as independent as long as possible?
Susan Habeeb:
So one of the examples is for people who can no longer easily do their own laundry. We have washers and dryers in their apartment. But if that's difficult to lift a laundry basket or a big jug of liquid laundry detergent, then they can contract for additional laundry services through our laundry department.
Susan Habeeb:
So there are things that we can offer them at a cost, of course, to keep them there. But if it becomes more physical things, if they're consistently falling and on the floor, and we do offer a live safe system, so that if they fall, they can push a button. But I will tell you that most people will tell me, "Well, that's just for old people." And they feel like if they wear that button and someone sees them wearing it, it gives that impression that they're not independent. So we have a lot of people that won't wear them.
Susan Habeeb:
And it just takes a couple of hours on the floor one time for them to go, "Maybe I should wear my button." But usually, the impetus for a move from independent living onto some level of assisted typically is a physical debility or a cognitive one. So we try really hard not to push people. But we do remind them that when they come here, they tell us a reason they chose our community is that we offer the whole continuum of care.
Susan Habeeb:
So this type of community works best if we're utilizing that continuum. We want people to continue to move, because then, truly independent people who are waiting to get in here can then move in and occupy those independent apartments. People who are no longer independent can go to assisted living, or specialized care or memory care. That's how this community thrives.
Susan Habeeb:
So we have to do a good job of, well, being a nurse, I'm the person that typically will go meet with people, when I become aware that they're struggling. I often become aware because their friends who care about them, fellow residents, will knock on my door and say, "Hey, will you put so and so on your radar? I'm really concerned about them. I think they could use more help."
Susan Habeeb:
So I really appreciate that these good neighbors are really watching out for one another, and then I go make the visit and then we have that conversation.
Curtis Worcester:
That's great. I want to rotate here a little bit, Susan. I know we mentioned it, Ben brought it up before that we hear all the time from our clients. "I want to stay in my house. It's my house. I've lived here for 50 years." And the opposite side is, that statement, "I am not going to a nursing home."
Curtis Worcester:
And I know you've covered in this, first half of this podcast how I think, in my opinion, distinctly different you are than what people consider a nursing home. Can you just go through some common misconceptions? I know we've talked a little bit about this, but I guess the myths that people have about when they see Dirigo Pines, I think they wrongly assume you're a nursing home. Can you just get into that a little bit?
Susan Habeeb:
Well, actually it's just the opposite. When they hear about us, they think, "I'm not going to that nursing home." But then when they come here, and they see that it's not clinical in any way, shape or form, we're not in nursing uniforms, we're not in lab coats, we don't look sterile. There are beautiful woodgrains, everything is just lovely and they walk in and they see the fireplace and the beautiful harp. And it's so inviting. And they think, "Wow, it looks like a lovely upscale hotel."
Susan Habeeb:
So immediately upon entering our lobby, people think this doesn't look like a nursing home.
Curtis Worcester:
That's good.
Susan Habeeb:
And then as we walk them through, and they see that there's beautiful carpeting and again, it looks like a four star or five star hotel. It's lovely. So that's the difference. But they do say, "I'm never leaving my home, I want to live here, I want to die here." But what I try to do is flip their thinking on its head and say, okay, instead of counting that type of transition as a loss, what do you gain when you move to a place like Dirigo Pines, and receive some help?
Susan Habeeb:
Now, you may move and become an independent resident, but I'll tell you, the thing I hear constantly is, "Oh, my gosh, I can't believe I didn't come here sooner." Once they get here and realize that it's not clinical, it is truly their home. These are non-furnished apartments, they bring their own belongings, and they can make it truly their own home. It looks like their home because they've set it up like their home, with all of their lovely things, their artwork on the wall.
Susan Habeeb:
But we have just taken away the things that became difficult for them. We have an executive chef and his sous chef team that makes all the food. What we do though, is that we do take the place of all those things that they couldn't easily do or safely do anymore. So there are services here, we have transportation. So that's always a battle, when to give up the keys. Especially with someone who has early Alzheimer's, who lacks that safety self-awareness. They don't realize that they're crossing the line or they're driving too slow. And it could cause an accident.
Susan Habeeb:
But they can give up their vehicle. We have ample transportation throughout the week. COVID has changed everything, but ordinarily, if we weren't in a pandemic, we have outings going on all week long, and transportation for them, so they can be social. And in the end, we have so many activities, just life enrichment activities that add value. Art class, book club, we have a very thriving opera club here. So we do those live feeds from the Metropolitan Opera.
Susan Habeeb:
So there's just so many things they could be doing. And if they were sitting home, they can't get out easily. They're going to sit home alone. They're not going to be among their peers, enjoying good food, happy hours, the exercise classes, book clubs. We have all of that here. So they're going to find they're more socially active coming to a retirement community.
Ben Smith:
And Susan, I like what you're saying there, because we actually had a gentleman on named John Diehl on a previous show. He was presenting research done by the MIT AgeLab. And they were distilling retirement success really down to three questions. And one was, who will change my light bulb? Which you're talking about. If I can't do it myself, who's going to do it? So that's one.
Ben Smith:
And two was, where will I get my ice cream cone? So if I leave live in East Millinocket, and I'm 88 years old, and I have to drive into town to get that ice cream cone, but I can't really drive anymore. Or I need to go to the hospital for a doctor's visit, or I need to go to see my primary care physician, whatever the thing is that I need to do and I can't access it.
Ben Smith:
But the one you just talked about and actually we didn't have it in a prepared comment here, which you just talked about a little more, and I'm going to ad lib here, was the third question that he had of success. And it was, who will I have lunch with?
Ben Smith:
When you are in pre-retirement, and then maybe the first and early stages of retirement, that's pretty easy. Because your friends are vibrant and you guys can travel to each other. You could do vacations. It's an easier question to answer.
Ben Smith:
But when you are maybe more advanced in life and you have more mobility issues, you're not able to get out. And maybe you are a solo ager or maybe your spouse is passed on. Well, who am I going to connect with? Who am I going to have relationships with? Who am I going to enjoy company with?
Ben Smith:
And that's what I think is really neat about what you're describing here in your retirement community is like, hey, I'm getting people that are looking out for each other. They're going, "Hey, Susan, I'm knocking on your door. I'm really concerned about Jeff. Jeff is two doors down. I'm concerned because we were talking at lunch today and he was having trouble keeping up or I was seeing how he really had trouble with his left hand lifting his fork."
Ben Smith:
Those are big deals that we're all looking out for each other, which is Maine, which is nice. But I think what you're describing is something which is that third question. I love that, I've seen you solve all three in what you're proposing here. So that's really great.
Susan Habeeb:
I often joke that they have more of a social life than I do. They have more to do than I do. I work and then I go home and work some more. Home, work, home and work. So, boy, I look forward to the day when I can join an exercise class or go to the Metropolitan Opera, granted live feed. But art class, sip and paint, we do sip and paint here, folks.
Susan Habeeb:
So there's just a lot going on that otherwise they would be sitting home alone for. And there's actually research being done, and COVID, especially during COVID, the isolation is causing some people to decline more quickly, because they feel so lonely. The responsibility is on us in senior living to make sure we're engaging those residents with other residents in a socially distant way. And we have figured out how to safely do that.
Susan Habeeb:
But it's so important for our life enrichment team to provide activity that adds value, that makes them feel as though they're a part of something. We do extensive life history stories on people prior to moving in, so that we learn who they are, who were they before they got here? And we can design an activity around what they love to do. We want to make sure we add value to their life.
Susan Habeeb:
So this is a place to get it. Not sitting home in your independent apartment all by yourself, or your independent home all by yourself if you're a solo ager.
Ben Smith:
I think it's so important is to go... Because I guess there's this mentality of giving up, is that, hey, if I get to that point of I'm leaving my house, or I get to this point that... I've essentially given up on life. And what I think is what we try to do with our clients, and what we want to make sure we're doing with this podcast and these videos was like, no, it's not giving up. It's just really adapting your life in a way that allows you to continue to maximize opportunities.
Ben Smith:
And as you're saying, hey, by the way, if you're into opera, great. Well, here's the Met Live. Or by the way, you're in Orono, and there's some really great entertainment options right down the street at the University of Maine. You're able to do things in collective ways like, here's collective interest, here's collective hobbies that people like to do, put those people together. And that's how you're going to make friends.
Ben Smith:
Versus, go do it. You're off on your own and it'll just take care of itself, hopefully. I think that was a really key point.
Susan Habeeb:
Well, there are a lot of people who come alone, and they're very afraid of being here alone. And will people like me, will I find someone that I have some common interests with? And you would not believe the friendships that are forged here. They're looking for it, because it is lonely living in your home after a spouse dies, especially. I've just seen so many people thrive once they've gotten here.
Susan Habeeb:
And on a personal note, I'll share one quick story that when my father was living toward end of life with his Alzheimer's, he became nonverbal. We all just assumed it was because he was progressing with his Alzheimer's. But once we put in caregivers 24/7, he wouldn't stop talking. We figured it out. It was just him and my mother. They had no more to say to each other after 60 years of marriage.
Susan Habeeb:
He would retreat to the living room, she would go to her den, and they'd watch their own programs, but he wouldn't talk. We just really thought he progressed. But once he became socially engaged, he couldn't stop talking. And he lit up and his eyes lit up. So that just shows you that people need to be engaged with other people. We need other people with us.
Ben Smith:
That's exactly right. And on top of that, because I think we see it from our end as people are aging too is, they're not just looking for financial services and financial planning. They're looking for connection.
Ben Smith:
Here's service providers in my life that are helping me with one area of my life, but they're looking for, they go to you really not for that update on their portfolio, or their update on their financial plan. They're saying, "Hey, I really just want to connect with somebody, here's the pain points in my life," which we are then in turn using like, hey, you're upset with your living conditions, well, let's talk about this area in senior living or let's talk about, hey, here's an issue that you're facing with family. Or you're really having trouble with overcoming your spouse when they passed and you have a lot of grief.
Ben Smith:
So we're a conduit in terms of referring people to services, because we're listening for pain points. So I think that's a really big deal.
Ben Smith:
I want to ask another question to you, Susan, is this idea about, obviously, retirees are living longer in retirement than we've seen. And with that, of course, there's a lot of challenges that come up. And there's, of course, things that we haven't thought of, and maybe even with the COVID, that's something that's happening right now.
Ben Smith:
Can you talk about maybe what challenges that you've been seeing, even within your careers, people are living longer? What sort of things are coming up that we hadn't really thought of, but now we're having to address now today?
Susan Habeeb:
Well, now people, they're living longer, they have to look at their portfolio, and will their money take them through end of life? I remember one lady that lived here who was 100 years old, and she was aware enough that she was failing, and probably in the last months of her life. And she said, "Susan, I never dreamed I would live long enough to outlive my money." And she said, "I really thought it would take me through the end."
Susan Habeeb:
So unfortunately for her, I did have to help her family find a MaineCare bed. I think we have to look at the fact that my generation in the 60s, I'm in my 60s now and we're living longer because we're a pretty healthy generation. So I think that the baby boomers are going to overwhelm the system. We have to look at beds, and I'm talking like nursing facilities. You want to make sure there are enough beds to take care of people. We also have the challenge of care providers. We need more care providers to take care of people who live in retirement living or other types of senior living, such as nursing homes.
Susan Habeeb:
The other thing that I see happening here is that more and more, we're getting people that have very specialized diet. And so our chef and his team need to begin thinking about the gluten-free population. I just had a referral for people from out of state saying, "We're both vegans. What can you do for us from your menu?" So we need to expand our menus.
Susan Habeeb:
The other thing for our Jewish friends, we don't have a kosher kitchen here at Dirigo Pines. I believe I heard that there was one community in Southern Maine that has a kosher kitchen. So you want to look at... We're not very ethnically diverse in the state of Maine, we're not religiously diverse in the state of Maine.
Susan Habeeb:
But as more people come to me, and because it's a beautiful state, and a lot of our people who are moving in, are coming from out of this state. They're coming to Maine. So I think we need to be prepared for that, that there will be people with different needs and different backgrounds, and they're going to want us to adapt a bit to them.
Susan Habeeb:
But I think we'll get into a little bit later the finances of it. Because I have to say, I do the financial reviews with people. I'm seeing a lot fewer multi-million dollar portfolios and seeing more $200,000 and $250,000 portfolios. So how do we stretch that dollar, make it last through end of life for people? So that's going to be a real challenge. There aren't many companies that have pensions now. You're not seeing those kinds of income after retirement.
Susan Habeeb:
It's typically a social security, maybe a dividend payment. Most people do come with a small retirement fund, but they don't have a pension anymore. So it's really different.
Ben Smith:
And Susan, I think that's happening more and more with us, with our financial planning conversations. Because of course, there's the trade-off of, if I delay social security, so every year I delay social security, it's generally about an 8% increase until age 70. But if I retire at 62 or 63 or 65 or something along those lines, well, that might mean for me to get more social security, which again, is going to go towards the end of my life. So I can lock in a higher floor by having social security.
Ben Smith:
But in the intermediate years, when I am retired, I might have to tap the liquidity of my retirement account first. So it might make sense to be spending for my retirement assets first, to get to social security to have that higher floor. So to the point of like, I've spent my assets, but I have a maximized social security benefit.
Ben Smith:
So those are hard conversations, because people work for 40 years to save a level of wealth. And then go, I see it aggressively spent down for the first few years, then it gets maybe plateaued in terms of costs. But we're seeing that on the financial planning end though. There's no right answer because we don't know how long we're going to live.
Susan Habeeb:
That is hard. No one has that crystal ball. But the other thing that I do though, is I always delve into the background of the person, the prospect who is inquiring because some of them may be veterans. And as you're aware, there is an Aid and Attendance stipend for qualifying veterans to help defray the costs of their assisted living services, once they require some assistance.
Susan Habeeb:
It doesn't help when people are independent. But certainly, most everybody does end up transitioning to some level of assisted living service. That's when it's going to help.
Susan Habeeb:
We also have people who were very smart and took out long-term care insurance policies. I always review the policies with them, because I'm always interested in their elimination period. Did they purchase the inflation rider? What's their daily reimbursement going to look like once they need that? So we will work with people with long-term care policies as well.
Susan Habeeb:
But there are other things that... I often have people tell me, "I can't come until I sell my house." So maybe they could go to their financial institution and find out if there's some kind of bridge loan that will tide them over and allow them to move while they need the services now, but still continue to try to sell their house, but bridge that financial gap for them. So there are lots of different ways people can do this. But I know you know that more than I do.
Ben Smith:
But I think from a listener perspective, I think that's important. I think we all get very rigid. And we say, "Hey, I can't do that until I sell my house, but my house is really worth X. I won't settle for a penny less than X." But they get so fixated on a point and I don't want to say they, we all do on our things. But we get so rigid with it that we go, but what am I giving up? If I have to wait six months to get that price, or maybe I never get that price that I'm looking for.
Ben Smith:
But meanwhile, all the things that you mentioned of the community aspect, and maybe the better nutrition, because I'm not really doing well, nutrition, taking care of myself on these things, or all of it. You're going to wait six months for a dollar or something, but your quality of life maybe is worse off.
Ben Smith:
So I think those are really good trade-offs to be having conversations of and not go, no, when this happens, then this happens and not be so linear.
Susan Habeeb:
There's a lot of resistance about it and it doesn't always make sense. But I would rather have them put their health first and their needs. Think about it, you asked me to think about what is a successful retirement? I don't think it's very successful if you're staying at home, because you just decided, "I'm never leaving my house." But you're struggling to do everything that it takes to stay in that home, and then your quality of life is greatly reduced. So they have to think about a balance.
Susan Habeeb:
I know I'll probably do it too. I think we all feel like, "Oh, I want to stay in my home." But you have to look realistically at that person staring back at you in the mirror. There are wrinkles and gray hair now. And I'm not as young as I used to be. So realistically, think about what you want to do and can you still do it and what you need, the essentials in your life.
Susan Habeeb:
And to me, also balancing out your social circle. Because a lot of people have reduced their social circle as we're working, because we don't have the time to be with our friends. So to, me a successful retirement is also reaching out to those people that we left behind for a while. But you can do that right here. There are new friends to be had.
Susan Habeeb:
I can't count the times I've been walking people through our halls, showing them around, and they'll run into someone they know. "I didn't know you lived here." So when they see other friends who moved here, and they just had no idea, that speaks for itself right there. It often encourages them, "Gee, if my friend could do it, maybe I ought to give it a try."
Curtis Worcester:
Exactly. Susan, I want to dive into the cost. We touched on it a little bit. We hear a lot that, a lot of our clients will just say that senior living, it's just too expensive. And that's coming from people with, they may have ample financial resources or some without. They just I think talk about the myths we were talking about before, maybe they just assume it's too much.
Curtis Worcester:
Can you talk about just generally the costs associated? I know we touched on the different spectrums at your facilities there. Can you just talk through those stages and the costs generally associated?
Susan Habeeb:
Sure. And I'm going to start by prefacing it with one statement that when I get a call from someone, all they want to hear is the cost. I always have to tell them, but please let me explain what's included in that cost. Because if I just throw out a number, they'll just say, "Oh, my gosh, I can't possibly do that."
Susan Habeeb:
But when I tell them what that cost includes, that changes things. So independent living apartments here are based on the size of the apartment. So we have one bedroom, one bathroom, all the way up to the two bedroom, two bathroom, den, living room. So 570 square feet up to 1,135 square feet.
Susan Habeeb:
So if you start out with our smallest model for independent living, it's 2,925 monthly, but that's pretty inclusive. The only thing it really doesn't include is your telephone. So it's going to be all of your utilities, your basic cable, internet, and WiFi, your weekly housekeeping services. The meal plan, which for independent residents is slightly different than our medical residents, because they have full kitchens, and we have some fabulous cooks in the house.
Susan Habeeb:
But our meal plan is Monday through Saturday, continental breakfast in the morning with one additional meal. So they do have that ability to cook that one additional meal a day, Monday through Saturday. And then we have a brunch on Sunday. So in the evening, there's that one last meal on their own.
Susan Habeeb:
We also provide their transportation and when the pandemic finally goes away, I hope it's soon, we can get back to our transportation to things like the out to lunch bunch, and going to the Cross Center for UMaine men and women's basketball games. The symphony, the Penobscot Theater. So we have all of that transportation, it's scheduled, and there's no fee for it.
Susan Habeeb:
Now, if they wanted to do some private transportation, then they can talk with us. There would be a fee for them taking a private trip, as long as we can accommodate that. But we have also all those cultural, educational and social activities included in that cost. And then we have that live safe button that's included in that whole bundled package. So for 22... excuse me, 2,925 a month, that's a lot included. So to me, that's a very good value.
Susan Habeeb:
The other thing I do in my senior living presentation is ask people to compare what it costs them to maintain and run their own private home, as compared to what I just quoted. Because when you start adding up the presidential plan on the boiler, your taxes, all of your utilities, the shopping, groceries and maintenance of the house, because a lot of people hire a lawn service. That gap really narrows when they compare.
Curtis Worcester:
I'm sure it does.
Susan Habeeb:
I can tell you personally, my husband is the type of person who calculates everything. In fact, he can tell you what it cost us to raise our children minus food up, until end of college. He has ledgers. So there is a way to calculate your cost, but it costs us $2,200 a month to run our home, which was fully paid for. Fully paid for, we had no mortgage.
Susan Habeeb:
So people think that independent living is way too much. But the gap really does narrow when they figure that out.
Curtis Worcester:
I'm glad you went into that, Susan, because I think it's important for people to think about that. Like you said, it's easy to hear that dollar amount and be scared of it. But when you really slow down and then to conversely think about what you're paying for right now. It's like you said, I'm sure that gap narrows right down.
Curtis Worcester:
Can you just touch on staying with costs, types of insurances out there? You have MaineCare. You touched on the veterans' insurance piece. But could you just dive... and then of course, private insurance. Can you just talk about those options people might have?
Susan Habeeb:
Sure. So we are a private pay community. So it is completely private pay. However, we have a nurse practitioner here who sees many of our residents. And whenever she sees them, that will get billed to their insurance. So the cost of that medical care is taken care of. We will continue to transport them out to their PCP office, so they can see their doctor. And they'll be billed the same way they are now.
Susan Habeeb:
But all the services otherwise for housing is completely private pay. If they're on one of our three medical neighborhoods, and they happen to have a long-term care policy, then that will eventually be activated once they've met their elimination period. That's where that's going to help defray their costs.
Susan Habeeb:
Aid and Attendance is another one that people have to apply for. And the eligibility is that they have to have served during any war, declared war time. They have to have served at least 90 days, they have to have been medically or honorably discharged. And then there is a financial eligibility that each person will have to meet. I can't personally tell someone if they give me their portfolio that they're eligible, because they may have seen an elder care attorney and done some estate planning, maybe sheltered some money.
Susan Habeeb:
Because I've seen some people that I know have very healthy portfolios qualify for that stipend. And then I've seen some people not qualify. So it tells me that obviously they've done some estate planning and that might be why they qualified. But I can at least tell them who to go see, to have that conversation.
Susan Habeeb:
And then once they do apply, it's about a six to 12 month application and approval process. But if they are approved, my understanding is that it is retroactive to the date of their application.
Curtis Worcester:
That's awesome.
Susan Habeeb:
So they will be reimbursed for that.
Curtis Worcester:
That's great.
Susan Habeeb:
Typically the way this works, long-term care companies and that Aid and Attendance, they will send a check directly to that resident. So they don't send it to us. So we will bill that person for the full amount of their cost for their particular apartment, but they'll get their reimbursement through those different companies. That's how that works. Did that adequately answer the question?
Curtis Worcester:
No, that was great. That was great.
Ben Smith:
Susan, I am going to go down a path here, just in terms of couples, too. Because I can see where maybe there's two of us, say my spouse and I together, we're going to move in. So the first question I want to ask along those lines, when you're quoting prices, are those generally for the space itself? If one person's moving in versus two, is that cost the same? Or is it doubled, because there's two people in that space?
Susan Habeeb:
So the way it works is the price that I quoted would be if one person lived in the apartment. If a spouse or a partner lived with their spouse or partner, then we do charge a second person fee, which would help to cover the additional costs for meals throughout the month, and additional usage of utilities. So, yes, there is. On the independent side, the additional fee is $950.
Ben Smith:
So it's helpful then, because I guess where I want to go to is, look, all of us in our... It doesn't matter if you have a spouse or not. But we all have our individual path, in terms of how we age and health needs and social needs and those sorts of things. So it would seem to me that say you do have a couple that moves in together, that they could be, if they're going across the spectrum of senior living, that they go at different times. Maybe one person that's fully independent, and they can be independent for much longer, but somebody else might advance towards assisted, all the way to specialized care.
Ben Smith:
I'm fascinated myself of, how does that work where people are changing care needs? And how does that seamlessly go for a couple that they're trying to stay together? They want to see each other every day. They want to be in the same space as much as possible. How does that work in your community?
Susan Habeeb:
It can work one of two ways. So some people choose to move along that continuum together, where the independent person will remain the independent second person and pay that second person fee, in the assisted living apartment. And then the person requiring the assistance will be the one to pay for the level of care from the nursing staff and the rent on the apartment.
Susan Habeeb:
So we have a lot of people that will move along the continuum together in that fashion. The only time it's become really problematic, and it's not for us, we've had a lot of people who want to stay together, despite someone requiring a secure memory care environment.
Susan Habeeb:
When you get to secure memory care, it's a different way of living. Because all the other residents living there have varying degrees of dementia and they require a lot of oversight. So we are required to do bed checks, for instance, through the night. So if you're an independent husband, living with your wife who has end stage Alzheimer's, you're not going to get a lot of rest if you're going to live with her in her apartment.
Susan Habeeb:
Because we have to go in, it feels a bit intrusive, but we have to make sure that person is still doing okay. We may need to toilet them or turn them, change their adult undergarments, those types of things. And while we're doing that, we've obviously just disrupted the sleep of the spouse that's living in there.
Susan Habeeb:
We've had people try it. I remember one couple in particular where the gentleman was independent, but he had some comorbidities. It began taking its toll on him, because he wasn't getting rest. I finally said to him, "Look, I know you want to be with your wife, but we have a small apartment upstairs. I really recommend you take that and then spend your days with her." But at least you can go up in the afternoon, get your nap in and then you've got a place to retreat to overnight, get your full rest, uninterrupted by nursing staff coming into your wife's room to check on her all night long. He did it and he was thankful he did it.
Curtis Worcester:
That's awesome.
Susan Habeeb:
So it can go a lot of different ways. We do have some people that bought a cottage in our cottage community, and then maybe one of them became sick or had some form of dementia that progressed, and they needed to come to the end. Very often, that person will stay in their cottage, but come up and spend time with their spouse at the end during daytime hours.
Susan Habeeb:
So they still have access to their person. COVID is a little bit different. We're not having our cottagers in the building right now. But once this all changes and we can go back to our former way of conducting business, any cottager can have access 24/7 to their spouse here at the inn. That's okay if they want to come up and be with their spouse and visit. So that's how the couples situation works.
Ben Smith:
Love it. Thank you for that.
Curtis Worcester:
It's great. So as we near the end of our conversation, Susan, there's one question that we like to ask all of our guests. I know you touched on it a little bit earlier, generally speaking. I want to know for you, what do you envision a successful retirement being, as you progress and eventually get to your retirement years? How do you see that going?
Susan Habeeb:
Okay, so for me, I obviously will think of the financial end of it. So I am planning my retirement. I'm almost 62. I want to make sure that financially I can make it through whatever my end of life might be. I'm fairly healthy. But I also want to be realistic about my aging process, because I am changing. I think it's really important to look at those changes and to meet them as positively as I can.
Susan Habeeb:
I'm hoping that because of the business that I'm in, I will not be one of those that, "I'm never leaving my apartment, I mean my house. I've never, never leaving." I want to be realistic about it. And for me, success is doing the things I want to do, being able to afford the things that are a little more frivolous, because they might be fun to do.
Susan Habeeb:
I want to have my nest egg available. So that if there is some kind of medical emergency, for instance, that I'm prepared for that. I think we've done a good job for that. I want to expand my social group. I think that's really important to stay connected to people.
Susan Habeeb:
Because as I mentioned before, there is research that if we don't stay connected, we will probably fail a lot more quickly. We'll decline a lot more quickly. And then reconnecting with family. Now, I don't have grandchildren yet, but I hope to someday. And so that would be a successful retirement for me, being able to help my children raise their children.
Curtis Worcester:
That's awesome.
Susan Habeeb:
So it goes from finances to social to personal life. And that's what I think would be successful for me.
Ben Smith:
Susan, it sounds like you've done a really great job visualizing your own success. Because I think that's hard from not only just a personal perspective like today, but also to go forward and say, what makes me happy today, and what will make me happy in the future? And then to put those things in place, those building blocks, so that those things can happen. Which is what you're doing for senior living retirement community at Dirigo Pines. So it sounds like again, a lot of continuity from what brings you happiness in your life, to the job and the work that you're doing. I love that those things are just really parallel to each other and continue to feed off of each other.
Ben Smith:
So thank you so much for coming on The Retirement Success in Maine Podcast today, because so much in terms of education for us and hearing about your model, but also you and your stories. It's just I think really great to debunk some of these myths and really work through what really drives success on the living side. So, appreciate you coming on.
Susan Habeeb:
Thank you for having me.
Ben Smith:
All right, we'll talk to you soon. Take care.
Susan Habeeb:
Bye-bye.
Ben Smith:
So, interesting topic today, of course. Talking about retirement communities really is the idea. And again, I think what we're trying to insert in terms of the conversation with, where am I going to live, is at some point in our life that we might want to consider something other than living in our own home. And again, for a lot of us, maybe our homes aren't really meant to be aged in and this may become something we need to consider.
Ben Smith:
So again, it wasn't just, well, here's where a nursing home is. I go from home to nursing home, and that's more end of life care or more, again, more assisted living needs is what I have. But maybe there's other things. And again, John Diehl talked about that with, again, we talked about those three questions. We brought that up from the MIT AgeLab.
Ben Smith:
And friends, again, we're in the state of Maine, it's cold and wintry and messy. It's hard to get around at times, we can be more rural. So how do you maintain a friend group that maybe it's more difficult to access each other? And what about my family that's busy with their careers and all of those things?
Ben Smith:
So again, those are the things we're trying to think about and put this as, what's the solution to that? So Susan Habeeb, I think did a really great job today talking to, hey, here's another option in terms of, obviously, Dirigo Pines, who she's representing. But in terms of retirement communities in general, why is that another option?
Ben Smith:
If you're in Southern Maine, of course, you have options down there. But across lots different communities in the state of Maine, you have these as options. So we would just encourage you to find out and interview and find out which ones, if you're considering it, what's right. Figure out the cost that's appropriate for your budget, because again, she even was talking about herself.
Ben Smith:
I need to think about living here or living wherever and making sure my money lasts. So that's a big financial consideration. And again, it's something we do with our clients is help them, hey, if I'm going to do this, how long can I do it for? And what if I'm advancing across stages? Well, let's analyze it, let's help do that for you, and help figure that out.
Ben Smith:
I think those are really... it's a big, important conversation. So of course, we like to highlight lessons from the show. And Curtis, I'll ask you, in terms of, what was something that you really took away from today's show, that really maybe our listeners and our audience really could take away in terms of retirement communities?
Curtis Worcester:
Yeah. I'll admit, I don't think my takeaway or lesson is going to be from the show. I know it was our conversation with Susan. I think it was just after we got done recording. But it was talking about progressing through those various stages, or across the spectrum of senior living. We touched on independent living, to assisted living, and progressing along.
Curtis Worcester:
The idea of resistance to progress along that path from living fully independent, to then having to move into an assisted living situation. Within the same community, even, she talked about the resistance. I think I naturally thought the resistance would come from the individual living there, would just be hesitant to give up that independence.
Curtis Worcester:
She shared a story with us where it was actually a child, an adult child of the individual living in the community and saying, "Oh, mom or dad, they just won't go for that." And just assuming that it's not going to work. And that's something that caught my attention, as I think about myself and my two siblings, as we get older and our parents get older, it's like, whoa, maybe we will be the problem here and not helping them live their best life throughout retirement.
Curtis Worcester:
That was just one piece that stuck out to me to look in the mirror, if you will, and say, "Who's going to hold up this process? Is it going to be mom or dad who really will have a better life and live better, with a little more help than trying to fight it and live on their own?" So I thought that was a really cool piece.
Ben Smith:
I think what's also interesting too is, to your point about kids, but even external parties. Sometimes it's maybe the spouses and one spouse saying, "No, no, no, I got them, I can take care of them." And they don't progress because they don't want to progress differently. One would be in assisted, one would get independent care, or, hey, someone's in memory care and she also shared a story again offline about one of the couple that was in memory care. But during memory care it's a whole nother level service. They're getting woken up several times a night, because they need to make sure they're turned, that they're safe in their bed, that maybe they need to be changed, whatever the needs are.
Ben Smith:
But if you don't have really many needs at all, you're independent, but you're being woken up three times a night, well, how are you also going to be there for your partner maybe throughout the day?
Curtis Worcester:
Exactly.
Ben Smith:
If you're being woken up several times a night. So making sure that, hey, well, we might have to separate maybe at night to come together better during the day. I think those are key points. I think that was a really... we can have all resistance in lots of different areas. And it might just come from what might be the obvious is, we just ourselves are resisting to progressing. I think that's a key takeaway.
Ben Smith:
I would say as well, for me, I guess zooming out a little bit, but talking about retirement communities, and really this need for communities, especially in the state of Maine, is that you hear as she's saying, there really isn't a whole lot of options in our area, in maybe Central Maine. You hear the number of beds and apartments and rooms that they have. You're not talking hundreds or thousands of rooms here. You're talking in this 50 to 100 area.
Ben Smith:
So there's a lot of need, boomers are aging and looking... I know you as listeners are probably thinking about this if you're pre-retirement or in your 50s at this point. Hey, what does that look like and where do I going to go and where are my kids and where do I want to be and where am I going to eventually go into, if it's going to be a retirement community? Because that sounds kind of neat.
Ben Smith:
Those things are all going to be key in terms of where do I eventually start putting down some more roots for that retirement stage? I think that's a big deal to work through.
Ben Smith:
But again, for our show, we always appreciate you listening. Retirement Success in Maine podcast. We are at episode, I think we're 29.
Curtis Worcester:
Getting up there. We're almost in our 30s already.
Ben Smith:
Boy, we're growing up and we're through our 20s and keep going. So again, I think with our show today, we wanted to, maybe not just go into a nursing home, I think that might be a different conversation, but retirement communities is something. So we're going to have, of course, our blog page, which you can go to blog.guidancepointllc.com/29. And you can find more resources there, a transcript of the show, and we'll have more information.
Ben Smith:
Susan shared with us a really great presentation, a SlideShare on what is, really definitions of different stages of senior living. So we'll have that. I think that's a really key tool to use there. We'll have a few more resources that we'll put out.
Ben Smith:
But if you have any questions or want to reach out to us, let us know. We'd love to hear any feedback. If you have suggestions, we've actually had recently some really great listeners that are reaching out to us and say, hey, like one for example said, "You know what, meditation has been something that's really helped me." And that's something that we'll look to have in the future episodes is talking about meditation and what does it mean and how can it really help us and should we really even consider it?
Ben Smith:
I think those are things that if we can find more ways to improve retirement for you, we want to keep doing it. So we always appreciate your listenership, appreciate you tuning in, and we'll catch you next time.