Executive Summary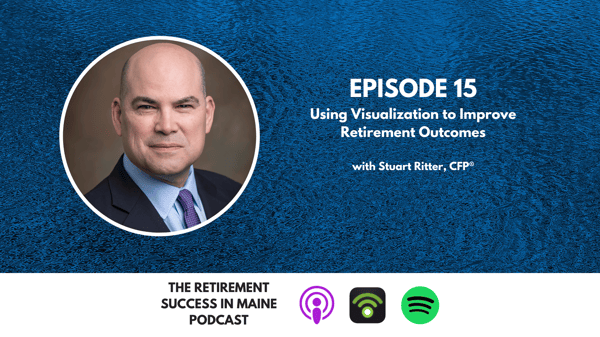 On this episode of The Retirement Success in Maine Podcast, we're joined by Stuart Ritter, CFP®, a Senior Financial Planner and Retirement Insights Leader at T. Rowe Price. We wanted to have Stuart on the Podcast because, aside from his over-arching knowledge of the retirement landscape, he is a thought leader on the Visualize Retirement project at T. Rowe Price. The project focuses on attaining happiness in retirement by developing a more holistic relationship with pre-retirees. The research has identified three core themes that directly impact the level of happiness in one's retirement. Be sure to tune and hear what Stuart has to say. After all, isn't the ultimate goal to have a successful retirement is to have one full of happiness?
After welcoming Stuart to the show, we spend some time discussing his very different background from what you might expect to hear from a Senior Financial Planner. Stuart talks about how his background, from electrical engineering, to political science, to finding out he was missing $107,000 and how it led him to where he is today in his role with T. Rowe Price.
We then transition to Stuart's role at T. Rowe Price, and specifically the Visualize Retirement Project. Stuart takes us through the creation of the project with some first-hand stories that got him and his team thinking about the issues that retirees are really facing, in addition to the financial worries they may or may not have. Stuart discusses some eye-opening statistics about pre-retirees and their preparedness, or lack thereof, for all aspects of retirement.
After discussing what the Visualize Retirement project is, and how it came to be, the conversation shifts to actually applying the Project's ideology to one's life. Stuart discusses the Who, What, Where, When, and Why methodology of the project, that will help people along their way to visualizing their own retirement happiness. Additionally, Stuart shares some resources that individuals can use if they are more of the DIY population, including a workbook that T. Rowe Price has created. To wrap up our conversation with Stuart, we ask to hear his thoughts on his own retirement, and how he would define Retirement Success for himself. Tune in to hear what he has to say!
What You'll Learn In This Podcast Episode:
Welcome, Stuart! [1:59]
How did you find a passion for the financial service industry? [3:48]
Who is T. Rowe Price and why is T. Rowe Price a great fit for you? [7:12]
What is your Visualize Retirement project and what is it intended to do? [11:09]
What are you finding in your studies that retirees are not doing well? [19:32]
Is there a specific group that is helped more than others by this visualization? [23:56]
What are the 5 W's of the project? [26:29]
Of the three elements of happiness, is there one that's more impactful than the others? [34:37]
What sorts of things can someone do to start doing visualization on their own? [41:10]
Is it possible that two people can express a similar vision, on the surface, but as you dig deeper you find they are much different? [44:49]
How would you define Retirement Success for you? [48:47]
Abby, Ben, and Curtis wrap up the episode. [50:24]
Resources:
The Visualize Retirement Workbook (PDF)
The Visualize Retirement Page at T. Rowe Price
Stuart's Story on YouTube on how he lost $100,000!
Listen Here:
Did you enjoy The Retirement Success in Maine Podcast?
Subscribe to our podcast directly via Spotify, iTunes, or Podbean by clicking on the images below!



Transcript
Ben Smith:
Welcome everybody. My name is Ben Smith. I'm joined by two colleagues today. I'm joined by Abby Doody and Curtis Worcester the Leia and Han to my Luke. If you will from Star Wars, yeah?
Curtis Worcester:
Alright. Alright.
Ben Smith:
So we're talking today a kind of a financial planning topic today, and one of the things that we've been actually practicing a lot with our clients when we're doing these one-on-one conversations is this idea of visualization, is getting to people to, especially when you're pre-retirement or maybe you're early in your retirement, you're trying to figure out what does retirement actually look like for me and what it is that I want to do, what would bring me purpose, what would give me accomplishment? And this idea of helping them to start figuring out what does 8 AM look like the first day and what does that first month look like in the first year?
Ben Smith:
And those sorts of things and actually when we've had these conversations, we have a really great partnership with a company T. Rowe Price. We have a lot of resources that we use of theirs and they're just really great to not just money managers but also thought leaders in the financial planning industry. And our connection is this gentleman Alan Valenca and he said, "You've got to talk to Stuart Ritter." Stuart is our senior financial planner and retirement insights leader for T. Rowe Price and Stuart created this module, this package for visualizing retirement. And that was something where we were kind of going back, man, we were reading his stuff and going, "This is great. What a great gift that would be to have Stuart on the show today."
Ben Smith:
That's the kind of the lead up to Stuart, so we have Stuart and appreciate Stuart you phoning in today.
Stuart Ritter:
Well, thanks for having me on the show.
Ben Smith:
Well welcome. And one of the kind of just give you a little bit more of a 3D look. So with that, we always like to get into with our guests again, what is their background a little bit like how did you kind of build to this point? And again, we're talking about visualizing retirement and this whole idea of retirement success.
Ben Smith:
So, could you just give us a little bit of your background in terms of where you're from and how did you go from an interest in your background to where you are today with T. Rowe Price?
Stuart Ritter:
Happy to, I grew up outside of the Washington DC area and I now live near Baltimore with my wife and three kids. My background is not typical for what someone might expect from a senior financial planner and retirement insights leader. I have an undergraduate degree in electrical engineering-
Ben Smith:
Wow.
Stuart Ritter:
... which surprises me sometimes. And I've got a master's in political science and an MBA. So yeah, I still don't know what I want to be when I grow up. The one thread that weave through all of it though is understanding complicated information and hopefully explaining it to people well enough that they can make good decisions based on that information.
Stuart Ritter:
So I was never the best engineer in the room when I was an engineer, but I was pretty good at explaining complicated engineering stuff to the non-engineers, so they could make good business decisions. And now, and since over the past two decades I've spent my career hopefully understanding the complicated financial planning information that is helpful for people to understand, and explaining that to them in a way that helps them make better decisions.
Ben Smith:
Nice.
Abby Doody:
Very nice. So how did you eventually find that passion for the financial service industry coming from that very different background that you just described?
Stuart Ritter:
It happened in the two years that I worked between my undergraduate and my graduate degree. I went out in the working world, worked for two years, and then went back to school full-time. And I am missing $107,000, when I looked at how much, I know, right?
Abby Doody:
Yeah.
Stuart Ritter:
If you find it, let me know. When I looked at how much I earned in those two years between undergraduate and graduate school, it's the equivalent today of $107,000 and I have no idea what I spent that money on. I mean, I had an apartment and paid rent and I had a car and I went out with friends and other stuff, but really $107,000? I hear from people sometimes they can relate to the fact that I know I've got a bunch of money coming in, but I really don't have a sense of where it's going.
Ben Smith:
That's right.
Stuart Ritter:
And after that experience, I was like, "You know what, that's not a good feeling. I want a better idea of where my money is going." And more importantly, I want to make sure my money is going towards the things that are important to me to have money to spend on. So that's really where I started getting the interest in financial planning in first my own budgeting and setting priorities, and setting a meeting, financial goals and then ultimately having the opportunity to gain the knowledge to help other people get better at figuring out what's important to them and making sure they're using their money in a way that helps them achieve those goals.
Ben Smith:
So start with that where we kind of say, obviously where you kind of have the gal that is in point of, "Hey, I'm feeling like this money is just being wasted." Now I want to go build a career in this field, right? Is I want to go try to help people and in an altruistic sense, I want to go try to make a difference here. How did you kind of translate from obviously got this schooling and very different things to then getting a foot in the door somewhere to realizing that purpose?
Stuart Ritter:
I originally came to T. Rowe Price based a lot on the engineering background and was in one of our operations groups, but given the fact that T. Rowe has had a long standing commitment to educating people, to helping folks understand what it takes to be successful financially and then providing some of the solutions to help them do so, I had the opportunity to earn my certified financial planner designation while I was here.
Stuart Ritter:
And your point about helping people has always been a big driver, I spent three years as an adjunct teaching personal finance at Johns Hopkins University. I've done presentations at local colleges. I volunteer at one of our local hospitals to do a financial planning for prospective parents class for folks who are starting a family, either thinking about it a couple of years in the future or have a due date in next week. So it was a good alignment between the kinds of things I wanted to do to help people better understand what their options were in terms of achieving their goals and then the resources and support that T. Rowe Price provides both to me personally to gain the knowledge but then as an organization to partner with companies like yours to give people resources to help them figure out the best way to get the things they want to get.
Ben Smith:
Nice. And I know obviously T. Rowe Price is being your employer and kind of coming up a few times, maybe for those on this show that are listening have, maybe they've heard of T. Rowe Price, maybe they haven't. Can you just give just maybe a 30 second like who is T. Rowe Price? What do you do and kind of what makes you stand out in the marketplace?
Stuart Ritter:
Absolutely. When it comes to choosing investments, people can go out and research individual investments on their own, they can research individual companies to decide whether or not to buy their stocks. They can research individual bonds to decide if they want to buy the bonds, there are other investments out there. T. Rowe price is a professional at doing that and essentially people hire us to do the investing part for them, through generally mutual funds. So you buy a share of a mutual fund, you're owning a piece of a collection of stocks or a collection of bonds or a collection of those put together. So the expertise T. Rowe price brings to the table is the hundreds of people we have worldwide who are looking at individual investments, boots on the ground, looking at individual companies, manufacturing plants or their warehouses or analyzing bonds and deciding whether a particular individual investment is a good one at the price that it's available.
Stuart Ritter:
And putting those together in mutual funds that focus on different areas as well as putting those together in packages. So you can get one mutual fund that is designed to help you invest for retirement and will change over time for you, make sure you're diversified and T. Rowe Price has been doing this an incredibly long time, we are, I think one of the most successful firms out there at doing that and we differentiate ourselves by providing the best investment solutions for people as the part of what they need to do to achieve their financial goals, we do the investing for folks who hire us that way.
Ben Smith:
And with that Stuart where you kind of have this financial planning role at T. Rowe Price, can you talk about obviously what you just described is a lot about the investment part and kind of the kind of the managing of a portfolio, but can you talk about why T. Rowe Price is a great fit for you today and also why are you passionate about your role at T. Rowe Price?
Stuart Ritter:
Sure. The investing fits in the larger context, so when someone says, "I have a financial goal, whether that goal is saving for my children's college education or my own retirement or buying a house, whatever it is, there are three decisions that people need to make, three financial planning decisions. The first is how much am I going to save, so how much do I need to save for retirement, or my kids' college education or for the house? The second decision is, what account should I use? And that's important because certain accounts give you tax benefits for certain goals.
Stuart Ritter:
So I'm saving for retirement 401k's, IRAs, if I'm saving for college, a 529 plan. And then the third decision is once I've saved my money in a particular account how do I invest that money based on my goals, time horizon, what's the right mix of stocks and bonds and cash and how do I stay diversified? How should that change over time? So T. Rowe price recognizes that the investing part of that decision set happens in the larger context.
Stuart Ritter:
And we provide people like myself to help folks understand that larger context. How do you decide what your priorities are? How do you decide whether it's saving for your own retirement or your kids' college education should be more important? Is it saving for a house or for the family vacation? So what do we do to help people think through what's important to them? And then how do we help them answer the questions about how much to save, what account to use and how to invest in them. We provide those solutions for the investing piece. My role is to help with that larger context, and that's built on top of T. Rowe's expertise in the investing piece.
Ben Smith:
Got you. So it sounds like one of the evolutions from those processes, right? I think a lot of people sometimes have trouble kind of articulating what it is that they're looking to accomplish in their life or maybe they've never even thought about it. So when I get introduced to the, you're kind of this idea of your visualize retirement project, that's kind of what hit me was, "Hey, this is a really great framework," to kind of help people think about and visualize and really put something of it's very tangible and something that they actually could go, "I'm really passionate about this," and then once you get the passion in something, it allows people to then kind of actually get more excited about the rest of the process. So can you define and kind of explain what visualize retirement project is, what it is and then what it's intended to do?
Stuart Ritter:
Absolutely, we spend a lot of time talking to pre-retirees, talking to retirees about their lives and what they're trying to accomplish. And one of the things we found in our research is that for folks who are what we call pre-retirees, say 50 to 65 or whenever their individual retirement hits, what we found was three out of four people will say, "I have spent time looking at the financial aspects of transitioning into retirement."
Stuart Ritter:
And I've thought about how much money I've saved and how much I'm going to need and maybe how much I'm going to spend, I've focused on the financial part of it three out of four, what surprised us and let us in this direction, it was only about one out of three said they had spent any time thinking about what they were going to do in retirement. Who they were going to be in retirement have looked beyond just the financial aspect into the emotional side of it, what their identity was going to be?
Stuart Ritter:
And that both surprised us, and as we talked more to people about this, we realized that it was a bigger issue that many people didn't necessarily realize that they had. I'll give you an example, we were doing some focus groups. So we had the recent retirees, we were looking into what people's experience was in the early years of their retirement. So we brought pre-retirees in and I was sitting in that dark back room with the bowl full of M&Ms. And at the very beginning folks who are just going around introducing themselves, and I will never forget the one gentleman gave us his name and the next thing out of his mouth. He said, "I failed retirement."
Ben Smith:
Wow.
Stuart Ritter:
And that was a word I had never heard anybody use to describe fail retirement, and he went on to tell us exactly what happened. He said, "I went into my financial advisor one day," and the advisor said, "Congratulations, you made it. We've modeled all the money stuff and we've looked at the numbers and you have enough money to retire, you can be done." And the guy said, "So I did." I literally went into the office the next day and said, "Okay, I'm done. I'm retiring." I was miserable. I started bickering with my wife, I didn't know what to do with myself. I was moping around the house, I became depressed, I failed retirement. Now, the solution was the obvious one. He said, "I went back to work then we got into more details of things."
Stuart Ritter:
But it highlighted for us the importance of moving beyond the financial side, the financial side is very important. You don't have the financial, anything you might visualize, it might not come to pass, come true. But you've got to move beyond just the financial and spend some time thinking about what your vision of retirement is, what you're going to do and that led us to put this program together and partner with advisors like you to help bring it forward to folks so that someone can start integrating what they want to have happen in retirement with the money aspect and make sure both of those are in place as they make this important life transition.
Abby Doody:
That's really interesting. And I think as an advisor myself, we've seen some of that too, that sometimes people get into retirement and just have no idea what their real purpose is anymore. So have you seen that personally with any of your family or friends in your own life?
Stuart Ritter:
Absolutely. There was one person I remember who was a senior leader at a non-profit organization and his job for a very long time was to go in and put strategies together and tell people what to do and watch the execution, all those things. And it was the old model of retirement, which was you worked full-time on Friday and starting Monday you never worked again. Just as I described he said, "I was lost. I had no idea what to do with myself." And he was interesting the dynamic between him and his spouse because his wife was, and I had no idea what to do with him either. He was lying on the couch at my house, I got things to do, I got people coming over for our book club and there he is lying on the couch.
Stuart Ritter:
So it took some time for him to go through that period. And by time, I mean literally years to come to terms with the end of his old life and to craft with the new life could have been where some intentionality approaching that transition might've been helpful. I think part of the issue some people have is when they think about retirement, they think about what they are retiring from. I'm going to be done having to get up early every morning, I'll be done having to wear uncomfortable clothes, I'll be done taking orders from somebody else. But they haven't thought about what they're retiring to, what's going to replace that. And it's making sure you've got both of those thought out. That's important. Or it may be a more difficult transition than it needs to be.
Ben Smith:
Yeah. And Stuart, I'll add to that too. I know we'll dig into this a little bit more in the show, but a client conversation I've had before is that they actually knew what they're going to do in retirement, right? They actually had the, "Oh yeah, I do this in the summer. I do this in the winter and we do travel, we do this." And because we started going, "Well, what is this money for? What is all this wealth represent?" And he goes, "Yeah, my family's never been wealthy, it's maybe blue collar wealth where I had to start from day one and this is all I've earned in my life." And we started just getting into this well, "What does money represent?" And he sort of start talking about, "Well, I don't need it, what about when I die? I'll just give it to the kids," which you hear that, we hear that a lot and I'm sure you do too. But when you start getting into this point of, "Okay, well what are your values, right? And what's really meaningful to you and what do you want that money to do to impact your values?"
Ben Smith:
And one thing we got to which really stuck to me is he goes, "Yeah, my grandson is five or six." He goes, "And I told my grandson that I'm going to help him pick out his first car." Wow, that's pretty great. And it's a few years later and he goes, "Grampy eight more years. You buy me my first car." And we start talking about that as like, "Can you just fast forward eight years from today and just think about that day, you're on that car lot with your grandson helping to pick out his first car." And that's a money memory that you will have the rest of your life, but he will have that rest of his life and thinking about you. And it's probably every time he goes to buy a car, he will probably be thinking about that day he spent with his grandfather going to pick out what was an appropriate choice for a 16-year-old to buy a car.
Ben Smith:
And that's the sort of thing we started looking at money in the value of money, because it's not just, "Well here's what I'm trying to do in my retirement, but also what it was accomplishing," and family was one of those things that he wanted to galvanize his family with money. And so we spent a little time on the visualization, like go forward eight years and think about this one day and let's start putting together a structure and financial plan on, "All right, well let's set that money aside and making sure that that's there so that they can happen and you can afford and visualize the type of car that you want to be buying your grandson." So I want to weave that into the next question here, that story because...
Ben Smith:
And you gave some statistics in the statistics I've read from your research too, is only 35% of 50 to 59-year-olds have made a serious effort to prepare for the emotional aspects of retirement. That which is, I think that statistic is kind of why are we doing this show. Is that people aren't really emotionally prepared is yeah, they can go do an advisor and they can do the plan the money part. But what are you finding in your studies that retirees are not doing well in retirement by not visualizing these emotional impacts?
Stuart Ritter:
I think there are a couple of things we've talked about how people lack the purpose in retirement and that creates a difficult situation for them. The other thing that happens is very often there is somebody else who is directly impacted by your retirement, especially for couples. And without spending time on the visualization part, you can run into some awkward situations. I was meeting with somebody on a Sunday morning at their house and he was looking for some confirmation about the analysis he had done, it was a big do it yourselfer.
Stuart Ritter:
He had retired that previous Friday, so two days earlier and I'll walk in and we're in the living room and he's got all his papers spread out on the table and he's talking about the DB benefit he had and the balance in the 401k plan and how much he was going to withdraw. And my wife was going to work for another five years and that was making the money work and there was this voice from the kitchen that says I never agreed to that.
Ben Smith:
Oh.
Abby Doody:
Oh boy.
Stuart Ritter:
He gets this wide eyed look and kind of turns back and said, but that's what you said you were going to do. And she said, "We had a casual hallway conversation, I may have mentioned it, but I don't want to be trapped that I have to work for the next five years full-time to make this work." And he looked there and said, "Well, maybe if you had a problem with it, you should have told me before I retired on Friday, maybe you should have asked me." And now I'm looking for the nearest door.
Abby Doody:
Yes, that's uncomfortable.
Stuart Ritter:
It got hot and heavy in there fast. And that was a classic example of two people who had different visions for the when of retirement, when am I going to retire and when are you going to retire and how do those decisions interact with each other? Even though one person had looked at all the number and said, "Oh, it's going to work."
Stuart Ritter:
So one of the things that a mistake that people can make is not only not having spent the time thinking it through for themselves, but then not sharing their vision in full with their partner to make sure that if there are any discrepancies, those discrepancies can get resolved.
Stuart Ritter:
Now, it all worked out, they had been married for a long time and remain married, but he did go back to work part-time because that then took the pressure off and she didn't feel like she needed to work full-time for the next five years and they were able to figure it out. And it just would have been nice if they had done that earlier, and especially not with me in the room.
Abby Doody:
Exactly.
Ben Smith:
But from the advisory perspective, in a lot of times it's like that's the role for us, is just getting people to sit in a neutral space and to ask the question to each person. And that's just the kind of the mediate of that conversation. Abby, Curtis and I were looking at each other right now is, "Hey, these are conversations that we get to that point in pre-retirement or retirement," and people will come up with answers that the other person snaps ahead, right 90 degrees to their left or right and says, "What? Where did that come from?"
Stuart Ritter:
Yeah, and I think that's one of the big values that an advisor like all of you provides that sometimes people don't recognize that it's not just about the money, the money is actually a means to an end. And it's helping people through the conversation about the end and bringing potentially two different ideas out in the open and reconciling it that really people feel more comfortable and confident about then the financial plan that ultimately gets created because you've helped them work through a lot of that visioning aspect.
Abby Doody:
Yeah, absolutely. Since it sounds like you've gone through this exercise with a number of people, have you found a group that is particularly helped by this visualization? Anything like that?
Stuart Ritter:
I'm hesitating in responding just because it seems to help everybody a lot. So I don't think we've run into a group where, or at least not one I can think of where folks have said, "You know what, we've already done all this." We'll get to it because we talked about it during the prep. We have the five W's of the vision I talked about one already, which is the when. But part of the value of the visualized retirement program is it, first of all just gives people a structure of what to think about.
Stuart Ritter:
I'll come back to the retirement transition, but when folks think about other transitions in their lives, whether it was leaving high school and going into the working world or going into college or maybe getting married or having a child with a lot of those life transitions, one of the biggest producers of anxiety for people is they just simply don't know what to expect, they don't know what they're supposed to think about, they don't know what's important and what's not important.
Stuart Ritter:
And sometimes just bringing in a structure and say, "Okay, here are the three things you need to be focused on, or here are the five things you need to be focused on." There's a whole bunch of things, but if you focus on these five, that just gives people a framework for approaching and then they can go, "Get some information on those five things and it makes them feel better prepared for that transition."
Stuart Ritter:
The same thing happens with the transition into retirement. Most people have never been retired before, so what am I-
Ben Smith:
That's true.
Stuart Ritter:
... supposed to focus on? Right?
Abby Doody:
Right.
Stuart Ritter:
We heard one story of adviser said. So I asked the guy, "What do you want to do in retirement?" Like I looked at him and pause for a moment and said, "Golf," and I said, "Oh, do you enjoy golfing?" And the guy said, "No, I've never golfed in my life, but I think you're supposed to do that in retirement." So that's the answer I gave you.
Stuart Ritter:
Here are the five areas you need to think about for retirement, let's go through an exercise and think about each one, then maybe compare it to the answers somebody else in your household might have given. And providing that framework for folks gives them... it moves the situation from, "Oh my gosh, I don't know what to expect to, okay, I know what to think about and I know how to put a plan together." And then I can put my efforts towards executing on that plan, and that helps people from an emotional standpoint really move far down the road in terms of their preparation.
Ben Smith:
Got you. Obviously you mentioned one of the W's with when and one of the things I want to segue towards this whole, we kind of went through this idea of like creating visualize retirement and kind of who can use it and how it's maybe impacting people. Let's talk about the actual application of visualized retirement and can you walk us through, when you mentioned those five W's, what are the five W's which obviously when is included there, but what's the methodology of applying those? How'd you describe that?
Stuart Ritter:
For the journalism majors among our listeners here, the five W's are who, what, where, when, and why. So let me take each of them in turn and explain how they apply to the retirement transition. So the who is, who do you want to spend time with in retirement? And we'll mention a tool we've put together for folks a workbook, we took a lot of adult learning theory in when we created the workbook. And one of the things that we know about how adults learn is they compare new information to old information, they start with what they already know and then we are able to incorporate new information.
Stuart Ritter:
When you think about who you want to spend time with in retirement, it's helpful to start with who do you spend time with now? If you were to rank order who you spend time with and it's work, colleagues, family, friends, community, those kinds of things, what is that rank order look like today? And then what do you want it to be when you get to retirement? How's it going to change? And obviously for a lot of people that work one, right down at the bottom.
Ben Smith:
That's right.
Abby Doody:
Yeah.
Stuart Ritter:
57% of people will say, "Oh, I'm going to spend more time with family and friends." Now, what we didn't do was survey the family and friends, see if they wanted more time with the retiree. And that's actually an important consideration because folks will say, "We heard from again the same focus group." One of the recent retirees have said, "Okay, so I retired on Friday and Monday," and I'm laughing because I can't believe I did it, but I really did. Monday, I showed up back at the office at lunchtime so I could go have lunch with my colleagues, which is what I had done every day for the last 10 years.
Ben Smith:
Wow.
Abby Doody:
Oh my gosh.
Ben Smith:
Wow.
Stuart Ritter:
And you know what, they actually weren't really all that thrilled to see me and it was kind of an awkward lunch, and then I realized these are not the people whom I can spend time with anymore. I got to go find other people. The other piece of who is who's on your healthcare team, healthcare is something that a lot of people are concerned about. So when you think about the who, first of all, who's healthcare support team are you on? Because you will probably continue doing that and that will be someone you spend time with.
Stuart Ritter:
And then when you're needing help, who do you want to be on your team? So all of that is wrapped up in the who part, who are the people I'm going to spend time with?
Ben Smith:
Got you.
Stuart Ritter:
The second one is what. That's the classic, what am I going to do with my time? So what do you do with your time now? What do you want to do with your time in retirement? And as we've alluded to a couple of times for a lot of people, it's kind of the first time they've thought about that part. Golf maybe. And even if I already golf, there are 24 hours in a day and seven days in a week.
Ben Smith:
And Stuart if you're living in Maine like we are.
Stuart Ritter:
Exactly.
Ben Smith:
It's a very short season.
Stuart Ritter:
You get a one and a half a week golf season.
Abby Doody:
Exactly.
Ben Smith:
Exactly. Something like that. Yes.
Stuart Ritter:
Yeah. So what is that going to be? And another element we have is once you've decided what it's going to be, are there steps you can take today to help bridge that transition? So if one of the what is, I want to spend my time volunteering, I want to be involved in community organizations, pursue a passion. That's what I want to do with my time. Is there something you can do today to help with that? So do some research on what organizations are available, start volunteering one or two hours a week.
Stuart Ritter:
So when you get to the point that you have more time to give, you've established those relationships and you're now in a position to ramp that up as opposed to starting the cold calling that Monday morning.
Ben Smith:
Or you could listen to episode nine of The Retirement Success in Maine Podcast where we go into volunteerism just a quick little plug.
Stuart Ritter:
Excellent. That would be the first thing on your what-
Ben Smith:
That's right.
Stuart Ritter:
When you get to retirement, listen to the podcast.
Ben Smith:
That's right. That's right. Keep going though.
Stuart Ritter:
So we've covered who and what. The next one is where, and it's not just where do you want to live, a lot of people will say, "Okay, I'm going to stay in my own home, most people decide that." But the where can also be, is there going to be another place we will live? Again, alluding to Maine, it tends to get a bit cold than I've heard, and maybe there's some snow in the wintertime. And some people will say, "We want to find something farther South and we're going to split our time between the two places."
Stuart Ritter:
Where is also if we're going to travel, where are we going to travel to and for how long, and in what way? So the where encompasses both kind of the ongoing, what's my domicile with my house? Where are we going to get our mail sent? And it's also, if travel is part of our vision of retirement, where is that going to be for how long? How are we going to do it?
Ben Smith:
Got you.
Stuart Ritter:
So who, what, where. I alluded to the when or I mentioned the when. That one. I think people underestimate how complex that one can be. "Oh, what am I going to retire when I turn age 65?" One of the things we found in our research is that one out of three people have work as part of their vision of retirement. That old model of working full time on Friday, never working again on Monday, that's evolved. There are people who stop working full-time and then go back in the workforce. There are folks who switched to part time, they do on demand work, they stop, they start. So the when can be a lot fuzzier than people realize it can be.
Stuart Ritter:
And of course, as I mentioned if there's somebody else in the household, their when and your when need to be reconciled. So very often you have people who retire at different times. Well, what is that retiree going to do while the other person is still working and how does that affect their relationship? We were talking to one woman who said, "I got to tell you that my husband retired a year ago," and this has been a real problem for me. I am starting to really resent him. I get up every morning to go to work and he gets to sleep late day after day after day and I hadn't put any thought into how that would affect me emotionally about how I'm going to view our relationship.
Stuart Ritter:
And I'm recognizing we got to figure something out, either I need to retire or he needs to go back to work because this isn't working. So the when part is the fourth W in the five of creating someone's vision and that last one is why, why are you getting up in the morning? When we're working, that work provides a big part of our identity, a big part of the structure for our lives, a lot of our relationships. The why part, the who we are, the answer to the question at the party of, "Well what do you do is provided by work."
Stuart Ritter:
When that work ends, the why needs to still be there because people who have a why, not only are they mentally healthier, they're also physically healthier. There's research that shows that they're less likely to get Alzheimer's, they're more likely to have higher longevity. So understanding what your why will be in retirement is an important part of putting that vision together. And again, if there are things you can do today to help set up that why those are things you're going to want to focus on to help with that transition. So five W's, who, what, where, when, and why help you start framing out what your vision of retirement can be.
Ben Smith:
Got you. I really like that because I think there's, as you're going through those, those W's man, the stories that I think we're thinking about and even like how very common, we see that just the couples that have that argument about their when or sometimes there's an age split between the couple. And well, "Hey, that one of us is eligible for retirement five or six or seven or 10 years before the other one is." So, "Hey, I'm out but I don't know what you're going to..."
Ben Smith:
It almost they don't take a kind of us approach, sometimes they take a very singular me approach to it right into what we're talking about is also creating and sustaining very lasting and loving relationships as part of that too. But what I want to hear more about though too from you Stuart is there also, there's three components of retiree lives and then elements of happiness, right?
Ben Smith:
And so lifestyle, health care and meaning. So those W's in the methodology there kind of impact all of those, but for those three components, do you think that those three elements are equally important to retirees and maybe it's a needs versus wants based piece, but is there one element that's more impactful than others and why? And then is there one that maybe is less than the other?
Stuart Ritter:
Yeah, what you're referring to again comes out of the research, we've done with retirees to help us understand what is key to people being happy. However, they might define it in retirement. And the three that rose to the top were lifestyle, health care, and meaning. So what am I doing with my time? Am I healthy enough to do it? And does it fulfill some larger purpose.
Stuart Ritter:
And each individual is going to dial those three up or down, depending upon their circumstances that the healthcare one is kind of a necessary but not sufficient condition for the happiness, if you aren't healthy, that will very often limit what you can do and can be a challenge for folks.
Stuart Ritter:
But just because you are healthy doesn't mean, "Okay, that's all I need." That's where the lifestyle and the meaning have a bigger impact and everybody decides what lifestyle is the right one for them. There are some folks who get travel is it? And I want to spend as little time at home as possible and go see a lot of things. And for other people, the lifestyle they want is going and taking care of their grandkids every day.
Stuart Ritter:
And that's the kind of thing they're looking forward to. So there is not a right or wrong one. At the same time, it is important for people to be reflective about what lifestyle they expect or think is going to be right for them. And you talked about at the very top of the show, which was talking to folks about, what the next day, week, months, year is going to be like. Because really that's about as far out as you can imagine. maybe five years out beyond that things are going to get kind of fuzzy.
Stuart Ritter:
So helping people think through, "Well, what is it that's going to be meaningful for me for the next couple of years?" But also recognize that being adaptable and flexible and recognizing just as we've done in our lives up until now, what we're interested in changes over time and being open to those kinds of things happening in retirement as well.
Ben Smith:
And that's something that I think from our point Stuart when we're sitting down with folks for our job to do all of this well and to really get into this is very sometimes very deep dark secrets stuff for people is that they've never told anybody this or they've never actually verbalized that. And I think that can be really tough, is to kind of get people to that point to be able to trust us because maybe there's a misnomer or misconception that I sit down with my financial advisor and they're going to tell me, no, they're going to tell me you shouldn't do that, you can't afford this. That they're trying to be mom and dad and try to tell me what I can't do and what you're doing here with your structure and what we're trying to do with our practice is turn that around to show you yes.
Ben Smith:
I'm not trying to judge you. If you say, "Hey, I want to go spend time with my grandkids, or I just want to sit on the couch all day," that's what I want to do and that's where my happiness is. And those are the three levers in those key components, great. Let's have you do that as long as you possibly can and sustain your happiness. So I think that's the hard part for us, is to apply is if we were able to give a message to someone walking through that door with us tomorrow that doesn't know us is, is that, we're not here to judge and we're not here to say no and make fun of something or ridicule anything. This is all about, "Hey, this is safe and how do we get you to do more of what you want to do?"
Ben Smith:
So I really like kind of what you're building there is allows a methodology and kind of a structure to something that feels very squishy, it just feels very all of that.
Stuart Ritter:
Yeah, and that's why the emotional side and the financial side complement each other so well, the money is, as I've said, a means to an end, which means you've got to start with understanding what that end is. And as financial planners, we are experts in understanding what strategies we can apply to help people do things. It's like going to your physician. First, we want to diagnose what it is that needs the help. And then have the myriad treatment regimens that are out there, then we know which one to apply. But it's got to start with what people are looking to do and that's what this is designed to help people think through.
Abby Doody:
Yeah, I think this is all so interesting and very helpful to help people kind of narrow down kind of what makes them individually happy. So when you were going through these focus groups, were there things that came up that were considered to be part of the elements of happiness? But that were not actually validated as keys to happiness?
Stuart Ritter:
There are a wide variety of things that we looked at that feed into people's happiness, activity levels, location. What we found was those three, the lifestyle, the health care and the meeting were the ones that were articulated most frequently by folks as being things that they felt were most correlated to and causing the happiness or the lack of those were causing the unhappiness that they were experiencing.
Ben Smith:
Got you. And I do want to ask just a kind of a switching question here and obviously because visualizations is something we're pretty passionate about, it's something where just sitting down having these conversations can be pretty powerful. And I'm smiling as I'm saying this because when you sit down and you do these exercises with the people, and I'm not sure if you've experienced the same thing Stuart but you do this and then people exit that room after your session, they go, "I've never thought of it this way. I've never had someone to talk to me that way," I really thought of like... You just see, talk about an impact is they're looking at their relationships differently, they're looking at their own life differently, they're looking at their purpose.
Ben Smith:
There's kind of unlocking that happens with what you're talking to us about here, so we love this. This is something we just kind of, it just makes it meaning worthwhile because a lot of the stuff that I think financial advisors do get stuck in the tactics, as you said, kind of types of accounts and tax preferences and that can just not translate and make impacts at times. So these things do.
Ben Smith:
And so for those that maybe are not working with us and maybe don't walk into our room, which is okay if you are out there, but you're just listening to this show, what sort of things could someone do to kind of start doing visualization on their own?
Stuart Ritter:
We have put together everything I've described the five W's together in a workbook to help people go through this process. It's available at troweprice.com/visionworkbook, vision workbook, troweprice.com/visionworkbook. And it makes it easy for people to just download it. So you do it in the privacy of your own home and you fill it out. And to your point, people have different engagement levels and interests sometimes in the financial side of this, especially in couples, simply through a specialization of labor. If you've got two people in a household, they become experts in different things and very often you've got one person who's focused on the money and the other person who's not. And sometimes the prospect of being dragged into an advisor's office to talk about price to earnings ratio, oh my goodness, I don't want to do that.
Stuart Ritter:
But the opportunity to spend some time thinking about what I want out of retirement, that's something that people are interested in. And I like how throughout this conversation you've helped people understand that what a financial advisor does is much broader than just what the dollar signs are on a piece of paper.
Ben Smith:
That's right.
Stuart Ritter:
So folks can come in and get more clarity on what that vision is and kind of, if they want to offload the financial part, that's what you as the expert are there for to take care of that. But they've had the opportunity to think through what that vision is and troweprice.com/visionworkbook. You download that workbook and you can go through it and if there's somebody else in your household, no, it's not like one of those magazine quizzes where you fill it out for them, you probably want to let them actually go this process themselves.
Stuart Ritter:
And then the two of you can start having that conversation. And from that, it can be cathartic, it can be freeing, it can be enlightening. It can bring you closer together because you better understand the person. And then it also has important implications for then what of financial decisions you make-
Ben Smith:
That's right.
Stuart Ritter:
... about when to retire and where you can go travel. And if you are going to get that second home and all of those kinds of things, but now you're doing that from a position of understanding and enlightenment because you've created your vision for that transition.
Ben Smith:
So Stuart, so we go through this methodology and you find that you're articulating a vision, right? I think sometimes we have this with our clients that people will articulate a vision but that maybe if you go further that those visions become very different. Do you have an example of when or something that of when those types of things happen?
Stuart Ritter:
Sure, let me give you some examples, three different visions all of which involve a boat but in very different ways, and these are all real people. So there's one person we were talking with and when you have the camera say, "Well what do you envision for retirement," I say, "I'm thinking about a boat." And it's important for people to drill down on this. They said, "My vision of the boat is when I retire I'm going to buy a boat and I'm going to sail down to Chesapeake Bay which is here in Maryland. I'm going to sail down to Chesapeake Bay and I'm going to get gourmet mustard from around the world and I'm going to sell deli sandwiches to the other boaters on the Chesapeake Bay during the day.
Stuart Ritter:
That's my vision of retirement and that's how I'm going to use a boat. The second person who talked about a boat as part of their vision of retirement says, my vision of retirement is I am going to live on a cruise ship full time. I'm going to spend months on a cruise ship, I'm going to live on the cruise and I'm to go around the world on a cruise ship. My vision of retirement is a boat and that boat is a cruise ship that's going to take me around the world. And the third person vision that involves a boat said, "My retirement, it's got a boat in that," and that boat is a canoe and I'm going to take my grandchildren out in the canoe and teach them how to fish. And that's my vision of retirement.
Stuart Ritter:
So three different people all have a boat in their vision of retirement but because they've gone through this exercise they've really thought through the elements and details of the vision, and you end up with people having much better ideas of what they want their retirement to be. And as you might imagine there are financial implications for each of those three different visions and that's where a financial planner can help after helping you understand what your vision is, figure out the right strategies to help you put that vision into action.
Ben Smith:
Right, because really the underlying theme of that example is that if you don't go deep enough, just say, "Hey what are you interested in, in retirement." My interest is in a boat and that's where you stop and that's where everybody stops. There's so much more to explore, it's going to implicate all the ramifications to you and your life but also your money and your relation for that.
Ben Smith:
So I'd like that, that's a really good example. Thanks for sharing that with us Stuart. And I'll say too is I think from what we believe and what we see is because you've articulated that and you've communicated that, not only to the world in terms of yours your spouse maybe family but more importantly for us too, your advisor, if you've articulated a goal of traveling every six months but you'd never told us that and we're planning on, we're creating this really nice financial plan was meaningless if it doesn't really align with what you want to do with your life.
Ben Smith:
So what we find is you get more surprises as the adviser is it someone just comes up and says, "Hey today I decided to."
Stuart Ritter:
Yes.
Ben Smith:
Okay, well I probably would have done a lot of things very differently with working with you, if I had known that that was the case. So I think a lot of our work is... So some of it's just the visualization which is a great byproduct is getting people to be more enlightened about what retirement is and where it's going. Another byproduct back to us is feedback is that, it allows us to make better decisions on how to position you and how to be thinking about your money over time.
Ben Smith:
So it has lots of different ripples effects which is why we really love it, it just goes to the heart of I think where people want to go. So again I really appreciate you coming on the show today Stuart for that reason as for that. I do want to ask a wrap up question which I always like to ask all of our guests is because this show is visualization retirement, really it's Retirement Success in Maine. So for you visualizing retirement for yourself knowing all this research now, your own system of course with all of your background, how would you define retirement success for you.
Stuart Ritter:
My vision for retirement would be to continue the education that I've had the opportunity to do as part of my career. So for me being an adjunct professor again and teaching personal finance at a college volunteering to do some community work to help people with their personal finances. My vision of retirement is a continuation of the kinds of things I'm doing now. Just not at 8:00 in the morning I like to sleep in.
Ben Smith:
I vote with you there.
Stuart Ritter:
So we'll do a part time and probably do it in the afternoon.
Ben Smith:
Got you. Well great Stuart. Thank you so much for joining us today. I know we had a lot of different hard hitting topics here on visualization but we just really commend you, hats off to you for what you're doing out at T. Rowe Price, we just have a lot of respect for your work and be able to use it here and a little minor way for us. It's been pretty impactful so thank you for that but also thank you for joining us and taking the time in your day.
Stuart Ritter:
Well thank you for the opportunity and I hope this helps as you are talking with people and holistically approaching their lives and helping them achieve what they want to achieve.
Ben Smith:
Alright thanks, Stuart.
Stuart Ritter:
Thank you.
Ben Smith:
It's a really kind of a fun topic today it's not kind of the nitty gritty like financial, it was more of this whole again kind of the zooming out of our podcast a little bit as we've spent a lot of episodes getting to this very specific topic in retirement and this is more of the zooming out and kind of thinking about this is that entire theme and not just kind of one thing. So like that we were able to kind of spend some time on that today. Stuart Ritter is again for his level at T. Rowe Price. He's pretty significant in terms of thought leader for the country. So I was pretty impressed that we were able to get him in and his time to come on the show with us because what's pretty nice about you're seeing him doing the academic research creating this thought leadership and then the things that we're learning from him be able to apply that in our meetings and then giving the feedback up.
Ben Smith:
So it's a good kind of a back and forth to be able to go through and again I personally enjoyed that as something. But one thing we always like to do with these wrap ups is what were the takeaways. And one of things I liked about Stuart's visualize retirement exercise here is that his five W methodology. What everybody has learned through grade school, you're reading it in your news articles, the who, what, when, where, how and why and this is the has when instead of the how part.
Ben Smith:
So it's kind of nice that you can kind of go, I get that, I see where he kind of took that from and he's repurposing that ask me questions to kind of write that news articles. If you read the exercise there's actually the last part of is your dust jacket. In every book they're covered with these jackets right. In the back half of the dust jacket is the bio of the author.
Ben Smith:
And that was one of the inspirations for this whole thing was to kind of get to-
Abby Doody:
Oh that's neat.
Ben Smith:
... here's your author and here's what they're about and here's what they like to do and it's those five W's. So again kind of I liked about that is I think anybody can apply this right as this isn't, I have to work with an adviser, you don't have to work with us.
Ben Smith:
You could go do this yourself and figure this out. So we'd like that it's a teaching podcast. But Abby, what was your takeaway from today?
Abby Doody:
So what I found really interesting about today was just the universal themes that we see as advisers that he was bringing up that he's seen on his side. Like a lot of the stories that he was talking about, about people not having thought about retirement after the day that they retire, that is way more common than I think people give credit to and we see it often.
Ben Smith:
Absolutely.
Abby Doody:
So I just find it very interesting that he also sees it and how helpful it was that he put a framework behind actually trying to figure out and put a structure to what your life looks like in retirement. And we try and do this with our clients too. And I think he gave us some good talking points to use with our clients going forward. So how to think about the elements of happiness and using the five W's and the workbook and I think it's super helpful for people and I do think it does help in having a successful retirement. So that's what I found really interesting.
Curtis Worcester:
Nice. Yeah, and I'll kind of piggyback on that, Abby, you mentioned the stories. I myself am a huge story guy. So the husband and wife I think he mentioned two days after the husband had retired and the husband made a reference of the wife was going to work for another five years or what. And you heard the voice from the other room and said, "Excuse me." And he joked at the uncomfortableness of the encounter but it's real though, I mean that happens and we see it happen and then kind of to your point it's been I think just globally looking at Stuart's methodology in his research, it's very evident why he was such a great guest for this podcast.
Curtis Worcester:
It kind of goes hand in hand with us in what we're trying to do.
Ben Smith:
Yeah, absolutely. Again, one of things that we wanted to highlight and I know he referenced it a few times in the show was obviously there's resources on our blog as well. So if you maybe lost that to that kind of that link we can go to our blog as well and you'll have a hyperlink to go to that page and download that workbook. Again, and that's at no cost to do that, so you can go ahead and kind of click on that link and go. But in regards to our show of course you can always find resources there including that workbook but the transcript there so I know some people or maybe less to listen and maybe they don't have as much time to spend listening as they can read.
Ben Smith:
So that we always have the transcript on that blog as well including, other resources we'll put some more resources we think we're going to be helpful around visualization on that blog so you got a blog.guidancepointLLC.com/15. So we're on our 15th show.
Curtis Worcester:
We're getting up there.
Ben Smith:
Yes, we're still in our teens, so we're teenagers but we're moving pretty closely up. But for that we appreciate everyone's time today listening in. Again we hope you got something out of this, I hope every one of our shows give you a little bit more of something to make your retirement well more concrete and give more confidence and self-esteem towards approaching. So if you have any questions reach out to us but we'll see you next time.